Project management (especially when it comes to Agile, Scrum, Kanban and all that) is often portrayed as a discipline for engineering elites. People who write code, fix bugs, and build software. But developers aren't the only ones who work on important projects and need to complete them on schedule, according to requirements.
Marketing and creative teams, for example, juggle a lot of simultaneous campaigns and projects and also receive frequent requests from outside of the department. How do they fare? Not well, based on the research. According to one recent report, only a fourth of marketers are "very satisfied" with their team's workflows; 20 percent say they have the most difficulty collaborating with sales.
ALSO READ: How Modern Technology is Bridging the Sales/Marketing Gap
Facing tight deadlines, meager resources, and an endless flow of feedback, many marketing departments have decided to adopt some of the same practices and tools that keep dev teams on track. Agile project management software has proven its value beyond IT, and as a result, grown into a major technology vertical.
Wrike — a project and portfolio management vendor based in Mountain View, CA — is one of the leading solutions in this vertical. If you're a marketer or oversee marketing projects, there's a fair chance you've considered Wrike in the past or are already a customer. This week, Wrike released a couple new features designed to streamline project workflows between marketing, design, and the rest of the company.
Let's take a closer look.
1. Request Management
Wrike's new request feature is designed to help your team field new project requests from outside of the department, whether they come from a conference call, a Slack message, an email, or a water cooler conversation.
Instead of casually dumping new tasks and projects on your already over-worked team, people can submit a formal request and all necessary information through Wrike. Think of it like a help desk ticket for marketing and design.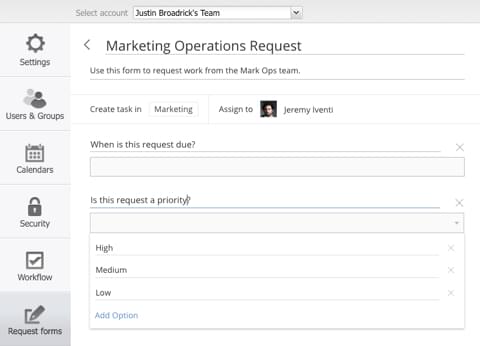 A standardized request process gives you more control over work intake and gives co-workers greater visibility into (and respect for) the process. The best part is that Wrike lets you customize request forms to make sure you get all the right details up front — for example, dimensions, color pallette, word-count, target audience, deadline.
2. Integration with Adobe Creative Cloud
Notwithstanding the sales team, customer support, or the C-suite, it can be difficult for marketers to collaborate even among their own team, especially where content and design are concerned.
According to a report by Visually, 46 percent of marketers think they give good feedback, but less than 30 percent of "creatives" agree. A lot of that mistranslated communication gets transmitted via doodles, line edits, and comments in Adobe. It can be a hassle to move back and forth between a project management app, a PDF, and your messaging platform just to make a few changes to an infographic (or whitepaper, blog image, social ad, etc.).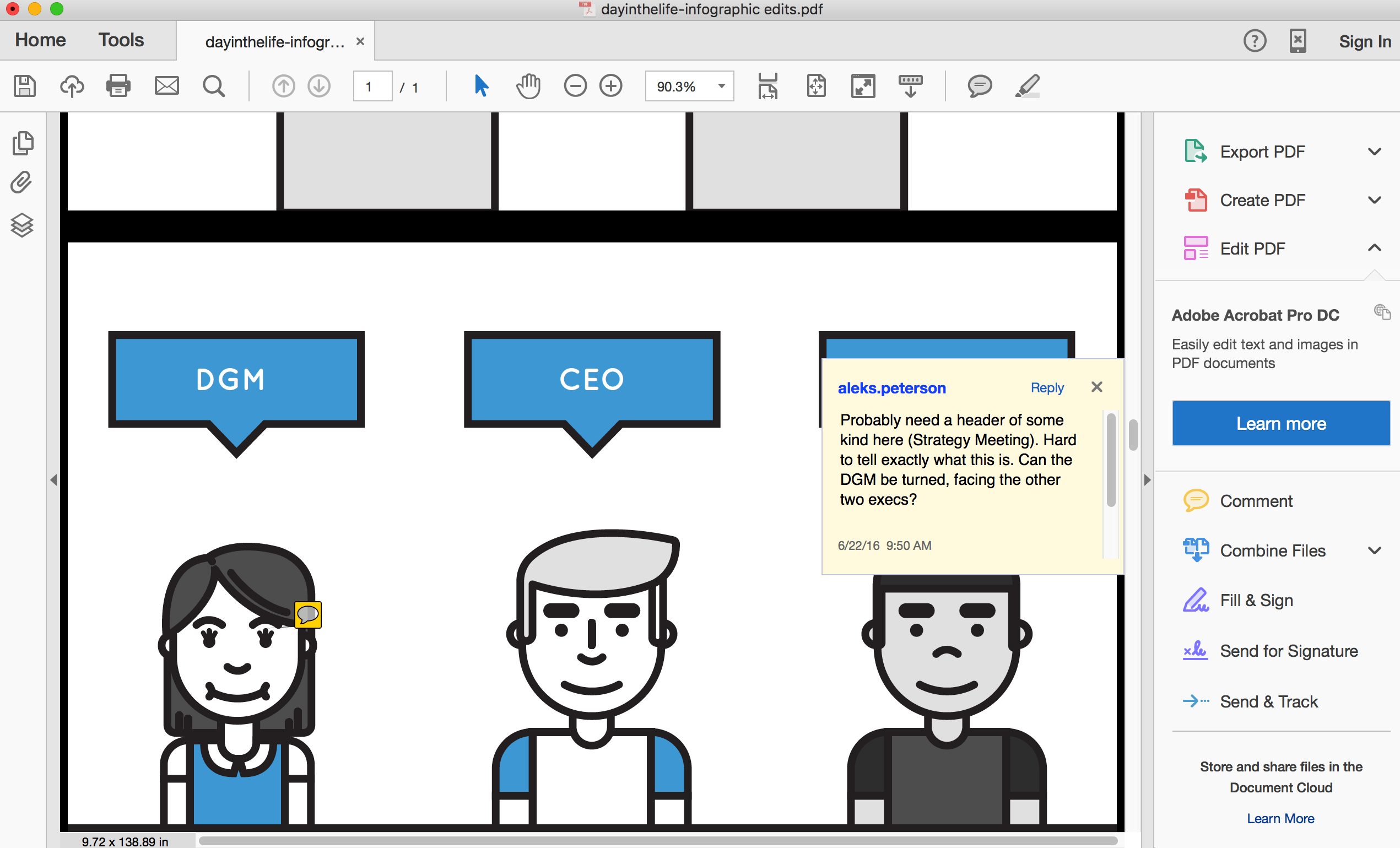 Wrike's new integration with Adobe Creative Cloud lets users comment on files and mock-ups without leaving the system. Any feedback or changes are automatically delivered to Photoshop, Illustrator, InDesign, or whatever Adobe App created the file. Designers can also deliver new file versions to Wrike without leaving their workspace.
Note: The requests feature is only available in Wrike's Enterprise version.
3. Editorial Calendars
This one isn't so much a new feature as a "pro tip" for using Wrike on your content team. Chances are, you're using a third-party app like CoSchedule or scheduling content in your own work calendar through Google Calendar or Outlook.
But if you're a Wrike user, there may be a better way. Using a combination of folders, custom workflows, and a shared dashboard, you can create and manage your editorial calendar from directly inside the platform.

It basically works like this:
Create custom workflows that reflect your content creation process (e.g. writing, editing, design, publishing)

Create a shared dashboard to give everyone access to the schedule

Create blog posts as "tasks" in a new folder

Use tasks status (planned, backlogged, milestone) to control which posts show up on the dashboard

Organize your task list by date to show posts in the correct order

Use the quick scheduling button to rearrange posts on your schedule
For a more detailed walkthrough, check out this post.
* * *
In the digital age, marketers and creatives need to stay agile in order to accommodate constantly changing requirements, fluctuating campaigns, and feedback from project stakeholders. A platform like Wrike can add a lot of flexibility to the process and make sure no task — big or small — falls through the cracks.
To read more about Wrike or get a custom project management software recommendation, visit our Product Selection Tool.