Mobile CRMs have emerged as an alternative to traditional desktop platforms for sales teams that spend most of their day on the road and out of the office. These field teams need a mobile-first solution that's designed for their on-the-go, and often unpredictable, workdays.
Mobile CRMs are solutions that provide field teams with real-time information they can use to take action during account visits. Decision makers who are looking to make the right software choice for their team should consider the three types of data that are essential to their business, and make sure they're available in a single platform.
Here we'll explore the three types of data that field sales organizations rely on as part of their workflows.
Sales Data
Perhaps the most straightforward of the three types, sales data functions just as you'd think by offering field reps knowledge about the sales their company is generating. Having this data available in a mobile format enables reps to quantitatively measure performance by location, promotion, or market.
Some of the benefits of having attainable sales data in a mobile CRM include:
Having hard sales numbers that can be used as leverage for negotiations
Being able to compare sales performance by product line or time frame on the spot
Inferring how certain initiatives are impacting sales
To understand the value of accessible sales data in practice, imagine the case of a beverage brand that sells in retail stores. Using a mobile CRM that can partner with their point-of-sale data provider creates new opportunities for reps to use that data when bargaining with retailers or proving the effects of their efforts on sales. For example, when empowered with data in hand, reps can demonstrate to a retailer how their merchandising program grew sales, and thus make the case for more similar programming.
Activity Data
Effective mobile CRMs also equip teams with data on their sales activities. By tracking activity metrics, managers can not only identify top performers, but can tie specific activity patterns to uplifts in sales — helping the entire team work smarter to hit their numbers.
Activity data points that managers would track in a mobile CRM can include:
Number of account visits made
Number of new opportunities created
Length of time spent with each account
Rather than managing reps' performance from a host of different data sources, mobile CRMs are designed to keep track of their daily activities in a single location for easier analysis and more agile decision making.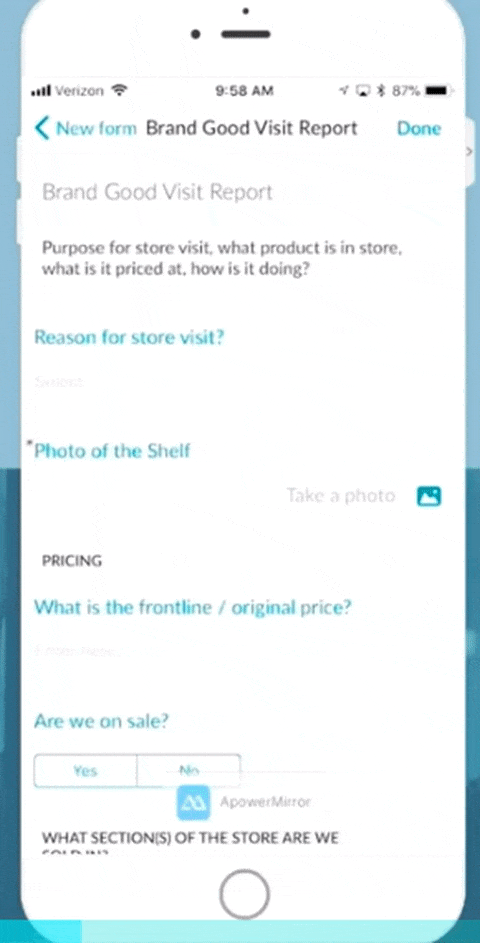 Observed Data
Finally, observed data includes details your reps capture when visiting client locations.
Observed data can encompass the following:
Amount of product available for sale at a given account
Presence of competition at an account
Notes about interactions with the client/lead
Whether or not promotions are being run on time
Which accounts are the most cooperative
A mobile CRM that incorporates observed data offers the advantage of helping reps stay organized throughout the day, since they're logging key information in a practical, tactical way. Moreover, managers are better able to detect how business plans are working if they have a streamlined way of gathering insights about what's' going on in the field.
The Complete Picture
Individually, sales data, activity data, and observed data add value to both sales reps' and managers' day-to-day operations. When used collectively, however, the insights drawn from these data sets are a powerful tool for identifying inefficiencies and further iterating on successes.
Let's reconsider the example of a beverage brand that sells into retail stores. The sales manager could use observed data to prioritize accounts where they're not being sold in the cooler, and deploy her reps to visit those stores. Once there, reps can leverage historical sales data to show store managers how much of an impact getting their product in the cooler will have on overall sales. Meanwhile, real-time activity data gives the team manager a sense of which stores were visited and which reps had the most success.
Your business wouldn't run effectively without these three types of data, so why would you choose a tool that doesn't connect them?
Victoria Vessella is a Marketing Associate at Repsly, where she works on creating out-of-the-box content for the Repsly's blog and social media accounts. You can also catch her organizing awesome brand-forward events and leading the company's P.R. efforts. A New England native, Victoria has spent time living in Italy and traveling throughout Europe before settling back in Boston. When she's not planning her next trip, V is probably tasting wine or writing for her blog, VixVibes. Connect with her on LinkedIn to learn more about her professional experiences.