If you're looking for a fast and reliable CRM that also comes equipped with marketing automation features, you'll want to compare Ontraport vs. Infusionsoft by Keap. Both solutions let you store contacts and manage your pipeline, but they also let you build powerful email cadences, send automated text messages, and more. In this article, we'll take a close look at both systems so you can make a more informed decision about which one is right for you.
If you'd like to save even more time, we can help. Use our Product Selection Tool to answer a few questions and we'll send you a free, personalized shortlist of the best CRM software for you. Click the banner below to get started.
Table of contents
Ontraport vs. Infusionsoft comparison table
Ontraport
Infusionsoft by Keap
TechnologyAdvice rating
4/5 stars
4/5 stars
Works best for
Small and medium sized businesses
Small businesses
CRM features
Contact management

Yes

Yes

Lead segmentation

Yes

Yes

Pipeline management

Yes

Yes

Lead scoring

Yes

Yes

Gmail integration

Yes

Yes

Outlook integration

Yes

Yes

Task management

Yes

Yes

Territory management

Yes

Yes

Social media integration

Yes

Yes

Document storage

Yes

Yes

Mobile app

No

Yes

Email marketing and marketing automation features
Email automation

Yes

Yes

Email templates

Yes

Yes

Automated campaigns

Yes

Yes

Landing pages

Yes

Yes

SMS texts

Yes

Yes

A/B test emails

Yes

Yes

Deployment
Cloud-based

Yes

Yes

iOS

No

Yes

Android

No

Yes
What is Ontraport?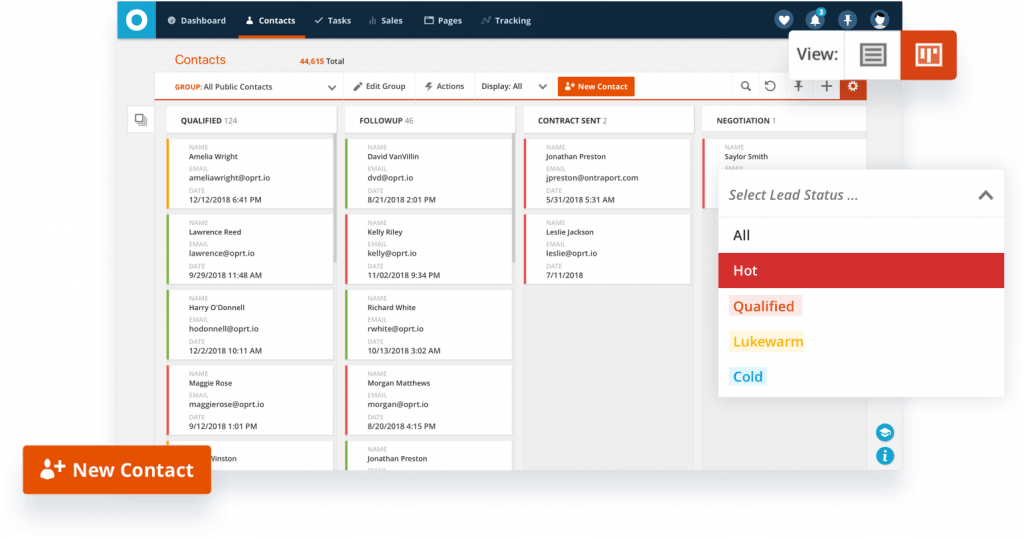 Ontraport is an all-in-one, cloud-based customer relationship management (CRM), marketing automation, and ecommerce solution that comes in four different pricing tiers. These work best for small to medium-sized businesses. Every tier offers CRM features like contact and pipeline management, email marketing, and marketing automation tools. Basic, the lowest-priced tier, is currently the only plan that doesn't include ecommerce.
> Buyers also consider:
What is Infusionsoft by Keap?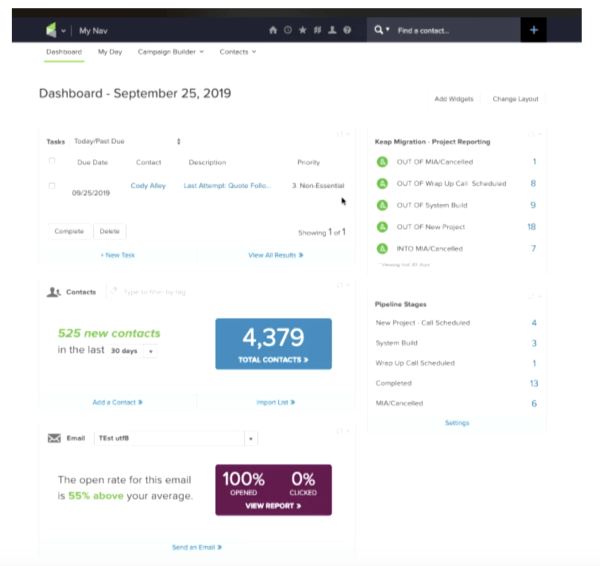 Infusionsoft by Keap is a CRM, sales and marketing automation, and ecommerce platform best-suited for established small businesses. When looking at Infusionsoft, remember that this is only one product from the software company Keap. Keap offers two other products that are designed for smaller and growing businesses. All of Keap's products, including Infusionsoft, are cloud-based and come equipped with CRM, sales, and marketing automation tools. Only Infusionsoft offers advanced reporting and ecommerce features.
> Buyers also consider:
Comparing CRMs
Both Ontraport and Infusionsoft by Keap offer basic CRM features. These don't vary much between the two systems, though Infusionsoft offers a mobile app while Ontraport doesn't. Both systems let you store and manage contacts, see and manage your sales pipeline, make notes and record interactions, and segment leads by purchase history, source, location, and more.
Also read: Infusionsoft vs. HubSpot: A CRM and Marketing Automation Software Comparison
Ontraport's CRM
Ontraport organizes contact information using cards. Depending on how much information you want to see, you can choose to view a contact as a full card or a mini card. Cards store all the relevant data you need on a contact, including their name, contact information, interaction history, lead score, and more. You can also add tags to contacts for segmentation, and you can create groups to organize contacts based on certain tags.
Infusionsoft's CRM
Infusionsoft can display all of your contacts at once, like an address book, or in segmented groups, called lists. Every contact card lets you access activity, contact details, emails, meetings, and money made. You can also add granular details to each card, including the best times to contact a person, their lead score, and any notes you may want to take on them personally, like their personal interests or the names of their children, if they have any. Similar to Ontraport, Infusionsoft offers tags so you can group contacts into lists.
A look at key marketing automation features
Ontraport and Infusionsoft by Keap both offer powerful marketing automation tools to help you nurture and follow up with leads.
Marketing automation. Marketing automation lets you set triggers to fire off various email and text campaigns. This can be used to guide customers through your buyer's journey with fewer manual touches. For example, using Infusionsoft, you can make a series of emails to send someone if they activate a certain trigger, like downloading a white paper. Ontraport also lets you send automated campaigns using the "Go-To" element to move contacts through customer journeys based on what makes the most sense at that time.
Segmentation. Both systems let you send emails to segmented lists, which lets you personalize email campaigns at scale. In Ontraport, you can segment audiences based on lead score, interests, demographics, behavior, and more to send the most relevant content to leads. You can even assign add tags to contacts, which automatically assigns them to different lists so you don't have to move them around manually. Infusionsoft also lets you segment leads by industry, how they interact with your content, and more.
A/B or split testing. Running a split test in both Ontraport and Infusionsoft means either system will send two versions of the same email to a sample of your list. The system calculates which version performs better and sends the winner to the entire list for best results.
Also read: The Best Marketing Automation Software of 2019 by Feature
SMS and postcard marketing. Marketing via text messages is becoming more popular, and Ontraport and Infusionsoft both support this feature. SMS is great for letting customers book services and receive appointment reminders. Ontraport goes a step further here, letting you send postcards for important events like birthdays.
Reporting. The ways in which Ontraport and Infusionsoft approach analytics and reporting differ slightly. Infusionsoft shows reports for sales and marketing, while Ontraport focuses more on displaying marketing analytics. There are pros and cons to these two approaches, depending on whether you want to use either system as more of a sales or a marketing tool. If you want more of the reporting features you'd expect from a traditional CRM, Infusionsoft might be better for you. Conversely, Ontraport offers much more powerful reporting tools for marketing campaigns.
The best CRM is the one that's right for you
Comparing Ontraport vs. Infusionsoft is helpful if you've narrowed your search down to two options, but if you're still looking, we can help. Use our Product Selection Tool to request your free, personalized shortlist of the best CRM software for you. We'll send you a list of five vendors that meet your unique needs so you don't have to spend hours reading about different products on the internet.