For the past several years, enterprise software discourse has focused on the latest and greatest "apps" — software-as-a-service products that bring unique functions to the business environment and battle for market traction. With so many startups on the mind, it's easy to forget that Microsoft is still the biggest software company in the world . . . by a long shot.
Today, Microsoft flexed its muscles.
In a press release this morning, the global software giant announced their plans to acquire LinkedIn (yes the LinkedIn — yes, all of it) for $26.2 billion, at $196 per share. The acquisition is still pending regulatory approval, but already has a green light from both CEOs and boards of directors. LinkedIn's CEO, Jeff Weiner, will retain his position but now reports to Satya Nadella, CEO of Microsoft.
"The LinkedIn team has grown a fantastic business centered on connecting the world's professionals," Nadella wrote in an email to employees. "Together we can accelerate the growth of LinkedIn, as well as Microsoft Office 365 and Dynamics as we seek to empower every person and organization on the planet."
Together we can accelerate the growth of LinkedIn as well as Microsoft . . . as we seek to empower every person and organization on the planet.
What does it mean when the world's biggest software company, with a CRM suite among the top four, acquires the world's largest professional networking tool? In an era when social-selling and account-mapping are playing a pivotal role in the growth strategies of most B2B companies, it means closer integration. Imagine being a user of the Dynamics CRM platform (which many business already are) and being able to pull data and insights directly from LinkedIn Sales Navigator.
ALSO READ: The Hottest B2B Prospecting Strategies for 2016 
Sales Navigator uses an algorithm to recommend accounts that match your prospecting criteria and syncs up with your CRM database for easy import. At that point, it's up to you to build a plan for outreach, lead nurturing, etc. This kind of functionality could make a huge difference for companies struggling with a long sales cycle or rolling out account-based marketing campaigns. Instead of purchasing and implementing a complicated "stack" of tools from several different vendors, businesses can run social selling and prospecting efforts without leaving their CRM, and with a higher degree of automation. 
Many CRM vendors are still figuring out the best way to house data, let alone pull in new data from social media, so the acquisition will challenge the sales and marketing technology vertical in a big way.
According to a conference call slide deck shared this morning, the two companies estimate their combined "addressable market" will be worth $315 billion, including LinkedIn's professional networking and talent solutions and Microsoft's productivity and business process segment. Other vendors that share the market may need to do some serious R&D to catch up.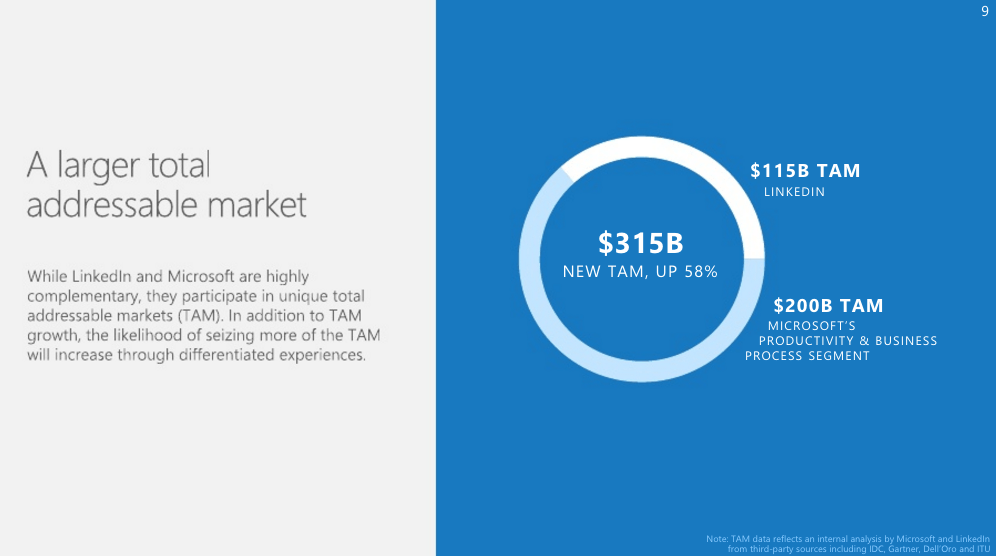 Now that they own Outlook, Yammer, SharePoint, Office 365, the Dynamics ERP and CRM line, and a major social/professional network, Microsoft is positioned to do exactly what Nadella said: ". . . empower every person and organization on the planet." 
ALSO READ: Microsoft Dynamics CRM vs. Salesforce
According to the latest figures, Microsoft has over over 8 million paying users on their Dynamics product line and 1.2 billion Microsoft Office users. LinkedIn boasts over 433 million members, 9 million company pages, and two million paid subscribers in almost every country. 
Click here to listen to the full Microsoft/LinkedIn acquisition conference call. For more information and access to transaction filings, you can visit the Securities and Exchange Commission website.