Keap (formerly known as Infusionsoft) combines customer relationship management (CRM), marketing automation, e-commerce, and sales automation into a single platform. It's a flexible platform for small businesses that want to streamline their CRM and email marketing initiatives.
Keap does have its limitations, however, from a lack of reporting functionalities to prohibitive pricing. If any of these are deal-breakers for you, consider Keap alternatives.
Top 5 alternatives to Keap
After careful consideration and evaluation, here is our list of the five top alternatives to Keap CRM, based on which features you might be looking to replicate:
HubSpot: Best for integrations
HubSpot comes in three parts: CRM, Marketing, and Sales. These can be purchased individually or used together. The Marketing and Sales modules both integrate with HubSpot's free CRM to show how customers interact with a marketing team's content and how active and close to a sales conversion these leads are.
The software also helps marketers manage various types of content and campaigns like blog pages, lead and landing pages, and automated drip campaigns. Then, users can segment leads and prospects according to their source.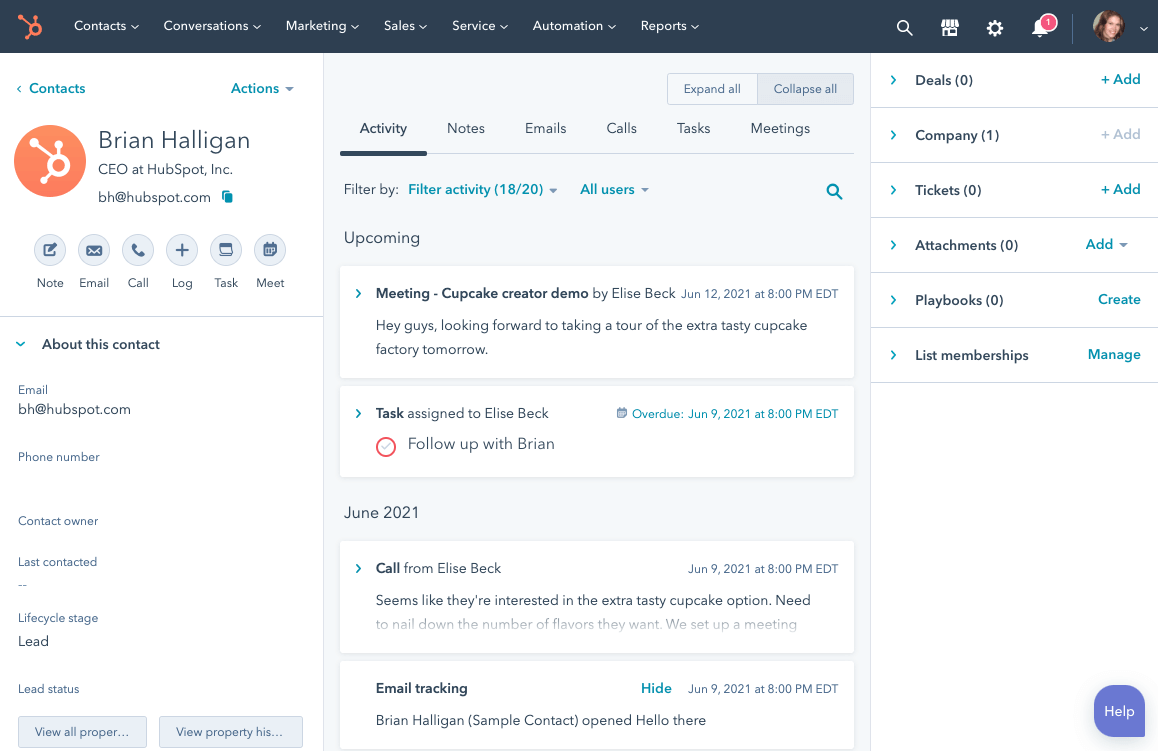 Why we chose Hubspot
One of the coolest HubSpot extras is its focus on internal communication. Daily internal emails update teams on the most important upcoming sales and marketing priorities. They also provide inbox profiles that sync with Gmail or Outlook accounts, so reference points live where emails are composed.
ActiveCampaign: Best for email marketing
ActiveCampaign's product helps marketing teams build campaigns with email automation capabilities. Other marketing features include email templates and dynamic segmentation based on customer website actions.
ActiveCampaign can also build custom lead tracking based on a website's design, not just when a customer fills in a form or clicks a button. This offers business more data with less manual effort.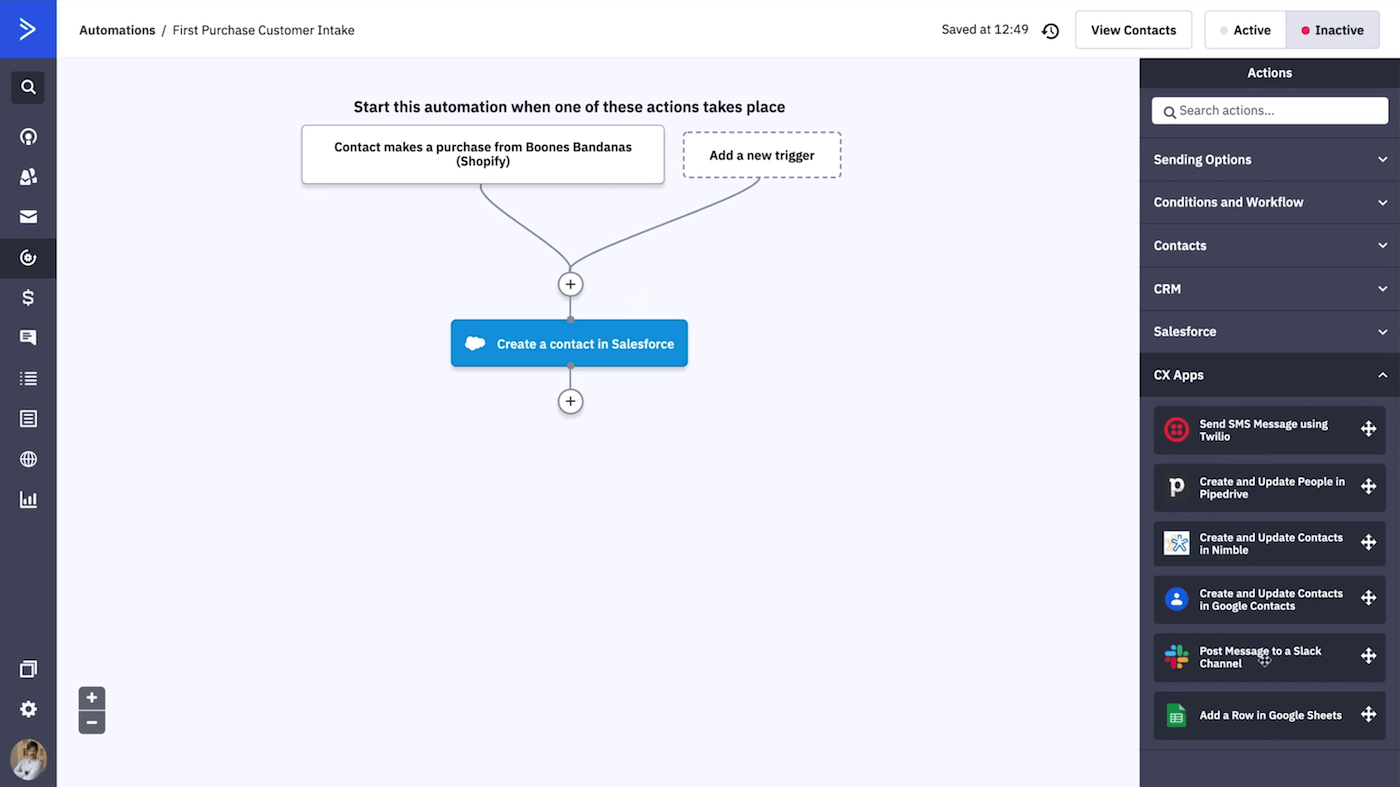 Why we chose ActiveCampaign
While ActiveCampaign is not a fully-functioning CRM on its own, it is more than capable of managing sales automation tasks and tracking all of the interactions contacts make with a site. ActiveCampaign's logic-driven analysis tools make it less time-consuming for salespeople to track lucrative leads.
Interakt: Best for marketing automation
Interakt is a great option for small business owners who want to make their way into marketing automation without buying a full-featured platform right away. Interakt offers several different pricing options, but unlike Keap, the basic version remains free forever with limited contacts and emails.
Interakt's email marketing options include templates, responsive views, HTML templates, analytics, and email tracking with notifications. The software can also help build a hosted online chat, help desk, and FAQ page for customer support.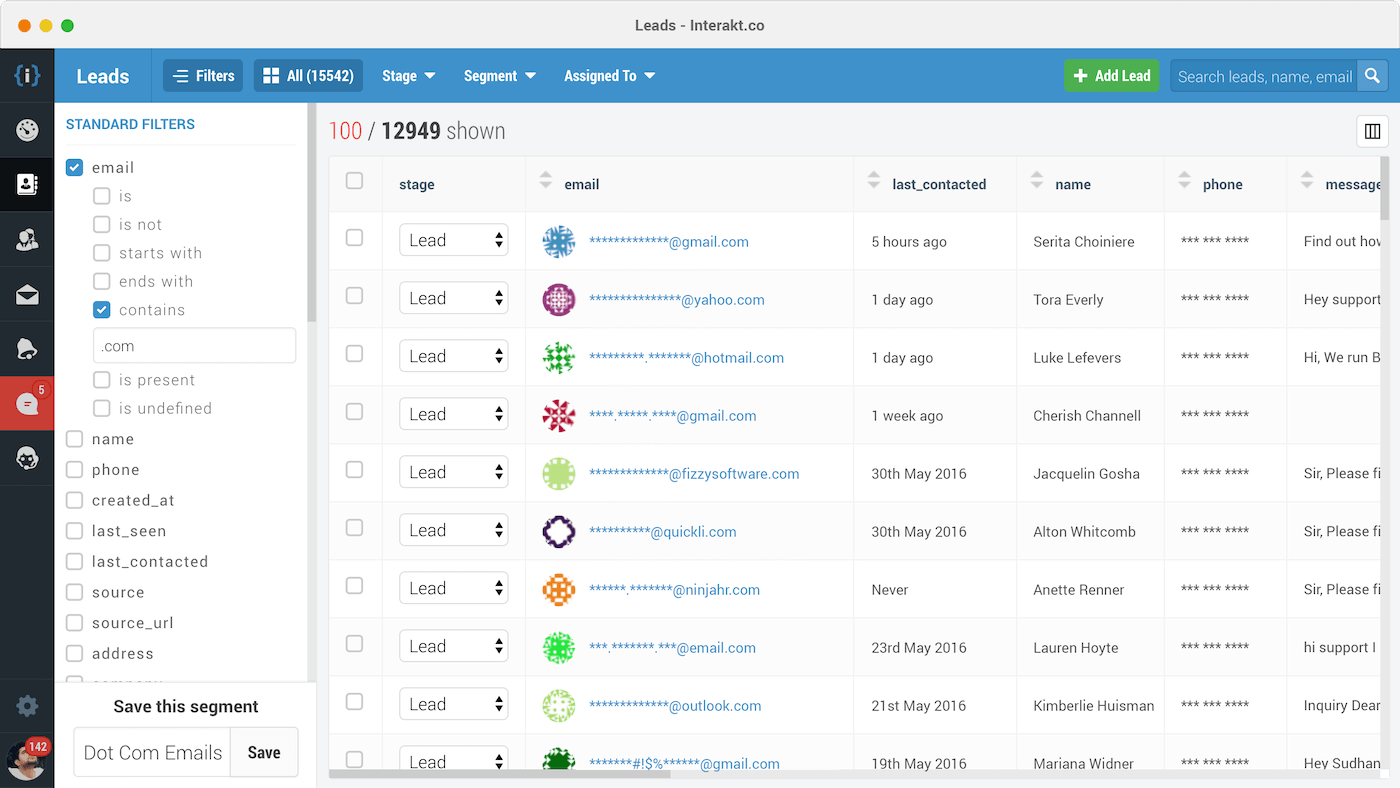 Why we chose Interakt
Interakt can capture leads on-site with chat and help desk integrations, and follow up with automated drip campaigns. Users can then filter and segment leads for more personalized marketing, and managers can assign individual team members to follow-up.
BIGContacts: Best for lead management
BIGContacts' integrated marketing and CRM platform offers features to improve lead management across channels. Additionally, BIGContacts automatically fetches social media data and adds it to the right contact profiles. As social media becomes more relevant to sales and customer service functions, this feature helps maintain a consistent customer experience no matter where the customer interacts with the company.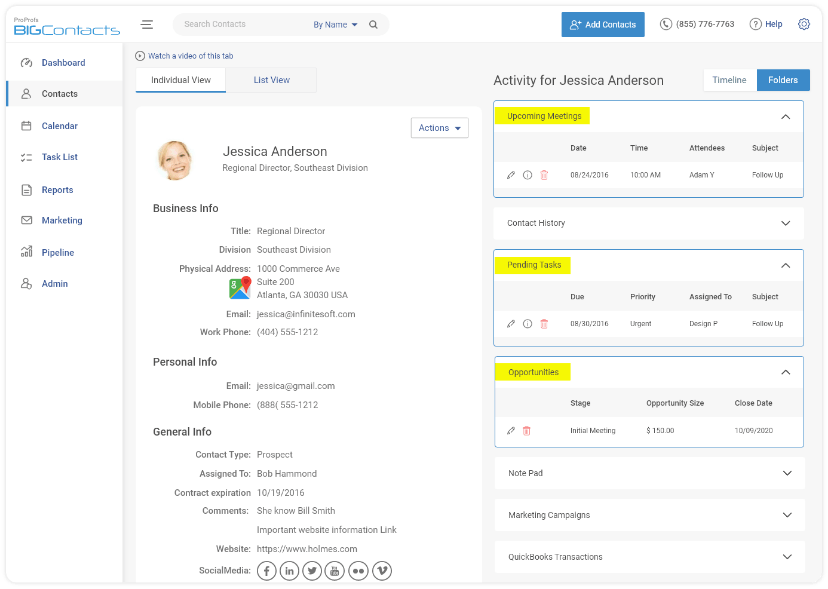 Why we chose BigContacts
BIGContacts simplifies lead follow-ups and tracking so no lead slips through the cracks. It provides the standard in-app automated reminders to follow up on sales leads and drip campaigns that run in the background. A team can set up task notifications and meeting reminders that sync with Google or Outlook calendars.
Pipedrive: Best for reporting
Pipedrive offers analytics and automation wherever possible. This is ideal for small teams that don't have time or resources to manually nurture leads and identify the best sales opportunities. Additionally, Pipedrive's customizable dashboards and reports allow company leaders to monitor goal performance at the company, team, or individual level.
The platform optimizes admin tasks like pipeline management and contact synchronization with services like Gmail, Outlook, and iCloud.
Why we chose Pipedrive
Pipedrive offers more than 250 integrations, which means the platform can be customized to support a wide range of capabilities including in-app video calls, e-signatures, and document management.
Why Keap may not work for your company
Keap offers many benefits like a user-friendly interface and unlimited email automations, but it may not be a good fit for businesses that need more advanced functionality or customizations. Additionally, Keap is specifically designed for small business needs, so larger companies will quickly run into roadblocks with the software.
Specifically, CRM buyers looking for the following qualities should seek an alternative to Keap:
More affordable or user-based pricing
Robust integrations
Scalability
Distinct sales and marketing tools
Customizable reporting
Find the Best Keap Alternative for Your Business
If Keap doesn't meet your business's CRM requirements, consider alternatives that might close the gap in areas where Keap falls short.
HubSpot is a strong alternative for teams that need advanced sales and marketing functions, whereas Pipedrive stands out for businesses with advanced automation needs. ActiveCampaign offers a solution for businesses that want to analyze customer activity on their websites, and BIGContacts specializes in lead management optimization. If cost is the primary concern, consider Interakt as a free alternative that will scale.
These are by no means the only Keap alternatives on the market. Use the CRM Software Guide to browse and compare other CRM solutions to find the right fit for your business's unique needs.
Featured Partners
monday sales CRM is the customizable, no-code CRM that allows you to control your entire sales funnel and close more deals, while simplifying communication and collaboration. Automate manual work, capture and import leads, and centralize deal and contact info, all in one place.
HubSpot is an intuitive CRM that makes managing your sales pipeline a breeze. Everything you need to track important metrics, set up time-saving flows and automations, manage clients seamlessly, and grow your business is available in one tidy dashboard. Plans are available for businesses at every stage of growth, starting at 100% free. Start taking the guesswork out of business management today with HubSpot CRM.
Fully-customizable Zoho CRM provides unified solutions for businesses of all types and sizes. Conduct your Sales & Marketing analytics to gain insights using Dashboard views and Automate your daily routines. Customize your CRM theme based on your industry needs using Canvas, Omnichannel communication for streamlined communication between teams and customers, handle customer support from within the platform to improve customer relationships. Get Started with Zoho CRM now!
Methodology
At TechnologyAdvice, we assess a wide range of factors before selecting our top choices for a given category. To make our selections, we rely on our extensive research, product information, vendor websites, competitor research and first-hand experience. We then consider what makes a solution best for customer-specific needs.
For our Keap Alternatives list, we looked at 23 options before whittling them down to five that provide an alternative to Keap's most attractive features. Among those are price, email marketing, lead management, ease of use, ease of setup, and more.
Technology Advice is able to offer
our services
for free because some vendors may pay us for web traffic or other sales opportunities. Our mission is to help technology buyers make better purchasing decisions, so we provide you with information for all vendors — even those that don't pay us.