Nonprofits know maintaining donor relationships is key to their success, but repeat donations can be difficult to secure. Customer relationship management software (CRM) can help organizations nurture donors and improve their bottom line.
According to Target Analytics, nonprofit organizations, on average, retain only 27.3 percent of first-time donors. That means a significant portion of the $335 billion that Americans gave to charitable organization in 2013 came from single or first-time donors. Assuming these trends stay consistent in 2014, charities and nonprofits are missing out on huge opportunities to secure repeat donations. How can nonprofits increase donor retention?
CRM software has revolutionized the sales and marketing industry — the holistic relationship view provided by CRMs helps build customer trust and loyalty. As important as trust and loyalty are to traditional businesses, they're even more important for nonprofits. With the popularity of websites like Charity Navigator, and the increased relevance of social media, a nonprofit that doesn't control its own message or react quickly to donor concerns can see repeat donations drop sharply. Retaining customers is less expensive than finding new ones, and the same holds true for nonprofit donations.
While some nonprofits use traditional CRM systems with great success, there are a number of software solutions designed to meet the unique needs of nonprofit and charitable organizations. Here at TechnologyAdvice, we've reviewed hundreds of systems — here are four of the top solutions for nonprofit organizations, in no particular order: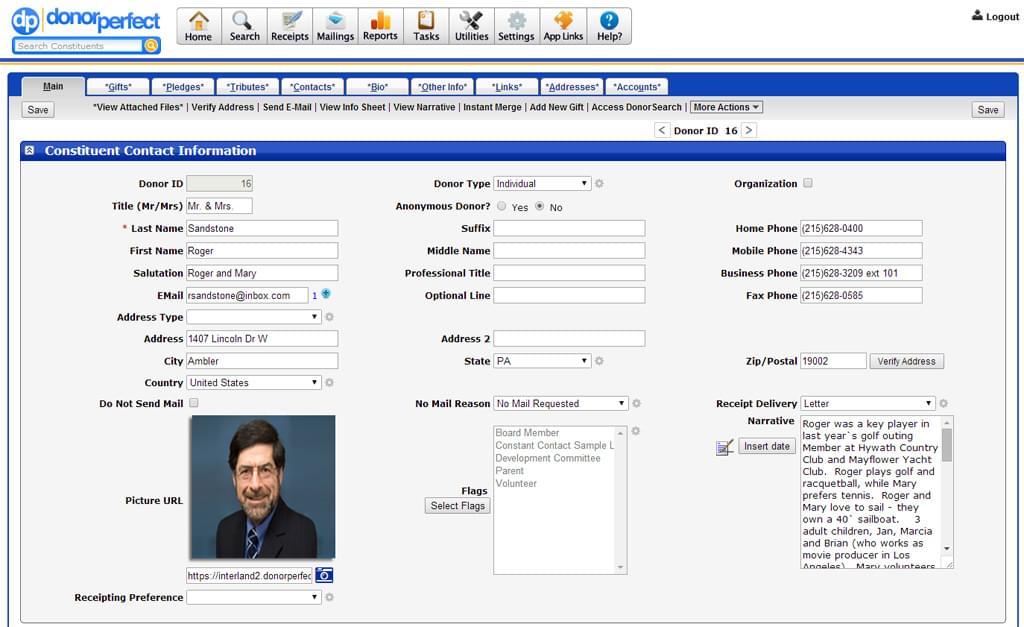 DonorPerfect is a CRM made specifically for nonprofit fundraising efforts. From acquisition to fulfillment, DonorPerfect includes features that manage every aspect of nonprofit fundraising campaigns. It is especially well-suited for online and international fundraising efforts, thanks to included credit card processing, social media connectivity, multi-currency support, and eCommerce integration.
DonorPerfect also has powerful analytical capabilities, with include functions for donor screening, campaign analysis, click-through tracking, and more. It includes pre-built integration with QuickBooks and Microsoft Outlook, making it easy to transfer information between the systems. DonorPerfect can even manage membership-based organizations through automated renewal notices, lapsed member reports, volunteer management, and even ID card printing.
Find out more about DonorPerfect.
---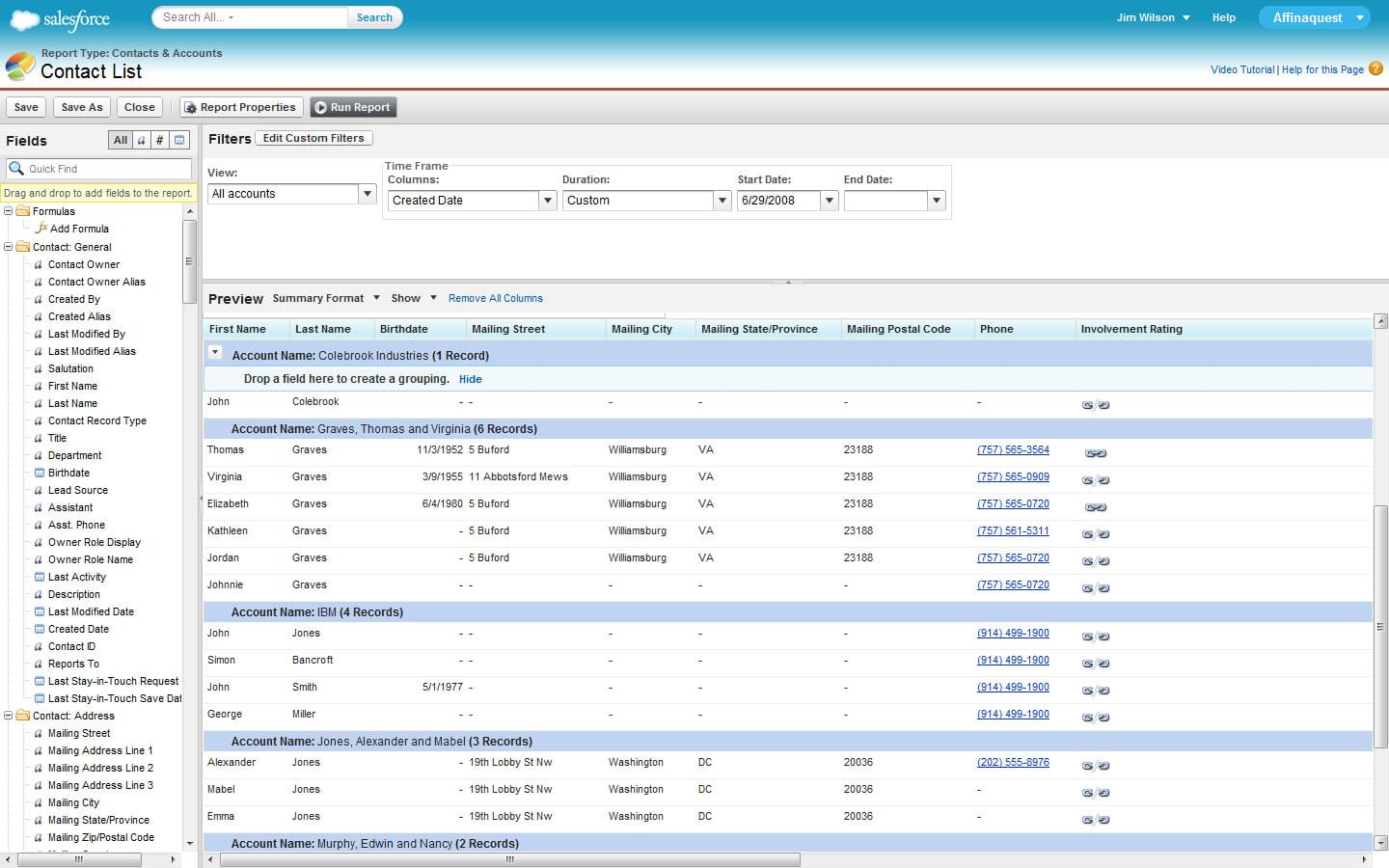 Affinaquest, designed especially for nonprofit organizations, is built on the familiar Salesforce.com platform. Unlike Salesforce, Affinaquest is priced with nonprofit budgets in mind. It is web-based, so your development team can access the CRM while on-the-go, and its collaborative features allow users to simultaneously access shared resources such as documents, reports, and more. It comes with pre-built integrations for Microsoft Outlook, Gmail, Google and Apps, meaning it adapts to your unique needs and workflows, instead of the other way around.
To aid in more effective, targeted communications, Affinaquest's constituent demographic tracking feature allows organizations to view visual breakdowns of their donor base, segmented by hundreds of variables, including employment information, location, community interest, or nearly any custom metric of the organization's choosing.
Find out more about Affinaquest.
---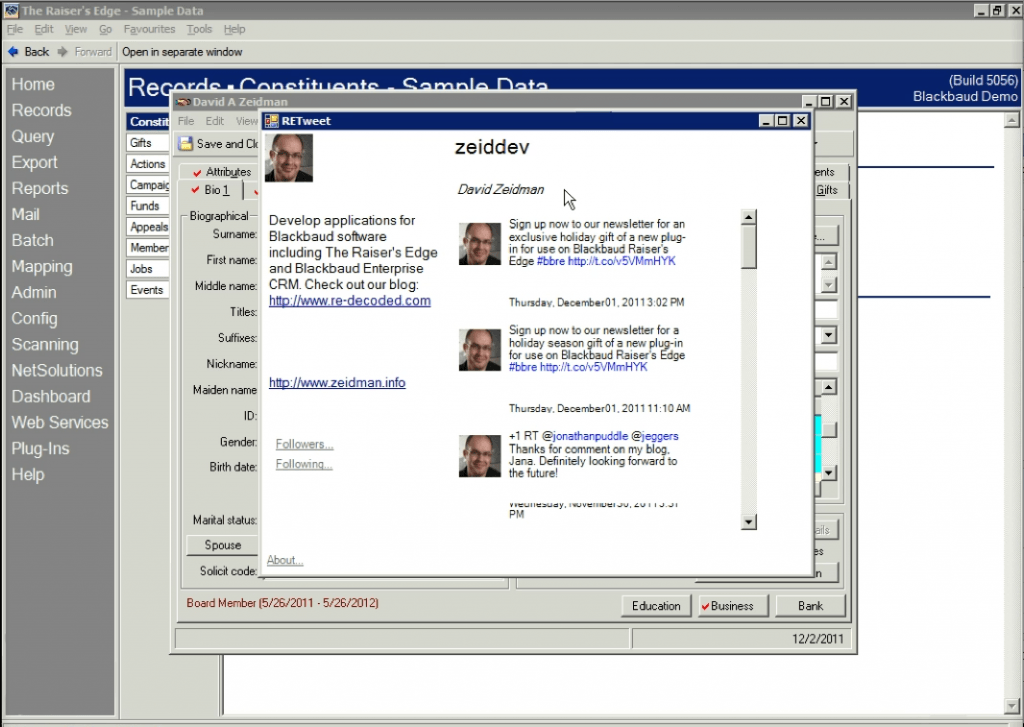 Blackbaud, a company that specializes in software for nonprofits, develops The Raiser's Edge — dubbed "the Cadillac of Nonprofit CRMs" by one TechnologyAdvice reviewer. When looking at the full feature list, it isn't difficult to see why. Blackbaud has been developing software specifically for nonprofit organizations for over 30 years, and serves over 30,000 unique clients.
As a modular system, The Raiser's Edge can be one of the least or most expensive solutions, depending upon the desired functionality. Target Analytics, one of the available add-ons, is one of the more robust reporting tools offered with any CRM system, let alone one specific to nonprofits. The modular design coupled with the web-based delivery makes The Raiser's Edge one of the most flexible CRM systems available to nonprofits today. Of course all of this functionality and flexibility can make The Raiser's Edge somewhat difficult to learn.
Find out more about The Raiser's Edge.
---
DonorPro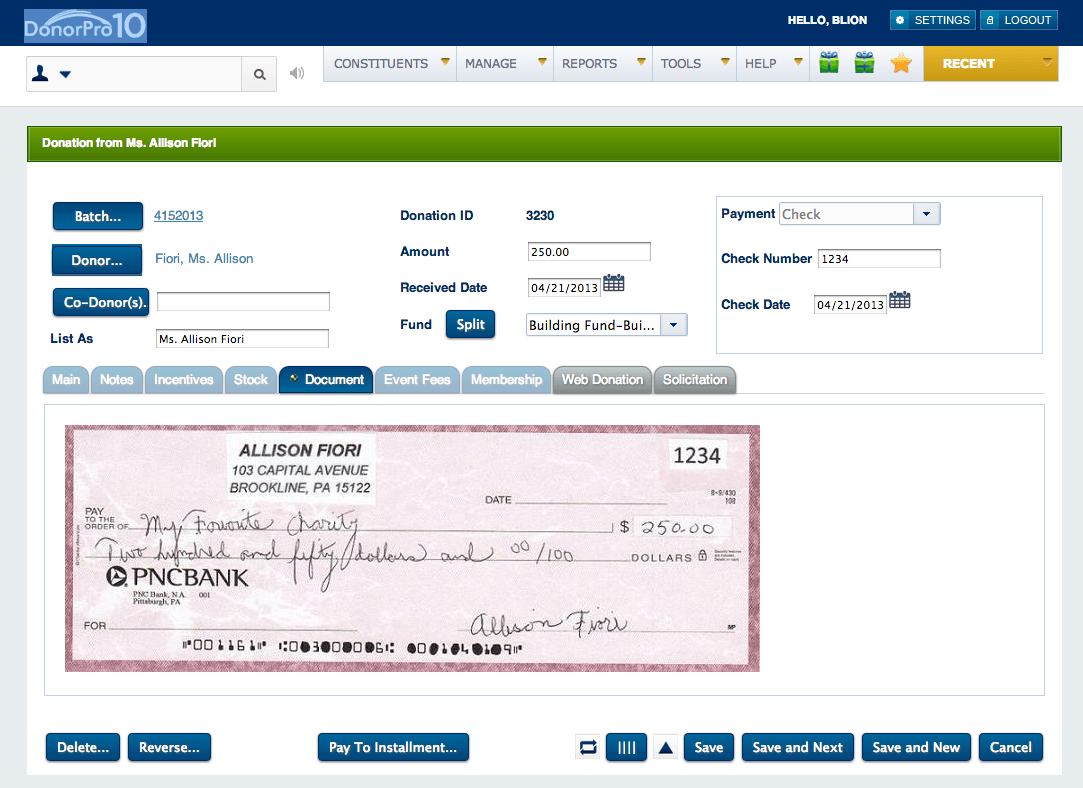 DonorPro, another CRM specific to nonprofits, segments its software into five areas: fundraising, donor database, communications management, analytics, and donation processing. According to user reviews, DonorPro's customer support is second to none, making it easy to learn the software — even for relative Luddites. Its modular, web-delivered design also makes DonorPro extremely flexible.
One of DonorPro's more unique offerings is its content management solution — DonorPro WebSolutions. This module lets users design, publish, and maintain marketing content, websites, and landing pages. DonorPro even offers consulting, training, and ongoing maintenance for WebSolutions-powered sites, meaning DonorPro will monitor and maintain your site. When search engines like Google or Bing change their algorithms, the DonorPro team can even update content to maintain search engine rankings.
Nonprofit organizations face unique, dynamic challenges when it comes to growing donations and donor bases — maintaining relationships with existing donors doesn't have to be one of them. Thanks to the present and future of customer relationship management software, increased donor retention is more possible than ever.