Everyone who's studied business or marketing should know that keeping customers is more cost efficient than acquiring new customers. But what you may not know is how to use advocate marketing to recruit existing customers into your customer acquisition program.
That's right: loyal customers can actually be used to recruit new customers at far less cost and at much higher conversion than the campaigns a brand runs on their own.
Why?
Because in nearly every industry, consumers and business professionals alike trust the opinion of their peers more than they trust that of brands. The proverbial satisfied customer has experience choosing a solution and can advise others to do the same based on their experience. A brand can advertise all they like, but there will always be an inherent bias in the messaging which makes consumers wary.
So what exactly is an advocate?
Influitive says it best:
"Advocates are not just satisfied customers. They are enthusiasts who embrace your company's vision and willingly advance your interests through their interaction with others. Whether by sharing experiences online, referring new business, or recommending your products, these supporters have enormous influence on your brand, demand generation, and pipeline efforts."
The Evidence for Advocacy
In 2014, Spiceworks research found that 97 percent of IT buyers rely on peer recommendations as well as ratings and reviews when choosing business software. Ninety-two percent of the same audience also relied on IT forums in their decision-making process: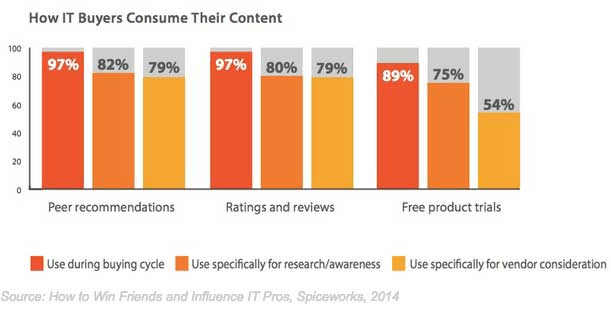 Similarly, Nielsen found that 84 percent of consumers take opinions of family and friends most seriously when making purchase decisions.
This reliance on peer groups as well as extended professional networks reinforces the old axiom: word of mouth is the strongest form of advertising.
This reliance is even more pronounced in the B2B world, which is why advocate marketing is so powerful.
When you convert someone from a customer into an advocate, you're placing an agent on the inside. You're enlisting a business professional whose opinion is viewed as one of the most authentic and trustworthy sources around.
Just consider that Docusign's advocate program influenced over $3 million in revenue, and it's easy to see why advocates are in demand.
Customer Advocacy
The most well-known form of advocacy marketing targets existing customers. This is because your current base of repeat clients is simply the most logical place to start growing advocates. These people already view your business favorably, so it's up to you to find the group that absolutely loves what your brand is up to and design an advocacy program for them.
But before you get started building the program, you'll need to identify the type of customer that would make a good advocate and then consider how you want them to advocate for your brand.
When identifying advocate prospects, consider these three things:
1. Do you have an ideal industry or business type for your product? Do your advocates work in such an environment?
It's natural to develop personas for advocate programs, just like you would for other marketing campaigns. Consider the most valuable type of user or user case for your product or service and then target customers who fit that description. You want to search for advocates within a pool of loyal customers who fit the main use case of your product or service. You don't want outliers.
2. Is the advocate active in the appropriate communities? Do they engage in online forums or get involved in professional groups?
Ideally, advocates will already participate in forums and other industry activities, thereby giving them a natural audience with whom to share their opinion. This isn't absolutely necessary — and its value depends on the goal of your advocacy marketing campaign — but it does improve the influence of the advocate if they're already an active member of their professional community.
3. How can you entice a customer to advocate for your brand? What do they need in exchange?
At its core, advocate marketing is melding your outreach into a coordinated campaign — complete with an ask and a reward. That's right, every attempt for advocacy will involve asking your customers to do something in exchange for a reward.
Framing the ask and supplying a sufficient reward are two of the finer points of getting your customers to go from loyal customers to full blown advocates.
Rewarding your customers for their actions requires a decent understanding of reward systems, which is a complex topic that far outstrips the scope of this article, but always try to match the reward with the amount of effort you're asking for.
Are you asking for an advocate to write a review of your product (probably a good idea) or are you asking them to refer new customers to you? These two actions are very different and should earn different rewards.
All in all, customer advocates can be used to positively reinforce your brand image, expose your company to new audiences, and ultimately help you get new customers. They are influential allies and every business needs them.
Employee Advocacy
Advocacy marketing doesn't only have to target customers; employees are excellent brand advocates, too. Though many organizations use employees as a referral network for job candidates, your in-house talent can also help you develop new relationships with customers.
Employee advocacy asks could be as simple as sharing company content on social media or as detailed as leaving a review on an employment job forum.
Especially by sharing photos and other content related to the culture of the company, your employees can be the main force that convinces potential customers that your business is a vibrant, friendly establishment, rather than a cavern of whitewashed walls and stale coffee.
Employee advocacy programs can range from simply encouraging people to share content online to sending the most active advocates to conferences where they'll expand their network and further aid your company.
__
Advocate marketing grants marketers the ability to control their brand narrative from another perspective outside of the office, which is a powerful asset indeed.
By recruiting the real professionals who use your product or service, you're essentially developing a network of fans who not only reinforce your brand's story, but also contribute to real business results by referring new customers and leaving positive product reviews that influence others in their community.