White label refers to goods or services that are produced by one company, then purchased by another company to rebrand and sell as their own. Though you may be wary at first, you're likely already familiar with the practice.
For example, most supermarket "store brand" goods are created by companies that mass produce items and sell them to various grocers. White label products aren't just limited to cereal, dvd players, or running shoes though; they're common throughout many  industries.
In the tech world, think of white labeling as ghostwriting – but for software, apps, or digital programs. For instance, cloud-based services or infrastructure lend themselves particularly well to reselling or re-branding.
The History of White Labeling
The name originates from the use of promotional or test pressings of vinyl records in the music industry. Vinyl records with plain white labels were sent out to DJs to create hype around new albums, gauge consumer opinion, and estimate manufacturing quantities. They're also used to evaluate the quality before production starts, or to conceal artist identities so listeners have no preconceived notions about the music.
How to Use White Label Software 
White label software – also called private label, brandable, or rebranded software – is not limited to one type of company or industry. For example, companies that offer complementary products may use white label goods, as well as companies that don't develop products at all. Let's explore threee common ways an organization may choose to use it.
1. Internally by employees for communication, collaboration, and engagement.
LearnUpon is one example of a company that provides brandable software to companies. The software focuses on employee training and allows businesses to upload their own logo and customize the styling to match their branding. When employees log in to the training portal, the look and feel integrates seamlessly with the rest of the company website.
2. Externally by customers to increase sales and loyalty.
Another company that offers white labeled software is BigDoor – though their platforms are consumer-facing. BigDoor provides customer loyalty program solutions to companies like Starbucks, Nickelodeon, and Yamaha by offering custom design resources that provide an on-brand experience.
3. Resell to end user and customer for profit.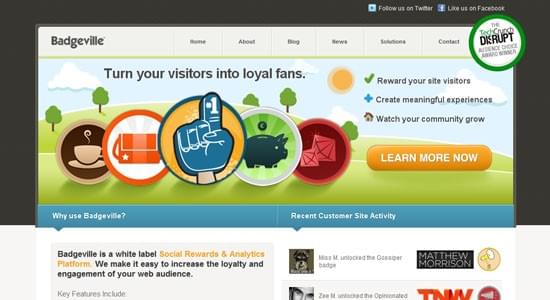 Badgeville is one platform that not only offers both of the options above, but also provides the option to co-sell or resell their solution. Businesses can simply encourage clients to use Badgeville for their digital engagement challenges, or incorporate Badgeville specific design expertise as part of their services. Partners then receive either a referral fee for licenses sold, or a portion of revenue for each new license.
White Label Benefits
Although there are a lot of benefits, white labeling isn't for everyone. It offers less control over specific features or updates and can be challenging to integrate into centralized reporting and analytics.
However, white labeling can provide substantial business gains. Companies choose white label software because it can provide faster launches, lowered costs, less risk, and diversification.
Implementing software for internal or external use requires a lot of engineering and time. Rather than build the solutions from scratch, businesses can can get tried and trusted platforms up and running sooner rather than later – and often for less money upfront.
For resellers, white labeling is a prudent way to add more products to your portfolio, move into a new market, or cross promote your own products or services. If you don't have the time, resources, or knowledge to build a custom solution, then white labeling might just be the best strategy available for your products and company.