What is marketing automation? Unless you're working for a software as a service company or a member of the Fortune 500, you may not be well versed in the specifics of marketing automation. But even if you do have a decent understanding of this technology, it may be difficult to ascertain when your business is ready to implement a system.
There are plenty of benefits to marketing automation (including the possibility of increased revenue), but these systems can also devour your marketing resources if you're not prepared.
For marketing automation to meet the lofty expectations perpetuated by tweetable statistics, a number of factors need to line up for your business and your marketing department.
"For marketing automation to meet these expectations, a number of factors need to line up"
Marketing automation makes sense for your business when:
You understand its purpose
Marketing automation is both a tactic and a strategy. MA software, along with other marketing technology, is a reaction to the growing importance of digital marketing to the customer experience. This is reflected in consumers' increasing preference for self-service when dealing with online businesses.
This is relevant because as a tactic marketing automation can be achieved using social media software like Hootsuite and Buffer as well as with email software such as Vero and Mailchimp.
Full marketing automation platforms, on the other hand, automate interactions across digital channels, and throughout the customer journey.
These channels include (but are not limited to):
email marketing
pay per click
in-app messaging
landing pages and other web properties
social media
customer relationship management software (for internal use)
 Here's a (very simple) explanation of how this all comes together from Kenitco: 
Using a software that's very nearly ubiquitous demands a holistic strategy and purpose.
Hubspot sums this up, saying, "At its best, marketing automation is software and tactics that allow companies to buy and sell like Amazon — that is, to nurture prospects with highly personalized, useful content that helps convert prospects to customers and turn customers into delighted customers."
The term automation in "Marketing automation" could really be replaced with the personalization, because the software is meant to personalize every digital interaction based on the interests of each customer.
This personalization is what results in higher revenue, because the correct content and value propositions are relayed to the correct audiences.
You have leads to nurture
To justify wielding such a massive marketing weapon, your business will need a steady supply of leads. If your sales team is overwhelmed with the number of follow-up calls they have to make, it's often a sign that you're ready for an MA program. This will allow you to nurture the leads that your sales team isn't able to reach immediately, which helps keep opportunities from atrophying or being abandoned entirely.
Marketing automation also helps better align marketing and sales departments. By nurturing leads through drip marketing and raising their lead score based on behavior, marketing can pass only qualified leads on to sales. This helps sales spend their time more effectively and helps marketing play a more consistent role in producing revenue.
The key to a functional relationship between marketing and sales is integrating your marketing automation system with your CRM system. These two platforms are essentially operating systems for each department, and each contain information about leads. By connecting the two, both departments can access real time information about prospects.
Here's an example from Salesforce about how automation helps the workflow of both marketing and sales: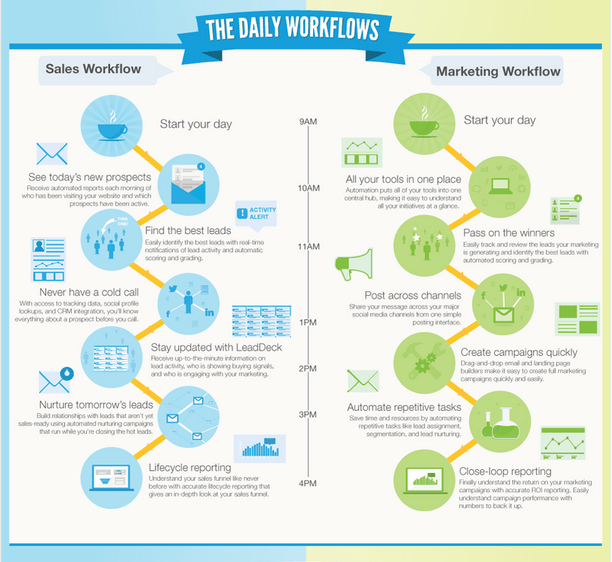 But all these workflows require a steady supply of leads being generated by your business. If you don't have many leads, marketing automation doesn't make sense.
You have content to create campaigns
Without content, drip marketing is just an automated series of email sales pitches. In this area, as in many others, content is king. Since the goal of marketing automation is to personalize marketing for a wide range of audiences, distributing content tailored to the interest of each prospect is the main method for providing them with value.
Content in this regard doesn't have to be just blog posts. It can be anything that your audience finds useful during their purchasing process, such as webinars, videos, or even instructions about how to better use your software app.
Whatever you choose, the key is to create automated campaigns (often referred to as "drip" campaigns) that adjust to the behavior of prospects in the sales funnel.
Here's a simple example of behavioral if/then logic in a drip campaign: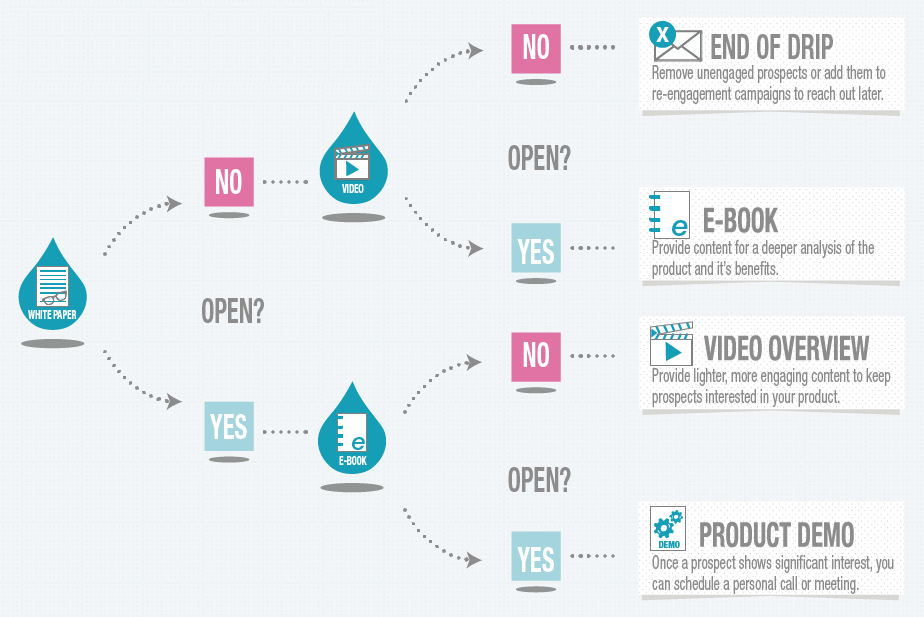 This may sound complicated — and it can be — but automation platforms allow you to create a veritable army of "if/then" as well as "and/or" rules that can segment prospects based on their behavior as well as their demographics, like company size or job function.
These campaigns run on content, and it take can take a lot of work to produce these assets. You can use some of your existing content where applicable, but to prepare for the changing dynamics of each buyer's journey, you'll likely also need to create dedicated material.
You have the manpower to iterate
The most egregious error you can make with marketing automation is to create campaigns and let them run with little oversight. Too many businesses use marketing automation this way, and end up shuffling prospects into rigid segments that don't change based on their behavior.
Testing your campaigns isn't all that complex, given that you have the technical talent to adjust landing pages and email campaigns. Every product should have substantial analytic capabilities that track prospect behavior on your website, in your email campaigns, and on social media.
Beyond analytics, a solid platform will also have a number of options for split testing different content, particularly in emails and landing pages.
Make sure you have the resources to make marketing automation an employee's main responsibility or the system won't get the attention that it needs, and your campaigns results will begin to wither.
Marketing automation isn't for everyone. Businesses in startup mode or early growth stages are unlikely to have the necessary amount of leads or manpower to effectively implement and manage a comprehensive marketing automation system. They're likely better off with an email marketing platform that allows for basic automation.
But if you do have the necessary volume of prospects, the right amount of content, and the manpower to manage it, marketing automation can be a powerful tool for driving your business to greater heights — which means significant returns on your investment.