At this point, the hype cycle for any new or novel marketing strategy or technology is well documented:
A new technology or strategy (usually both) gains momentum and rockets to the top of the SEO charts. Cue the hype articles.

The torrent of fluff articles recedes and leaves room for a more nuanced look at the topic.

Actionable blueprints for how to practice the strategy or implement the technology begin to surface.
Account-based marketing is right in the middle of this rigmarole, but if you look hard enough, past the "paradigm shifts" and other jargon, you'll find quality material on the inner workings of account-based marketing.
ALSO READ: An Inside Look at an Account-Based Marketing Stack
Which brings us to the topic at hand. You've read the statistics, and they're very favorable for account-based marketing. But statistics and hype leave a distinct information gap: How do you actually launch an account-based marketing campaign?
How do you plan the strategy, create the marketing, deliver the content, and track the results?
Keep reading to find out.
Choosing Target Accounts
According to Marketo, planning an ABM campaign takes up an entire quarter, on average.
That's because the preparation is extensive, and it all starts with choosing the right accounts.
This stage of the campaign process will have the biggest variation between companies, because the alignment between sales and marketing and the inclinations of leadership won't be carbon copied for every business.
For example, choosing target accounts could be as simple as the CMO passing on a list of accounts they have been mulling over for some time. On the other hand, it could be a more nuanced collaboration between sales and marketing.
In the latter instance, SiriusDecisions recommends a three-pronged approach for selecting accounts:
Consider the Opportunity Index

, or the growth potential for each account.

Consider the Achievability Index

, or the likelihood the account can be won.

Consider the Cooperation Index

, or the chances an account will be willing to collaborate with the seller.
Regardless of whether you take a systematic approach, follow the requests of a marketing or sales leader, or something in-between, it's important to only select a few target accounts when launching your maiden ABM campaign. Between three and five is a best practice.
Planning the Content
After the accounts have been agreed upon, it's time to start planning content. This is where much of the heavy lifting occurs, because each account you target should be approached as an entire market, so your understanding of the position of each company must be exceptional.
Begin by identifying the priorities of the company as a whole, and then work downwards to the department you're trying to target. Using social analytics to track the social media activity of individual prospects who work at one of your target accounts is an effective way to uncover the information you need.
Cisco used this strategy to build consensus between CMOs and CIOs by analyzing the context of their online conversations and social media publishing habits. The marketers at Cisco were able to identify "connectivity" as a topic that resonated with both CIOs and CMOs, which led content and advertising to hone in on connectivity issues.
Another example is Marketo's campaign targeting higher education accounts. The marketing automation provider wanted to increase its footprint in the higher education industry, so they mapped out a list of target accounts, identified influencers in each account, and developed content that honed in on the needs of those individuals.
The end result was a series of whitepapers that target different stakeholders in each higher education account: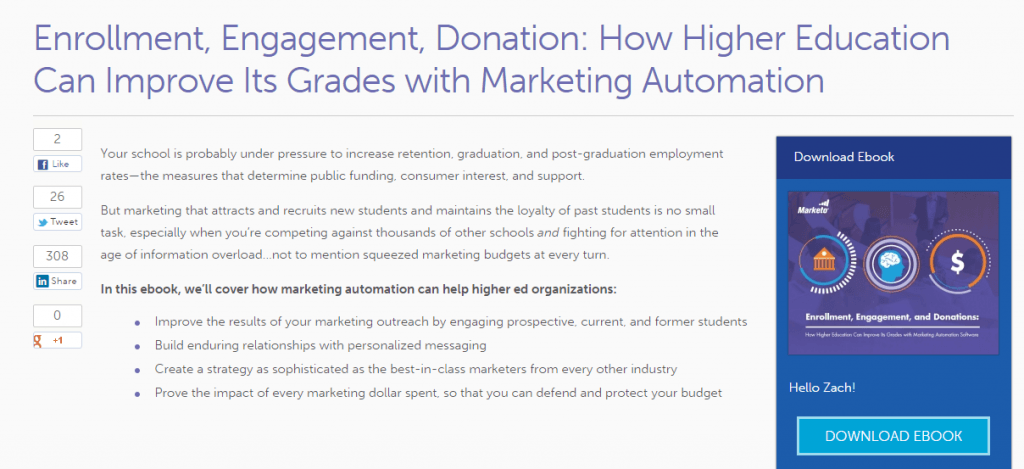 This whitepaper likely targets a stakeholder at in an executive position, because it hones in on graduation rates and retention.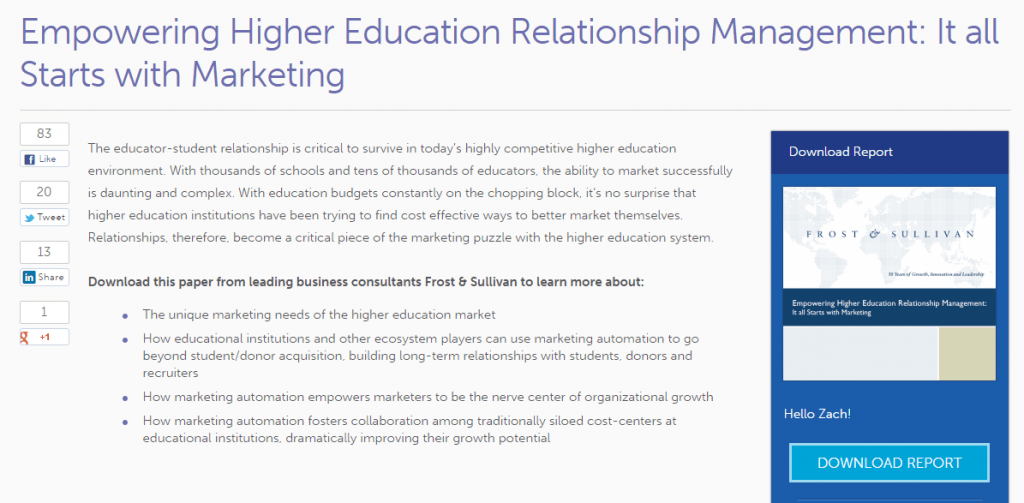 In contrast, this piece uses a Frost & Sullivan report to educate someone on the marketing needs of the higher education industry. Though the two pieces share a similar aim — to emphasize the benefit of marketing automation — they each serve a different audience.
This second piece speaks directly to the person in charge of marketing at the university, while the former targets someone above that marketing manager.
Orchestrating the Distribution
Now that the audience has been selected, and the content has been created, it's time to build the campaigns.
Because ABM is (mostly) a push tactic, the marketer is in greater control of how and when the audience receives content. This control is also enabled by the current crop of marketing technologies and their groundbreaking ability to personalize marketing.
We've already covered the account-based marketing stack in some detail, but it's worth quickly outlining how a couple of these technologies fit into your campaign execution.
Data Management Platforms
Systems like Terminus, Demandbase, and Marketo's new Ad Bridge have been described as retargeting software, and even account-based marketing software.
These systems are important because they let you combine first-party data from your CRM or marketing automation database with third-party network data. These platforms let you target accounts based on their IP address — and in some cases, job titles of employees working at those accounts.
This targeting pushes banner ads to whatever sites your prospects visit, and it's the best way to create engagement at the top of the funnel. As the prospect makes it farther along in their journey, these ads can change to reflect the new information needs of each prospect.
Marketing Automation
Email is still the most widely used channel for personalization, and emails sent from marketing automation systems can be triggered by behavior, firmographics, and many other criteria.
But you're likely familiar with the email abilities of automation platforms. Where these systems become very important for distributing account-based marketing campaigns is in their landing pages and analytics capabilities.
Any account-based marketing campaign is going to need a number of landing pages targeted toward different accounts — a task which you can easily use your marketing automation platform for.
And these landing pages can be programmed to dynamically display content based on URL parameters, so if someone from UC Irvine clicked through from Marketo's earlier campaign, the landing page could display personalized elements in real time.
The analytics are also important, too. Since Marketo released Ad Bridge, their platform has jumped ahead in ABM because the analytics from advertising are now centralized with the data from the website, and possibly the CRM.
For other campaigns not using Marketo and Ad Bridge, the marketing automation platform is still your best bet in terms of anlaytics. However, a business intelligence platform is also an option — though a much more complex one.
Either way, the goal is to create a single view of what's happening with each account at each stage of the buyer's journey.
***
From planning to content to distribution, account-based marketing takes time. It's a strategy that runs on a decidedly slower timer than the breakneck pace of inbound demand generation.
That's not a bad thing, but it does take a longer period of time to execute. As the strategy matures, best practices will become more codified, but at the moment, these guidelines are the most that account-based marketers have to go on.