On Tuesday, February 18 our CEO, Rob Bellenfant, appeared on the Cardone Zone radio show to talk about overcoming fear and his experience as an entrepreneur. The Cardone Zone is a motivational program hosted by sales guru and best-selling author Grant Cardone.
On the program, Cardone focused on the issues plaguing entrepreneurs in today's economy. According to the U.S. Census Bureau, entrepreneurship in the United States has been steadily decreasing for thirty years.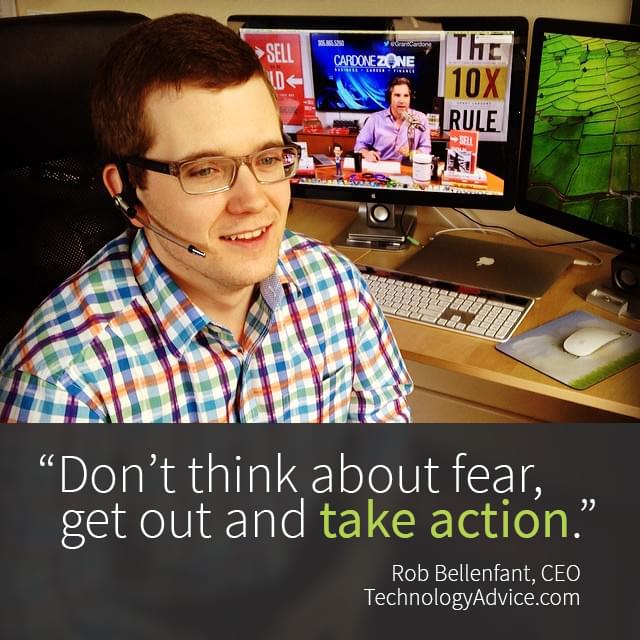 185 out of every 100,000 citizens started new businesses in 1994. That number shrank to 131 by 2010.
There are many theories as to why. A recent report by the Kauffman Foundation suggested a lack of foreign skilled workers could be the cause. Rob believes another factor is also responsible – fear.
Fear can be paralyzing for would-be entrepreneurs. While the fear of failure helps some succeed, it prevents others from even taking action. Cardone said he believes that fear is endemic to American society. Parents teach their children to "play it safe" and tell them, "don't talk to strangers." These are adages successful entrepreneurs learn to ignore. Rob had this advice instead for young entrepreneurs:
He encouraged new business owners to "move fast" on their ideas, and not be afraid of "delayed gratification." Entrepreneurs can buy the status symbols associated with success once they've actually succeeded. An encouraging statistic from a report published by the Deloitte Group said 70% of millennials want to start their own business. Rob said established companies should harness this desire by finding the "intra-preneurs" within their own organization. Rob pointed out that TechnologyAdvice is a great example of this. "Over 80% of our revenue today", he said comes from such "intra-preneurship."
At 28:57 mins.
For more information about Rob, check out his recent profile by the Nashville Business Journal, or follow him on Twitter @RobBellenfant.