Welcome back to #SmarketingWeekly, TechnologyAdvice's once-a-week roundup of the top B2B marketing and sales content (see our earlier editions here).
With "snackable" snippets and a direct link to each piece, #SmarketingWeekly is the ideal way for busy smarketing professionals to stay abreast of the latest trends and stories — whether you're on a train, in the checkout line, or in the bathroom.  Today's edition includes content on futuristic marketing, distribution channels, ABM partnership, sales enablement, customer experience, and more. 
On to the stories.
How many of you are eating lunch at your desk right now? According to a March 2015 article from NPR's The Salt, only about 20 percent of us step away from our desks for any appreciable length of time at the midday meal. Allset is a new app for diners and restaurants that aims to change that. According to NYC-based food writer Gloria Dawson, after booking your reservation and ordering through the app, participating restaurants deliver your food to the table within 5 minutes of being seated. While it may not signal a return to the three-martini lunch, Allset could certainly make taking a sales prospect out for a meal easier on a tight schedule.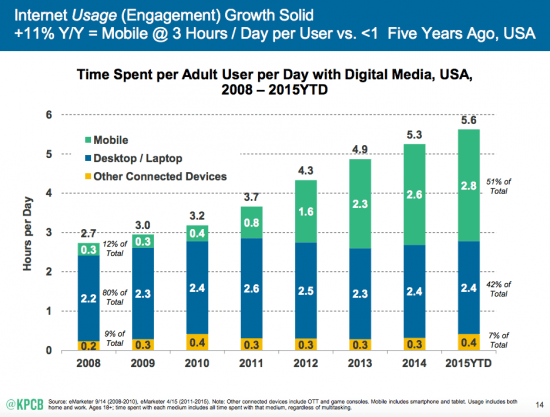 Mobile devices are now driving over half of all traffic to the web's top sites, and, according to Liz Bedor, senior content marketing manager at Bluecore, that trend is only increasing. Smart marketers know that they must go to the customer, and if the customer prefers mobile content, marketers must deliver. If you're struggling with ideas on how to capture a mobile audience, Bedor outlines three that will help you get started.  
The immediate future of content marketing may be mobile, but if the advertising world is any indicator, the distant future of content marketing may be branded, virtual experiences. According to Mark Bergen, "Virtual reality is in its early days," but early days bring innovators, early adopters, and those who will make billions off of them. Food for thought: when you see your first virtual ad on your first virtual device, will it be for a virtual product?
Online marketers have long been told that traffic is a vanity metric, but the simple truth remains: without new traffic, it is difficult to achieve growth. Everyone knows to optimize for Google and spread their content on social networks. But Neil Patel offers these high-traffic sites as places you may not have considered, but should consider as sources for new customers. 
Smarketing professionals like to think of themselves as social marketing and/or social selling mavens, but according to Jonathan Crossfield, CMI's chief content officer, we may be blind to our own insignificance. Well, not really, but he says many of us are focused on the wrong KPIs, and few can actually draw a correlation between social media and sales activities. In this piece, Crossfield details what you are (probably) doing wrong, and outlines steps to better align your social and sales processes. 
Now that you're questioning your social selling process (assuming you have one), this piece from Buffer's always-insightful Kevan Lee will help you ". . . make a funnel in a world where funnels don't exist," and tie your social media activities with your sales outcomes. Buffer might know a thing or two about selling on social. 
No matter how the funnel is shaped or where it operates, it's ultimately about qualifying leads — which for B2B smarketing professionals usually means a phone call. Leslie Ye tells you how to handle calls in several different scenarios, and outlines six  qualification frameworks  to use when having sales conversations. BANT isn't the whole picture.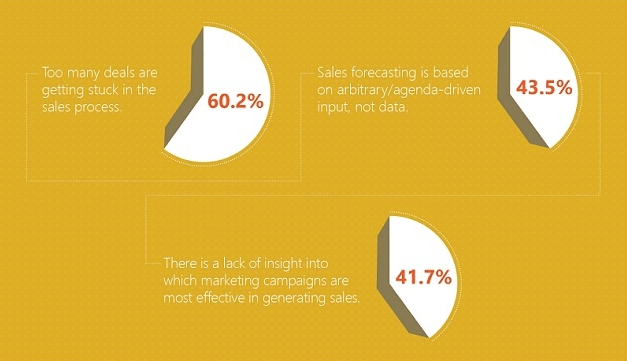 Improving sales enablement content and processes is a burgeoning effort at most B2B organizations. But according to this infographic from sales enablement software firm Seismic, a large number of businesses are having trouble figuring out what works — mainly due to lack of data. Check out the graphic and see if you're making any of the same mistakes. 
Perhaps the only sales and marketing trends garnering more press than sales enablement are co-marketing and account-based marketing (ABM). With this announcement from professional services giant Accenture and marketing automation software company Marketo, we get to talk about both. Hoping to tap into Accenture's credibility and reach, Marketo is training over 40 consultants to become Marketo experts and will team up with Accenture for sales calls on targeted accounts. It's a move so perfect, you can't help but covet the idea. 
While it's not nearly as fun as ABM or co-marketing, schema is perhaps even more important to your marketing efforts. You've likely heard of schema in reference to search engine results. It's the structured data that search engines use to provide the rich content snippets below your page title. You may even have thought, "Gee, I wish our site had that," but when you looked into it,  found this: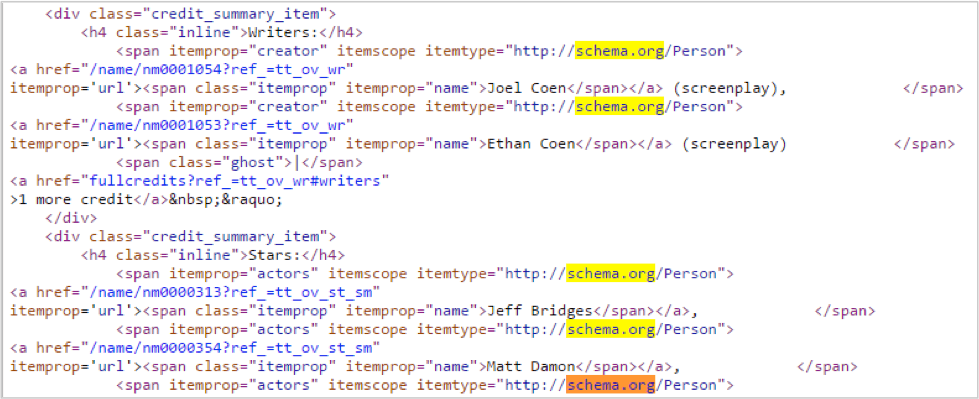 …and ran screaming from the room. Now, thanks to Kaila Strong's guide and handy assortment of resource links, you can confidently stride back into the room and work on implementing schema for your website.
Marketing's increased focus on the post-sale experience is great for customers. According to McKinsey analysts Joel Maynes and Alex Rawson, "Executives are quick to see the end-game benefits." Unfortunately, they note, executives ". . . often fail to understand clearly what a superior customer service is worth and exactly how it will generate value." In this article, the last and longest of this week's roundup, they provide an extremely useful framework, complete with thorough, plain-language explanations on how you can quantify a customer experience improvement program's impact on your bottom line. 
* * *
As always, thanks for reading this week's edition of #SmarketingWeekly. We hope you found the content enlightening. If you have suggestions for stories, videos, podcasts, or other sales/marketing content you'd like to see featured, share it with the #SmarketingWeekly hashtag, mention @smarketingwkly, or connect with curator Charles A. "Drew" Settles