Welcome to the latest edition of #SmarketingWeekly, TechnologyAdvice's once-per-week roundup of the best sales/marketing news you might have otherwise missed. Check out earlier editions here.
#SmarketingWeekly helps you catch up on the latest news, research, and opinions. Whether you have a minute or an hour, we'll fill you in on trending topics, stories, and all things "smarketing."
This week's edition includes stories on Pinterest and Instagram advertising, ad-blocking, empathy, long-form content, what business leaders really think about digital marketing, and more. 
Have you been paying attention to Pinterest and their ad sales ambitions? After saying late last year that they'd only seek arrangements with consumer goods and retail advertisers, Jack Marshall reports the company has performed an about-face and is re-broadening their horizons to target all advertiser verticals in the U.S. market, "with a particular focus on financial services, travel, automotive, and quick-serve restaurant marketers." It seems Pinterest has as much trouble selling ads to businesses as business have using the ads to drive demand.  
While Pinterest may be struggling with an advertising sales model, Instagram is following in parent company Facebook's footsteps. According to Nick Statt, Instagram's new dedicated brand pages for companies "adopt some of the functions of Facebook pages by categorizing companies by type and letting  users reach out using a contact button." With over 200,000 advertisers on the platform, it was only a matter of time before brands began using Instagram as yet another direct communication channel. 
Marketing automation firm Act-On and research organization Ascend2 recently partnered on a survey of 73 owners, partners, and C-level executives at companies in the United States. The goal? Establish what perception leadership has of digital marketing efforts at B2B, B2C, or mixed-focus companies. Ayaz Nanji reports that a large majority (78 percent) say their company's efforts are somewhat or very successful; only 22 percent said their efforts were not successful. Check out the article for more graphs and insights.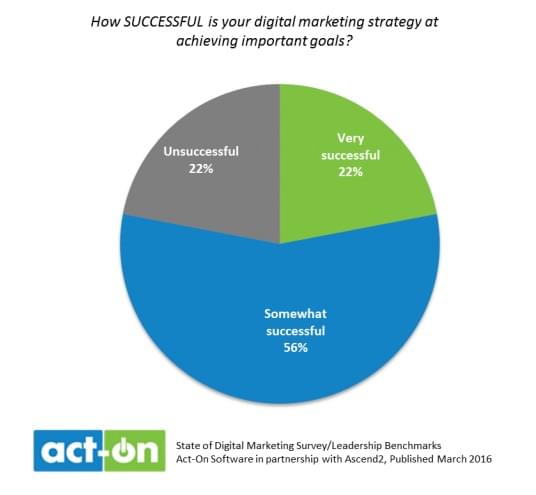 Ad-blocking software is reaching critical mass in the marketplace, and it's "just one sign of the recent popular rebellion against advertising," Kirk Cheyfitz writes. "Such signs suggest irrelevance is where much of the ad business has been headed for the last 20 years," he continues. On the Internet, the consumer is in charge, and "if you don't create stuff that really matters to people — stuff they actually want to see and hear — you will be ignored, avoided, and blocked." If you don't want to be ignored, avoided, or blocked, now is the time to start delivering on what the consumer truly craves. This article is a must-read for any marketing strategist.
According to Michael Brenner, advertisers only have themselves to blame for the ad-blocking epidemic. For far too long, marketers have marketed at consumers, rather than try to understand their needs and market to them. The key to re-engaging consumers? Humanity. Ad executives, marketers, and sales professionals have to remember that behind those "conversions" and "uniques" are people — people with hopes, dreams, fears, and desires. Only then can we as smarketers hope to create true engagement. 
Every savvy sales and marketing professional knows (or should know) that customer retention is a relatively low-cost, low-effort way to maintain and grow revenues. But many companies fail to onboard clients and partners effectively, which "can lead to poor partner performance, dissatisfied end customers, partner disengagement," and ultimately, a lost client. Stephanie Sissler has identified eight tactics that will help you improve your partnerships by investing in their success.
Pete Caputa wants you to ignore the "classic sales advice [that] instructs reps to 'call high' in the organization by reaching out directly to decision makers." Why? Because in today's complex sales environment, "meeting with salespeople is usually something decision makers do once they've decided to investigate something." In other words, they aren't interested in your sales pitch until they've already initiated communication. Instead, he takes a page from the account-based marketing playbook and recommends you start with the rank-and-file. Internal advocates can provide insight that will help you close deals faster. Check out the article for examples, tips, and more. 
As we mentioned in the last piece, today's sales environment is extremely complex — so much so, we decided to create this handy infographic to explain what a modern B2B sales pipeline looks like and how you should define your own sales stages. Data compiled by our very own Aleks Peterson.
In our last piece of the week, Amy Mitchell, Galen Stocking, and Katerina Matsa have good news: despite rumors to the contrary, long-form content is not dead. Despite the increasing trend towards a mobile-first Internet experience, consumers show signs of real engagement with long-form articles on smartphones. The Pew Center researchers spent months analyzing the details of 117 million anonymized cellphone interactions with nearly 75,000 articles on 30 news websites during September of 2015. See the article for key findings, including metrics from web analytics firm Parse.ly, how time of day affects engagement, and more. 
* * *
As always, thanks for reading #SmarketingWeekly. If you have suggestions for stories, videos, podcasts, or other sales/marketing content you'd like to see featured, share it with the#SmarketingWeekly hashtag, mention @smarketingwkly, or connect with curator Charles A. "Drew" Settles.