We're glad you're back for this edition of #SmarketingWeekly, the once-per-week roundup of the top stories for sales and marketing professionals, brought to you by TechnologyAdvice. 
Check out earlier editions of SmarketingWeekly here.
#SmarketingWeekly is an easy way to keep up with the latest research, opinions, and news. Whether you have one minute or one hour, we'll get you up to speed on the top trends, stories, and all things "smarketing."
This week's edition includes stories on consumer-generated content, old school SEO, Chatbot disruptions, a study of 4.8 million Tweets, and much more.
Matt Senatore, ABM service director at SiriusDecisions, talks about the first step in building your account-based marketing strategy and explains how companies can sabotage their efforts before they begin. To set your team up for success, check out his article, or either of his two sessions on ABM at the upcoming SiriusDecisions Summit here in Nashville.
Speaking of self-sabotage, the Wizard of Moz, Rand Fishkin, admonishes you to discontinue the questionable SEO tactics of old. Not only are they ineffective, but it's possible that outdated strategies can harm your search rankings. Check out the article or watch the video below.
Just as there are sure signs of questionable search engine marketing tactics, Aja Frost reminds us to look for warning signs when discussing a deal. Time is money, and time wasted on a doomed deal is time that could have spent working on a successful deal — a perfect example of opportunity cost.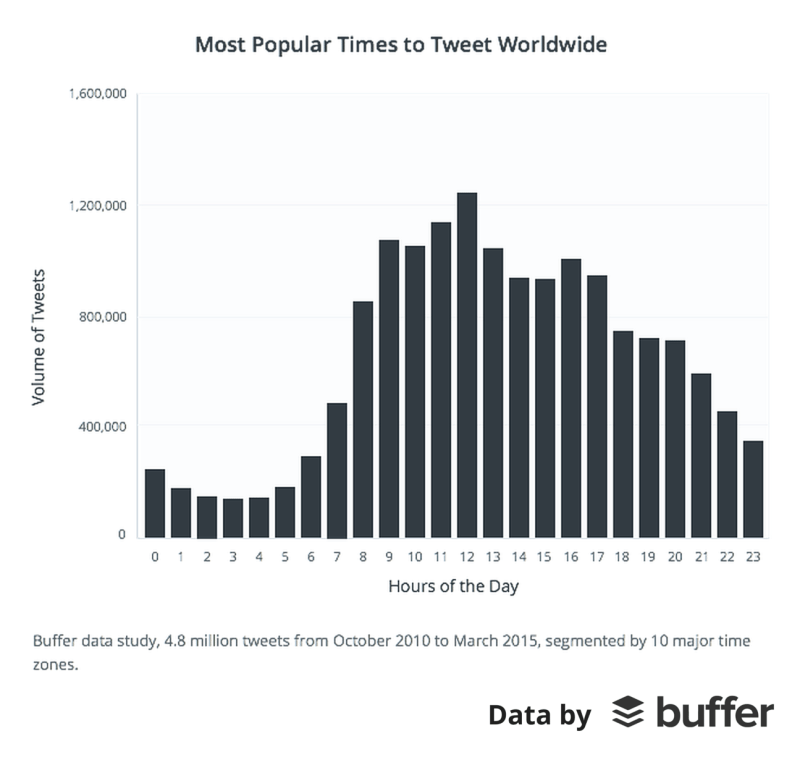 You can always count on Buffer to tackle the big questions (and big datasets) in their original research. Kevan Lee details the significant findings, some of which may surprise you. For example, early morning tweets receive the most clicks, on average, and evening/night tweets receive more favorites and retweets. Check out the article for the full study, but make sure you have some time to digest the takeaways and large volume of data.   
Apparently "chatbots" are the hip new way brands are engaging with customers, delivering automated yet personalized content on-demand. Matt Swanson envisions a world where chatbots have replaced or augmented many of the channels customers currently use to engage with brands. It's not as far-fetched as you might think. 
According to Kris Hammond, we have nothing to fear from the impending singularity. He, for one, welcomes our robot overlords, if only so the important decisions aren't left to human "goofballs." Discussing issues such as confirmation bias, ownership, and anchoring, he makes the case that "with intelligent systems, we now have the opportunity to be genuinely smarter." Do you agree?
A new research report from predictive marketing firm Radius asked B2B marketers about their successes and challenges with demand generation; according to the responses, 55 percent of B2B marketers using predictive analytics meet their campaign objectives (click to tweet). That's enough of a percentage to put many firms on notice. It may signal that predictive marketing laggards are entering the consumer decision journey. Writeup by Kristina Knight.
Mercedes M. Cardona went to the latest Forrester Research Marketing Forum, held the final week of April in NYC. While some in the industry are doubling-down on data, digital, and disruptions, others believe "a seismic wave of change is coming." Are you ready for the post-digital marketing world?
Daydreaming about a post-digital marketing world is both titillating and terrifying, but some of us still need to generate, capture, and track revenue. Kelsey Meyer offers this guide to help you "match metrics to goals, measure success, and become a better, more effective content marketer." Isn't that the dream?
From Adweek's SocialTimes, Kimberlee Morrison breaks down a recent report from BazaarVoice. The report explored how consumer-generated content impacts user engagement and revenue. On retail sites, for example, conversion increases by 97 percent when users view consumer-generated content prior to purchase, (click to tweet) and revenue increases 106 percent. If that doesn't convince you to consider a user-generated content strategy, check out the rest of the article. 
* * *
As always, thanks for reading #SmarketingWeekly. If you have suggestions for stories, videos, podcasts, or other sales/marketing content you'd like to see featured, share it with the#SmarketingWeekly hashtag, mention @smarketingwkly, or connect with curator Charles A. "Drew" Settles.