Welcome to the latest edition of #SmarketingWeekly, TechnologyAdvice's once-per-week roundup of the best sales/marketing content you may have otherwise missed. Check out our earlier editions here.
With a brief overview and direct link to each article, #SmarketingWeekly is the smarter way to catch up on the latest news, research, and opinions, whether you have a minute or an hour. 
This week, we'll cover the allegedly burgeoning chat bot revolution, when to (not) trust automation, a study on mobile push notifications, sales enablement and the customer journey, and much more. 
On to the headlines.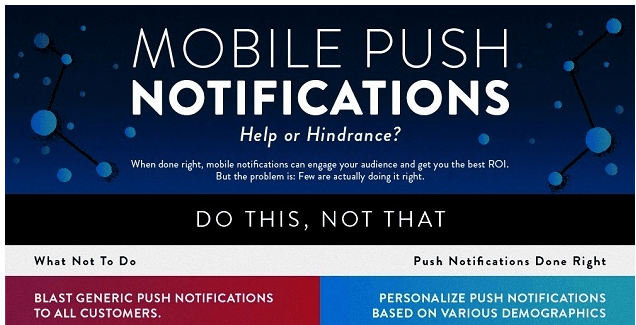 Mobile marketing is a huge topic in the B2B and B2C realm, and with good reason: statistics show user consumer consumption of online media via a mobile device is continuing to grow. Push notifications are a surefire way to reach consumers, but risk annoying and causing them to uninstall your app or worse. Microsoft put together a helpful infographic to use when deciding whether or not to disseminate marketing messages via push notification.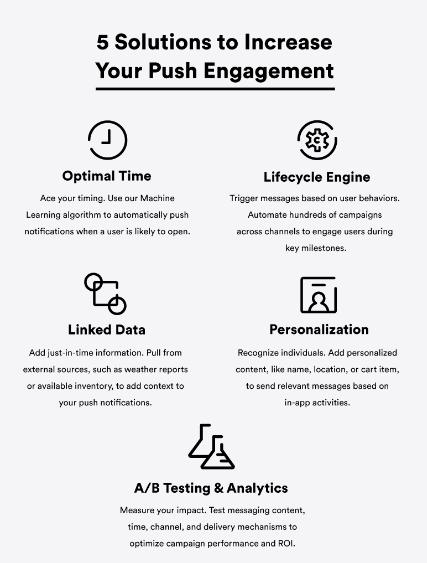 In an argument for using push notifications, mobile marketing firm Leanplum studied over 1.5 billion push notifications "to quantify the impact of personalization on app engagement." They found that certain tactics increased open rates by as much as 800 percent. Check out the link for a handy infographic summarizing their findings. 
Beacons and location-based marketing are another mobile avenue we're excited about here at TechnologyAdvice. While most of the current applications are consumer-focused, Samuel Greengard offers several examples B2B marketers should consider. "The ultimate goal is to create greater engagement with the brand and introduce more meaningful and efficient interaction," he writes. That's something we can all get behind. 
In past editions of #SmarketingWeekly, we've talked about planning production of webinars, ensuring a consistent consumer experience, and some case studies on how top digital marketers increased revenue with webinars. Webinars are a proven B2B marketing strategy you should be using today. Eric Vidal, chief content officer at The Marketing Scope, offers some best practices, demand generation strategies, and tells you when to un-gate your webinar content. If you use or are considering a webinar marketing strategy, check it out.
Buyer personas are an important part of any successful marketing strategy, key to engaging consumers via any channel. While they're not a new concept for most of us, it's important to revisit and refresh them from time to time. Marcia Riefer Johnston has put together one of the best guides we've seen on how to construct buyer personas that will help you grow sales. The guide draws from Ardath Albee's presentation at the Intelligent Content Conference, "How to Develop Audience Personas That You'll Actually Use." 
While you're refreshing your buyer personas, Jillian Eyl of SAVO offers an insight that you'll need to consider (and that every sales manager needs to hear): "75 percent of buyers feel like they're way ahead of the salespeople who are supposed to be 'helping' them." Salespeople and marketers alike need to remember that buyers have completed 57 percent of the customer journey by the time they contact you; the customer experience should reflect that dynamic. The same survey found that 89 percent of B2B buyers conduct online research during the buying process, so maybe the last 43 percent of the journey that you control should focus on content: sales enablement content. 
Speaking of sales enablement content, here's a great example from the Act-On blog. While it's a little further up the funnel than what some might consider sales enablement, the interactivity makes it likely to draw the attention of those who would be a good fit for Act-On's services, and the content download offered should create some good prospects. Check it out!
You probably haven't missed the "media swarm around chat bots" over the last few months, writes Scott Horn, CMO at [24]7. He cautions marketers to "carefully consider both the strengths and hurdles of bot technology," and provides examples of what he calls "intelligent bots" for marketers to consider when choosing or designing a customer chat bot experience. 
According to VB's Chris O'Brien, even if marketers decide to implement chat bot software as a new consumer interaction channel, "discovering ones that are actually useful is as hard now as it used to be to find a unicorn." Describing a "cumbersome process" researching the prophesied chat bot takeover and companies offering solutions, he opines that it's likely the revolution may "fizzle" before it begins if no marketplace (i.e. Apple's App Store) emerges to serve mainstream demand. 
Vasant Dhar, data scientist and Professor of Information Systems at the NYU Stern School of Business, has developed a "risk-oriented framework for deciding when and how to allocate decision problems between humans and machine-based decision makers." Until now, one didn't exist. "That's surprising, given the high stakes involved," Dhar writes. While the stakes may pale in comparison to some of the applications he outlines in healthcare or finance, the cost of a poor customer interaction is high for B2B firms. Anyone considering implementing additional automation in their consumer interaction channels (cough, chat bots, cough) needs to read this one. 
* * *
As always, thanks for reading #SmarketingWeekly. If you have suggestions for stories, videos, podcasts, or other sales/marketing content you'd like to see featured, share it with the#SmarketingWeekly hashtag, mention @smarketingwkly, or connect with curator Charles A. "Drew" Settles.