Hello! Welcome back to #SmarketingWeekly, the once-per-week TechnologyAdvice roundup of the best sales and marketing content you may have missed. 
Each week, we assemble news, opinions, and research from all over the web. With a brief summation and a direct link to each piece, #SmarketingWeekly is the quick and easy way for the savvy smarketer to stay abreast of the latest developments.
This week, we'll discuss "expand selling," a three-step guide to proving content ROI, the four elements of the buyer's journey, and much more. 
Read on. 
Dan Brotzel, content director at Sticky Content, opines on the state of content, asking us to consider "what content means for us in our world?" How do you define 'digital content?' Beyond the obvious distinctions between video, audio, and text-based content, how do we delineate between branded, sponsored, promoted, co-written, co-produced, or any other content participles? Food for thought: how does consumers' desire for brand authenticity affect your answer?
No matter how you define content — digital or otherwise — marketers' first concern is proving content ROI. Content marketing is marketing, these days, and if you can't tie your efforts to revenue generation, good luck! Thankfully, Erica Lindberg of Kapost has broken down how to calculate content ROI in just three steps. Marketers can use her framework to determine content ROI manually, or as a basis on which to build automated revenue tracking. 
A key element to any content marketing strategy is the development of buyer personas. They're invaluable when planning your content calendar, searching for good keywords, or trying to identify buyer pain points. According to Christina McKeon of SiriusDecisions, they can be invaluable to the rest of your organization as well, via the construction of a buyer's journey map. Using the buyer persona in conjunction with mapping the customer experience helps you make more accurate assumptions about buyer behavior, and with greater accuracy comes greater revenue (hopefully). 
According to Greg Sands of Costanoa Venture Capital, "Most well-intentioned companies start building a product with a target persona in mind." But as Gen. George Patton once said, "No battle plan survives first contact with the enemy." In other words, you're likely to end up with exceptions to your persona rule. Many times, these exceptions aren't obvious, and they can keep you from gaining market traction. Sands offers 12 key questions to ask yourself (and your data) to better understand which of your customers will be the best long-term fit for your product and/or service.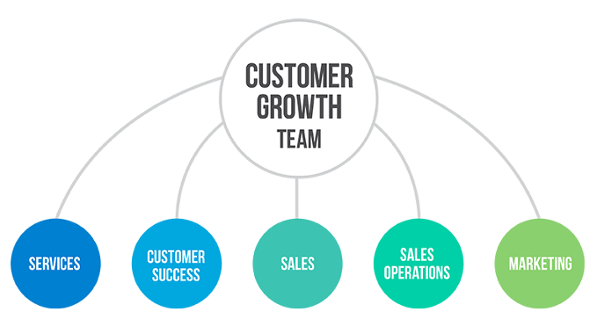 So, you've determined which of your customer "archetypes" is the best fit — now it's time to start expand selling. According to Mark Middlekamp of TSIA, expand selling is "accelerating revenue growth through highly-efficient selling models and motions." That means everyone at your organization should be part of the sales and marketing team — a.k.a. the customer growth team. "TSIA estimates that services and customer success touch a customer 15 to 20 times more frequently than sales," so if they're not working to gain referrals or expand existing business with up-sell or cross-sell opportunities, you're missing out on a lot of revenue. Talk about marketing/sales alignment!
Now that the last article has convinced you to look for revenue from departments beyond sales, it's time to look at how some of the most innovative inside sales organizations are structuring their business development teams. Acknowledging that sales has "traditionally been a solo sport," Matt Reid of Velocify says the modern sales process is evolving into a team sport. He gives some examples of how top-performing teams are structuring their hierarchy and where each role fits in the process. If you're building a new sales team or trying to align a sales and marketing department, you should check this one out. 
According to Sujan Patel, "Building a brand is more important than ever." No, he's not talking about your company's brand (though that's important, too), he's talking about your personal brand. In an age where people are nice, non-confrontational, and Google everyone they meet, how you represent yourself to the world online is hugely important. To risk being cliche, you don't get a second chance at a first impression, and if you want social-selling success, you need to have a strong personal brand. Patel uses some experiential anecdotes to explain why your brand is important and how he uses his personal brand to support sales efforts. Whether you're in marketing or sales, you need to check this one out. 
On a lighter note, check out this fun infographic from our friends at HubSpot. Ever heard, "I'm not sure about the price," and wondered what the real issue was? Wonder no more.

First Vimeo, then Facebook, now Amazon — everyone wants a piece of YouTube's behemoth online digital video distribution market. In the final piece of this week's edition, TJ Leonard, CEO of VideoBlocks, talks about how YouTube could be vulnerable, and that marketers need to be aware of the shifting online video distribution landscape. If you use video to promote your brand, you'll want to consider what he has to say. 
* * *
As always, thanks for reading #SmarketingWeekly. If you have suggestions for stories, videos, podcasts, or other sales/marketing content you'd like to see featured, share it with the#SmarketingWeekly hashtag, mention@smarketingwkly, or connect with curator Charles A. "Drew" Settles.