Welcome to this week's edition of #SmarketingWeekly, a TechnologyAdvice round-up of the web's top content for B2B sales and marketing professionals. Each week, we gather the best news, opinions, stories, and other content and deliver it here in a "snackable" format.
This week, we're taking a critical look at sales/marketing service-level agreements, a six-step process for handling social media complaints, customer retention strategies, privacy in the digital age, and several other stories you won't want to miss.
Share your favorite headlines on Twitter!
Kicking off this week's edition is a critical look at a key aspect of sales and marketing alignment: the service-level agreement. Don Drury — a SiriusDecisions consultant with a long history of sales leadership — cautions organizations to resist the urge to check off boxes. Paying lip service to sales/marketing alignment can spell disaster. He offers a cautionary tale of a SiriusDecisions client that had an SLA in place, a "seemingly endless pool of leads," and yet, most of their performance was "well below competitive benchmarks and required outcomes." Think that can't happen at your organization? It might already be an issue.
If you're just beginning to talk about sales/marketing alignment at your organization — or if you're in a broken Smarketing relationship like the one described in the previous article — you'll want to read this piece by George Verey, marketing operations manager at Act-On. Verey outlines a few scenarios and offers marketing professionals solid advice on how to champion their sales team and their career.
Sales has always been a numbers game: number of calls, number of appointments, and most importantly, revenue. Few sales veterans dispute this, but tracking sales and sales activities is still a roadblock for many organizations; they struggle to define a sales model that is both predictable and scalable. Steli Efti, CEO of sales software company Close.io, says too many companies are in the process of "sales exploration" rather than sales execution. Efti explains how to build a sustainable, scalable sales model and measure it properly.
Landing sales is only half the battle; customer retention and advocacy are just as vital to business growth. Since it costs five times more to acquire a new customer than to keep an existing one, companies can ill afford to ignore retention. Jami Oetting, editor of HubSpot's Agency Post, outlines 11 ways sales professionals can improve this key performance indicator from pre-sale to post — another area where sales and marketing alignment can truly shine.
Our very own Aleks Peterson takes a look at the theory of customer centricity, or putting the customer at the center of all that you do. If you identify with any of the following scenarios, check out the infographic:
Prospects don't trust you enough to opt-in

Low engagement with content or campaigns

High email marketing opt-out rate

Shrinking profit margins

Increased customer churn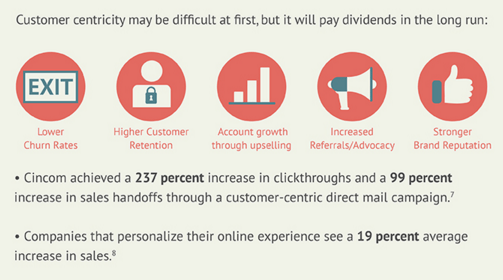 Being customer-centric is easy when you're focused on happy customers. Dealing with your detractors is another story. If handled properly, companies have the power to turn negative experiences into positive ones and create raving fans out of customers who were once raving mad. Jay Baer, marketing guru and author of the new book, Hug Your Haters, offers his F-E-A-R-S model as a solution for handling irate customers who have taken to social media. The article (and book) is a must-read for anyone who manages a corporate social account.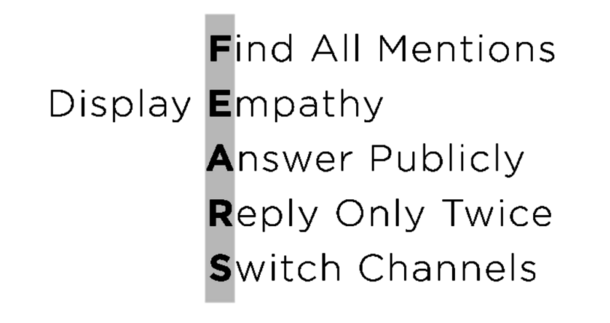 Beyond public social media complaints, bombarding your site with inbound links from suspect domains can also damage your brand. This black-hat technique can be difficult to detect and even more difficult to recover from, but entrepreneur and marketing guru Neil Patel's four step process will have your domain's authority on the road to recovery in no time.
If you have trouble with Google Analytics, this Google Sheets add-on might be one of the most useful tools for deciphering your data, short of the Analytics Academy. Distilled Analyst Tian Wang explains:  
What is the Google Analytics add-on?

How to install and set-up the add-on

How to create a custom report

A step-by-step example of how to create an automated report

Pitfalls and further considerations
It's a long read, but highly useful to any marketer using Google Analytics.
For this week's final piece, we leave you with veteran tech journalist Walt Mossberg. Mossberg's take on the Apple-FBI showdown suggests that your data may not be as safe as you might think. Just ask Jennifer Lawrence, Kate Upton, and other victims of the massive iCloud hack that broke in August 2014. For all the (legitimate) hullabaloo about giving governments a master key to unlock Apple's encryption, we forget that much of our data is already accessible to governments and hackers alike.
* * *
As always, thanks for reading this week's edition of #SmarketingWeekly. We hope you found the content enlightening. If you have suggestions for stories, videos, podcasts, or other sales/marketing content that you'd like to see featured here, share it with the #SmarketingWeekly hashtag, mention @smarketingwkly, or connect with curator Charles A. "Drew" Settles.