It's time again for the newest edition of #SmarketingWeekly, TechnologyAdvice's once-per-week roundup of the web's best content for sales and marketing professionals (aka 'smarketers').
Each week, you'll find the latest news, opinions, and research; with a brief summary, takeaways for sales/marketing, and a direct link to each piece, #SmarketingWeekly is the smart way for savvy smarketers to stay informed. 
This week, we'll cover the attention resource cycle, measuring the impact of successful sales hand-offs, a journalist's take on content marketing, how Google Trends makes you look stupid, and much more. 
Read on.
Considering the classic economic principle of supply and demand, Kimbe MacMaster of Vidyard points out that in this age of streaming, on-demand, customer-centered everything, there's only so much attention to go around. There are, after all, only twenty-four hours in a day. Furthermore, according to MacMaster, low prospect volume can be because you have about eight seconds to capture your prospects' limited attention, and marketers' usual answer to that (more volume) is only making things worse. "The future of marketing . . . your future . . . depends on this ability to build a connection," MacMaster writes. End the self-defeating cycle and see how ten percent higher conversion rates can mean doing more with less.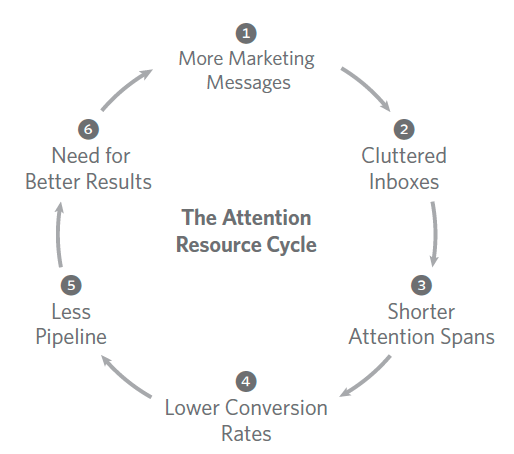 We can't wait for INBOUND 2016; this year's annual HubSpot conference will be November 8–11 in Boston. Over 100 breakout speakers have already been announced, including Gary Vaynerchuk, Alec Baldwin, and the creators of Netflix's "Making a Murderer". Elijah Clark-Ginsberg outlines tracks for several marketing focus areas, including email marketing, content creation, conversion rate optimization, and more. There's a code for $200 off an All-Access pass if you register before the end of June, so get to it!
The saga of whether or not Twitter will ever be a real boy just keeps getting weirder and weirder (or maybe sadder — we're not sure). In the latest head-scratching move from the embattled social media platform, they've taken a page from Snapchat's book and introduced stickers for images shared on the platform. Calling it a "new, visual spin on the hashtag," Kurt Wagner suggests that Twitter either wants users to share more pictures, or that this is a desperate reach to maintain relevance with younger users. What do you think of Twitter stickers?
Giving us "insight in how people use Google," Danny Page warns that the shocking headlines we've come to expect (like the example Tweet below) may be less accurate than we think. 
"Americans frantically Googled Mitt Romney after voting against him." pic.twitter.com/Ykqss7jFLL

— Ben Casselman (@bencasselman) June 24, 2016
Coining a new, nicer meaning for GTFO (Google Trends Freaking Out-rage), he recommends journalists, bloggers, and other content creators who want to use Google Trends should take a look at average monthly search volume over on AdWords before they do so. Outlining several examples, Page shows the power pretty graphs can have over our better judgement. 
Journalism and content marketing have long been separate, but not equal. As more journalists become content marketers, that's changing, Clare McDermott writes. In an interview with Cameron Conaway, award-winning freelance investigative journalist and content marketing manager for task management app Flow, she reveals how brands can hire journalists to create their content, how universities are coming up short when preparing new content creators, and how journalists and content marketers have much to teach each other. It's a good read for any content creator, but especially good for those who manage them. 
According to new research from Curata, 43 percent of companies say they plan to increase the number of staff working on content marketing this year. Ayaz Nanji breaks down the report and some of its other key findings, including the growing number of organizations with an executive (chief content officer, VP/director of content) directly responsible for content and/or content marketing. Check out the rest of the results (and graphs) in the article.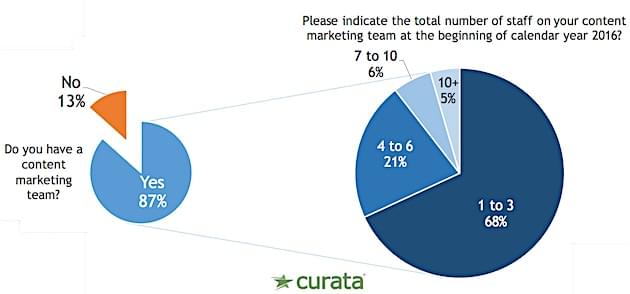 Perhaps the only smarketing team growing faster than content is sales development. As we've mentioned in past editions of #SmarketingWeekly, the rise of the sales development team is helping companies achieve higher and faster revenue at less cost. Terry Flaherty equates modern B2B lead management with a relay race and focuses on the value of a smooth hand-off between stages of the SiriusDecisions Demand Waterfall. If you're struggling to get support for your sales development team, have HR and your executive read this piece. 
According to Close.io CEO Steli Efti, "Too many startups focus on the numbers, rather than the people behind the numbers." Admonishing us that "there's more to UX than clicks and conversion rates," Efti says you need to sit down with your customers and watch them use your product. It's much easier to identify their pain points in terms you can understand, which will help you create content (and sales pitches) that they understand. 
For another entry in the why-didn't-I-think-of-that database, Jim Burns, President of Avitage, introduces the concept of a "Content Source," a searchable text database of all your content and text elements (interviews, outlines, quote, notes, etc.). If you had instant, indexed, easy access to content on every topic you've ever written, do you think it would be easier and faster to create more quality content? Of course it would. Check out the article for a step-by-step explanation from Burns on how to set up your Content Source and use it to create new content.
* * *
As always, thanks for reading #SmarketingWeekly. If you have suggestions for stories, videos, podcasts, or other sales/marketing content you'd like to see featured, share it with the#SmarketingWeekly hashtag, mention@smarketingwkly, or connect with curator Charles A. "Drew" Settles.