Social media marketing isn't just a task to be delegated to the marketing intern; it's an integral part of the customer experience.
In 2017, up to 90 percent of U.S. businesses were using social media for marketing purposes. Things have changed dramatically in the social media landscape since Tom became your first friend on MySpace. Snapchat has become a new way to connect with millions of customers. Instagram has changed from exclusively pictures to adding videos in 2013 and stories in 2016. Twitter ditched ads and focused on promoted posts. And TikTok was the #2 most-downloaded app in 2019, making it an emerging platform for brands.
ALSO READ: Sprout Social vs. Hootsuite: Comparing Two Social Media Standouts
Marketers can find tons of information around the web about what sorts of content they should promote and which formats produce the most engagement, but the problem for many social media managers is not what to post, but rather how to compile and analyze the data those posts generate.
A good social media management tool will let you build and schedule posts, but also engage with your users and listen to feeds for mentions that you can turn into leads.
Comparing Sendible vs. Hootsuite is an exercise in detail. These two social media management options are fairly equal in scope and capabilities. Both platforms come at reasonable prices for small and medium-sized businesses, as well. But they aren't exactly the same. Let's take a look.
Dashboards and Reporting
The Sendible dashboard centers around content sourcing and posting, with recommendations to help facilitate content sourcing. All of your social accounts stream in a central location, and a prioritized inbox makes follow-up easy. Social listening is right there in your dashboard, so you can watch your brand mentions alongside your post feed and get real-time feedback on how your posts perform. Sendible provides reports on a variety of social media metrics within their visual editor. You can build and schedule reports to make sure your team receives on-time updates. Google Analytics is also built in, to show the top performing content and help improve your processes.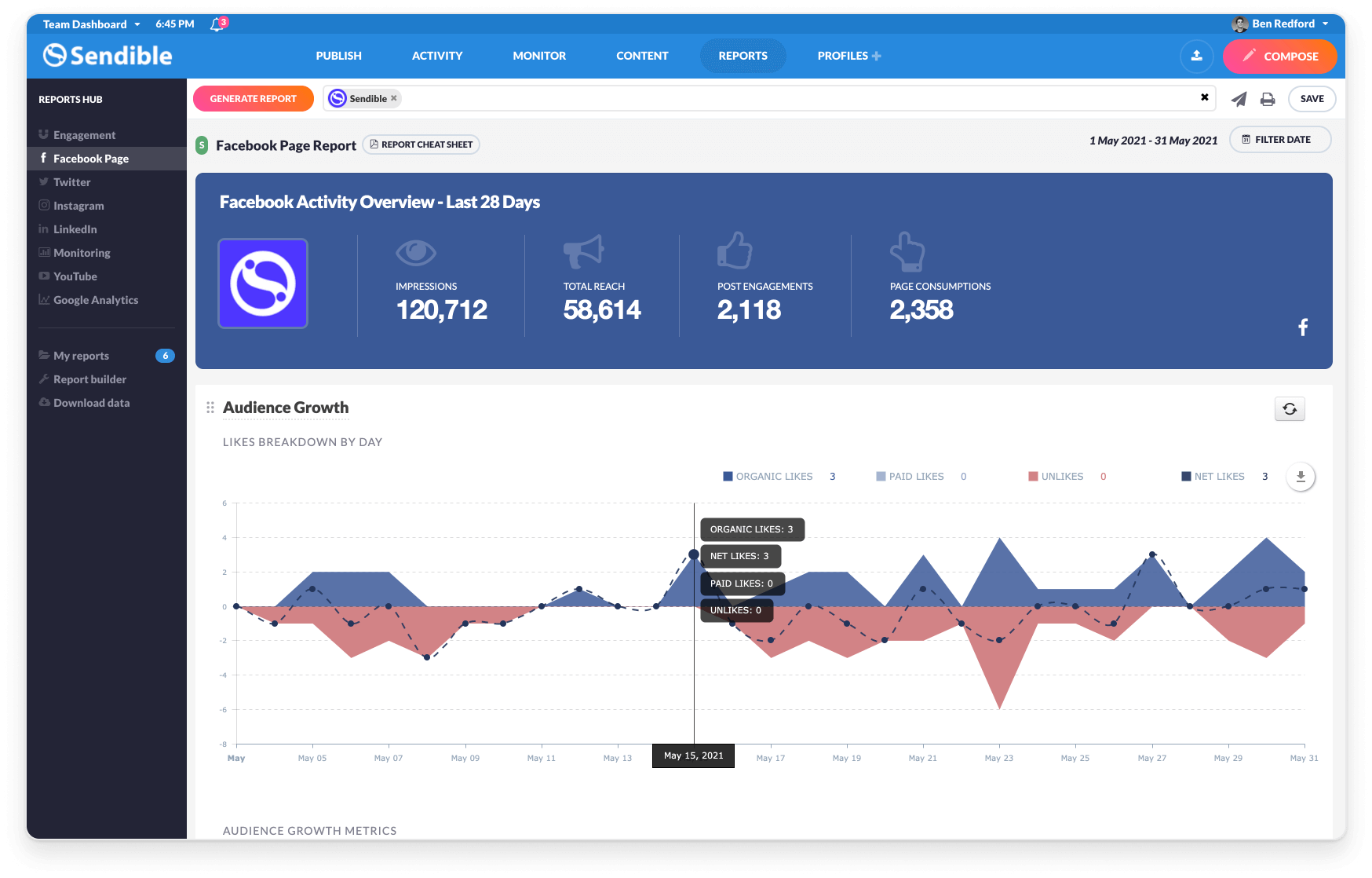 Hootsuite built dashboards that facilitate team management of accounts. Their dashboards let all team members respond in real time to messages or mentions, and monitor social streams in a centralized feed. You can answer common questions with prewritten macro responses tailored to your brand. Hootsuite offers analytics through "boards," which show campaign or individual-level metrics for both Facebook and Twitter. Response time analytics help you increase team efficiency.
As far as dashboards are concerned, Hootsuite provides better features for managing campaigns from a centralized dashboard, especially when it comes to responding to customers within the platform. On the other hand, if you want deep and segmented analytics, Sendible is a better choice.
Curation and Scheduling
Both of these platforms employ extensive content curation and scheduling systems, with capabilities to post to a wide range of social networks.
Sendible recommends content from internal Sendible RSS feeds and blog posts across the web. You can also hire in-house content generation teams (writers for hire) to produce the content you don't have time to write on your own. When you've got your content, you can schedule single posts or in bulk and repeat your high-performing content with automated queues.
Sendible offers calendar-based posting with time analytics to help you to take advantage of optimal posting times for your readers. With the ability to connect over 20 platforms (including blogs like WordPress and Tumblr), your content can reach a wide audience. Cloud integrations give you in-app access to your team's content and publicly sourced images. Sendible accounts also include Canva access to help you build great social images with your own or sourced images.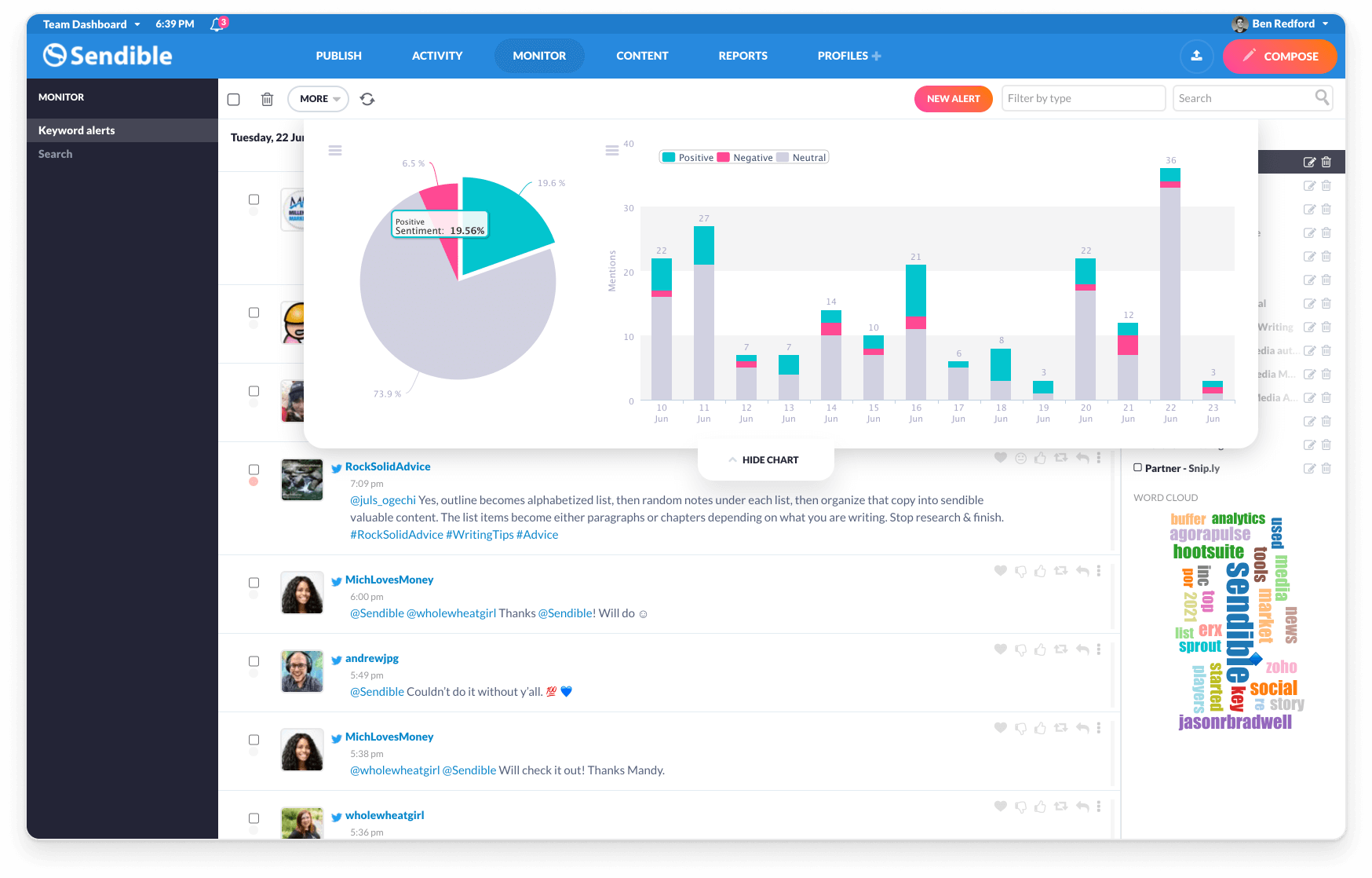 Hootsuite provides built-in libraries where you can store content for your brand, and the ability to publish your work based on custom segments. Publish curated content suggestions based on the content's relevancy to your brand and followers, or use the bulk message uploader. Reviewers have reported difficulty with posting to Instagram, although attaching images to all other platform posts is easy and straightforward.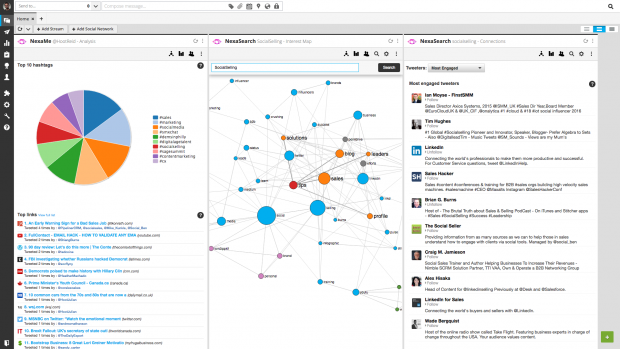 A cool extra found in Hootsuite is their contests and campaigns feature, which lets you run a branded sweepstakes or contest on your site or through your social accounts to increase customer engagement. Another tactic Hootsuite has recently pushed for is more video-focused support across content publishing platforms.
Team Collaboration
Although both of these platforms give you the ability to delegate tasks and build workflows with notifications, Hootsuite leads the team collaboration sector with a couple of features designed to keep users both updated and compliant with local or federal regulations. Hootsuite offers training and support for keeping your team within the strictures of HIPAA and internal rules through archival capabilities and integrations. At the same time, the social sharing tool Amplify helps Hootsuite subscribers build their social influence through employee sharing.
Social Listening
Both of these options provide you with intelligent sentiment listening, which picks up on cues to tell you how customers feel about your content. This helps you follow up accordingly and assign tasks to the most qualified people.
Sendible includes sentiment data in your custom inbox and provides messaging in the same place. You can also receive mention alerts via email or Slack and assign follow-up to specific users. The social listening in Sendible gives you the power to track keywords, hashtags, and brand mentions across the web, including review monitoring on Yelp, Glassdoor, and Citysearch.
Hootsuite also offers social listening, with worldwide access and support for several languages. You can segment listening metrics by geography, source, and gender, and the dashboards will update in real-time. You can also set custom notifications to alert you when there are spikes in shares or changes in overall sentiment.
Contact management
In social media marketing, contact management is more than just updating contact lists. Prospecting for influencers and tracking interactions are equally important as the messages you send.
Sendible does a pretty good job of helping you build relationships and find new leads through social media connections. A customer CRM is included in the app, with social insights from LinkedIn and Klout to help you build better profiles. Automated geotargeting means you can grab leads based on specific locations and start conversations even when you're away from the desk.
Hootsuite lets you build influencer lists or import your lists from other programs. They also give you the power to contact leads and customers directly through in-app messaging. You can track these interactions in a CRM-esque format or upgrade to a plan that allows API access to connect your own CRM.
Making the right decision 
Comparing Sendible vs. Hootsuite is difficult, because they both provide a lot to customers. We suggest that you try out both of these tools. Sendible offers a 30-day free trial, and Hootsuite offers limited access to free tools. See if you like the interface, how your feeds move through the dashboards, and how your analytics work.
You may like the way that Hootsuite helps your team collaborate, and you don't really need the intense analytics that Sendible offers. Or perhaps you run small team (or one-person operation) and don't need the collaboration tools as much as you need to report to outside parties.
Whatever your needs, you can compare Sendible vs. Hootsuite and a lot of other social media management solutions by visiting our product selection tool. If you have questions about how any of these programs can help you, contact one of our technology advisors for a free consultation.
Technology Advice is able to offer
our services
for free because some vendors may pay us for web traffic or other sales opportunities. Our mission is to help technology buyers make better purchasing decisions, so we provide you with information for all vendors — even those that don't pay us.