Guest contribution from José C. Cortizo, co-founder and CMO of BrainSINS. They offer personalized solutions for eCommerce. Connect with José on Google+ or LinkedIn.
Even though many eCommerce stores are concerned about customer capture, marketing is not over when you attract new users to your website. In fact, it's when a user reaches your website that you can do the most (from the point of view of marketing) to encourage visitors to make a purchase.
Most marketing professionals tend to worry about the capture stage, and thus don't bother with personalization. That is, those marketing messages and actions that can be performed within a website, and which make it possible to personalize the shopping experience. As a result, users often fail to perceive a personalized message that is consistent across the various channels, and so conversion results are bad.
In many cases, given that technology shouldn't be a problem, there is significant lack of knowledge about the basic aspects that should be taken into account to integrate personalization techniques in eCommerce. At BrainSINS, we've tested an overall personalization strategy in more than 200 customers, with excellent results. Here are eight of our key results and recommendations.
1. Personalized recommendations in the home page
One of the personalization strategies that yielded great results for most of our customers was personalized product recommendation in the home page. Although there are many algorithms to personalize recommendations, we have found that in most cases a simple approach works best:
If the user has previously viewed a product which he or she didn't buy, we show the last product viewed and alternative options
If it's the first time the user enters the store, the bestselling products or the most viewed products in the last days/hours are displayed
This way, users who have not created a profile are offered somewhat generic recommendations, which are however based on the website users' general behavior. And users for whom information is available are reminded of the latest products in which they were interested but didn't buy. In many cases, users who don't complete a purchase often return to the site's home page within the next few days. By displaying the products that interested them there, we encourage conversion and also reduce the number of clicks required to complete the purchase.
2. Recommendations in the product page
When a user is viewing a product, two possibilities should be envisaged. The user may be 100 percent interested and willing to buy the product, or else the users is not fully persuaded by the product. A good strategy to contemplate both options is to display two blocks of recommended products:
Alternative products to the one viewed by the user, so that purchase alternatives are offered and navigation and discovery of products that generate higher interest levels are encouraged. In most sectors it's a good idea to force an upselling strategy, that is to say, showing products that are alternative to the one being viewed by the user, but which are either more expensive or else yield a greater margin. In this way, you will improve the average shopping cart value.
Products that complement the purchase, so that if the user is willing to buy the purchase being viewed, he or she may discover accessories. This encourages cross selling.
Although these kinds of recommendations are not personalized, you can improve their results by including a personalization component. In this way, from all the complementary or alternative products, you should select those that best suit each user.
3. Recommendation of complementary products in the shopping cart page
The shopping cart page is an ideal location to encourage cross-selling, as this page shows the user all the products they intend to buy. If you show products that complement the purchase, you can increase the value of the order.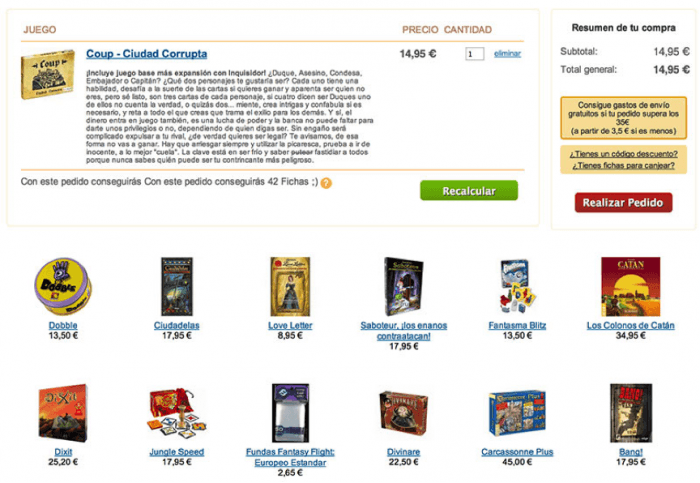 In this case, personalization is clear: instead of offering a range of products in which most users can be interested (such as the chewing gum and chocolates in supermarket check-out aisles), you should display items that are often purchased along with the ones in their cart.
4. Personalized recommendations in the category page
When people manage an eCommerce store, they usually focus on improving the home page and the product pages, but they often lose sight of the importance of other pages, such as the category selection page. Buyers have two basic ways to find the products in which they may be interested: the search engine and navigation by category. In many online stores, the number of pages viewed for this kind of page makes up over 50 percent of the total views. If you don't invest time in testing and improving this page, you could be missing sales opportunities.
Category pages offer great personalization opportunities as well. In many online stores, a category may include hundreds of products, meaning it can be hard for customers to find the right products in the category.
To reduce the time which users need to find the products in which they might be interested, you can add a block of products in that category, based on a user's profile. The concept is simple – select the 4/5 products most likely to interest the user and display them at the top or next to the product list. There are less clicks required to purchase the item now, and your user will be happy with your recommendations.
5. Abandoned shopping cart recovery
Approximately 70 percent of users who add an item to their shopping cart don't complete the purchase. Although this might seem to be a problem, it can also be seen as an opportunity. That is to say, if you can recover 40 percent of those abandoned carts you'll nearly double your sales.
Of course, retrieving 40 percent of abandoned shopping carts is a huge endeavor, but the goal of doubling your sales through simple improvements isn't so far fetched. In most cases, your goal will be retrieving approximately five to 10 percent of abandoned carts, which amounts to a 12 to 25 percent increase in sales – a significant improvement in itself.
How can you retrieve abandoned shopping carts? Generally speaking, one of the most effective strategies is setting automated emails that include the items in users shopping cart, as well as purchase alternatives. As for timing, a first email should be sent one hour after abandoning the cart, and a second email should be sent one day after, with a slightly more aggressive message.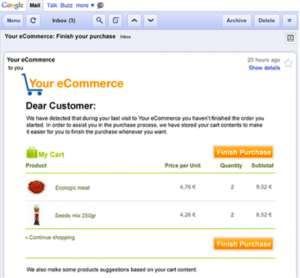 6. Personalized newsletters
Email personalization is one of the most frequently overlooked techniques by retailers. If newsletters are personalized, at the very most textual items are included, such as the name of the email recipient.
In this field Amazon is far ahead of most online stores, as they are able to send out regular emails that include items from a user's past sessions, wishlists, shopping cart, and more.
However, using tools such as the ones previously mentioned, you can automate the delivery of personalized newsletters for any online store, and segment newsletter recipients on the basis of their activity levels on the website.
7. Capture the email addresses of users who show an interest
Another element that can be personalized is a pop-up ad designed to user email addresses. Although you have to be careful not to bother users unncessarilty, a pop-up window can actually provide benefits over on-page forms. For instance, new visitors could receive a 10% discount in exchange for their email, whether or not they immediately make a purchase.
In such cases, you'll want to create a Behavioral Targeting rule, which targets users whose emails have not been captured, for instance, or who have just added a product to the shopping cart. This is a differential component which reveals greater interest in buying (before entering the purchase process itself).
8. Offer direct rewards for user actions
Finally, you can also offer direct rewards for specific user actions, in order to encourage desired behaviors. This technique borrows from the field of gamification, which has shown strong results in many industries.
First of all, you should determine which kinds of action you want to reward, such as sharing product info on social media, or writing a product review. After establishing the desired behavior, you'll need to find a reward that's sufficiently motivating for your users. A discount coupon for their next purchase is usually a good option, as you will be offering added value for your users, and encouraging a purchase.
Conclusions
In this post we have seen eight personalization techniques that can be used in online stores of any size. BrainSINS customers that have implemented these eight techniques increased their sales by 20-30 percent. They also improved other significant KPIs, such as the number of emails captured, and saw average order values increase by 8-14 percent.
To conclude, companies that use these tactics see a significant improvement in business KPIs, with a ROI of more than 30 times the service cost. If you have an online store, you should definitely experiment with such personalization techniques. Improve your business results and, above all, your customers' shopping experience.