If you're researching the best marketing automation software for a medium to large business, you'll eventually compare Pardot vs. Marketo, if only to hear what all the fuss is about. Turns out the hype is warranted, as both of these marketing titans are powerful and full-featured.
Pardot and Marketo both got their start around 2006, when marketers started seeing the potential for online lead generation and nurturing. The evolution of marketing automation platforms was a natural progression based on the industry-wide shift in strategy.
ALSO READ: 7 ABM Tools That Actually Do Something Unique
These systems help marketers grow their lead generation strategies, capture new contacts, and nurture leads toward conversion. In this article, we'll compare both products based on:
Email marketing

Landing pages and lead capture forms

Automated workflows

Reporting

Integrations
The capabilities within Pardot vs. Marketo may help you decide between these two marketing automation powerhouses.
Email Marketing
Pardot's email marketing tools lead more toward drip campaigns and automation than newsletter blasts. While they have an intuitive and easy to use user interface (UI), some users say the in-app templates are limited, which forces you to build more emails from scratch. Experienced marketers will find that they probably want to do this anyway, but it may be too advanced for beginners. 
Marketo's email program is designed to help your programs scale. Their email builder is a WYSIWYG editor with a visual interface. "If you know how to use a word processor," they boast, "you know how to create emails in Marketo."
Landing Pages and Lead Capture Forms
Pardot's landing page builder gives marketers the autonomy to build their own landing pages without the help of a developer. These trackable pages will provide insight into your customer behavior and movements, as well as help you collect lead data through forms. If you connect Salesforce CRM, this information will sync directly with your sales database, available for customer segmentation and personalized outreach.
Some Marketo users report that the built-in landing pages and lead capture forms leave something to be desired, which isn't surprising considering that Marketo started as a lead management service. Even so, you can use progressive profiling and lead forms in tandem to build a consistent view of your users. Since you're tracking contacts as they move through your funnel, the experience feels more organic — based on the customer interests, rather than sales team touches.
Workflow Automation
Pardot built their automated workflows into the email marketing section to help you build automated drip campaigns. Your drip campaigns move customers automatically toward conversion by tracking and reacting to their on-site actions. When a customer engages with your content, the system can assign or deduct points from that lead's cumulative score, automatically picking out the leads most likely to convert so you can follow up.
While many other products in this space use a visual editor like Pardot's, Marketo uses a list-style workflow to build your automations and drip campaigns. This doesn't make the automated actions any less useful, but it might be a little more difficult for beginning or intermediate marketers to figure out how to set them up.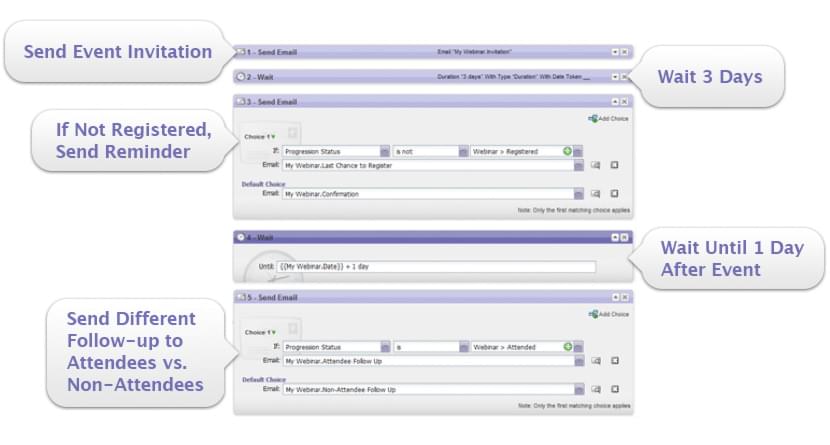 Reporting
Some critics suggest that Pardot's reporting is restricted and doesn't segment well. But the reporting you do have is marketing-focused: you can tie your closed leads back to the marketing efforts that generated them, which gives you the power to iterate and repeat what works. Full-funnel reporting shows you your entire customer cycle, including where customers get stuck or slip through the cracks.
Marketo's analytics help you improve your ROI by finding the most valuable and effective channels and campaigns. Build reports and dashboards to share with stakeholders where campaign actions tie directly to revenue. Some suggest that the reporting here could dive deeper and be prettier, but take that with a grain of salt. All of Marketo's reports are accessible via mobile app, which gives you access to your data where and when you need it.
Integrations
You can connect Pardot with GoToMeeting and Eventbrite for webinar and in-person event marketing, which can be tied directly to the revenue. You can also connect your videos, ads, and lots of other communication and content channels via the App Exchange. It's worth noting that Pardot is built on the Salesforce platform, so it offers some of the best Salesforce CRM interoperability in the industry. 
Marketo's LaunchPoint marketplace gives you access to nearly 400 compatible add-ons. Social media posting and reporting are included in these, as well as connections to plenty of other marketing-related apps. Some users report that the API is restricting, but it's available if you'd like to build your own integrations or webhooks. Marketo integrates with Salesforce 
Reported Problems
Customers report that Pardot's caching isn't real-time, which could make collaboration difficult. In their defense, uninterrupted caching takes up a LOT of bandwidth and server space, so periodic caching is standard in many SaaS programs. As a workaround, don't try to send your campaigns between colleagues in the middle of the creation process. Customers also mention that Pardot isn't great with in-app segmentation, but if you're using Salesforce, you'll probably do all of of your segmentation there.
Marketo's tiered pricing system is deceptively simple, but some features like A/B testing are only available at the Standard level, which will cost you a bit more each month (but less than Pardot). Some users report that slow load times detract from the usability of the platform.
* * *
When comparing Pardot vs. Marketo, you'll need to know the pricing and features breakdown for each tool. You could pay less for Marketo per month, but add-ons may nickel-and-dime you pretty quickly. You'll also need to know how much manpower you have, as both of these options require a significant time investment for learning and configuring the product. Steep learning curves ahead. 
Purchasing a marketing automation platform is a big decision, but TechnologyAdvice is here to help. Use our Product Selection Tool to compare options and get a custom recommendation for your team.
Technology Advice is able to offer
our services
for free because some vendors may pay us for web traffic or other sales opportunities. Our mission is to help technology buyers make better purchasing decisions, so we provide you with information for all vendors — even those that don't pay us.