Where would SEO professionals be without Moz?
Not only does the Seattle-based company provide some of the best study material for SEO newcomers (and experts), but Moz also develops a suite of top-draw tools that have become integral to the actual work of search engine optimization.
ALSO READ: 5 Google Analytics Alternatives for Marketing
Having said that, there are a number of Moz alternatives worth considering if you're in the market for SEO software. These products all feature some configuration of a standard SEO toolkit:  keyword research, link analysis, on-page keyword grading, and rank tracking.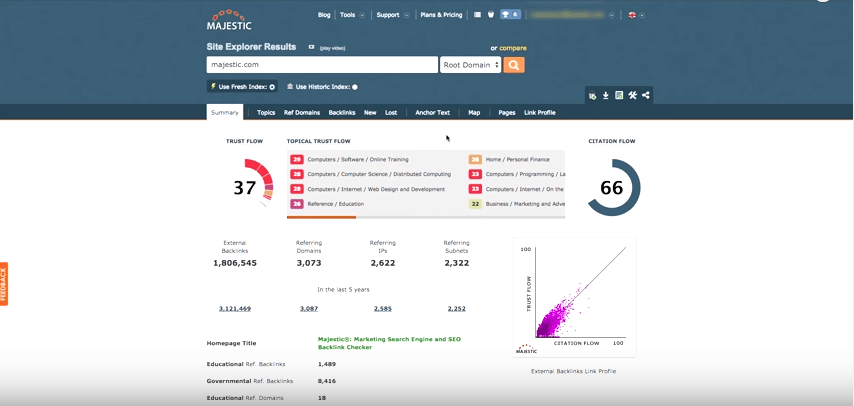 Majestic provides visibility into just about any kind of search data. Their software offers a suite of features for analyzing your (or your competitor's) backlink profile, researching keyword opportunities, and tracking your keyword rankings.
They also claim to have one of the biggest link indexes in the world, which is useful because they update it several times a day. Search measurements are constantly changing, so having access to new data multiple times a day is invaluable for SEOs who need to monitor their rankings and link profiles.
Like Moz, Majestic has their own set of calculations for ranking domains and various types of links. Depending on how familiar you are with Moz's standards, this could create a new learning curve, but that's a small price to pay for the extra insight supplied by Majestic's scoring system.
SEMrush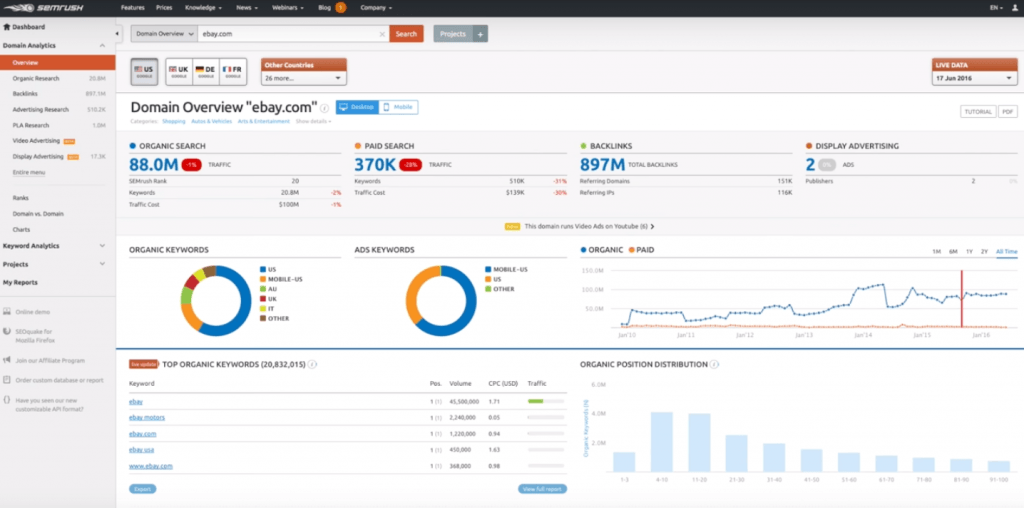 At one time, SEMrush was a free tool for calculating keyword difficulty and PPC prices that included paid tiers. The SEMrush of today is nearly unrecognizable. Instead of merely calculating keyword difficulty, the software now does everything from competitive domain analysis to reputation management.
SEMrush provides dashboards for keyword research and domain research. Called "overviews" these dashboards visualize data in a method reminiscent of Google Analytics. The domain overview delivers information about a website's traffic, referring domains, paid search, and display advertising. The keyword overview gives you a closer look at keyword-specific metrics like difficulty, volume, and cost per click.
If you need to focus on a particular group of search metrics, you can build a custom report using drag-and-drop functionality.
There's also a Projects feature, which lets you centralize data around one particular domain — great for agencies working with multiple clients or businesses that have more than one website to monitor.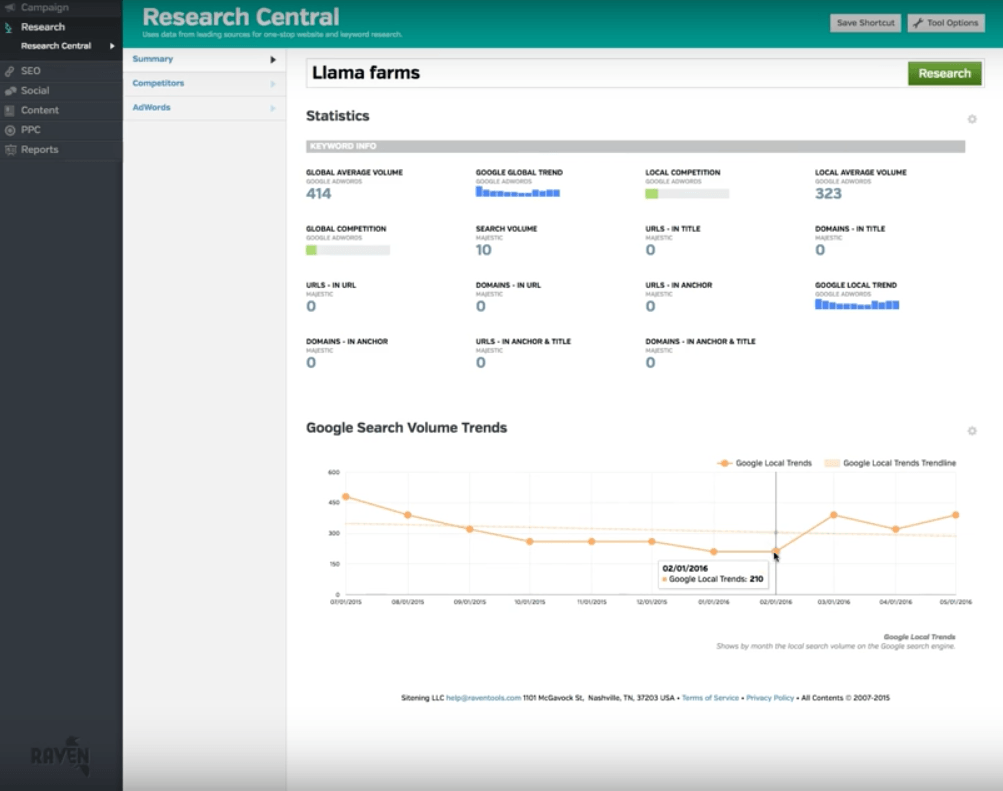 Raven's overriding purpose is to "end the pain of monthly reports." To that end, the company has developed a platform of analytics and report-building tools aimed primarily at agencies that pass ongoing updates to clients.
You'll find some powerful SEO tools included in the Raven platform. The software's keyword research feature delivers metrics like global and local search volume, and global and local competition. Raven uses Moz, Adwords, Majestic, and OpenCalias as data sources, and each metric has a tag that identifies which source was used.
Raven's also offers a site auditor that scans your domain and identifies changes you could make to either rank higher for certain keywords or structure your site in a more Google-friendly way. The site auditor is included in the marketing reports version of Raven, but it's also available as a standalone option.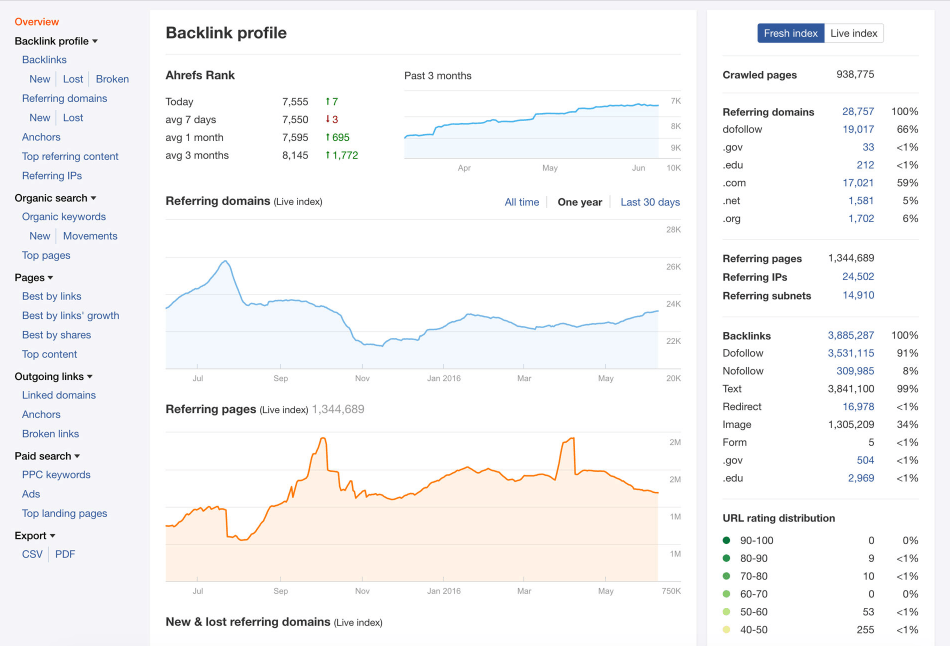 Majestic claims to operate one of the largest link databases in the world, but Ahrefs claims to maintain the largest in the world — a database that contains over 15 trillion live links. This is important, because the larger a company's database of links, the more closely they can monitor Google's search results.
Ahrefs database is impressive in it's own right, but it's what the software does with all that data that should appeal most to SEO professionals. In nearly every aspect, Ahrefs supplies dependable data with a few important additions:
For example, the Site Explorer feature not only analyzes a domain's organic traffic, but it also identifies which pages are the most popular on the site in terms of social shares and backlinks. Another example is Ahref's Domain Comparison feature, which lets you compare up to five domains side by side based on their backlink profiles.
Because of its capabilities, Ahrefs should be considered an industrial-strength Moz alternative, which is great if your SEO projects are more expansive.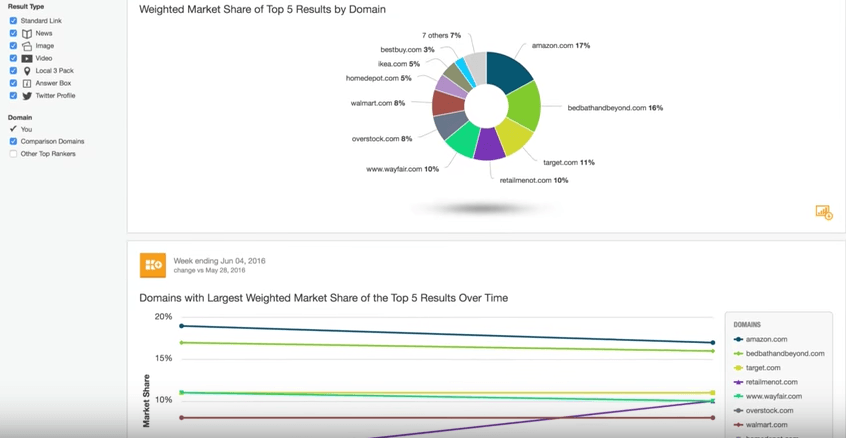 Marketed as a "content intelligence platform," Conductor Searchlight focuses on the intrinsic link between content marketing and organic SEO. From a purely SEO perspective, Conductor offers an array of features found in most of the other platforms, like domain analysis, keyword research, and page analysis.
What sets this platform apart is that it takes those search metrics and ties them back to revenue through content performance tracking. When you run keyword analysis, Conductor Searchlight lets you categorize what part of the customer journey any related content would address. 
You'll also find an SEO ROI report that lets you model the return — in either traffic, leads, or even revenue — from investing in particular keywords. Click-through rate, on-page conversion, and relative keyword improvement are all inputs for this report, so it may take some work to structure it.
That same complexity applies to the entire Conductor Searchlight platform. This is a heavyweight product that blends content strategy and SEO, so if you're focusing purely on links or paid traffic, this isn't the best solution.
If you're trying to tie inbound marketing to revenue, Conductor Searchlight is an excellent choice.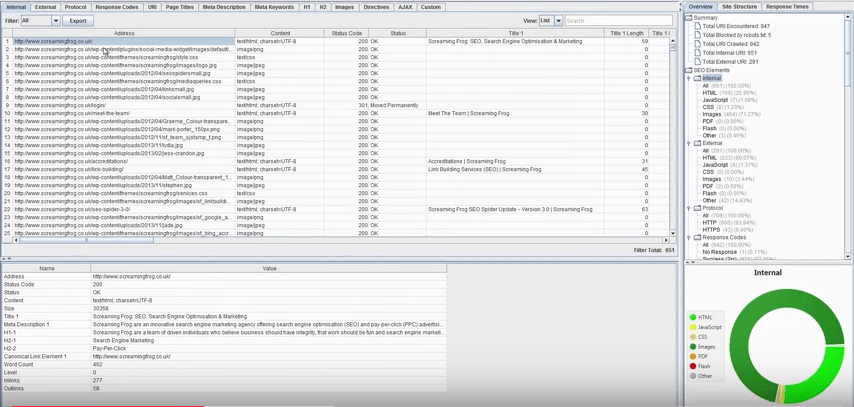 Yes, this is a real SEO platform, and no, searching "Screaming Frog" on Youtube is not specific enough to return relevant information . . . for obvious reasons. 
Screaming Frog is unique among the tools on this list for several reasons. First, it's a scaled-back piece of software that essentially acts as a search "crawler" or "spider" used by Google to index websites. Screaming Frog is best used to find broken links, uncover duplicate content, and analyze page titles and meta data.
The second interesting thing about Screaming Frog is that it's free to use as long as you don't crawl more than 500 URLs. After that, you'll need to upgrade to the paid tier called Howling Toad. Just kidding. It's still called Screaming Frog.
* * *
Moz deserves their reputation at the top of the SEO software list. Their content ranks among some of the most informative resources not just in SEO, but in the marketing industry as a whole.
However, this market is growing, and there are now a number of viable Moz alternatives to consider. They may not have the name recognition, but each of the products listed above can help you improve your rankings. 
Technology Advice is able to offer
our services
for free because some vendors may pay us for web traffic or other sales opportunities. Our mission is to help technology buyers make better purchasing decisions, so we provide you with information for all vendors — even those that don't pay us.