Marketo provides one of the most advanced marketing automation (MA) solutions money can buy. And with over 3,000 customers in 36 countries and recent revenues reported at $150 million, they have the track record to show for it. In 2012, Inc. 500 even named Marketo number one among marketing software companies.
Does that mean it's the right choice for your business though? Not Necessarily.
The MA software market is constantly evolving and expanding. Research firm MarketsandMarkets forecasts an 8.5 percent growth rate, and revenues of $5.5 billion by 2019. With the proliferation of marketing automation vendors, the phrase, "best-of-breed" has ironically lost some of its gravity.
Whether you're a first-time buyer or you're shopping to replace an existing system, don't base your decision on popularity. Instead, you should evaluate a handful of leading solutions based on their merits, drawbacks, and cost, then decide which one is truly the best fit for your needs.
It might be Marketo, or it might be one of these five Marketo alternatives: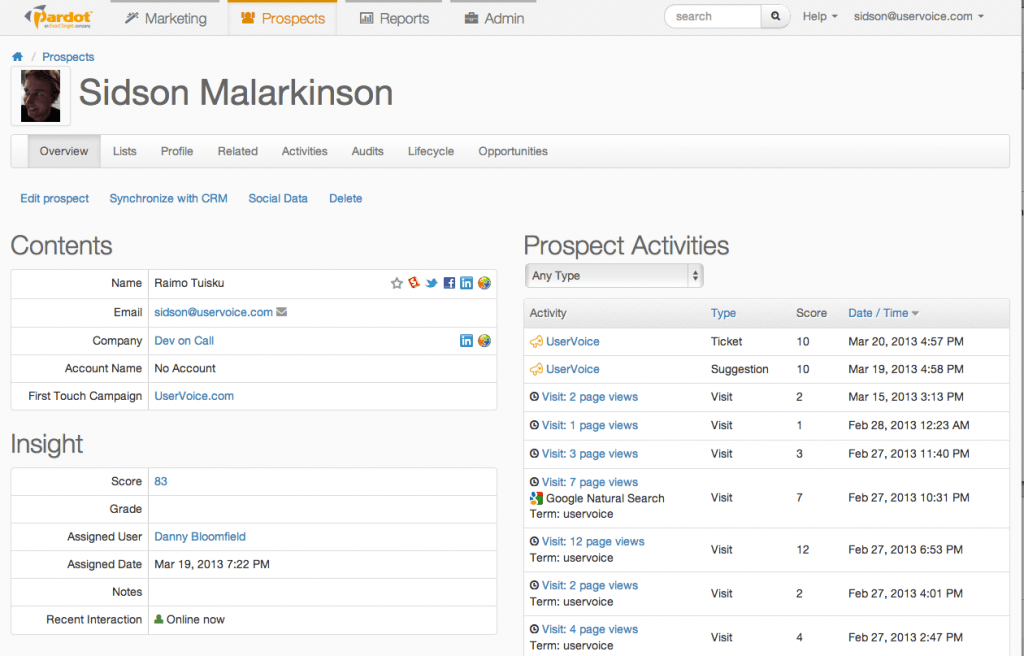 Founded in 2007, Pardot is a cloud-based marketing automation platform catered toward B2B marketing. The brand was acquired by Salesforce in 2013 and is now the core engine of the Salesforce Marketing Cloud. Pardot is designed to bridge the gap between marketing and sales by generating qualified leads and assigning them to sales reps in a CRM database (it has certified integrations with Salesforce, SugarCRM, and Microsoft Dynamics). Users can turn prospects into leads using web forms, landing pages, multivariate testing, and progressive profiling, then further qualify those leads through scoring, nurturing tracks, and a segmentation wizard.
Pardot lets marketers create and manage custom campaigns across email, web, and social, and provides detailed analytics on engagement, deliverability, and prospect firmographics. The system can also assimilate data on paid media campaigns through its "paid search reporting" feature.
Even though it's tailored to mid-market and enterprise buyers, Pardot is fairly intuitive to operate. Their pricing model is also more straightforward than Marketo's — the program is licensed as an all-inclusive platform, rather than four separate modules. Potential drawbacks include a lack of content management tools and the limiting of a/b testing to one-off emails, rather than within drip campaigns.
---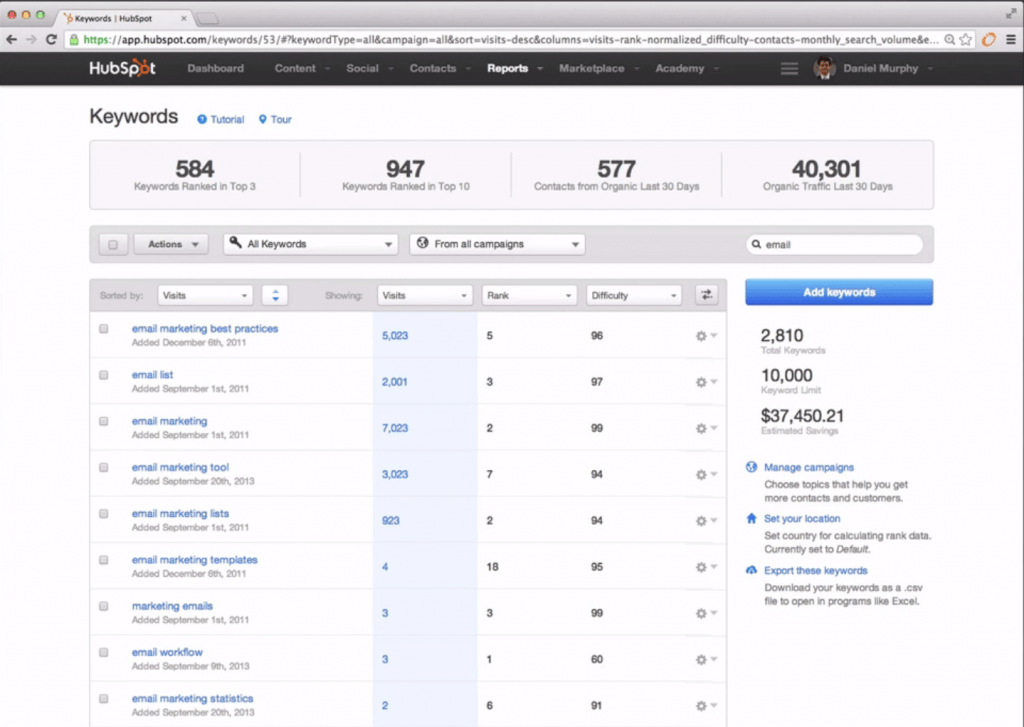 Hubspot is another all-inclusive marketing automation platform, although tailored less exclusively toward B2B clients than Marketo and Pardot. It's also the only solution on the list with a free, built-in CRM (albeit a basic one). Hubspot is designed to address a company's end-to-end digital marketing needs, from lead gen to email campaigns, blogging, social media, SEO, and closed loop analytics.
Because of its intuitive user experience, easy setup, and virtual IT maintenance, Hubspot is a great choice for businesses making their first forays into the vertiginous world or marketing automation. It also helps that their product exists as a single entity: you pay one price based on the number of contacts you need to manage and get everything you need.
Hubspot also offers native integrations for a number of third party add-ons, such as GoToWebinar, Salesforce, and SurveyMonkey. Their airtight approach to marketing is exemplified by their own popular acclaim: according to recent reports, Hubspot serves over 15,000 customers. (For more, read our detailed comparison of HubSpot vs. Marketo)
---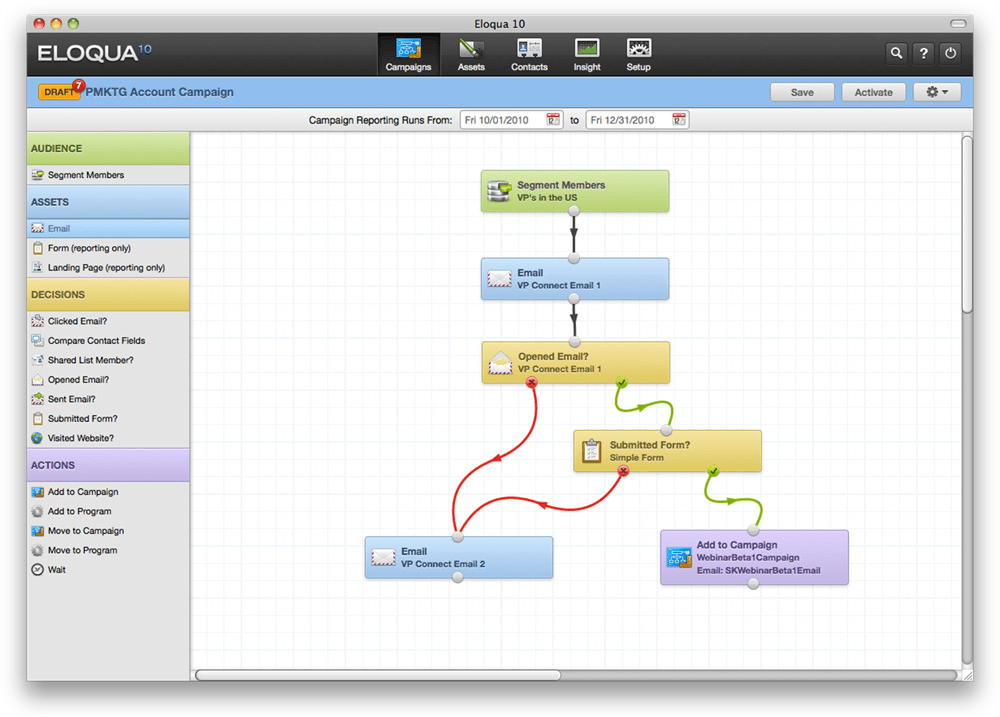 Founded as a lead generation and demand management platform, Eloqua was acquired by Oracle in 2013 and now serves as the cross-channel marketing automation platform for Oracle's B2B clients. Eloqua provides campaigns and personalized customer experiences across a variety of mediums, including email, display search, video advertising, and mobile. In addition, it's part of the Oracle Marketing Cloud, so users can expand the platform into other functional areas such as content management, social marketing, and data management.
The core system focuses on driving successful engagement through four strategic areas: digital body language (unique prospect behavior and profiles); audience segmentation (targeting prospects based on their place in the buyer's journey); lead scoring and nurturing (qualifying and ranking leads to unify sales and marketing); and campaign analysis (measuring ROI, campaign results, competitor data, etc.).
Of the solutions in this post, Eloqua is the most comparable to Marketo, both in target customer and system structure. If you're looking for a platform that can handle a broad range of marketing automation needs on a large or enterprise scale, Eloqua is a good choice. Smaller businesses seeking a plug-and-play system, on the other hand, may find Eloqua too complex and cost-intensive.
---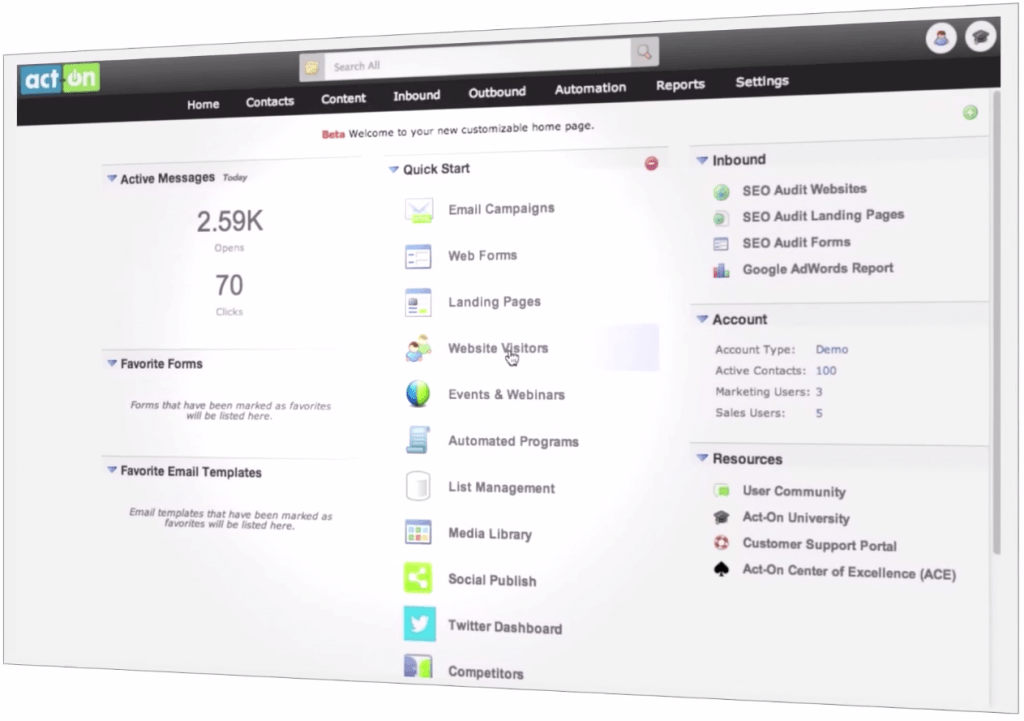 Act-on is a cloud-based marketing automation platform designed specifically for SMBs. Despite being less expensive than Marketo, Eloqua, and Pardot, Act-on offers a pretty comprehensive suite of features for inbound and outbound marketing, lead management, and analytics. It also provides seamless integration with most major CRM systems (Salesforce, SugarCRM, Microsoft Dynamics, Infor, and Netsuite), which will help your sales team turn more opportunities into closed deals. In fact, Act-On provides the most open platform of any product on this list, with a development site for teams that need to create custom integrations.
Main features include email campaigns, event marketing, SEO tools, web forms and landing pages, social media marketing, lead nurturing and scoring, list management, A/B testing, and closed-loop analytics.
In terms of user experience, Act-on describes itself as "designed for marketers, not engineers," which reflect the system's simplicity and easy customization. Their pricing model is also straightforward: they offer one version with the same features and user licensing for all subscribers and base subscription cost on your number of active contacts. Although monthly cost will vary from business to business, Act-on is one of the most affordable end-to-end solutions on the market.
---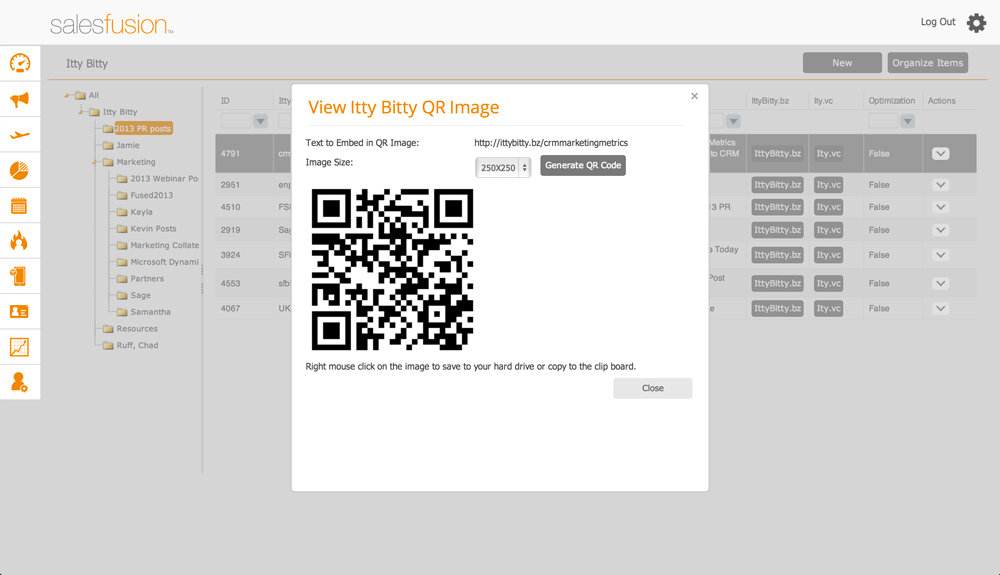 Like Marketo, Pardot, and Eloqua, Salesfusion is a cloud-based platform for B2B marketing automation. Unlike these three, Salesfusion is less expensive and targeted at mid-market companies. In terms of features, you can expect the standard marketing fare: email marketing, lead management, web tracking, and social. The system provides native integrations for major CRMs (Salesforce, Microsoft Dynamics, Sage, Infor, SugarCRM) and an API for custom integration.
But there are also a few things that make Salesfusion unique among MA platforms. For one, their software is built on a CRM database, so if you wanted, you could use Salesfusion as your primary CRM. Secondly, the campaign management module incorporates offline campaigns (such as print and mass media) as well as PPC ad campaigns, where some platforms stop at email and social. Finally, you won't have to take down your existing web forms if you switch to Salesfusion. Their lead capture tool can retrieve data from prearranged forms. Salesfusion isn't as well established as some of its competitors, but it offers strong value at an affordable price point.
*
Still having trouble deciding? Use our product selection tool to see a longer list of marketing solutions that match your needs. From there, you can access user reviews, feature lists, video reviews, and more.
Technology Advice is able to offer
our services
for free because some vendors may pay us for web traffic or other sales opportunities. Our mission is to help technology buyers make better purchasing decisions, so we provide you with information for all vendors — even those that don't pay us.