In the Mad Men episode "The Monolith," SC&P (or whatever the agency is called at that point in time) buys a massive computer and bulldozes the creative lounge to make space for the gargantuan device.
The bombastic Harry Crane rises even higher in the org chart. Of course, this causes the hotshot copywriter Michael Ginsberg to lose his mind because the power of technology is replacing the intuition of humans.
Things haven't fallen quite that far for today's creatives, but the modern marketing landscape is undoubtedly dominated by technology. As the digital interactions between consumers and brands become ever-more complex, marketing technology will only become more pervasive.

In order to clarify the variety of platforms used by marketers today, this infographic organizes commonly used marketing tools by the primary role they play in the customer journey. Even in this generic state, it's clear the marketing technology stack has become an impressive structure to behold.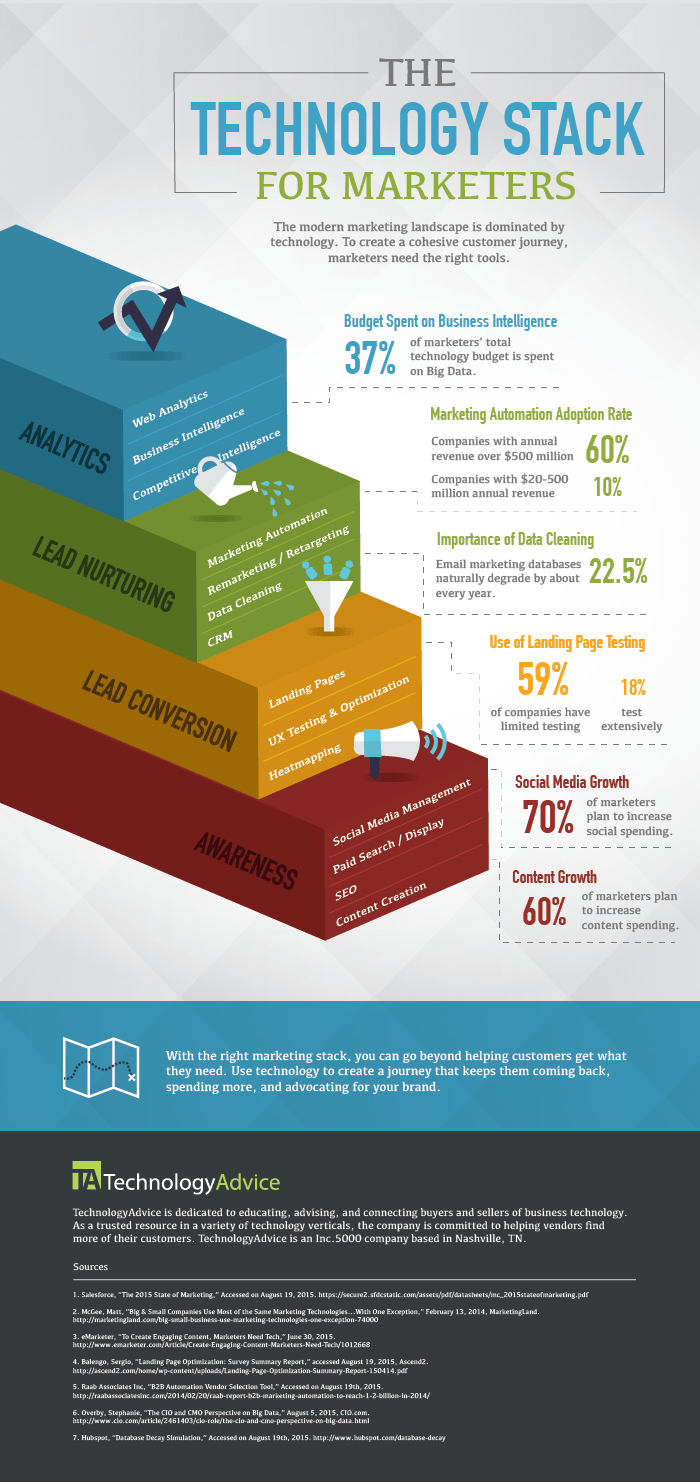 What does your marketing technology stack look like?
Top Business Intelligence Software Recommendations
Build a modern business, driven by data. Connect to any data source to bring your data together into one unified view, then make analytics available to drive insight-based actions—all while maintaining security and control. Domo serves enterprise customers in all industries looking to manage their entire organization from a single platform.
ClicData is the first end-to-end and 100% cloud-based business intelligence platform that allows you to easily connect, manage and visualize your data in beautiful dashboards.

You can build custom KPIs to measure the performance of your marketing campaigns, calculate ROI, compare your YoY or MoM sales vs. targets, or measure your profit margin without the need of IT. ClicData is the go-to reporting and data analytics tool for your entire company.
Dundas BI is a flexible, customizable, and embeddable BI, reporting and data analytics platform with immense out-of-the-box functionality. Everything you need is all within a single BI platform. Dundas BI makes is easy to deliver company-wide, personalized reporting and analytics experiences to every user by seamlessly embedding analytics into your existing applications or web portals. Get more value from your data using a complete, end-to-end BI platform that adapts to your exact needs.
Need a Little Help?
Talk with a software expert for free. Get a list of software that's great for you in less than 15 minutes.