Digital marketing requires a ton of data to be successful. For example, approximately 92 percent of all keywords get less than 10 searches each month, so marketers have to know what the best keywords are for their industry. Marketing analytics software is essential to provide digital marketing teams with the actionable data they need to create campaigns with a high ROI.
Marketing analytics solutions are as varied as the companies that use them. Learn about this software and compare the common features of top vendors in this list of the best marketing analytics software.
Jump to:
Leading Marketing Analytics Software to Consider
What Is Marketing Analytics Software?
Marketing analytics software allows marketers to combine marketing data from across several marketing channels, including their website, social media, and emails, to gain greater insight into the performance of their marketing channels, understand their overall return on investment (ROI), and analyze campaigns for tactical improvements.
Because digital marketing happens across multiple channels, marketing analytics software platforms are needed to compile datasets, then provide meaningful visualizations and reports that are central to understanding marketing performance. While some marketing analytics tools report solely on the campaign performance provided by marketing, email marketing, or social media analytics tools, their usefulness grows when they can combine campaign metrics from these and other channels.
The most powerful of the marketing analytics software options act more like business intelligence software in that they give marketers the ability to connect, combine, and analyze data and audience growth from multiple channels. They'll also be able to pull web analytics and social media analytics to provide a complete picture of the organization's marketing efforts.
Learn How to Develop a Data-Driven Marketing Strategy.
Top Marketing Analytics Software Comparison
| | | | | | |
| --- | --- | --- | --- | --- | --- |
| | Multichannel tracking | ROI calculations | Pipeline analytics | Number of data connections | Business size |
| | | | | 750 | small to enterprise |
| | | | | 250 | small to medium |
| | | | | 200 | small to enterprise |
| | | | | SQL database | medium to enterprise |
| | | | | 150 | small to enterprise |
| Pathmatics | | | | 15 | small to enterprise |
| AgencyAnalytics | | | | 60 | agency |
The Best Marketing Analytics Software Options
This list contains solutions that are considered standalone marketing analytics platforms as well as full-service marketing automation platforms with marketing analytics features. Small businesses may prefer the standalone tools that allow them to scale as they grow, while enterprises will likely want to focus on the full marketing automation suites with analytics included. We've included options suitable for many different types and sizes of companies.
HubSpot Marketing Hub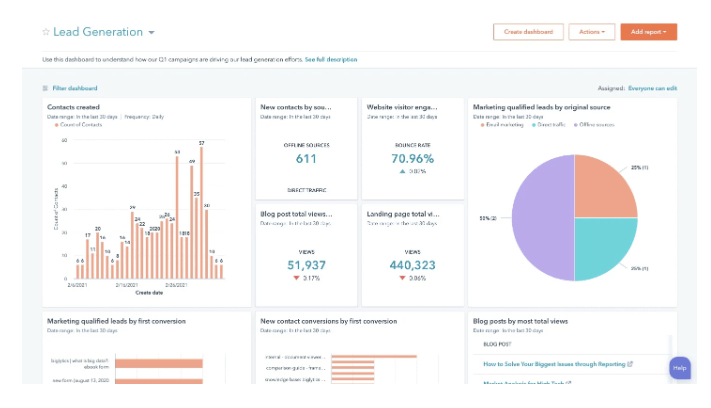 HubSpot Marketing Hub is a premium option that combines the power of the free HubSpot CRM with automations, email marketing, ads, blogging, and business analytics tools in the Marketing software. The power of HubSpot Marketing Hub comes from its interconnectedness. The marketing analytics tools help users build their content marketing, email marketing, and social media marketing campaigns. It then collects all relevant data into powerful dashboards and reports to help users understand their marketing impact.
MailChimp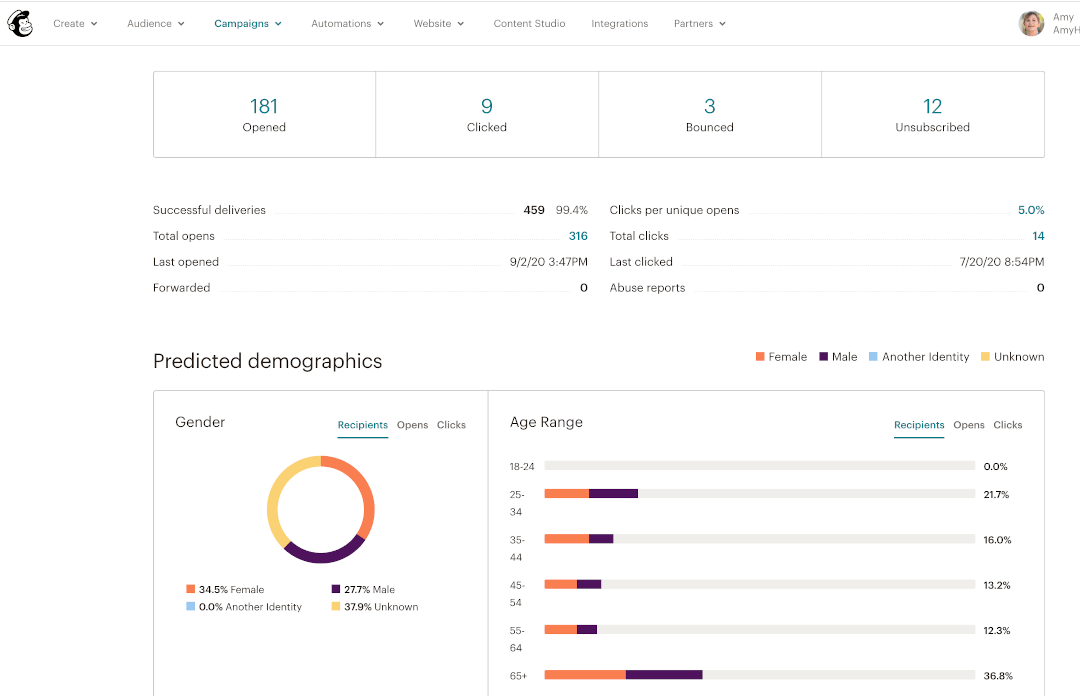 MailChimp is well-known for its email marketing product, but recent expansions into marketing automation, online forms, lead generation tools, and social media ads mean that MailChimp connects data across marketing campaigns. Using MailChimp's marketing analytics tools, marketers gain a better understanding of how the campaign performance of email, automations, landing pages, and social media ads perform and contribute to ROI.
TapClicks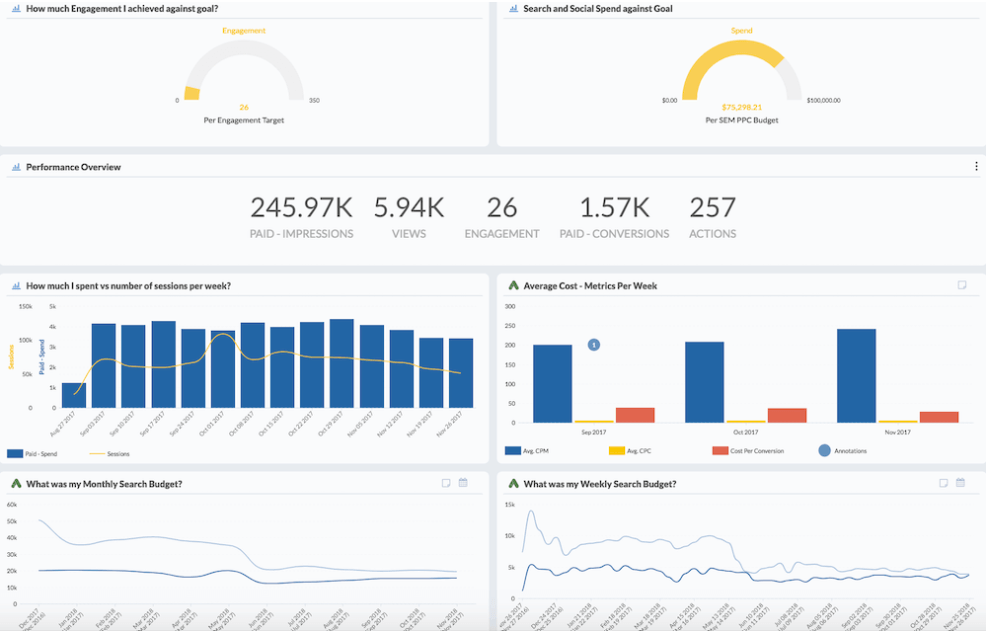 Whereas some of the other tools on this list added marketing analytics tools to existing marketing automation features, TapClicks was built as a marketing analytics and reporting tool from the beginning. While TapClicks can't help organizations run their email campaigns, it can import data from over 200 marketing and business applications, and it even has partnerships with major business intelligence software vendors like Google Data Studio or Tableau. This means TapClicks users can combine marketing data across departments and platforms.
Looker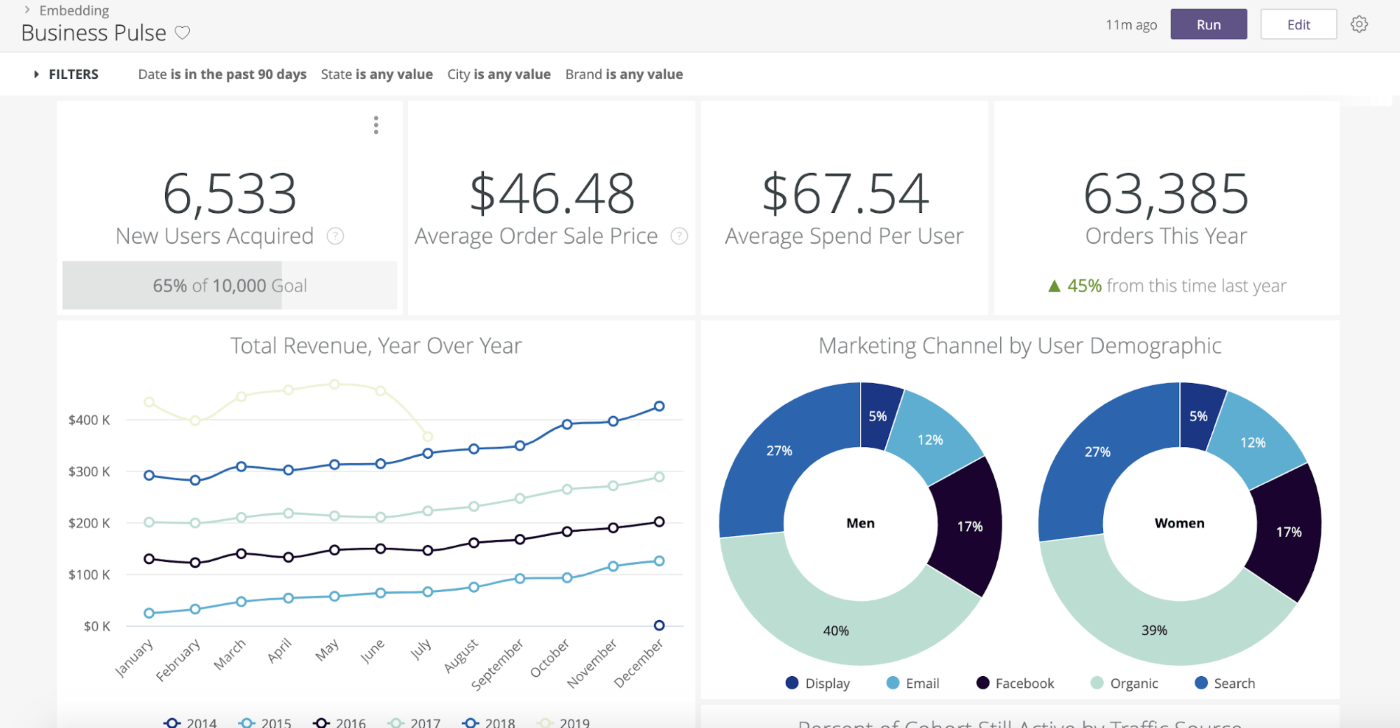 Looker is a business intelligence platform with built-in marketing analytics tools. Choosing from a wide variety of data visualizations and powerful data analysis features, marketers can combine, connect, and drill into data. Because it's true BI software, Looker draws data from the company's SQL language database. This makes Looker both more powerful for data scientists and more difficult to use for non-technical marketers.
SharpSpring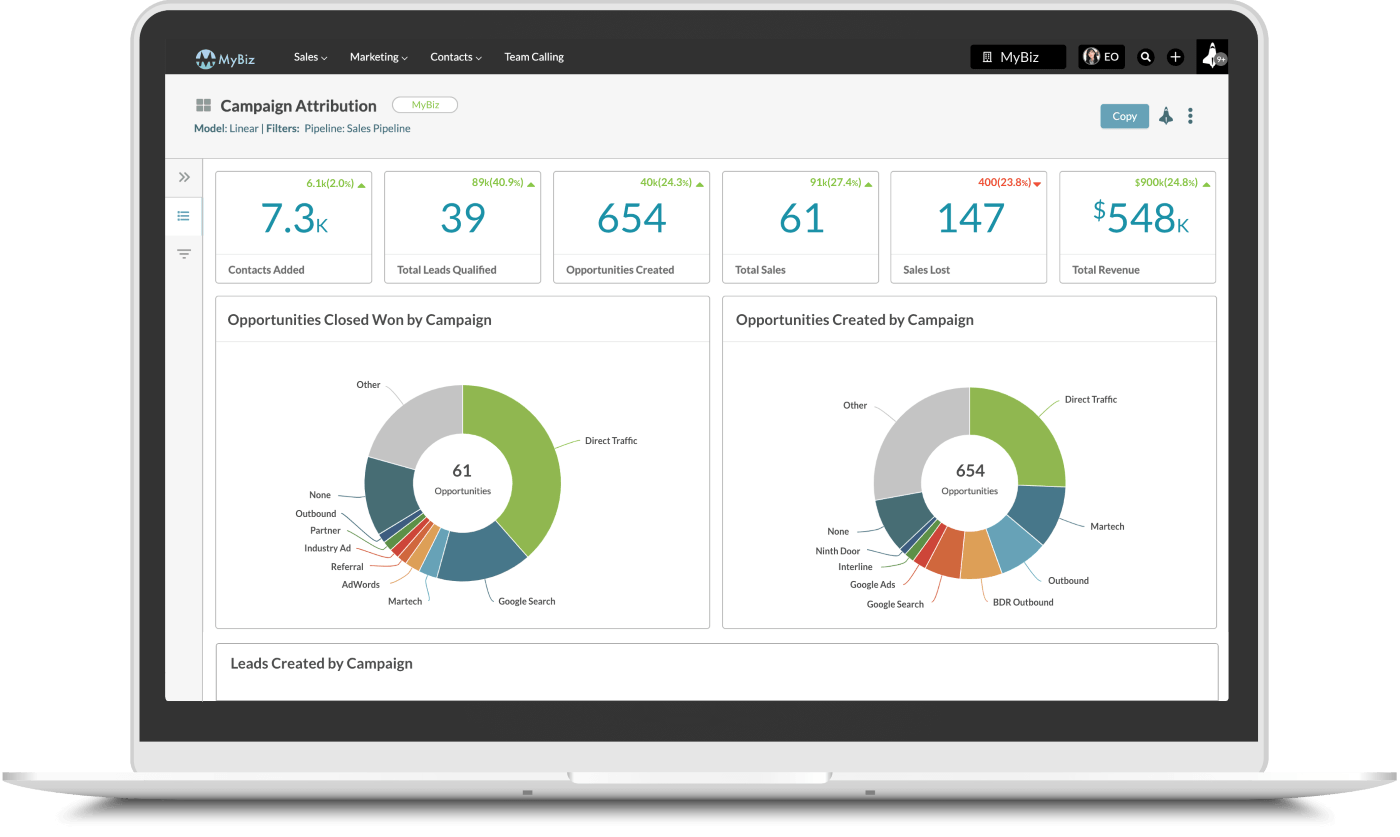 SharpSpring is a full marketing automation platform with deep marketing analytics capabilities driven by campaign tagging and tracking. The tools integrate with the business's website, email, digital ads, and social media sites, and help marketers understand how their marketing efforts contribute to lead pipeline and ROI. Agencies can also white label the software and sell it to their clients as an additional line of revenue.
Pathmatics
Pathmatics provides marketing analytics tools for digital advertisers to give them a true multichannel view of their digital ads from social media, video, ad networks, and more. The software provides deep insight into the sites and creative that sell the most, and the powerful reporting tools will help users present their findings to stakeholders.
AgencyAnalytics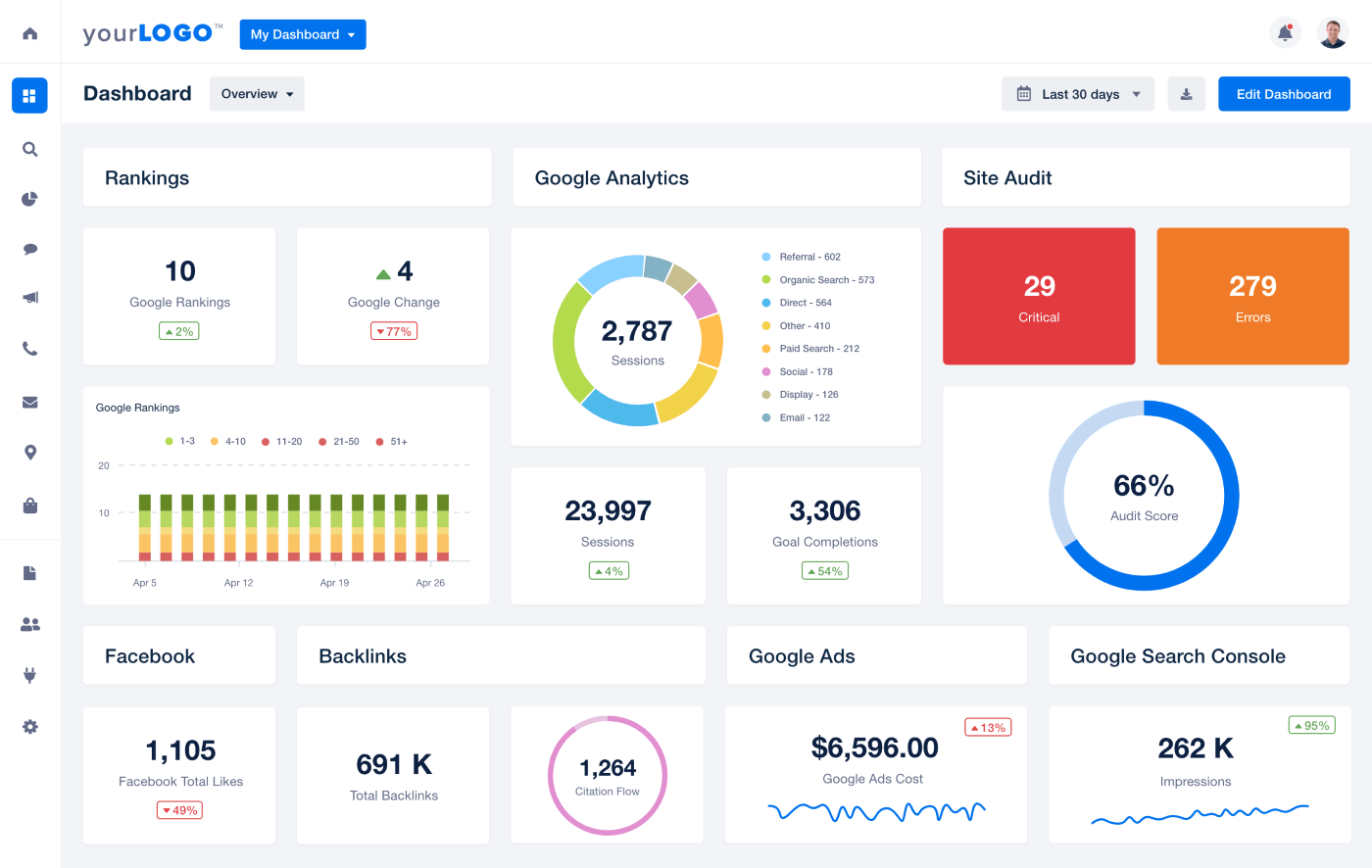 AgencyAnalytics is a marketing analytics platform built to provide reporting for marketing agencies. The tools connect with over 60 applications, let users build automated reports to keep stakeholders informed, and offer white labeled reporting to protect the company's branding. Using built-in SEO tools for deeper insights into how the agency's efforts contribute to marketing success, AgencyAnalytics connects data from email, social, online reviews, and call tracking to gain a full picture of campaign performance. It also includes a handy site audit feature that will highlight any broken links or images, duplicate content, or missing meta-data.
Google Analytics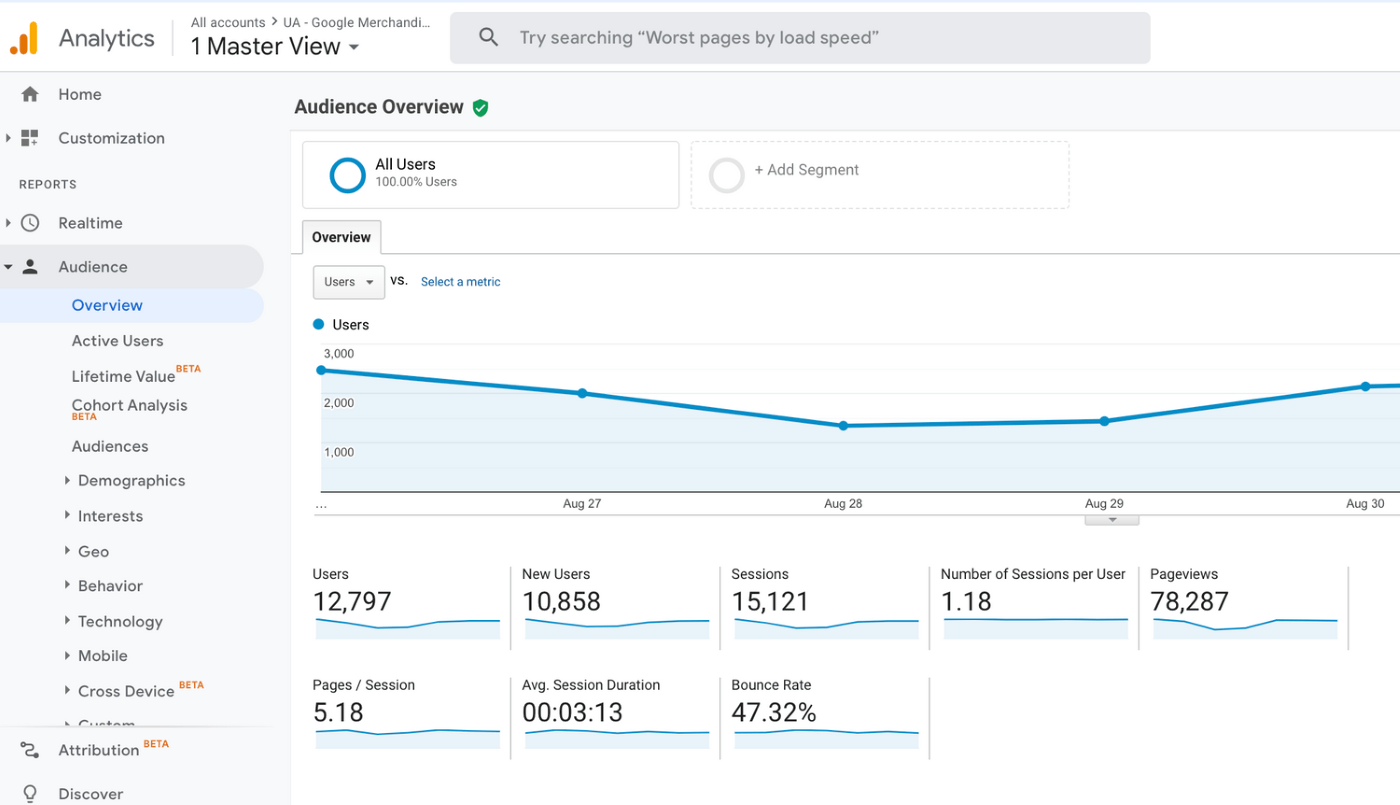 Google Analytics is a free web analytics tool that helps businesses track the ways users interact with their websites. Using Google's powerful content analytics features, organizations can see which of their web pages get the most engagement and which they need to improve. Web analytics also show which keywords the site is ranking for and which pages rank for those keywords. Google Analytics is a great tool for organizations just starting out with their marketing analytics, but it can easily be scaled as users get more comfortable with the platform.
Find out how the new Google Analytics 4 update affects your SEO strategy!
Common Features of Marketing Analytics Software
Organizations can purchase digital marketing analytics tools as standalone software or as an extension of an existing marketing automation system. Either way, there are a few key features that should be on your Must-Haves checklist.
Multichannel Tracking
Multichannel tracking features will combine audience data from several different campaigns on different marketing channels. For instance, a business may combine data from Google Ads, email marketing, and on-site lead forms to understand their audience interactions. Multichannel tracking tools let users combine and compare data from several different sources in a single dashboard, which deepens audience insights.
A note on marketing channels: some marketing analytics tools like Pathmatics can connect to paid media data from Facebook ads, display ads, and video ads, but may not be able to connect to social analytics or audience data from videos. Users should do their research as to the types of metrics a marketing tool can ingest and display in reports.
What's the Business Value of Social Media Marketing & Engagement?
ROI Calculations
Return on investment calculations give marketers an understanding of how well each of their marketing channels performs. The calculation of spend per conversion is fairly simple for a single marketing campaign or channel but becomes exponentially more complex as new channels with new budgets and incremental pipeline stages are introduced into the ROI equation. Marketing analytics software with ROI calculator tools will give marketers insight into the
Predictive Analytics
Predictive analytics help marketers determine how likely a potential lead is to convert to a sale. By analyzing the way a potential customer interacts with different types of marketing activity, the predictive analytics tool can assign the user a score and suggest the next action a marketer should take to encourage the buyer to act. Predictive analytics is a key part of any data-driven marketing strategy.
Data Connections
Digital marketing analytics tools require that marketers connect their marketing channel information to those sources. Some tools, like MailChimp, that also provide email marketing or content management systems have direct access to those campaign metrics and provide data connections for other popular marketing software.
Marketing analytics software like Looker or TapClicks works more like BI software. These tools will either require organizations to pool their data in a centralized database or make direct API or native connections to third-party software.
Neither approach is objectively better. Instead, consider how current systems work with each potential marketing analytics program.
Dashboards and Reports
What is marketing analytics without reporting tools? One of the most popular features of any marketing analytics software is the ability to build marketing dashboards to track daily changes in marketing ROI and reports to report on long-term trends. These features come in varying degrees of complexity, customization, and usability, from business intelligence-style report builders where marketers choose each data point and chart type to pre-made dashboard templates.
Who Uses Marketing Analytics Software?
Digital marketing analytics software is used by companies and marketing teams of all sizes, from solo marketers to multinational enterprises. The main difference between the tools that serve small businesses and those that serve enterprises is the scope of the tools and limits of the reporting.
Small businesses will find that they may need fewer connections to ad networks and fewer reports generated every month. These companies may only report on a couple of marketing campaigns each month, depending on the complexity of their marketing. Full-service marketing automation platforms with customizable reports may serve these companies best.
Marketing agencies, multinational enterprises, and mid-size companies will all benefit from more robust marketing analytics tools that connect with a wider variety of marketing software and that act more like a business intelligence tool. These companies are more likely to have a range of marketing software to manage websites, SEO, digital advertising, lead generation, and email marketing, and will need to be able to connect to each of these tools.
Choosing the Right Digital Marketing Analytics Tools
Marketing analytics software comes in many forms, so choosing the tool that's right for your company can be confusing. TechnologyAdvice can help you cut through the noise and find the software with the right features at the right price. Use the product selection tool on our marketing software page to enter your requirements, and one of our unbiased Technology Advisors will send you a curated list of the marketing analytics software that meets your needs. It's fast and free.
Need help with your content? Check out these 10 Brainstorming Ideas to Inspire Your Content Marketing Team.