Digital marketing requires a ton of data to be successful. For example, approximately 92 percent of all keywords get less than 10 searches each month, so marketers have to know what the best keywords are for their industry. Marketing analytics software is essential to provide digital marketing teams with the actionable data they need to create campaigns with a high ROI.
Marketing analytics solutions are as varied as the companies that use them. Learn about this software and compare the common features of top vendors in this list of the best marketing analytics software.
Jump to:
Leading Marketing Analytics Software to Consider
Domo puts data to work for everyone so they can multiply their impact on the business. Underpinned by a secure data foundation, our cloud-native data experience platform makes data visible and actionable with user-friendly dashboards and apps. Domo helps companies optimize critical business processes at scale and in record time to spark bold curiosity that powers exponential business results.
emfluence is the marketing automation solution that gets you. We offer marketers an intuitive software with the right features to drive powerful campaigns. Our all-in-one platform prioritizes usability and functionality, giving you the ability to run email campaigns, SMS, analytic, reports, tests, and more without the unnecessary headaches. Pair this with an ultra-responsive dev team who's ready to build almost anything and you can trust that your marketing strategies are in good hands.
Omnisend is an email & SMS marketing automation platform tailor-made for small ecommerce merchants to drive sales and conversions. Omnisend offers easy-to-use features that are designed to help merchants convert visitors into loyal customers. These include drag-and-drop email & promotional forms builders, segmentation, A/B testing, reporting, pre-built automation workflows, and much more.
Top Marketing Analytics Software Comparison
| | | | | | |
| --- | --- | --- | --- | --- | --- |
| | Multichannel tracking | ROI calculations | Pipeline analytics | Number of data connections | Business size |
| | | | | 750 | small to enterprise |
| | | | | 250 | small to medium |
| | | | | 200 | small to enterprise |
| | | | | SQL database | medium to enterprise |
| | | | | 150 | small to enterprise |
| Pathmatics | | | | 15 | small to enterprise |
| AgencyAnalytics | | | | 60 | agency |
The Best Marketing Analytics Software Options
This list contains solutions that are considered standalone marketing analytics platforms as well as full-service marketing automation platforms with marketing analytics features. Small businesses may prefer the standalone tools that allow them to scale as they grow, while enterprises will likely want to focus on the full marketing automation suites with analytics included. We've included options suitable for many different types and sizes of companies.
HubSpot Marketing Hub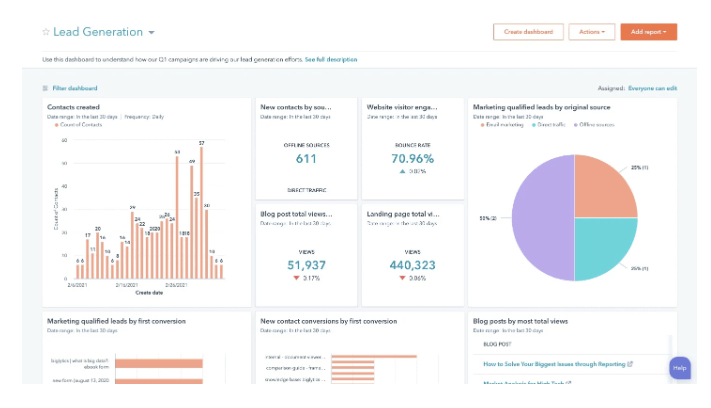 HubSpot Marketing Hub is a premium option that combines the power of the free HubSpot CRM with automations, email marketing, ads, blogging, and business analytics tools in the Marketing software. The power of HubSpot Marketing Hub comes from its interconnectedness. The marketing analytics tools help users build their content marketing, email marketing, and social media marketing campaigns. It then collects all relevant data into powerful dashboards and reports to help users understand their marketing impact.
MailChimp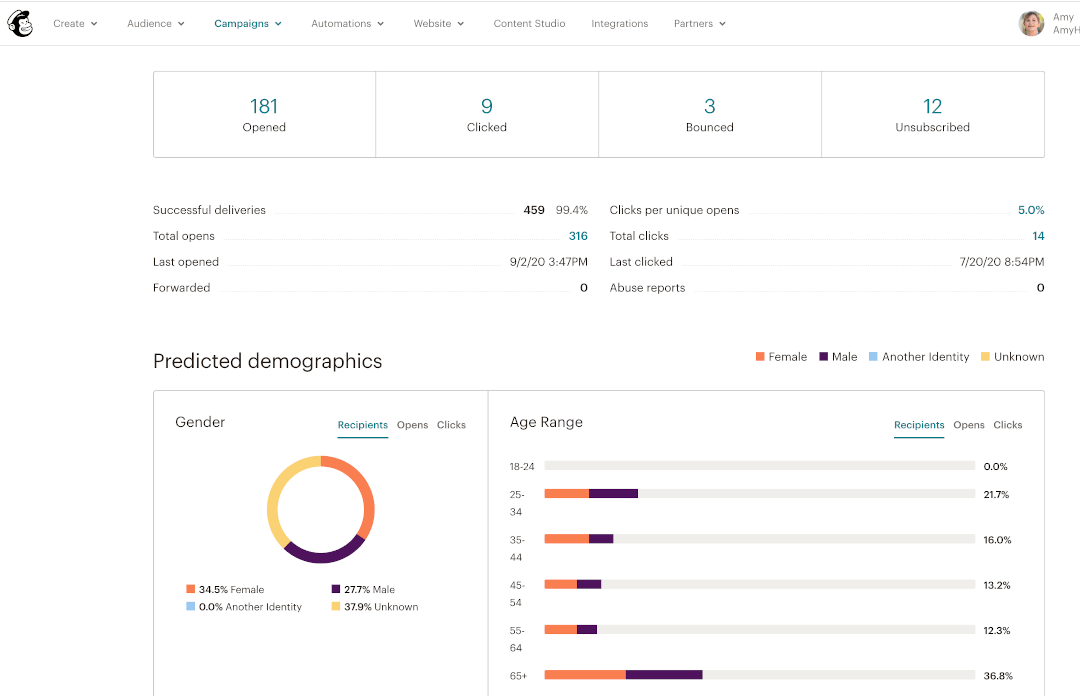 MailChimp is well-known for its email marketing product, but recent expansions into marketing automation, online forms, lead generation tools, and social media ads mean that MailChimp connects data across marketing campaigns. Using MailChimp's marketing analytics tools, marketers gain a better understanding of how the campaign performance of email, automations, landing pages, and social media ads perform and contribute to ROI.
TapClicks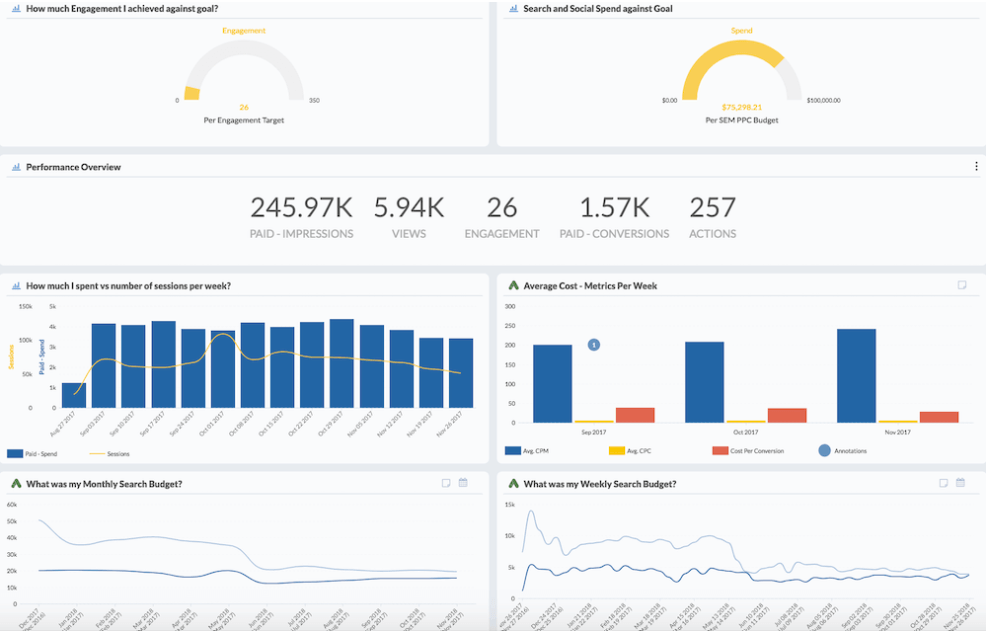 Whereas some of the other tools on this list added marketing analytics tools to existing marketing automation features, TapClicks was built as a marketing analytics and reporting tool from the beginning. While TapClicks can't help organizations run their email campaigns, it can import data from over 200 marketing and business applications, and it even has partnerships with major business intelligence software vendors like Google Data Studio or Tableau. This means TapClicks users can combine marketing data across departments and platforms.
Looker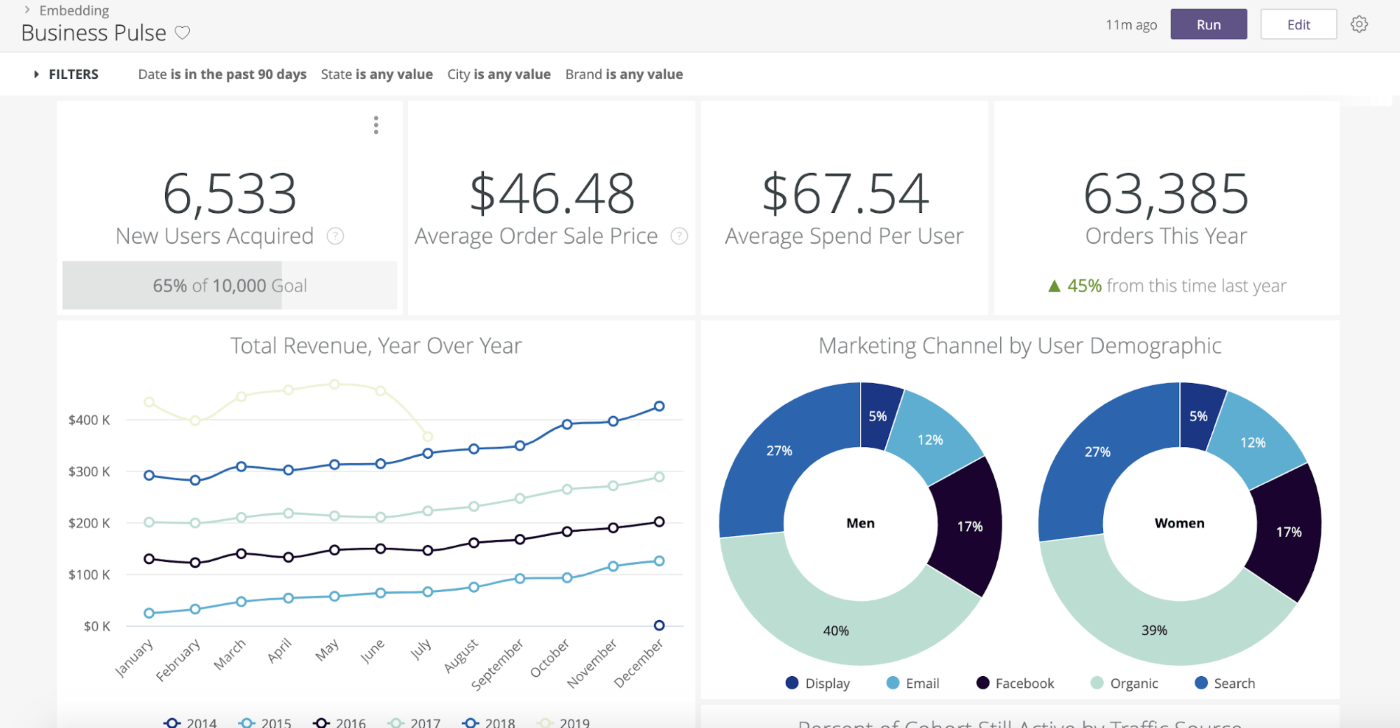 Looker is a business intelligence platform with built-in marketing analytics tools. Choosing from a wide variety of data visualizations and powerful data analysis features, marketers can combine, connect, and drill into data. Because it's true BI software, Looker draws data from the company's SQL language database. This makes Looker both more powerful for data scientists and more difficult to use for non-technical marketers.
SharpSpring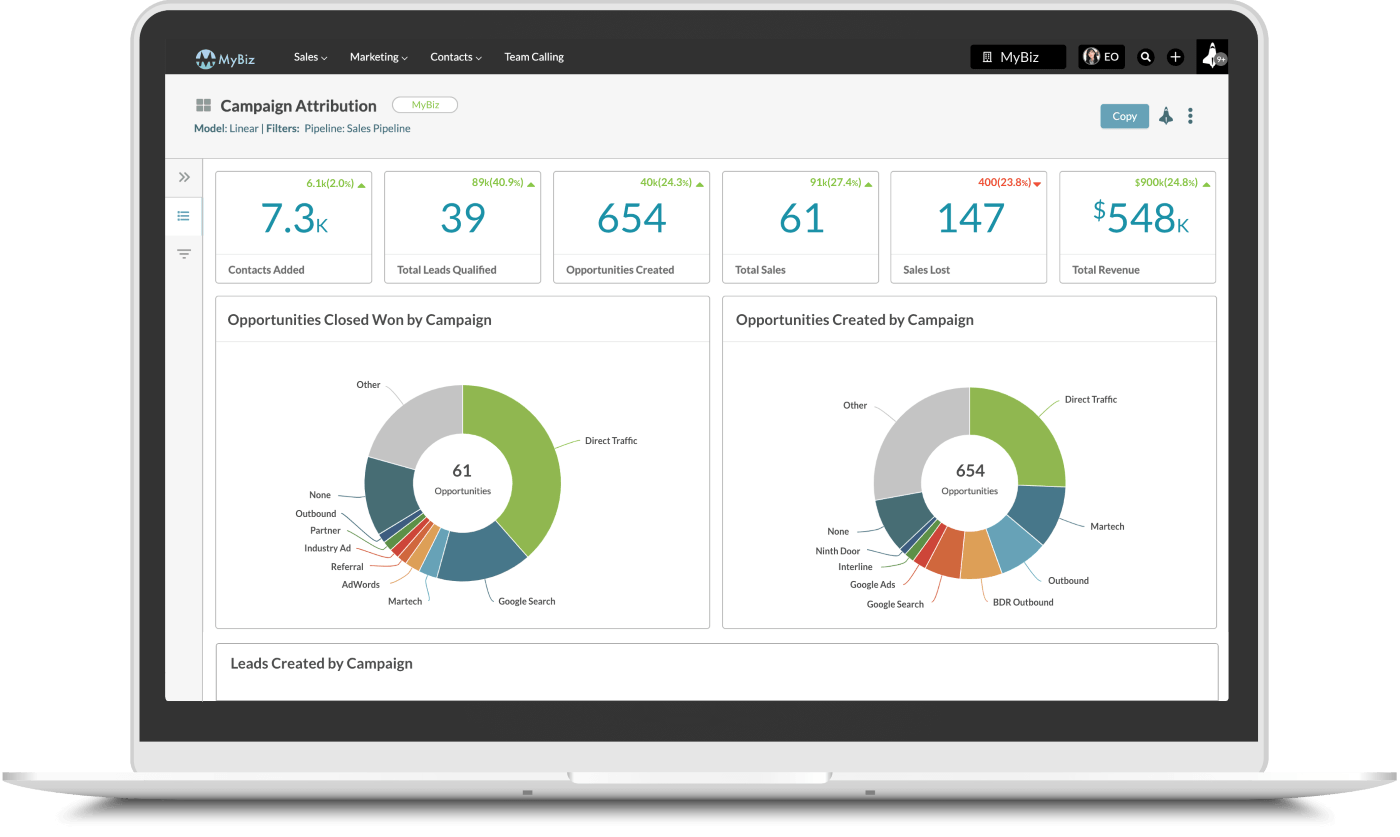 SharpSpring is a full marketing automation platform with deep marketing analytics capabilities driven by campaign tagging and tracking. The tools integrate with the business's website, email, digital ads, and social media sites, and help marketers understand how their marketing efforts contribute to lead pipeline and ROI. Agencies can also white label the software and sell it to their clients as an additional line of revenue.
Pathmatics
Pathmatics provides marketing analytics tools for digital advertisers to give them a true multichannel view of their digital ads from social media, video, ad networks, and more. The software provides deep insight into the sites and creative that sell the most, and the powerful reporting tools will help users present their findings to stakeholders.
AgencyAnalytics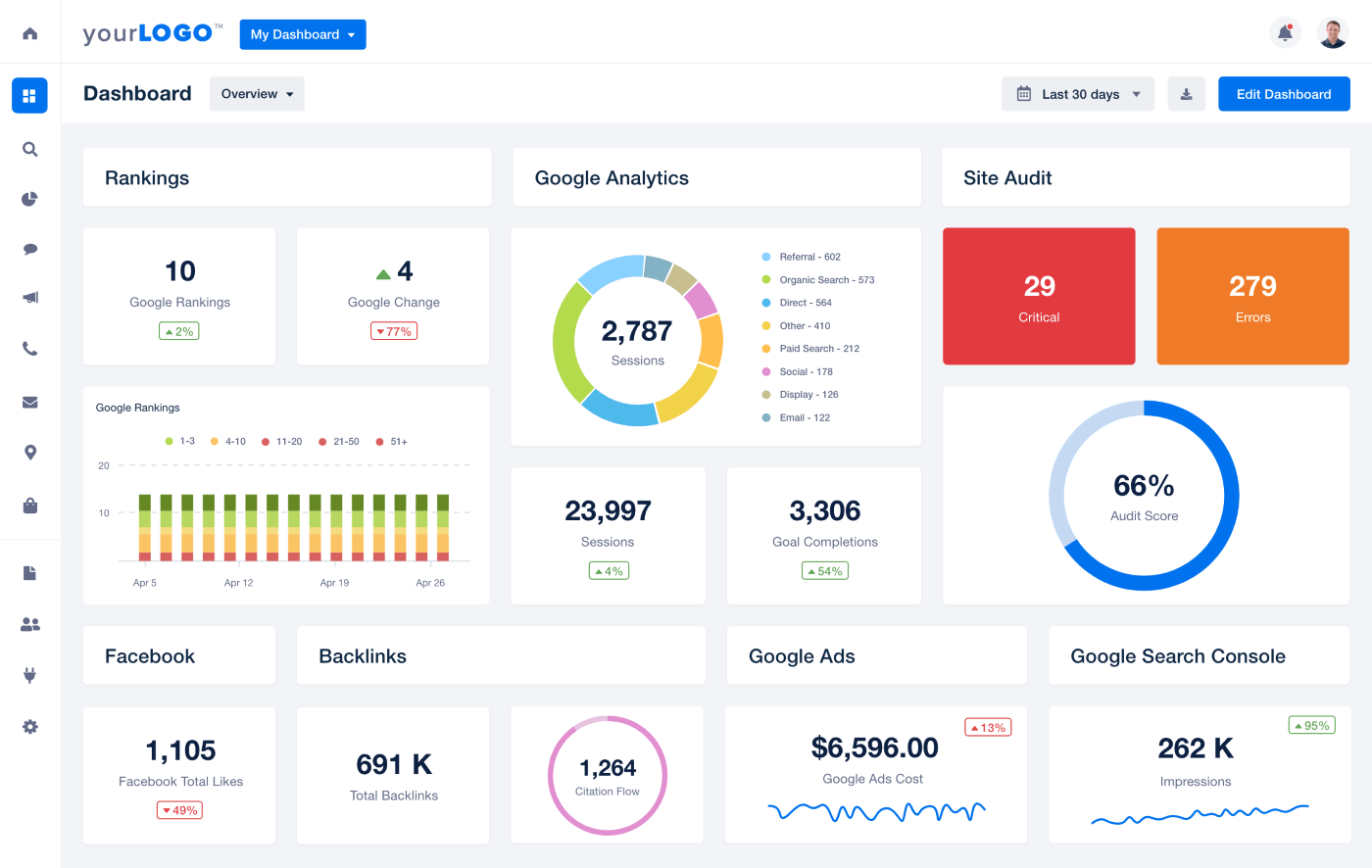 AgencyAnalytics is a marketing analytics platform built to provide reporting for marketing agencies. The tools connect with over 60 applications, let users build automated reports to keep stakeholders informed, and offer white labeled reporting to protect the company's branding. Using built-in SEO tools for deeper insights into how the agency's efforts contribute to marketing success, AgencyAnalytics connects data from email, social, online reviews, and call tracking to gain a full picture of campaign performance. It also includes a handy site audit feature that will highlight any broken links or images, duplicate content, or missing meta-data.
Google Analytics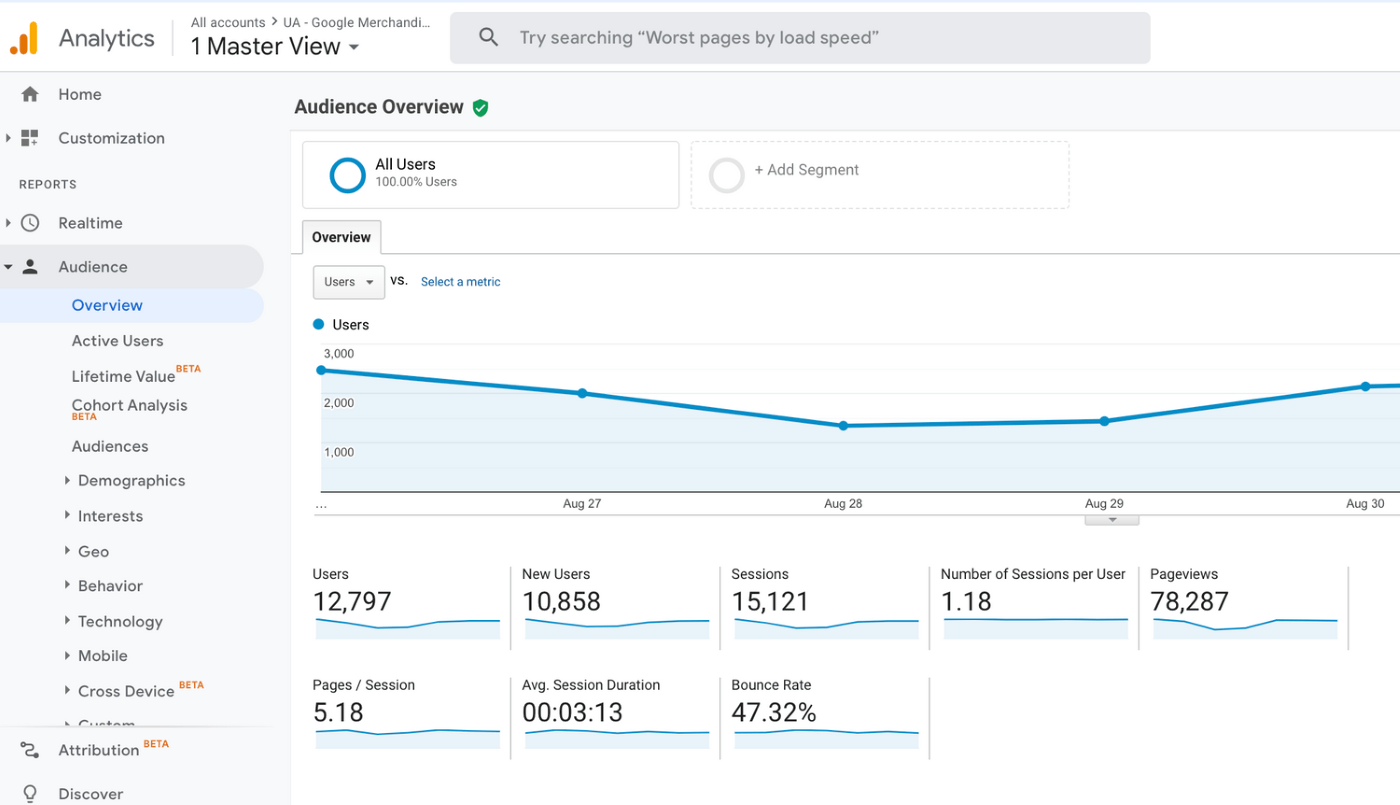 Google Analytics is a free web analytics tool that helps businesses track the ways users interact with their websites. Using Google's powerful content analytics features, organizations can see which of their web pages get the most engagement and which they need to improve. Web analytics also show which keywords the site is ranking for and which pages rank for those keywords. Google Analytics is a great tool for organizations just starting out with their marketing analytics, but it can easily be scaled as users get more comfortable with the platform.
Find out how the new Google Analytics 4 update affects your SEO strategy!
Choosing the Right Digital Marketing Analytics Tools
Marketing analytics software comes in many forms, so choosing the tool that's right for your company can be confusing. TechnologyAdvice can help you cut through the noise and find the software with the right features at the right price. Use the product selection tool on our marketing software page to enter your requirements, and one of our unbiased Technology Advisors will send you a curated list of the marketing analytics software that meets your needs. It's fast and free.
Need help with your content? Check out these 10 Brainstorming Ideas to Inspire Your Content Marketing Team.
Technology Advice is able to offer
our services
for free because some vendors may pay us for web traffic or other sales opportunities. Our mission is to help technology buyers make better purchasing decisions, so we provide you with information for all vendors — even those that don't pay us.