Email has been a part of the technology world for some time, longer than nearly all of the other technology businesses and consumers use on a daily basis. Despite becoming nearly ubiquitous in developed countries, email will seemingly always carry the stigma of being boring. After all, it can't promise the instant gratification of social media, nor is it as stimulating as chatting with someone over video on a smartphone.
Regardless, businesses that ignore email as a marketing medium do so at their own peril. With 3.9 billion users in 2013, email still boasts a substantially larger user base than any social network, and is still widely used. The world sent 182.9 billion emails every day in 2014. In short, everyone uses email.
"In short, everyone uses email."
The nature of email also gives businesses an opportunity to relate to their customers. Email is permission-based, meaning that consumers who sign up for emails have signaled an interest. Further, email is one to one – it's personal by nature, which makes it easier to grab a reader's attention.
Here are five key tactics that will help you when creating effective email marketing campaigns.
1. Segment and Personalize
Of all the guidelines in this post, segmentation is the most important. Even if your subject lines are irresistible and your call to action (CTA) commands attention, it's difficult to increase your bottom line until you segment your recipients based on behavior.
If you're not adjusting your email content based on the interests of your audience, then your marketing efforts won't be relevant – which means they won't be noticed. When done well, segmentation can lead to significant increases in engagement and revenue.
Segmentation also goes hand in hand with personalization. By aligning your messages with your audience's needs, you're helping them get the most out of your product or service. Personalization isn't using a merge tag to put the recipient's first name in the subject line; it's researching how to best educate and delight your customers based on their interests.
The conversion point (when a visitor decided to give you their email), as well as general website behavior, are great starting points for identifying where your customers are in their buying journey. To get a system that integrates email and website behavior, consider a marketing automation platform.  
2. Write Digestible Subject Lines
Subject lines are often the deciding factor in whether your emails will be opened or banished to the trash bin. They work best when they simply describe the content of the email. Clever subject lines can succeed, but as a best practice simple phrases that promise value will put recipients at ease.
Length is also important. Mailchimp analyzed over 200 million emails and concluded that 50 characters or less is an ideal subject length. None of these rules are written in stone and longer subject lines can be effective, but they are best reserved for highly engaged customers.
Try to write subject lines like you would headlines for blog content. Promise value with succinct, action-oriented words. A couple of formulas to consider:
Question subject lines: "Do you still want to book these plane tickets?"
How to subject lines: "How to change someone's mind with facts"
Why subject lines: "Why Brazil's defense lost it the World Cup"
Use numbers to indicate a list article, like Copyblogger does below: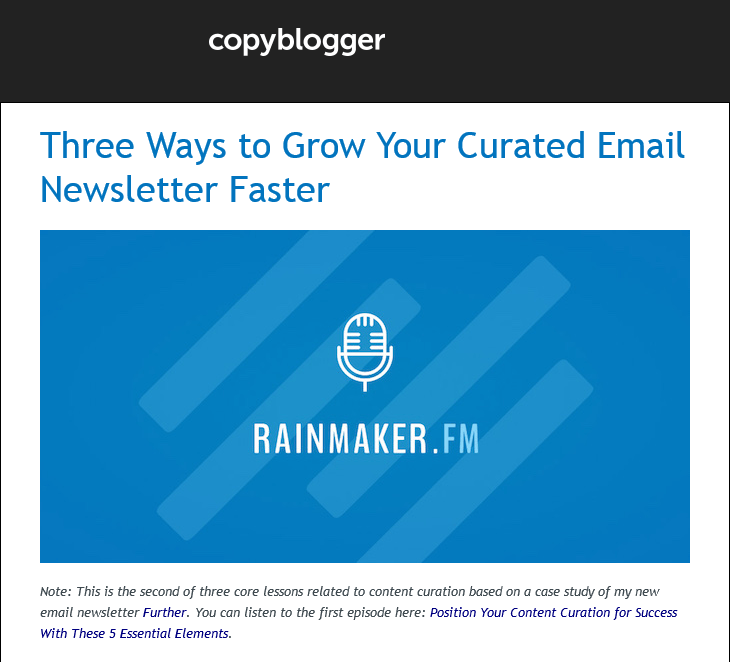 3. Make the Copy Relevant
Getting someone to open an email from your business doesn't mean you've won their trust – you've simply been granted an opportunity to make an offer. The copy inside the email should describe the content or other offer by conveying how doing so will solve a problem they're having or benefit them in some way.
Copy length can vary a great deal due to the context of the email, but marketing emails should be judicious with their text. Write enough to articulate your offer and no more. Mailchimp ran another great study that showcased the optimal word to link ratio for click-throughs. The optimal amount was between one and ten.
Notice how this KISSmetrics email, for example, gets straight to the point while conveying value: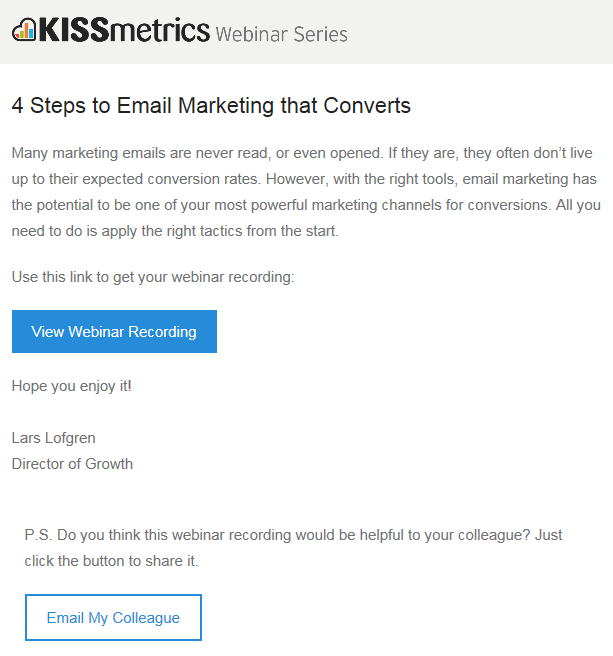 4. Be Obvious
Once your recipients have opened your email and read your copy, their next course of action should be obvious. This means effective emails will need well crafted calls to action.
CTAs in emails usually fall into two categories: hyperlinks in the text or buttons. If you choose to go with text hyperlinks, make sure to bold those words so they're easier to spot. Button color should contrast with the rest of the email, and the copy needs to be clear about what will occur once the recipient clicks.
The CTA must do all of this while refusing to be boring. In most cases, there should only be one call to action per email. Not necessarily only one button or link, but one action that the reader can take.
Look at how Vidyard creates a contrasting button with copy that's both informative and interesting: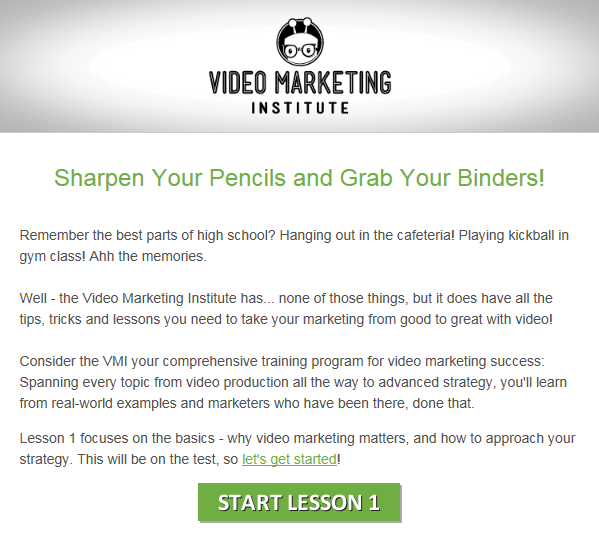 5. Consider Mobile
As consumers continue to shift their technology use to mobile devices (and in particular, smartphones), email marketers will need to develop new strategies. Litmus found that 47 percent of consumers were opening emails on their mobile devices in 2013, while Moveable Ink reported an even higher 65 percent for the same year.
Either way, mobile isn't slowing down, and businesses need to adjust. Opening an email on a mobile device is a different experience than viewing your inbox on a desktop browser. Space is at a premium, and emails that aren't correctly optimized will resemble an explosion of "click here!" and floating graphics.
To avoid that embarrassment, use responsive templates – any email service provider worth your time will have them and they look good on desktop clients and mobile devices. Following the above guidelines about graphics and copy will ensure that the rest of your well-crafted emails look clean and inviting.
***
Billions of emails are sent every day, but many are poorly executed and untargeted. It actually doesn't take a great deal of time to write and design a strong email, but without the proper segmentation, even the most fantastic efforts will fall on deaf ears. Be sure to follow these basics and test often to avoid the junk folder and become a welcome presence in the inbox.