$100 billion.
That is the amount US advertisers are expected to spend on mobile ads in 2020, according to an eMarketer report.
Why are marketers spending more on mobile? Probably because: 
51 percent of internet usage is now mobile (

Smart Insight)
Mobile email opens have grown 180 percent in the last three years (Email Monday).

88 percent of consumers who search for a local business on mobile will call or visit within 24 hours (

Nectafy

).
These are just a few examples to get you excited about mobile marketing. Improving your mobile marketing strategy is a great way to stay ahead of competitors and add new revenue streams to your pipeline.
ALSO READ: Why I Stopped Following Subject Line Best Practices 
To get you started, here are four ways to increase revenue through mobile marketing. 
1. Optimize Your Website for Mobile
Although common knowledge, it is important to get this right from the outset. At the end of any user's mobile journey is your website. Although having a mobile-optimized site is paramount for many reasons, the main two are user experience and SEO.
User Experience
Remember: over 50 percent of internet sessions now come from mobile devices. You absolutely must deliver a decent user experience.
A study from KISSmetrics showed that 40 percent of visitors instantly abandon a website that takes over three seconds to load. When 50 percent of your traffic is mobile, and 40 percent of them drop off due to no mobile optimization, you are losing one out of every five people you attract.
SEO Ranking
In May 2016, Google rolled out an update that prioritized mobile-friendliness.
The update essentially means mobile-friendly websites get higher SEO ranking. The impact of these changes has been massive for both good and bad reasons.
For marketers, it means one thing: having a mobile-friendly website is no longer a luxury; it is a requirement. Verify that your website is mobile-friendly using Google's own tool. If it's not, use these best practices to make any necessary updates. 
2. Engage in Mobile Messaging
When we think of mobile marketing, the usual suspects come to mind: mobile-friendly website (see above) and mobile apps. However, there is a new(er) player in town: mobile messaging.
Consumers have been using messaging apps for some time now. Facebook Messenger, for instance, is the second most used messaging app in the world and was founded in 2011.
Messaging apps aren't new. But the way businesses can use them as for mobile marketing is. A recent study by Nielsen and FacebookIQ showed that 53 percent of consumers are more likely to shop with a business they can contact via messaging app.
Looking at the adoption rate of messaging apps by consumers and how quickly they have caught up with (and surpassed) social networks, one can see how adopting this new trend early makes strategic sense. Here's how to do it: 
Audit your customers. Which messaging app(s) are they most likely to use? If you are in Europe or the U.S., chances are, your customers are on Facebook Messenger. Do a

quick check to make sure. 

Develop a presence early. 67 percent of consumers say they expect to message businesses more this year than ever before

. Make sure you do not leave these messages unanswered.

Set up an autoresponder. Your customers are probably already messaging you. Answer back, even with something automated. If you are in the regions mentioned above where Facebook Messenger prevails, create a Facebook Messenger autoresponder.
Add mobile messaging to your marketing stack. It is going to take some time, but this is the future of marketing, and your bottom line depends on adapting quickly. Make sure you learn and implement early. 
3. Adapt to Mobile Email
I am personally not a fan of email as a marketing tool. I think it has been used and overused for too long. Consumers have lost faith in most of the marketing emails they get from businesses.
In fact, 63 percent of consumers agree with the statement, "Most of the marketing emails I receive include no content or offers that are of interest to me." Even worse, 83 percent wonder why they have received an email from brands. Ouch.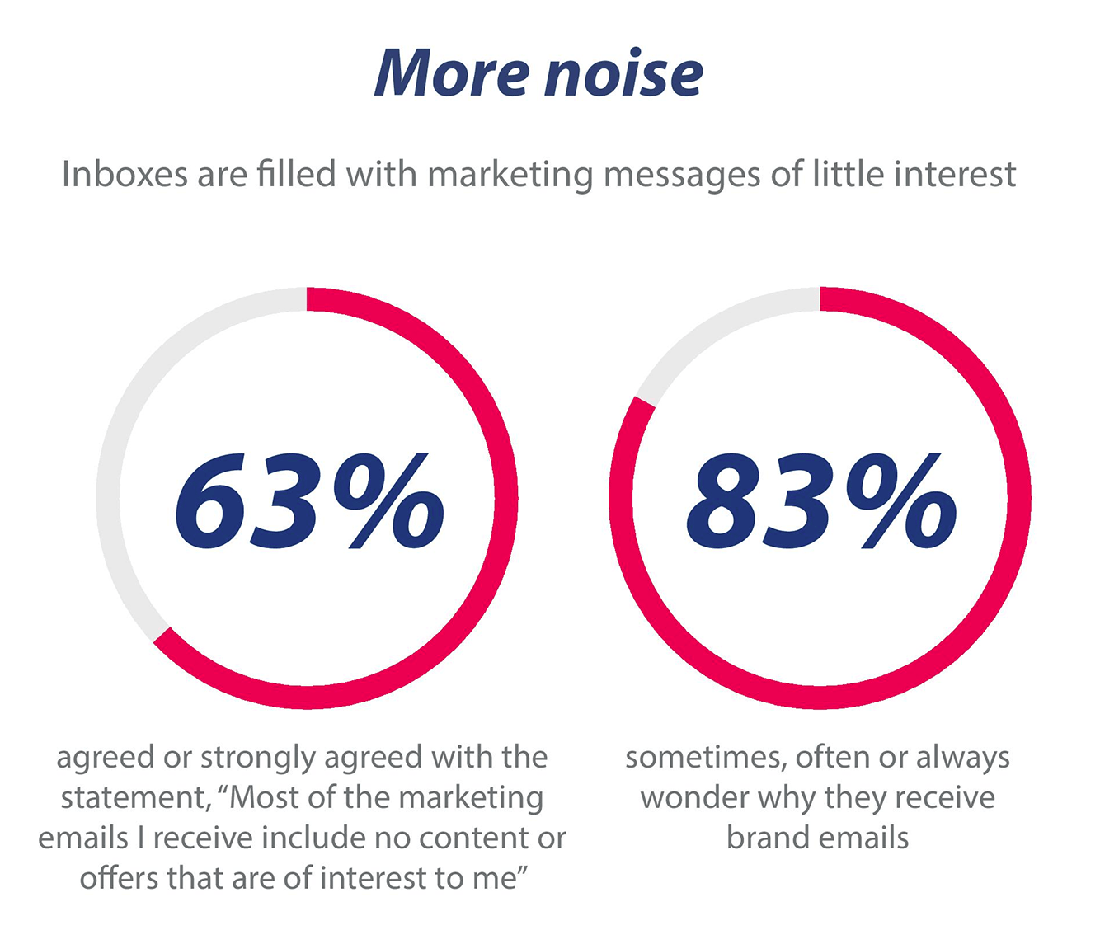 That said, email marketing is far from out of the picture. It just needs some help, and some relevancy.
A recent study showed that 55 percent of emails are opened on mobile devices (depending on the sector, this number can be as high as 70 percent). One way you can improve engagement with and revenue from marketing emails is to make them mobile-friendly. Making an email mobile-friendly takes a few extra steps:
Write shorter emails. Long-form content is not easily readable on mobile, especially not in an email (we are looking at you, infinite-scroll emails). Some argue that the entire email body should fit within the smartphone screen.
Write shorter subject lines. Your subject line is the first thing your subscribers read. If your subject line is too long, chances are, people will instantly dismiss it. Try to keep it under 30 characters.
Go easy on images. Studies show that emails with three or fewer images tend to get the

highest click-through rates

. Not only do images clutter up the screen, but they also slow down load time, which has 

a direct impact on conversion rate. 
4. Invest in Mobile Advertising
With mobile internet browsing soaring, it's no wonder mobile advertising is becoming more relevant.
In a report from 2015, Business Insider UK showed an interesting forecast of mobile advertising revenue steadily growing, while non-mobile advertising revenue plateaued. If you have not invested in mobile ads yet, 2017 might be the year to do it.
While the price of mobile ads might turn some off, it is evident they perform better for several reasons. First, mobile is where your customers are. Most internet users own a smartphone, and remember, over 50 percent of internet traffic originates from a mobile device. Reach your audience where they are. 
Second, traffic that originates from mobile devices has the highest engagement rates, both on and offline. Online, the average smartphone conversion rates are up 64 percent, compared to desktop. A report by ComScore shows that mobile ads perform 260 percent better than desktop ads, based on purchase intent. Mobile ads may bring a significant boost to your marketing attributed revenue. Before you jump in, here are some best practices to follow: 
Confirm your audience is using mobile. Use your traffic analysis software (e.g. Google Analytics), and dig into the devices used. Is it worth investing in mobile ads?

If the answer to the question above is yes, ask yourself where your customers are. Facebook? Google? Pinterest? There are tons of advertising platforms out there with all types of audience capabilities. Make sure you use one consistent with your segmentation.

Plan an initial budget, target, and KPIs. Advertising requires constant monitoring, improving, and performance checks. Make sure you have the time to do this.
Closing Thoughts
Start from the top of the list above and optimize your website for mobile. Then, get involved with mobile messaging. There is a very good chance you will be the first in your industry to offer support on Facebook Messenger or via "chatbot," which is an experience your customers and fans will not forget.
Once that's done, make sure you adapt your email marketing. Email tends to be a "set and forget" strategy for most businesses. Maybe now is the time for a refresh. 
Finally, take some time to think about advertising. Does it make sense for you to invest time and money into mobile ads? Only you can make that decision.
---
Alex Debecker is the founder and CGO of Ubisend, a messaging and chatbot platform that helps businesses communicate with customers across multiple channels.