A 2013 report by DMA states that 75 percent of email revenue comes from 20 percent of the messages sent: those that are automated. The report also says email pays nearly 30x ROI per dollar spent. With those kinds of stats, why wouldn't you be using email marketing and automation?
ALSO READ: GetResponse vs. AWeber: Email for Every Marketer
Maybe you haven't found the time to look through all the choices? Or maybe you've narrowed down your search to a couple of vendors, but can't decide between the two.
In this article, we'll compare iContact vs. MailChimp — two of the leading email marketing software vendors. Both include some form of automated campaigns to help you grow your lists and ROI, but they're geared toward different audiences. Medium to large businesses looking for massive growth and measurable sales revenue will appreciate iContact's enterprise support and native Salesforce integration. MailChimp's design caters more to DIY small and growing businesses in retail or e-commerce.
Read on for the full comparison of iContact vs. MailChimp.
Overview and Email Capabilities
iContact helps you build and maintain your lists through landing pages, social sign-ups, creative consulting, SPAM notifications, and filtering. Your customers and leads will enjoy reading emails built from tasteful templates that look like you spent a lot of time making, while in reality, you can spend your time reporting and segmenting your lists. Reports include both macro and granular views, so you control how much or how little data you see.
MailChimp focuses their attention on helping customers grow (smart, considering the more their customers grow, the more they'll need MailChimp). This means you'll have access to a lot of helpful resources, from design and campaign building to built-in reporting. MailChimp reports help your team find opportunities for engagement and give you hard data on what makes your campaigns work, from customer click behavior to revenue.
Both of solutions offer multiple user access settings for collaborative purposes, but you'll need to pay for the Premier plan to get that in iContact. They also both provide opportunities for you to code your own emails if you don't love the templates.
Automation
You can build custom workflows and autoresponders to all sorts of on-page actions within iContact. These autoresponders will send custom email messages based on clicks and views, giving your customers a personalized experience and driving further engagement. Visual automation workflows are designed to accommodate any skill level, no matter how little coding knowledge you have.
MailChimp also offers automation from anywhere on your site; you can build triggers based on browsing preferences, previous purchases, and product recommendations. Email automation helps you stay in contact with new and existing customers and build those all-important lists. MailChimp makes automation easy with preset triggers, so you can basically fill in the blanks to get started.
Where iContact offers a visual workflow to set up automations, MailChimp is based on stepwise triggers. You'll get some reporting in both of these choices, but MailChimp's reports detail what is working (and what isn't) in your automated campaigns to help you improve your overall engagement.
Integration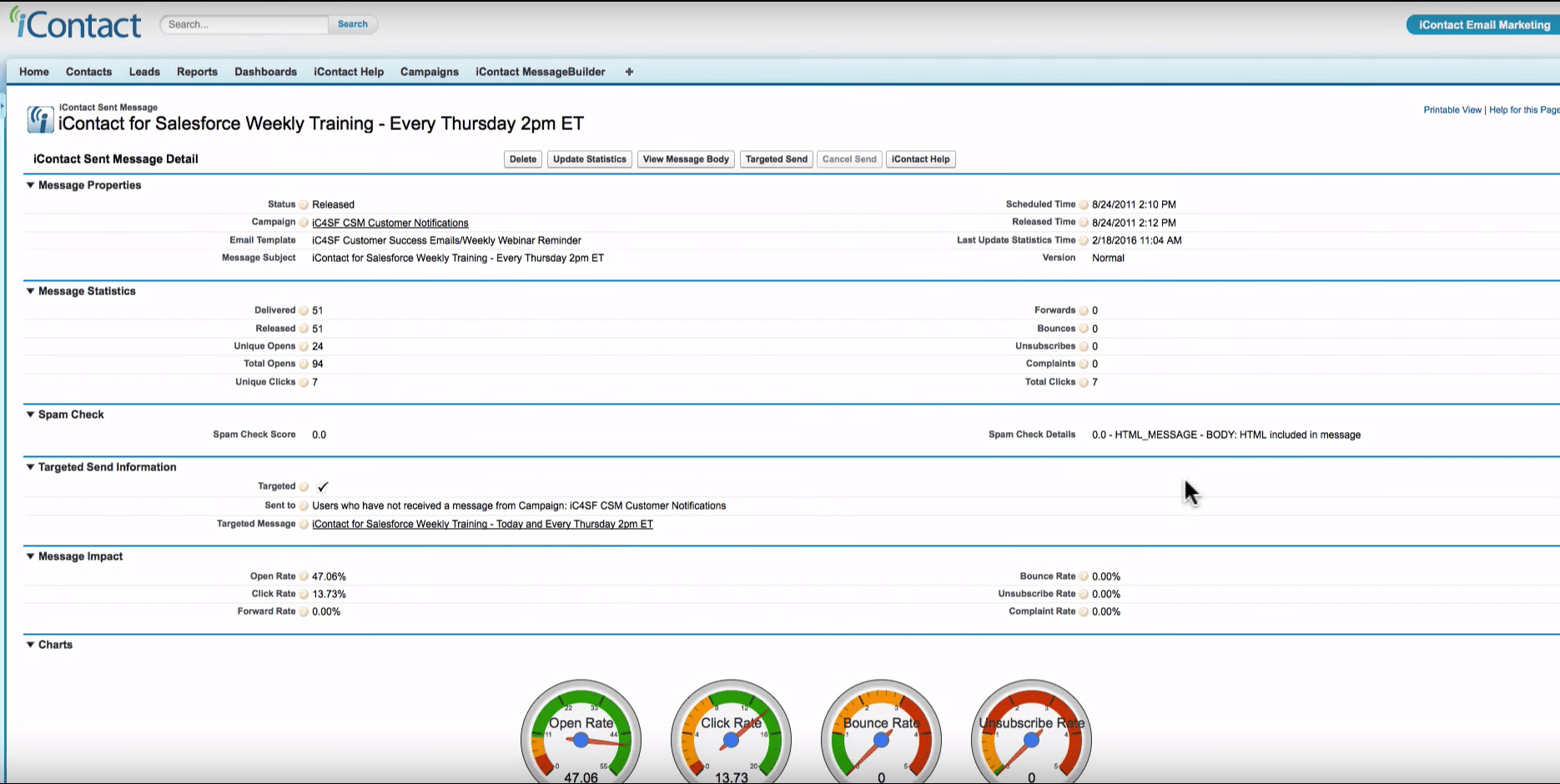 iContact Premier integrates with Salesforce, placing a dashboard directly inside of your Salesforce interface. This connects email automation and customer insights from your site directly to your Salesforce contact profiles, which means you can send emails to more personalized segments. Social sharing and customer interest tracking are built right into your email dashboards, including Facebook list forms and Twitter. The integrations are pretty limited here, but API endpoints are available.
MailChimp's library of integrations is in the triple digits, making this a very stack-friendly platform. MailChimp also has a Salesforce integration, but they tend to have more customers in the SMB realm, so you'll find lots of retail and e-commerce integrations that improve customer engagement.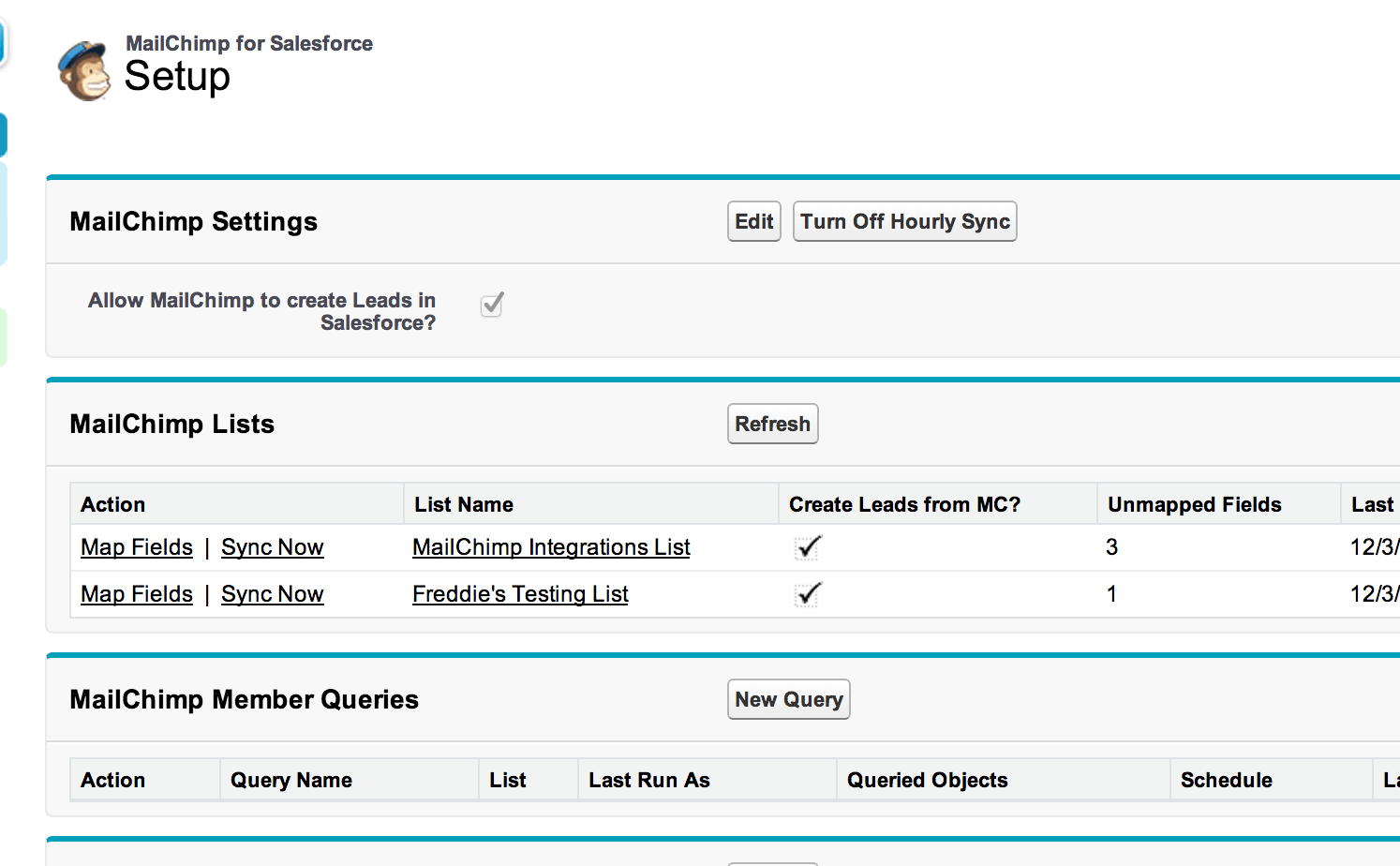 Consulting Services
If you're looking for consulting and design services for your email marketing campaigns, iContact has you covered. They employ seasoned marketers with deep knowledge of email marketing who will help you build, grow, or increase conversions for your marketing plans. You can also get help for your social media marketing and automation efforts. These services cost extra, but if you're on the Premier plan, you can access personalized coaching.
MailChimp does not offer internal services to users for design or marketing help, but they have a full list of experts from content writers to API developers who will help your company build a plan around MailChimp's offerings. You will need to contact these vendors individually for quotes.
Pricing and Plans
iContact includes some features only with a Premier membership, meaning you'll need to call for a custom quote. Premier features include but are not limited to custom design services, email auditing, "high volume" sending. Other pricing tiers fluctuate depending on the number of subscribers you manage.
MailChimp's biggest asset here is that they offer a free-forever plan. This plan is great for testing the platform before you migrate all of your data. There are two other pricing tiers that vary based on features, subscribers, and how many emails you send per month. A/B testing is only available at the highest plan.
* * *
Depending on your design needs, your integration preferences, and your user count, you'll want to further compare iContact vs. MailChimp to determine which is the best email marketing and automation tool for your needs. Be sure to take advantage of the free trials for both products before deciding.
Ready to compare more email marketing solutions? Plug your needs into our product selection tool, and we'll give you a custom list of recommendations. 
Technology Advice is able to offer
our services
for free because some vendors may pay us for web traffic or other sales opportunities. Our mission is to help technology buyers make better purchasing decisions, so we provide you with information for all vendors — even those that don't pay us.