This post has been updated for 2018
Despite their relative ubiquity these days, marketing automation tools are a recent software phenomenon that weren't terribly popular not long ago. Back in 2015, a writer for Forbes was shocked to see that only 10 percent of companies were using marketing automation tools. Adoption has increased significantly since 2015 when this comparison was first published: now 67 percent of market leaders and 35 percent of all companies use marketing automation tools, adoption rates that fuel the $3.3 billion marketing automation market in 2017, a number projected to move up to $6 billion by 2025.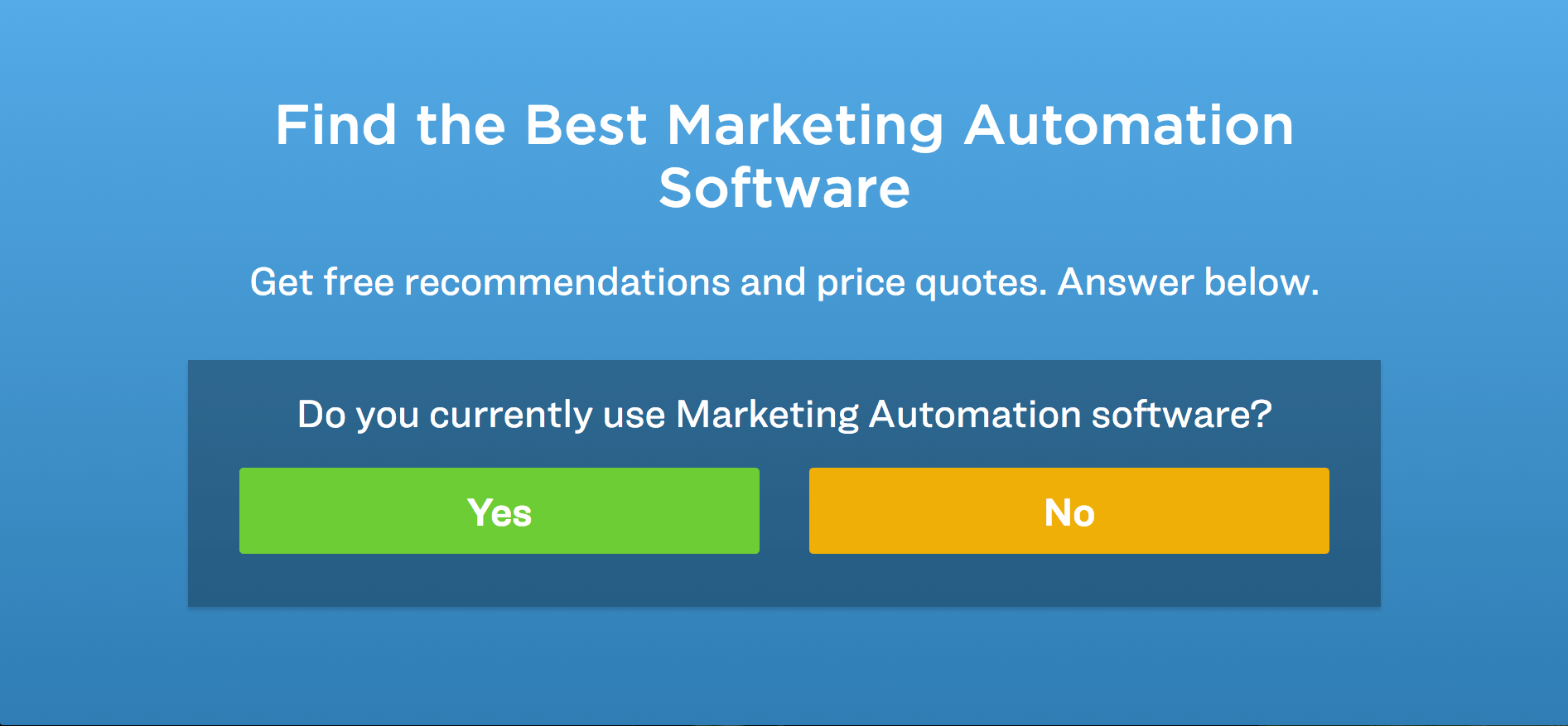 Even now, marketing automation vendors are racing to stake their claim in the future market, and like the land rushes of the old west, acreage is up for grabs. These vendors will court you and your business. They will say that their product is the world's best, the highest performing, the crowd favorite. And since niche players still have a lot of work to do before they become household names, most companies will make their decision between a small handful of best-in-class solutions, which makes the choice even more difficult due to the lack of differentiation in the market.
One of the most common marketing automation faceoffs is HubSpot vs Marketo. These two cloud-based industry leaders both have strong customer bases, high satisfaction scores, and a lot of overlap in features. But they aren't the same.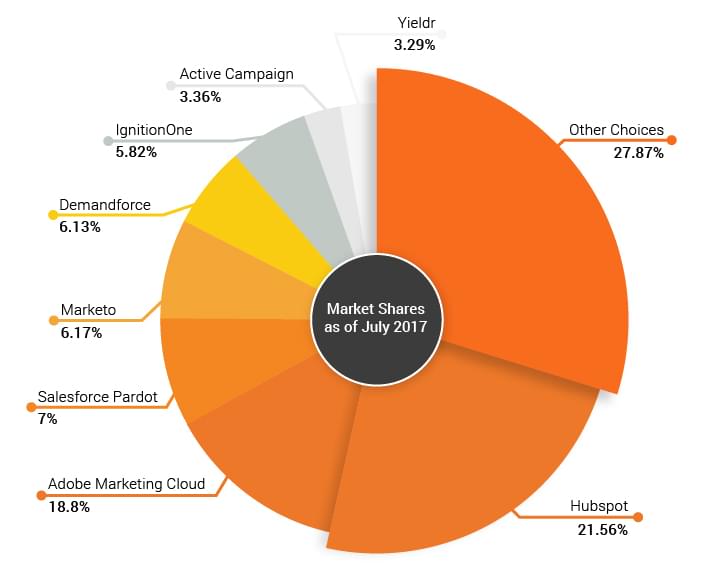 There are some clear distinctions between Marketo's Engagement Marketing Platform and HubSpot's Inbound Marketing software. Globally, HubSpot serves about 21.5 percent of companies, compared to Marketo's 6.7 percent, but that disparity has a lot to do with the kind of customers each solution attracts. Marketo primarily makes marketing automation tools for enterprise and B2B clients, while HubSpot is more consumer-focused. These different audiences are reflected in the ways the systems are built and their pricing.
Systems and Pricing
Marketo's system is broken down into five main modules: lead management, email marketing, consumer marketing, customer base marketing, and mobile marketing. These modules can be purchased separately, combined into a bundle, or purchased together in an integrated platform. This lets you create a custom solution for your needs, but some businesses may prefer a more unified system. Beyond that, Marketo's modules are priced in tiers according to scale: Basic (for smaller companies), Pro, Elite, and Enterprise.
Unlike Marketo, HubSpot offers all of its features and capabilities through a single system with sales and CRM applications available as free add-ons. An all-in-one solution is attractive to many buyers since it provides seamless functionality and is priced as a single unit. HubSpot also offers a number of pre-built integrations with popular business apps to allow for further customization. Their core product, Marketing Hub, is priced in five tiers according to scale: Free, Starter, Basic, Professional, and Enterprise. Get the CRM free forever, and Sales Hub pricing increases according to use.
For smaller businesses, HubSpot is the more affordable option. Their entry-level product is significantly less expensive than Marketo's Basic edition. For enterprise use, Hubspot and Marketo are more comparable in price, but Marketo is still more expensive. Especially since most businesses will need more than one module to be effective.
How They're Similar
Despite some distinct differences (which we'll get to in a moment), there are a few areas where Marketo and HubSpot overlap, in terms of function and use case.
Both are designed to help companies build out their marketing strategies across multiple channels, whether it be web, email, or social media. To that end, both platforms have built-in email campaigns with delivery optimization tools, event-based triggers, lead-nurturing, and A/B testing. Both platforms can monitor and analyze web traffic, and both platforms can track and manage social marketing efforts.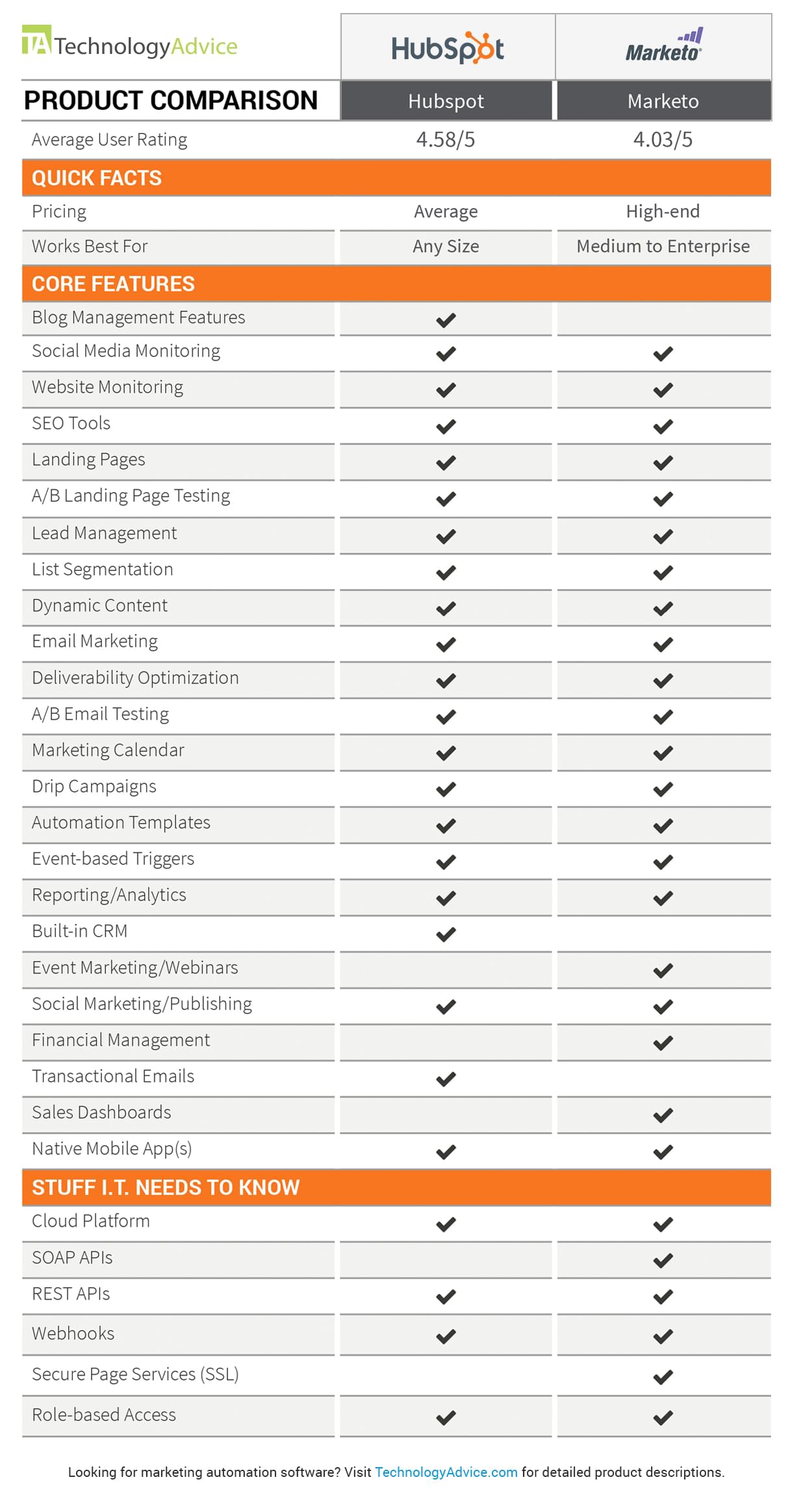 How They're Different
The chart above shows a detailed comparison of specs and features, and as you may notice, a handful are exclusive to one product or the other. But there are a lot of internal differentiators between HubSpot and Marketo that aren't addressed by a surface-level features comparison. For starters, Marketo has traditionally been more associated with B2B marketing because of their deeper focus on lead nurturing, while HubSpot's solution focuses primarily on inbound, B2C (business-to-customer) marketing. Here are some other areas where users will notice key differences between the two products.
Ease of Use
Since Marketo specializes in custom solutions for enterprises, their software tends to require more IT knowledge to operate. If you have a dedicated MA specialist or employ a marketing technologist with MA software experience, this may not be a problem for your business, and you'll appreciate the depth of features Marketo offers.
On the other hand, if you're trying to learn marketing automation for the first time and need a solution that gives you simple, intuitive access to a wide range of marketing functions, you might be better off with HubSpot. In the software industry, ease-of-use is a powerful asset, as evidenced by its impact on user satisfaction and a product's viability. For this and other reasons, HubSpot's average user rating across software review sites is over half a point higher than Marketo's.
CRM Integration
In many ways, marketing automation and customer relationship management (CRM) are mutually dependent. That's why most businesses shop for an MA solution that integrates with their CRM or vice versa. HubSpot offers its own built-in CRM, as well as basic integrations with popular systems such as Salesforce, SugarCRM, MS Dynamics, and Zoho, among others.
While Marketo doesn't provide a built-in CRM module, their product was built using the Salesforce platform, which means they offer some of the best Salesforce integration in the industry. They also offer native integrations for MS Dynamics and SAP, and certified integrations for Netsuite, Oracle, and SugarCRM.
Analytics
Successful marketing is driven by insight, and insight comes from data— data about customers, content, engagement, and business deliverables. A marketing automation solution without practical data analytics tools is little more than an email robot. Both Marketo and HubSpot give marketers and managers access to a set of powerful analytics tools for tracking campaign programs and pulling reports.
That said, Marketo's analytics provide deeper, more strategic visibility. For example, the Marketing Analytics application shows the correlation between marketing efforts and revenue fluctuation, and can even tie revenue to campaigns. You can even perform predictive analytics and modeling based on digital behavior patterns, content preferences, CRM data, and firmographics.
Conclusion
If you're a small to mid-size business looking to bring more visitors to your site and nurture leads without the high learning curve of enterprise software, you might be better served by HubSpot. If you're a larger B2B company looking for a custom-built solution to align prospect engagement with business goals, you should consider Marketo.
Then again, these aren't the only two fish in the sea. New products continue to appear in the market, each with a slightly different feature set than its competitors. For more help narrowing down your options, use the Product Selection Tool on our site to get a custom list of solutions that match your business needs.