Social media has matured at such a rapid rate that maintaining accounts on several channels is now standard procedure for most organizations. If you're looking for software tools to help you manage social accounts, you've probably come across Hootsuite and Buffer.  
Both tools offer valuable features, but their differences are significant. Hootsuite offers a broad set of functionality for managing social accounts, while Buffer focuses on automating content sharing. The former is an all-in-one solution while the latter is designed to perform a narrow set of functions.  
Also Read: Slack vs. Hipchat
This post compares Hootsuite vs. Buffer on the basis of systems, pricing, features, and integrations. The goal is to help you distinguish between the two and choose the software that best meets your requirements.
Hootsuite vs Buffer: Company Overviews
Hootsuite was founded in 2008 by Ryan Holmes after his search for a social media management tool turned up nothing. Holmes partnered with some of his colleagues at Invoke Media and created BrightKit, a software tool for managing multiple social accounts.
Shortly thereafter, Holmes and co. realized other businesses could benefit from BrightKit, so they brought their creation to market. BrightKit changed to Hootsuite after Holmes held a contest to rename the software. Hootsuite now claims north of 10 million users and counts Virgin, Mailchimp, SXSW, and Monster among its customers.
Buffer was born in 2010 when Joel Gasciogne set out to create a better way to manage social media. After launching its first iteration, Buffer gathered 100,000 users in its first nine months, and the company claims over two million today. Notable customers include Business Insider, Campaign Monitor, the Denver Broncos, and Fortune.
Systems and Pricing
Buffer and Hootsuite both offer their software through monthly subscriptions and tiered pricing options. Each vendor offers a free version, as well as iOS and Android apps.
Hootsuite comes in three editions: 
Pro gets you access to an analytics report, bulk message scheduling, support for up to 10 users, and access to premium apps.
Business includes all of the Pro options along with real-time analytics, 24/7 priority support, custom set-up & training, and a vanity URL.
Enterprise provides improved security (network monitoring, accounts audits, profile protections) and increased role management across large numbers of accounts.
Buffer's subscription tiers are divided into Individual and Team subsets. The Individual set includes two plans:
Free gives users access to one social profile per platform, a browser extension, a 10-post queue per profile, and access to the Pablo image creator and video/GIF uploader.
Awesome adds an RSS feed and calendar tool. It also upgrades your number of social profiles and scheduled post per profile.
The Team set of subscriptions is divided into three plans: Small, Medium, and Large. All of these include social analytics (which are not available in the individual versions) and upgraded capacity for social profiles, team members, and scheduled posts per profile.
Features
Publishing
Being able to control and plan your social media activity from one central location is one of the main attractions in this niche of marketing software. The time saved by scheduling posts in advance across multiple networks frees marketers to do more work and find ways to better engage their audience.
From a functional standpoint, there's little difference in the publishing capabilities of these products. Both platforms let you choose the social networks on which you'd like to publish, and both provide link shorteners. The main distinctions are aesthetic.
Users publish in Hootsuite from a box that lives at the top of the screen in several of the main dashboards. You can insert a video, photo, or GIF, use geo-location to target your post and select your networks.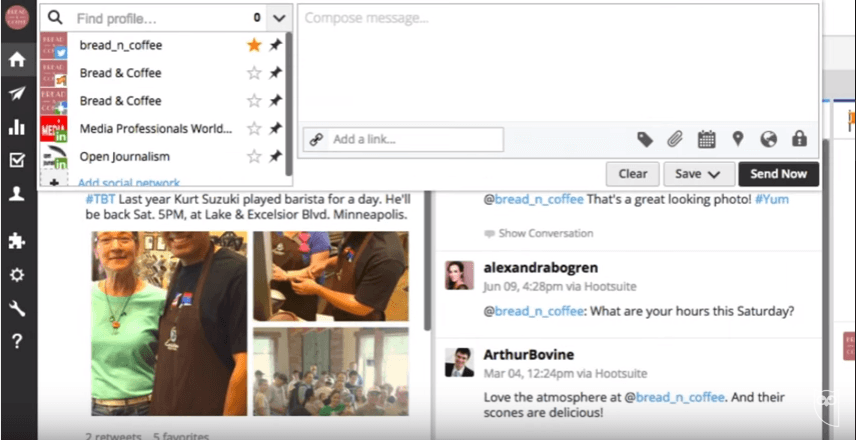 The Buffer interface is a bit cleaner; this box lives in its own screen instead of hovering above other elements. The same set of functions apply, though there doesn't appear to be any geo-targeting capabilities, other than timezone.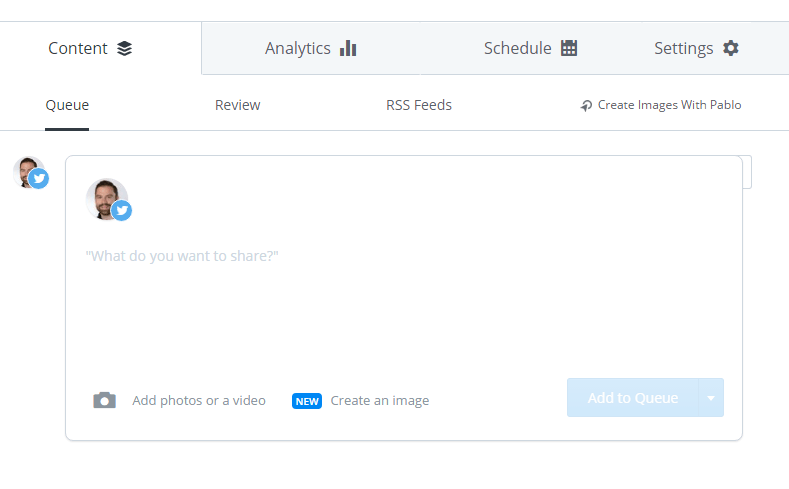 Scheduling
The platforms also share many similarities in terms of scheduling. You can, of course, schedule posts one-at-a-time, but there's also a way to automate the creation of your social calendar.  
Each allows you to create a posting regime by selecting a series of times, days of the week, and networks. Once you've selected finalized the automation details, you can start building a supply of posts to run through your schedule. If you need help developing a time schedule, each platform lets you use an algorithm to determine the best time and date to post.
Once you queue up your posts, both solutions provide a list view and a calendar view in which you can edit scheduled content or add new content.
If you want to take social automation a step further, Hootsuite and Buffer both have native RSS feeds that you can pull posts from and automatically add to your posting schedule. This feature is particularly handy because it streams new content directly to your account — freeing up even more time for social media marketers.
Though their features are very similar in the publishing and scheduling area, significant differences do exist.
The main dashboard in Hootsuite is set up in a series of streams. These streams display posts in vertical feeds from different networks that users can interact with directly. These streams can be customized using filters like "my posts," "posts to page," "events," "activity," and so on.
Because users can engage with the content of these streams, Hootsuite can be turned into a command center for your all of your social profiles: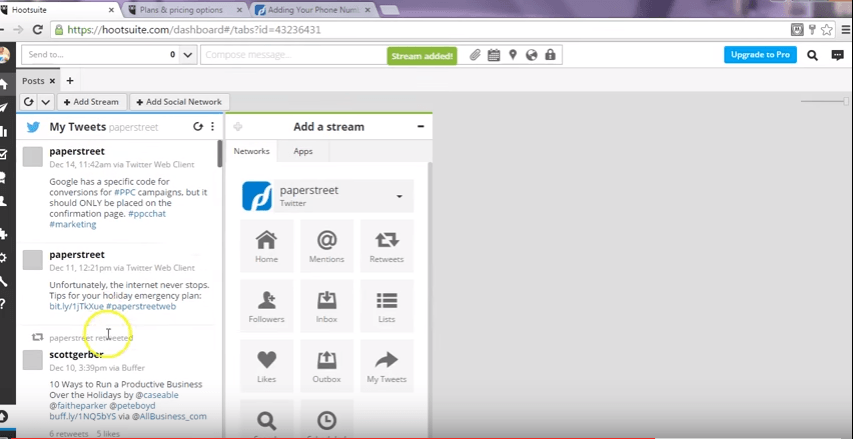 Buffer doesn't currently offer this function, but they have acquired Respond.ly and rebranded it as Respond, so users can expect a similar functionality soon (albeit just for Twitter).
If Hootsuite's feeds are its main publishing advantage, Buffer's is its arsenal of integrations through Zapier and IFTTT. Because the Buffer platform was built to be particularly integration-friendly, you can build a lot of impressive automation rules.
The list of automations is too long to post here, but this article on the Buffer blog is a great place to get started.
Analytics
Reporting capabilities is another area where Buffer and Hootsuite are substantially different. This variance encapsulates the diverging purposes of each platform. Hootsuite is an all-in-one management tool, while Buffer is a point solution focused on content publishing and scheduling (though the company is adding new functionality at regular intervals).
Hootsuite's analytics are divided into two main sections: Overview and Boards.
Overview displays four main metrics: posts, followers, engagement, and traffic.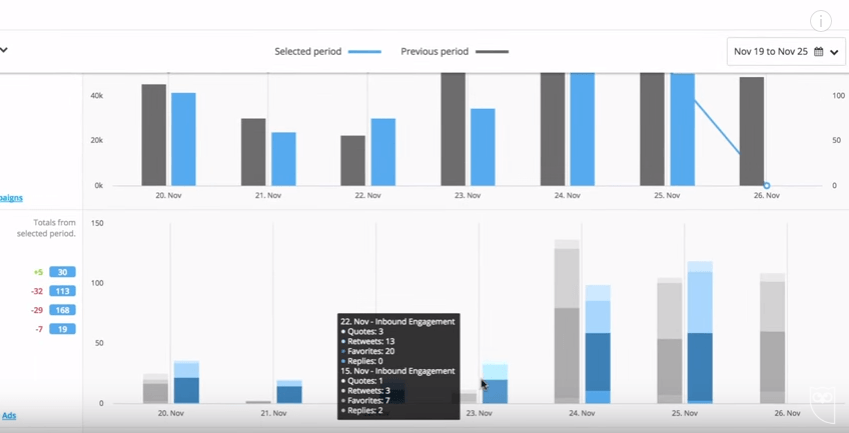 These four metrics are reconfigured in line graphs, bar charts, and other visualizations throughout the page to supply a snapshot of your entire social presence. Overview automatically compares your metrics to a historical sample of the same time frame. That way you always have context for the data on display.
The Boards view lets users create granular reports that update in real-time. Marketers can choose specific metrics to view, as well as the visualization style. Hootsuite also offers a number of templates if you want to get up and running quickly.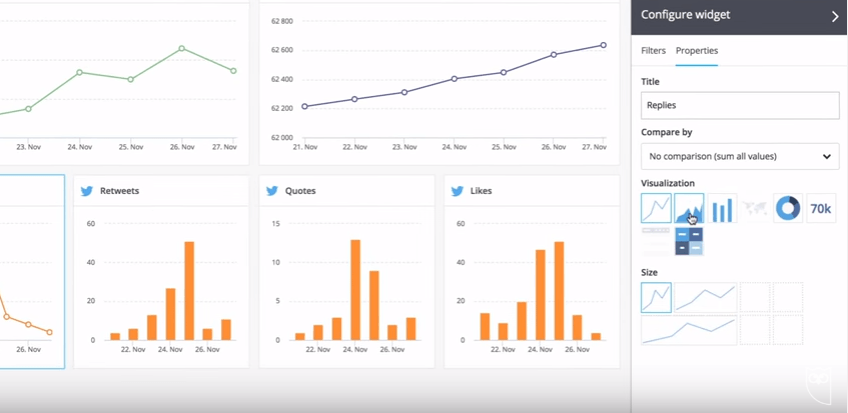 Buffer's analytics are divided into three views: posts, analysis, and insights.
The Posts view lets you look back at your previous contributions to the social media environment and see how they performed. Likes, mentions, retweets, and clicks are displayed under each post, and you can dig deeper to see who among your audience performed which actions.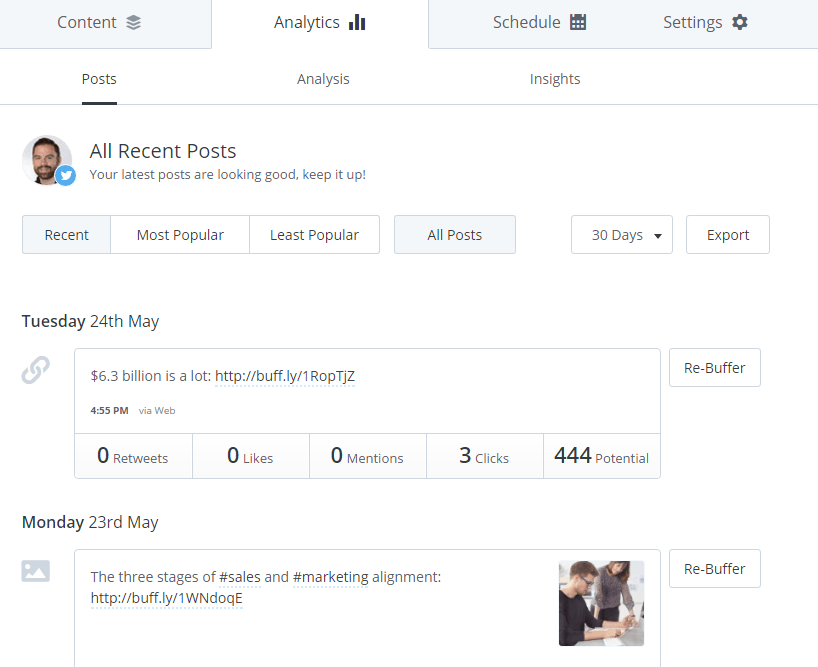 Buffer's Analysis view features a line graph that displays your posts-per-day and your clicks-per-day over a segment of time. Like the Post view, you can update Insights to display a specific interval. The Insights view also tracks your follower growth and audience activity.
Collaboration and Security
On the collaboration front, Buffer and Hootsuite both offer intuitive features for multiple people to access and use their software. Buffer lets you add new accounts and organize them into categories. New users can be added under two permission levels: content contributors and content managers.
Hootsuite offers role-based permissions in three tiers: super admin, admin, and default. The software also lets you create team-based permissions, which makes it easier to manage large groups of users.
In terms of security, Hootsuite utilizes a the HTTPS protocol to keep your account secure and will send you real-time security notifications for any suspicious activity. Buffer uses two-factor authentication that sends an approval code to your phone before you login. Both products offer double approval for posts to ensure no one publishes from the wrong account.
Integrations and Extras
Buffer supports the following social media channels:
Twitter

Facebook (profile, page, group)

LinkedIn (profile, page)

Google+ (page)

Pinterest
Hootsuite supports: 
Twitter (profile, page, and group)

Facebook (profile, page, and group)

Google+ (page)

LinkedIn (profile, group, company)
Hootsuite has an app directory that lists integrations with additional networks and marketing tools (e.g. Mailchimp, Marketo, Instagram, WordPress). Some of these integrations are free, while others (like Youtube) cost extra.
Buffer's expansive list of integrations and automation triggers has already been discussed above, as has the impending release of Respond. Beyond those two items, Buffer also has Pablo, an image creation platform that provides access to 600,000 stock photos, editing tools, and filters. Pablo is included for free with all Buffer pricing tiers.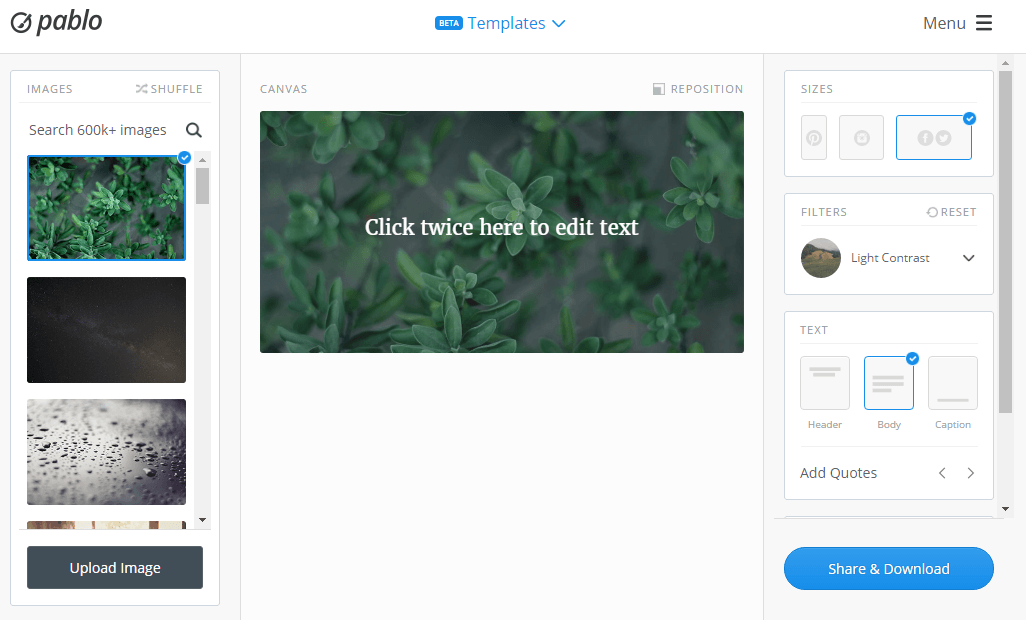 Which should you choose?
Hootsuite vs. Buffer is a comparison between two different types of solutions. With its powerful analytics and customizable stream dashboard, Hootsuite functions as an all-in-one social media management tool.
Buffer is more a point solution, meaning it focuses on one point of your social media presence — content publishing and scheduling. Buffer's offers a more intuitive interface that makes it appealing if you're only focused on content publishing.
Buffer adds features regularly, and it's easy to see a time in the near future where the software grows into a bigger platform, but for the moment, it's not in the same weight class as Hootsuite where analytics and administrative tools are concerned.
That's not a bad thing, but it's probably the factor that will most influence your choice between these two social media tools.
Technology Advice is able to offer
our services
for free because some vendors may pay us for web traffic or other sales opportunities. Our mission is to help technology buyers make better purchasing decisions, so we provide you with information for all vendors — even those that don't pay us.