If you have time to learn Google Analytics, build your goals and funnels, customize your dashboards for easy access to your key metrics, and update your data frequently, analyzing your site traffic can be fun. But it takes a lot of hard work to get to that point, and not all marketers have that kind of time.
Google Analytics gets a lot of attention in the website data world because everyone uses it, and everyone uses it because it's free. GA is a common language among data-loving marketers, and it provides some great insights.
ALSO READ: Zapeir vs. IFTTT: The Best Tool for Task Automation
But there are drawbacks. No one really gives away anything for free, so your payments to Google come in the form of your data. Remember the [not provided] debacle? Google gives you just enough information about your visitors to help a little, but they won't give you everything, and they're making decisions based on your customer data. Also, what you get to see is usually sampled information, meaning Google has manipulated or reduced your data before you get it. And, if you've got a lot of traffic, site limits restrict how much you of it you can actually see.
If you're tired of giving Google your data, want more in-depth customer insight, or want a web analytics program that's easier to navigate, here are five Google Analytics alternatives to consider: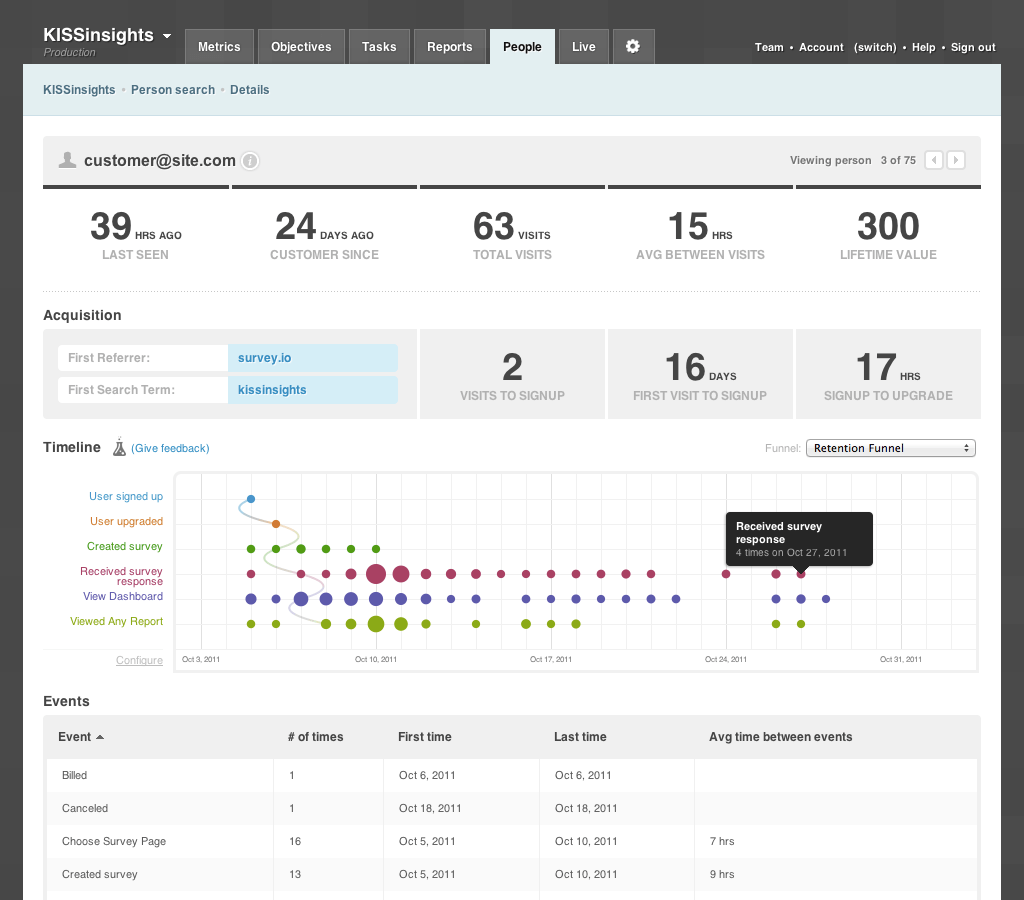 Kissmetrics shows you who visits your site and what they do when they get there. The software assigns each new user a number until the customer identifies themselves by making a purchase or signing up for your email list. Once the customer is identified, Kissmetrics uses public information to round out a user profile, which helps you build customer personas and segment your lists more accurately.
This software also includes sales funnels that are easy to implement, especially if you've mapped out your sales funnels in advance. For e-commerce stores, you can connect your website platform and Kissmetrics will combine your revenue data with customer information. Kissmetrics also provides pre-made pop-ups and landing pages to help you improve website engagement. An on-page visualizer gives you click-to-track capabilities, so you don't need to know code to set up your conversion points. Reporting here is also strong; you can zoom in on customers and personas to target with further actions like A/B testing and persona segmentation.
Best for: e-commerce and lead-oriented sites that need a more complete picture of on-site visitor actions than what they find in Google Analytics.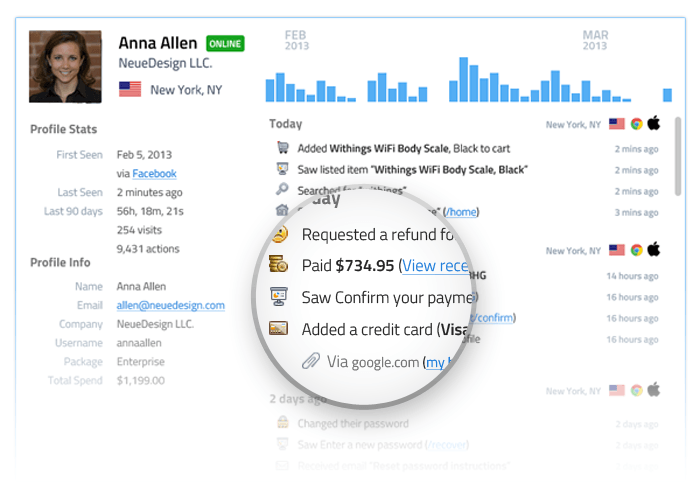 Woopra specializes in real-time data for all visitors that interact with your brand. When you tie Woopra to your branded content (including apps, email newsletters, and help documentations), Woopra logs customer interactions with each of these touch points to help you build a more complete picture of your prospect. Like Kissmetrics, Woopra can also track anonymous activity. When the prospect identifies themselves, all of the previous data is merged to create a historical profile.
Woopra's segmentation features use custom tags and prospect actions to help you identify new targets and refine your marketing plan. Built-in reporting also includes funnel and retention reports. If you love watching visitor actions in real-time, Woopra's live dashboards show behavior as it happens. You can use this data to build dynamic profiles based on changing behavior.
Best for: brands with a wide-ranging marketing plan that includes mobile apps and various touch points spread across the web.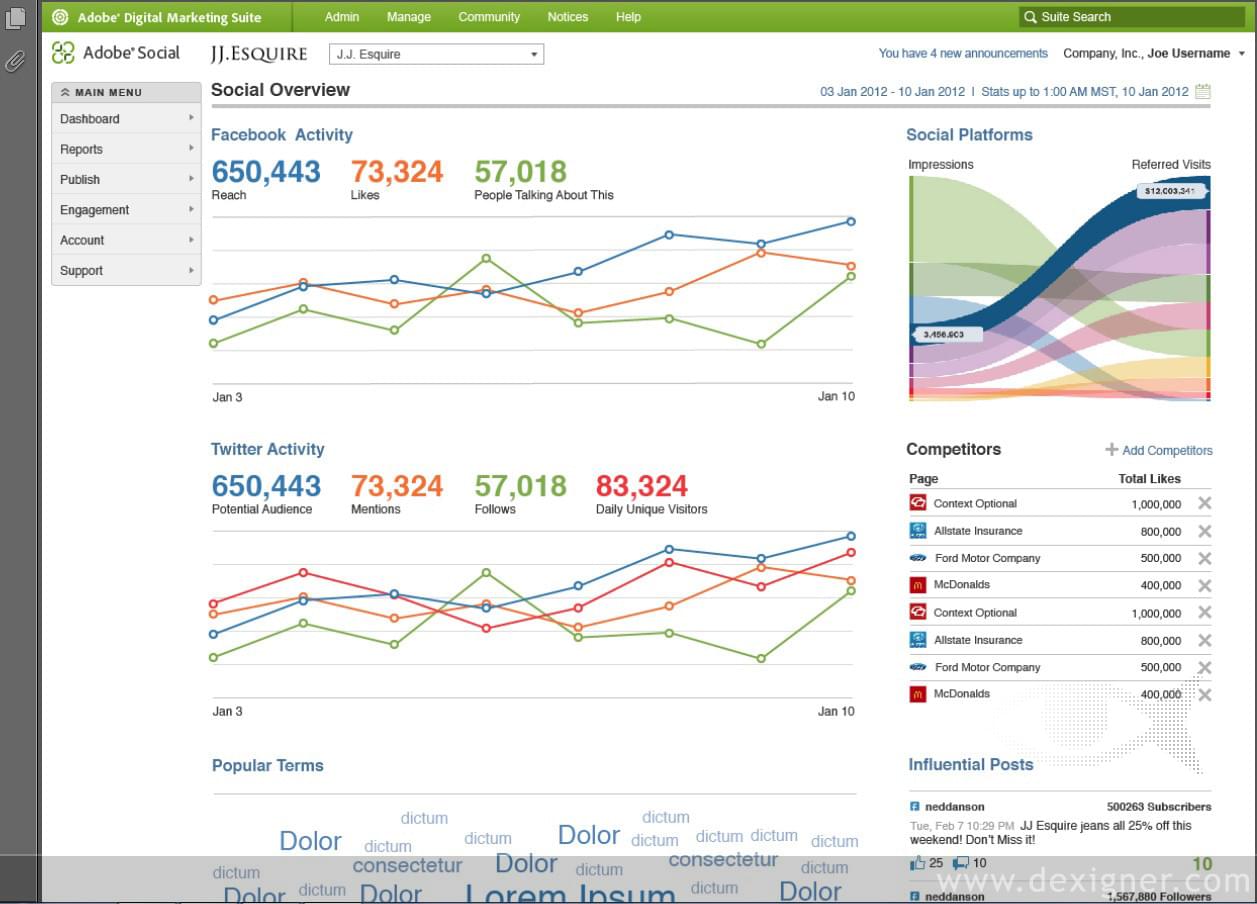 In 2009, Adobe acquired the leading enterprise marketing analytics program, Omniture, and has maintained the program's prestige ever since. With this product, you get custom tagging and user segmentation along with beautiful data visualizations, but the price could be prohibitive for smaller businesses.
Like some of the other programs mentioned here, Adobe Analytics tracks prospect behavior across all of a brand's properties on or off the web and gives you high-quality data segmentation. The Premium plan uses predictive models with cross-channel monitoring to build trends and identify outliers in behavior. Rule-based automation gives you the power to make changes to your campaigns in direct response to prospect actions, further personalizing the customer journey and often shortening lead time. True to its enterprise nature, Adobe Analytics provides local data storage and developer API access, letting you own and secure all of your data.
Best for: Enterprises that move quickly and want predictive modeling to drive future decisions.
I know, I know. This article was supposed to be about Google Analytics alternatives, but the Premium solution does solve a lot of the problems that the free version presents. Like many of the other options on this list, Premium allows cross-channel monitoring of customers, including offline behavior, call centers, and even Internet of Things. This version of Analytics also gives you full access to all the other Google products you already use, including Adwords, DoubleClick, and Tag Manager. Integrating insights from these products will help you build better campaigns throughout the customer purchase cycle. 
Google Analytics Premium doesn't require you to trade your data for service. You own all of your data, and Google promises premium security. Because you own all of your data, you can actually see all of your data, instead of a sampled portion. That's good news for lots of marketers and analysts who want to look at the full customer picture rather than a general overview of how most users interact with your site.
Best for: Enterprise companies who already use a lot of Google products to power their website.
Heap's point-and-click visual funnel builder lets you build and update your marketing funnels without coding, which is a big plus for a lot of marketers. You can even capture visitor actions on mobile apps without code. You will, however, need some code to build custom tags or actions that aren't preset.
Heap claims that it requires the least amount of site overhead, compared to other products. This means the site code is small, so it's not a huge drain on performance. That's great news for mobile apps and larger sites where speed is a high priority. Heap maintains a comprehensive catalog of all of your visitors and uses cohort analysis to target group losses or holes in your funnels. You can manage your data on Amazon Redshift, or host it yourself. Heap provides access to retroactive data via SQL queries from Heap-collected databases or from your own outside sources.
Best for: Metrics-hungry marketers with limited coding knowledge.
* * *
Web analytics give you a picture of what your visitors are doing on your site, and the clearer you can make that picture, the easier it is to close deals. Free analytics tools help, but their limitations are many. When you're ready to stop giving away your data and your customer insights, start looking for Google Analytics alternatives.
Technology Advice is able to offer
our services
for free because some vendors may pay us for web traffic or other sales opportunities. Our mission is to help technology buyers make better purchasing decisions, so we provide you with information for all vendors — even those that don't pay us.