Account-based marketing (ABM) is taking the B2B world by storm. An army of advocates is flipping funnels everywhere, and the buyer's journey will never be the same.
Okay, maybe that's hyperbolic, but no one can deny ABM is generating a lot of buzz. A 2015 SiriusDecisions survey revealed that 92 percent of marketers consider ABM an essential part of their marketing strategy. Does that mean they're running active ABM campaigns?
To help answer that and other questions, we decided to take a look at the 2016 #FlipMyFunnel ABM Benchmark Survey. Released this year at the #FlipMyFunnel roadshow, the survey was sponsored by ABM technology firms Engagio, Azalead, LeanData, Demandbase, Infer, and Terminus.
1. Do You Currently Have An Account-Based Marketing Program In Place?
The response to this question was a near 50/50 split: 49 percent replied yes, 51 percent no. It is likely, as the authors noted, that a majority of companies do have some form of ABM in place, but call it something else. The concept of account-based marketing isn't new, but the buzz about ABM technology is a recent development. It may take some time for the lexicon to consolidate around a single term.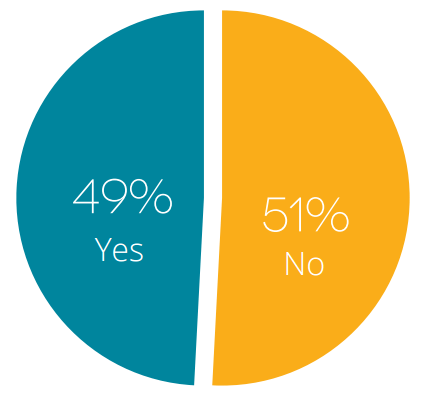 It's worth noting that 66 percent of the 200+ B2B marketers surveyed work for SMBs. Until the advent of the ABM technology stack, many considered ABM an enterprise-only strategy.
ALSO READ: What Do You Need for an Account-Based Marketing Campaign?
---
2. Do You Plan to Implement Account-Based Marketing Next Year?
A natural extension of the previous question, this one is far less ambiguous. Positive responses are unlikely to come from marketers who don't understand ABM, because a "plan" implies a level of organization and commitment beyond passing interest. It's a great question to ask if you're an ABM technology firm looking to fill your pipeline with qualified leads. The responses were overwhelmingly positive:
64 percent of respondents said they plan to adopt an ABM strategy in 2016

36 percent aren't planning to pursue ABM.
---
3. Do You Plan To Add Any Additional Tools for Account-Based Marketing in the Next Year?
Account-based marketing is difficult to implement (and especially to scale) without the proper tools. Anyone planning to implement ABM in the next year is more than likely making an investment in software or data. Roughly 71 percent of respondents said they plan to add ABM tools to their marketing technology stack in 2016. The other 29 percent don't plan to make additional investments.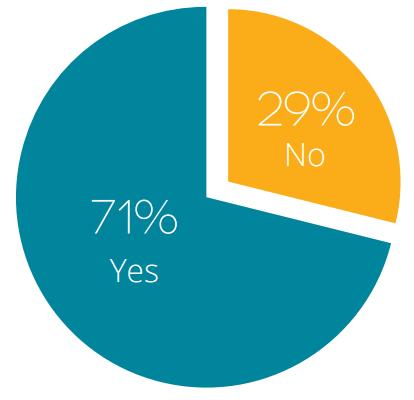 Of course, it's likely that a portion of the 29 percent already has made an investment in ABM technology. A strikingly similar question from a 2013 ITSMA survey (What are your spending plans in FY 2014 for ABM?) saw nearly identical results: 72 and 28 percent planned to increase or maintain their ABM spend, respectively.  
ALSO READ: How to Choose the Right Tools for Account-Based Marketing
---
4. What Are Your Goals for Account-Based Marketing?
Respondents were given seven choices here:
Customer retention

Lead generation

Pipeline acceleration

Product adoption

Revenue generation

Sales/marketing alignment

I have no clue what my goals are
Thankfully, the last option only claimed 1 percent of responses. If the conventional wisdom is true, most businesses should indicate a goal of sales/marketing alignment or customer retention — ABM is about prioritizing the customer, right?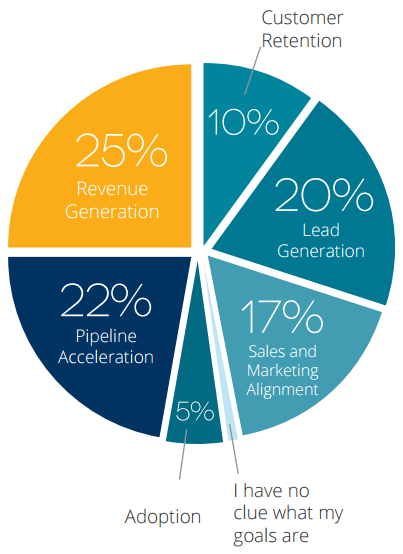 Perhaps we shouldn't be surprised that nearly 50 percent of those polled are pursuing ABM for revenue and/or lead generation. That is, after all, the marketer's mission. And in a way, all possible answers to this question lead back to revenue. But marketers should be cautious. A heavy-handed focus on revenue could doom ABM efforts before they begin. No one wants to be sold under the pretense of customer loyalty/advocacy.
ALSO READ: Why Your Business Can't Ignore Advocate Marketing
---
5. How Long Have You Been Running Account-Based Marketing Campaigns?
The response to this question is perhaps the biggest takeaway from the entire ABM survey: 70 percent of marketers have been experimenting with ABM campaigns for one year or less, and nearly half for 6 months or less. What does that mean? Despite all of our posturing, marketers are still awkward teenagers trying to build a new kind of relationship with prospects— and hoping to get lucky.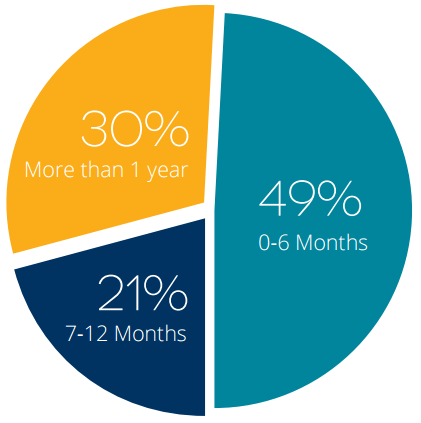 Although only a small percentage of marketers have mastered ABM, none want to be left out. In fact, that's probably why you're here in the first place: you want to know how others are pursuing an ABM strategy through real numbers — not just hype.
To learn more, check out some of our other recent articles on account-based marketing:
If you're shopping for ABM tools, our Technology Advisors can help you find the best solution for your business, free of charge. Head over to our account-based marketing Product Selection Tool to get started.
___
Technology Advice is able to offer
our services
for free because some vendors may pay us for web traffic or other sales opportunities. Our mission is to help technology buyers make better purchasing decisions, so we provide you with information for all vendors — even those that don't pay us.