Google has unveiled an update to their search algorithm, dubbed Google Hummingbird. Although the update was first announced at a press conference on September 26th, the company stated that it has already been in effect for several months. It's one of their biggest updates in years and is representational of the on-going change in internet-usage. In short, Hummingbird aims to make 'Googling' a more personal experience. The emphasis is on answers instead of results. The rise of mobile browsing has made internet usage more conversational, and Google is ready for the challenge. Hummingbird puts a stronger focus on the intent of a search instead of only the keyword phrases being used.
What's more, Hummingbird has a greater understanding of conversational context. For example, in a string of related searches, Google can understand replacement pronouns and deliver results based on the overall trend of your inquiry. While it isn't pefect, the future is in clear sight. Google is aiming to understand exactly what you are thinking and respond with only directly relevant results.
What does this mean for your business? Are your previous SEO efforts for naught?
Although Hummingbird has of course been met with some criticism and paranoia, in reality it offers a fantastic opportunity to expand your audience. The catch? Quality content.
For businesses and individuals that have been implementing quality SEO practices, Hummingbird shouldn't be a concern. The Hummingbird update is indicative of a shift in focus from keywords to connections and intent. Consequently, authoritative and creative content will still get noticed.  However, instead of releasing content action-packed with keywords, it will become increasingly important to create content that focuses on answering questions and serving the needs of an audience.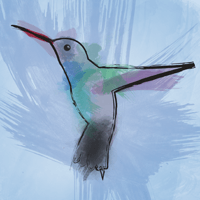 Furthermore, Hummingbird gives Google the ability to process full questions instead of delivering results using word-by-word searches. In order to fully maximize this capability, try aiming your content to answer specific questions that your audience may have. Gearing your content to clearly answer conversationally-styled questions may enhance your relevancy in Google results. Moreover, establishing your website as an authoritative voice is a far greater priority than keyword optimization.
For small businesses, this can be especially good news because it gives more power to quality. In a keyword-based world, it can be extremely difficult for small businesses to compete with the massive outpouring of content that large enterprises can achieve. Hummingbird however, may level the discrepancy because it gives priority to thorough content.
How has Hummingbird affected your website? Share in the comments below!

Sources
1. http://www.forbes.com/sites/joshsteimle/2013/09/27/what-does-googles-hummingbird-update-mean-for-your-seo-efforts-nothing/
2. http://www.javaworld.com/javaworld/jw-09-2013/130927-google-s-hummingbird-algorithm-ranks-for-value.html
3. http://www.wired.com/insights/2013/09/googles-hummingbird-update-should-you-be-concerned/