This is the second installment of our preview series on Oracle OpenWorld 2015 — one of the biggest annual business and technology conferences in the world.
SEE ALSO: 10 Insider Tips for Attending Tech Conferences
In our last post, we mentioned that Oracle OpenWorld isn't just for techies (programmers, systems admins, CIOs, etc.), and that professionals in every line of business can use the conference as an opportunity to learn and network. In this post, we're going to focus on the unique value that OpenWorld offers to chief marketing officers (CMOs).
The conference will focus on the "intersection of cloud, social, and mobile business opportunities," and as the digital customer experience continues to evolve, this intersection is increasingly the domain of marketers. According to Gartner, 67 percent of marketing departments plan to increase spending on technology, and we may even see the widespread adoption of a new marketing role: the "Chief Marketing Technologist."
Oracle OpenWorld is a timely contribution to the conversation. It's an opportunity for marketers to learn from product experts, colleagues, and pioneers who are leading the charge on data and technology-driven marketing.   
Top 6 Sessions for CMOs

This year, Oracle OpenWorld will offer over 2,500 learning sessions taught by Oracle customers, product designers, and executives from Oracle and Oracle partners. If you're planning to attend, you can use the session catalog to decide which sessions to visit.
While a lot of sessions focus on Oracle products and IT topics, there are also quite a few that appeal specifically to marketing leaders. If you're looking for ways to improve operations, tap into new channels, or better align your efforts with revenue, you won't be disappointed. To get started, here are some of the best sessions we recommend for CMOs:

1. Expectation to Expression — Why Marketing Is Driving the Customer Experience
Leader: Kevin Akeroyd, GM & SVP Oracle Marketing Cloud, Oracle
Learn how to align consumer demands for personalization with revenue goals using the three Es: expectations, experience, and expression.
---
2. Innovations in Digital Marketing That Create a Personalized Customer Experience
Leader: Craig Macdonald, Managing Director, Accenture Inc.
Macdonald will teach marketers how to use new data sources, content development strategy, and integrated analytics to satisfy customers on a personal level. Hear case studies of leading companies that are driving this initiative.
---
3. How to Design and Build Persona-Based Nurturing Programs
Leader: Michael McKinnon, ReadyTalk.
See how you can deliver nurture content in a way that resonates with your prospects' pain points, and use persona-based lead scoring and gap analysis to qualify leads.
---
4. All Together Now: Leveraging Transactional Messages in Your Customer Lifecycle
Leader: Tiffany Beltis, Customer Relationship Marketing Leader, Intuit.
Learn how to audit your transaction-based marketing through RFM (recency, frequency, and monetary) analysis. See how the Small Business Group at Intuit uses relevant messaging to drive higher conversion rates.
---
5. CMO + CIO = Modern Customer Experience
Leader: Meagen Eisenberg, Chief Marketing Officer, MongoDB
Discover how a partnership between CIOs and CMOs can bring improved customer experiences, and hear about recent trends and examples of this C-suite alliance.  
---
6. Objectively Measure Content Marketing Goals Through Effective KPIs
Leader: Andrea Rosi, product marketing manager, Oracle
Rosi will teach you how to define your most important key performance indicators (KPIs) and build a content strategy that supports those KPIs.
---
Exhibits for CMOs
Not all of us are auditory learners; sometimes the best way to understand new technology is to get your hands on it. To that end, Oracle OpenWorld will feature two large exhibition halls where attendees can check out thousands of leading cloud, mobile, and social solutions from Oracle and Oracle partners. As a CMO, this gives you a firsthand opportunity to demo products that might benefit your team or customers — perhaps a new cloud application for SMS marketing or a system for tracking digital body language.
You'll also have a chance to talk directly with vendors (who will be very excited to see you) and learn how their solution might impact your business.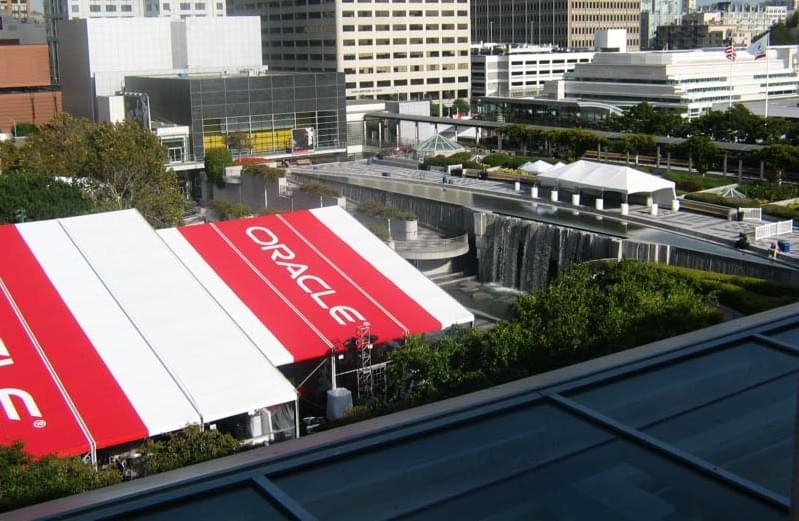 Here are a few exhibits that CMOs can't miss:
This is only a small handful of the hundreds of exhibits and showcases to check out in the Moscone Center's South and West exhibition halls. If you're interested in showing off your own products or services, these halls are a great place to meet prospective buyers and grow your market. Of course, in order to exhibit, you'll need to be a member of the Oracle Partner Network (OPN). Check out the OpenWorld exhibit page for more information.
*
Oracle OpenWorld 2015 will take place between October 25 and 29th in San Francisco, CA. To learn more about events, agendas, and tickets, visit the website. Stay tuned for more updates, and in the meantime, be sure to follow the conference on Twitter @oracleopenworld or #oow15.
Technology Advice is able to offer
our services
for free because some vendors may pay us for web traffic or other sales opportunities. Our mission is to help technology buyers make better purchasing decisions, so we provide you with information for all vendors — even those that don't pay us.