First introduced in the late 1990's as a way to present to large dispersed audiences, the webinar has now become one of those marketing tools used by everyone from freelancers to large businesses. A webinar combines the perfect storm of lead generation, customer interaction, and thought leadership that marketers love. But without the best webinar software for your needs, your presentation will flop.
Webinar software comes in all shapes and sizes, and we've pulled together several business-class and free options for webinar presenters of all levels of expertise. Before you dive into the options, however, think about how you'll market your web meeting. While some of the options below offer lead generation and sign-ups, you'll want a customer relationship management (CRM) tool to organize the influx of new prospects you reach with your webinar. Check out the full range of CRM software options over at our CRM software page, or click on the image below to get a list of CRM recommendations based on your company's needs.
Best Webinar Software for SMB to Enterprise Companies
Business-class webinar software is designed to help businesses of all sizes attract webinar attendees, boost attendance, host the presentation, and follow-up after the webinar is over. These options come in all different shapes and sizes from small business to enterprise.
GoToWebinar
GoToWebinar is one of the best-known webinar software choices out there, and for good reason. They offer a full suite of services to help companies of all sizes plan, promote, and follow up with customers after webinars. Find email automation tools to promote your webinar with custom branding for your emails and the presentation itself. Perfect your presentation with simulated live events where you present prerecorded events as though they're live. Integrate with your CRM software to round out your lead generation and follow-up cycle.
GoToWebinar also has lots of interactive features to help you during and after your webinar. Use polling for attendee interaction to keep your viewers engaged, and share your screen or have up to 6 presenters or panelists featured at once. Follow up with attendees and those that couldn't make it with recordings, or share your webinar video on YouTube. Analytics dashboards show attendance and participation at a glance during and after the main event.
Join.Me
Join.me is the small business version of GoToWebinar–they're both owned by the company LogMeIn. Where GoToWebinar is built for enterprise teams who expect high attendance, Join.me's tools are built for up to 50 users. You can schedule your meeting in advance or start one on the fly, and pass the presenter role around. Join.me does not include support for reporting and analytics on customer attendance and participation.
WebinarJam and EverWebinar
These two products are made by the same company, but they serve different purposes. WebinarJam is a live webinar product that lets you plan and host live webinar events. It's limited in scope, but better for small businesses.
EverWebinar works as an automated marketing tool for self-serve webinars anytime. Record your webinar and host it on EverWebinar where interested attendees can purchase or sign up to view your recording at any time.
WPWebinar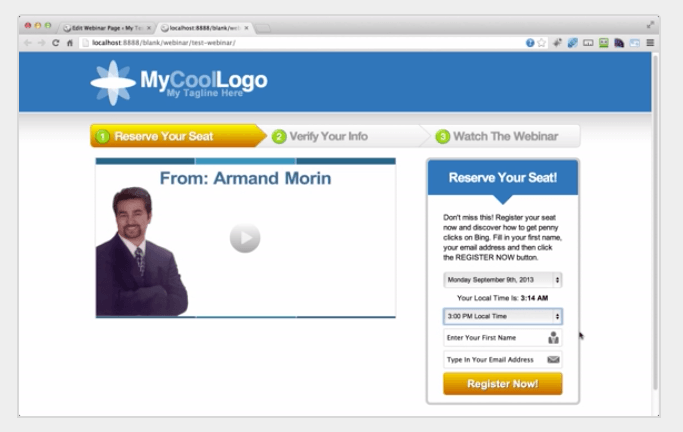 WPWebinar is a plugin built for your WordPress self-hosted site. In addition to making a sign-up and thank you page on your WordPress site and connections to any marketing automation tool, a major advantage of WPWebinar is that you can upload a video of your webinar and schedule it to play anytime.
Host your webinar at either the local time or the admin's local time, which means you don't have to force international viewers to stay up and watch you talk in the middle of the night. Use the automatic scheduler to run your webinar several days a week, and send automatic follow-up messages to boost attendance. And WPWebinar is available in two different licenses for a single site or white labeled multi-site usage.
Zoom
Zoom is a video meeting and webinar software that scales up to 100 interactive attendees and up to 10,000 viewers. The software allows you to show a presenter and a screenshare at the same time, and includes polling and chat features to interact with audience members. Zoom does not include sign-up or lead generation features, but you can connect to most CRM or marketing automation tools. Record your webinar for later use with Zoom, or live stream directly to Facebook Live and YouTube. You can also connect to PayPal via Zapier to monetize your webinars.
Demio
Demio bills itself as "hassle-free webinar software for marketers." The software includes screen sharing and you can pass the presenter role to up to 6 presenters. You can also add slides and video right to a Demio presentation, which means you don't have to switch between apps while you're presenting.
Demio has lots of options for gathering attendees, including Demio-hosted or embeddable registration pages, follow-up emails, custom branding, and automatic attendance reminders. Attendees can join with their meeting invite either through a desktop browser or via mobile, and there are lots of interactive features to keep attendees engaged like chat and polls, and you can even invite an attendee to present.
Livestorm.co
Livestorm.co is a fully featured webinar software built to help you host any type of webinar your company works best with. That means you can schedule recurring webinars, prerecord your presentation and show a video to attendees, or have your videos available on-demand for attendees to watch anytime. Use the embeddable forms to attract attendees, and built-in analytics help you understand who's watching, where they heard about your presentation, and how to better attract more attendees like them.
ON24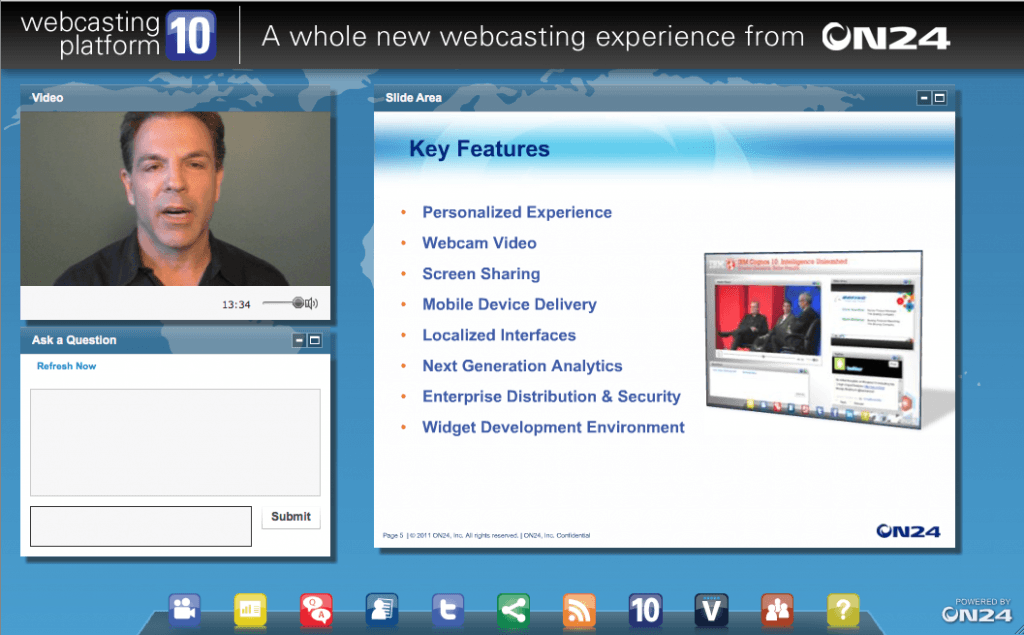 On24 offers enterprise-level webinar software used by folks like LinkedIn and Microsoft. Expect the software to provide end-to-end online event marketing that includes landing pages, scheduling, live events, and follow-up recording for lead generation. Lots of cool features to justify the enterprise price: tests, certifications, social media tie-ins, Salesforce Chatter app, and more. On24 works best for large teams working with a consistent webinar schedule and lead generation model.
Best Free Webinar Software
These options are great for those just testing out webinars or teams with limited budgets. Because they're free, expect these options to have limited analytics and capabilities. If you can work around some of their shortcomings, the price is just right. For these free solutions, companies should expect that they will need to do some marketing on the front end, and get ready to maybe repeat the webinar several times as not all of these options give you the choice to record content for evergreen use.
Google Hangouts and Meet
These options are great for small meetings and if you want to publish your webinar right to YouTube. Users of Google Hangouts and Meet may experience some lag time between presenter and audience and depending on the local internet speeds for users and presenters, or you may have some glitchy and/or pixelated images on video. Hangouts is a free tool that Google is phasing out, but your Google Admin can turn on Meet for your G-Suite connected team.
YouTube Live
Not just for vloggers and your coworker's kid's unboxing videos anymore, YouTube Live is a great live stream option for small businesses looking to increase their online engagement but without the revenue streams to support a full webinar + marketing system. You will need to enable a YouTube channel in order to use this service. Record your stream in the Advanced Settings, and embed a recorded stream on your website for evergreen content. Because it's a live streaming tool, you'll need to work out marketing for attendees, links, and follow-up with another marketing automation software.
Facebook Live
For those with high-engagement on Facebook and other social media platforms, running a Facebook Live event as a webinar is a great option. Facebook can automatically notify your followers who have notifications enabled that you're about to start a video, and you can invite particular Facebook followers to view your event. The best thing about Facebook Live? Facebook automatically records your video and publishes it to your Page or Profile for later viewing. You can choose to take the video down later if you'd like.
***
Ready to get started hosting webinars? If you choose one of these software choices that doesn't automatically include lead generation or email capture, you'll want to find a marketing automation software that does just that. Visit our marketing automation software page for free customized recommendations based on your company's needs.