According to SearchEngineLand, Google is now testing out large banner-ads for a select number of brands. The new "sponsored" images are currently appearing in less than 5% of searches run for companies such as Southwest Airlines, Virgin America, and Crate & Barrel. The ads run across the entire top of the search results page, as shown in the image below: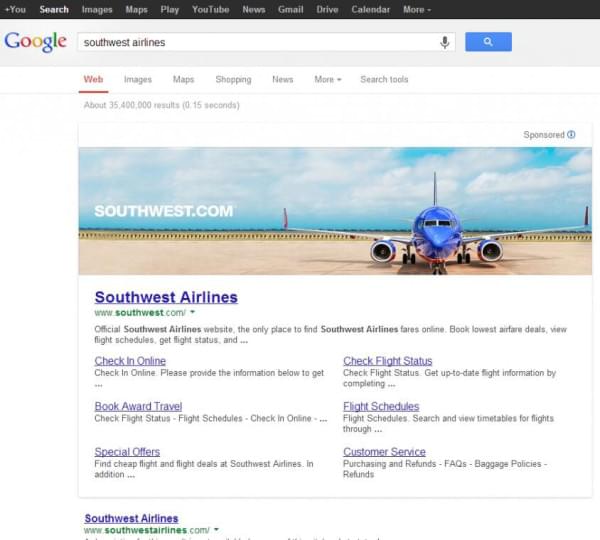 The experiment is currently limited to the US market. It's unclear exactly how consumers will react to the new placements which seem to recall the banner-ads that dominated other search engines in the early 2000s. If this program is rolled out on a larger scale, you can expect plenty of talk about Google's promise in 2005 to never run banner ads (albeit they were probably thinking of the flashing, animated ones typical then).
Google's motivation for the new ads is unclear as well. Last week they posted their Q3 earnings statement, and beat analyst expectations with a a 36% year-over-year increase in profits. While search continues to move onto mobile devices, Google is capturing a huge portion of that market. Banner ads might let them up desktop ad-prices, but as the market moves in the opposite direction, it seems like shortsighted play. This is assuming, of course, that Google isn't planning on bringing such banners to mobile searches.
Technology Advice is able to offer
our services
for free because some vendors may pay us for web traffic or other sales opportunities. Our mission is to help technology buyers make better purchasing decisions, so we provide you with information for all vendors — even those that don't pay us.