If you're a small or medium-sized company looking for a marketing automation and email marketing vendor, you'll want to compare ActiveCampaign vs. Mailchimp.
Chances are you've heard of Mailchimp before, but ActiveCampaign is also a powerful tool that many people fail to consider. To help you make the most informed decision, we took a look at how ActiveCampaign and Mailchimp stack up on features, pricing, and integrations.
If you're short on time and want to speed up your software research, we can help. Use our Marketing Automation Product Selection Tool to get a free short list of marketing automation software recommendations based on your specific needs.
Table of contents
What is ActiveCampaign?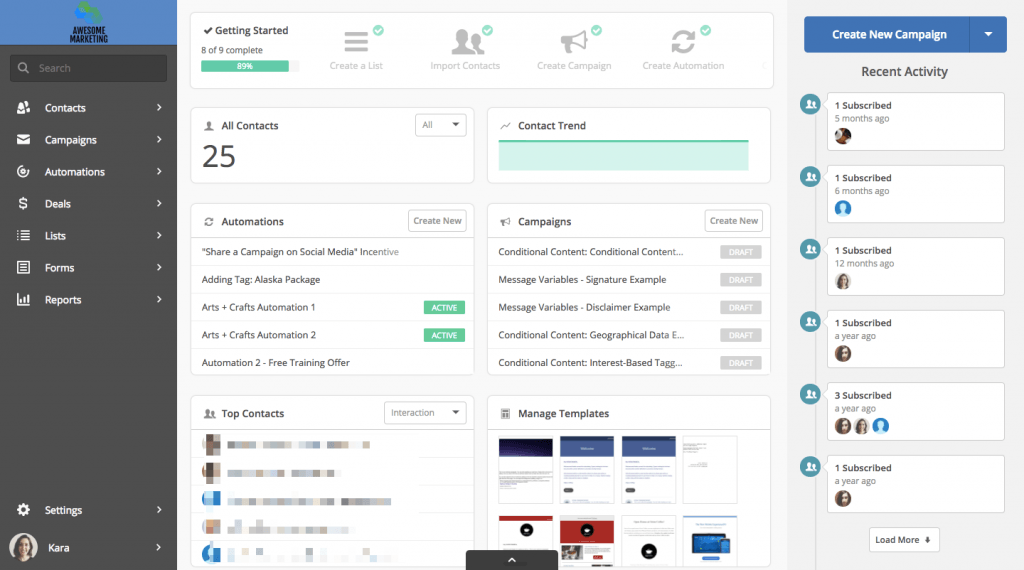 TechnologyAdvice: 4.5/5
ActiveCampaign is an email marketing, marketing automation, and sales CRM software built specifically for small to medium-sized businesses. The system gives small business owners access to powerful automation tools that are usually only used by enterprises, and the sales CRM stands up to other vendors like Insightly and Zoho. For users who need a little more from their marketing automation software and who have the budget, ActiveCampaign is a good vendor to consider.
Also read: The Best Marketing Automation Software of 2019 by Feature
What is Mailchimp?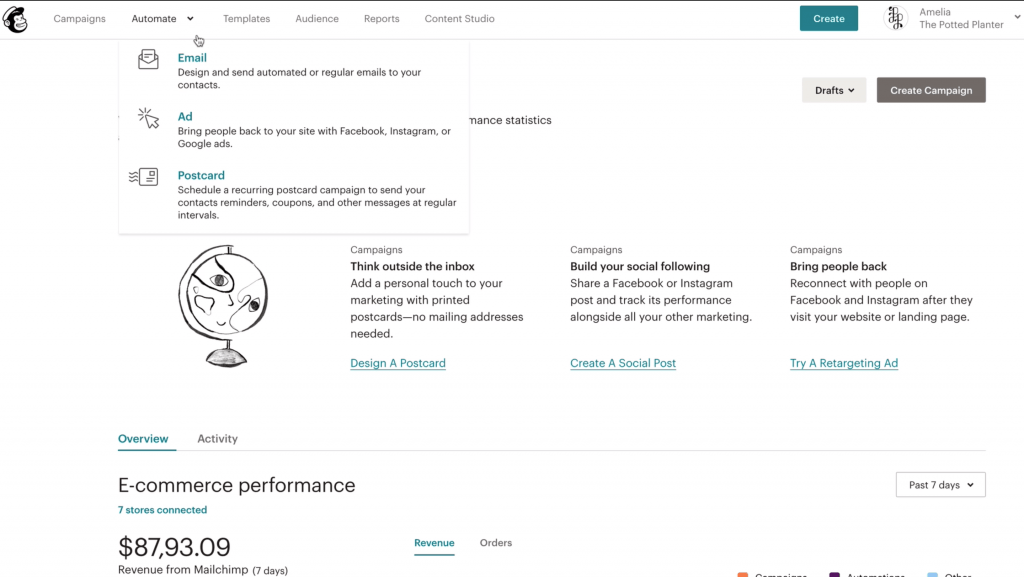 TechnologyAdvice: 4/5
Mailchimp might be the most well-known email marketing and marketing automation solution for small to medium-sized businesses. Built with flexibility in mind, Mailchimp offers a variety of different features, from a website builder to event-based triggers to standard email campaigns. While it doesn't offer a full sales CRM like ActiveCampaign does, Mailchimp comes with a marketing CRM for nurturing leads. Whether you're a solopreneur who's just starting out or a medium-sized business looking to do more with email marketing, Mailchimp should be on your radar.
Comparison table of ActiveCampaign vs. Mailchimp
ActiveCampaign
Mailchimp
TechnologyAdvice rating
4.5/5
4/5
Works best for
Small and medium-sized businesses
Small and medium-sized businesses
Email marketing features
Lists

Yes

Yes

Signup forms

Yes

Yes

Email segmentation

Yes

Yes

A/B testing

Yes

Yes

Triggered emails

Yes

Yes

Autoresponders

Yes

Yes

Scheduled emails

Yes

Yes

Marketing automation features
Custom workflows

Yes

No

Event-based triggers

Yes

Yes

Visual workflow builder

Yes

No

RSS-to-email

Yes

Yes

Pricing
Monthly billing available

Yes

Yes

Annual billing available

Yes

No

Free tier

No

Yes

Pay as you go

No

Yes

Unlimited contacts

Yes

No

Integrations
API

Yes

Yes

Zapier

Yes

Yes

Square

Yes

Yes

Shopify

Yes

Yes

WooCommerce

Yes

Yes

Zapier

Yes

Yes
Features
ActiveCampaign and Mailchimp both make similar software, but there are some key differences between the features they include. As a general rule of thumb, Mailchimp tends to be a little more beginner-friendly to people who aren't as familiar with marketing automation software, while ActiveCampaign comes with a steeper learning curve.
Email marketing
Both ActiveCampaign and Mailchimp let you create email campaigns using a drag-and-drop visual editor, and you can collect email addresses by creating and embedding signup forms on your site. Take advantage of the split testing, or A/B testing, feature in both systems to see which elements of your emails need some improvement.
ActiveCampaign focuses strictly on sending smarter emails, while Mailchimp also includes digital ads, social media, and postcards. Just like Mailchimp, ActiveCampaign lets you segment email lists, schedule campaigns, and set up autoresponders. But ActiveCampaign also lets you send automatic emails based around certain events, like when customers visit your site or make a purchase. Mailchimp offers a slightly more limited version of this feature with abandoned shopping cart emails and retargeting emails.
Marketing automation
Marketing automation might be the biggest difference between ActiveCampaign and Mailchimp. Mailchimp offers helpful event-based triggers, but Active Campaign takes this a step further by letting users create custom automation workflows.
For example, while Mailchimp can track events in your mobile app to send certain emails, ActiveCampaign lets you track events on your website to send any kind of email you want. Using ActiveCampaign, you can send special offers to people who have both visited your website and opened an email from you before. Mailchimp is certainly easy to use and offers powerful automations, but ActiveCampaign allows for a certain degree of customizability that Mailchimp doesn't.
CRM
Both systems come with a CRM, but they don't necessarily serve the same functions. There are some similarities between them, but ActiveCampaign offers a sales CRM while Mailchimp offers a marketing CRM. The difference? Mailchimp's CRM only focuses on nurturing leads, not converting them.
ActiveCampaign's CRM is what you might call a traditional CRM. It stores customer contact information and lets you identify opportunities, create quotes, and close deals. It also provides you with marketing automation tools to nurture leads, and it comes with all the basic features you'd expect from a CRM like task management, pipeline management, contact history, and more.
Pricing
Pricing is a big point of differentiation between these two systems. Both vendors offer various paid tiers that get more expensive depending on how many contacts you have. Beyond that, there are few similarities in pricing for ActiveCampaign and Mailchimp.
ActiveCampaign
ActiveCampaigns offers straightforward pricing in four different tiers, plus a free trial. Tiers vary by number of users, features, integrations, and support, and every tier allows you to send an unlimited number of emails. As with most email marketing vendors, ActiveCampaign's pricing is also dependent on the number of contacts you have. The more contacts you have, the more you'll pay either monthly or annually, depending on when you want to be billed.
Mailchimp
Pricing for Mailchimp is a little more complicated, but that's actually good! Being a product for small to medium-sized businesses, Mailchimp places a strong emphasis on flexibility. The system comes in three paid tiers and a free tier, which offers basic email marketing features and a website builder. The paid tiers are billed monthly and come at a much lower price tag than ActiveCampaign, but you can also choose to pay as you go if you send emails more infrequently. Mailchimp also incentivizes good security practices, currently offering a 10 percent discount for three months when users turn on two-factor authentication (2FA).
Integrations
In terms of integrations, Mailchimp has a leg up over ActiveCampaign. ActiveCampaign offers what it calls a "Deep Data" API to integrate with any number of apps your business uses, and it offers custom integration with Square, Shopify, BigCommerce, and WooCommerce, among others. For other apps, ActiveCampaign integrates with Zapier.
Mailchimp also has an API, and it offers custom integrations with over 200 apps, including Square, Facebook, Google, Eventbrite, WooCommerce, and Canva, to name a few. If you want to set up more personalized integrations, you can take advantage of the Mailchimp API or its integration with Zapier.
Which is right for you, ActiveCampaign or Mailchimp?
Ultimately, the decision to go with ActiveCampaign vs. Mailchimp is entirely up to you, but we can provide some guidance. For companies who need a nearly enterprise-grade marketing automation solution and who don't already have a sales CRM, ActiveCampaign might be the better fit for you. If you already have a sales CRM and you need a flexible yet powerful marketing automation and email marketing solution, we'd recommend taking a closer look at Mailchimp.
But if neither of these solutions seem right for you, we can help. Use our Marketing Automation Product Selection Tool to request your free short list of marketing automation software recommendations. Tell us what you need, and we might just be able to match you with the perfect fit.
Technology Advice is able to offer
our services
for free because some vendors may pay us for web traffic or other sales opportunities. Our mission is to help technology buyers make better purchasing decisions, so we provide you with information for all vendors — even those that don't pay us.