The B2B sales cycle is a monster. Almost every product vertical is saturated with competitors, and purchases — when they do happen — are prolonged by decision-making groups with conflicting priorities.
Many brands are using B2B content marketing to "break through the clutter," accelerate the sales cycle, and grow their customer base.
Good move.
But here's the problem: some brands aren't very good at content. Their efforts are misguided, or they lack the resources to consistently turn out content that is helpful and unique. According to the Content Marketing Institute's 2016 benchmark report, 88 percent of B2B organizations are using content marketing, but only 30 percent consider themselves effective.
So what does effective content marketing look like? For B2B companies, success usually boils down to lead quality and conversion rates. Your content should generate high-quality leads that turn into valuable customers. But that doesn't mean you should only focus on acquisition. An effective content marketing strategy should address the entire buyer's journey and work across multiple channels. Building brand credibility and awareness are just as important as driving bottom-of-the-funnel engagement.
One of the best ways to understand effective B2B content marketing is to learn by example. In the past decade, a number of companies have used content and content strategy to grow their companies from obscure startups to leading experts in their industry. Imagine the impact that kind of brand status has on sales.
Here are seven B2B companies (in no particular order) that have demonstrated a clear mastery of content marketing.
Please note that some of the links below are affiliate links and at no additional cost to you, we will earn a commission.
Zendesk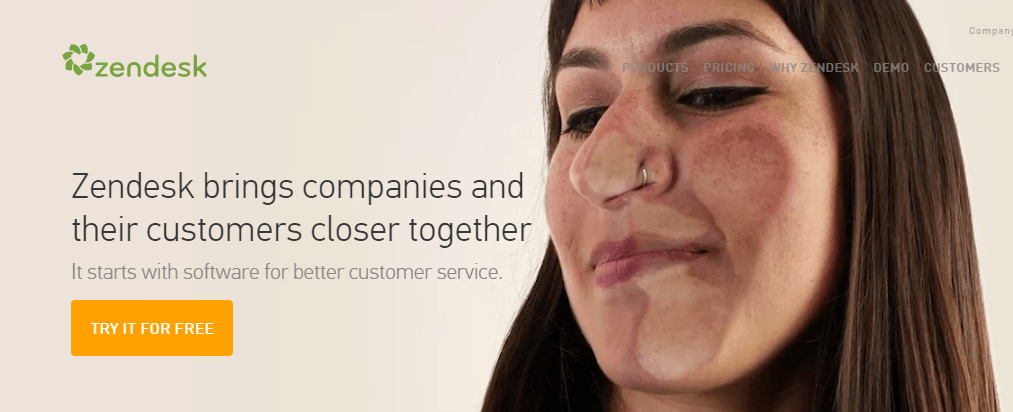 Twitter Followers: 65,800
Domain Authority: 86/100
Zendesk is a leading provider of cloud-based customer service software. Their core product is designed to "bring companies and their customers together," and their content speaks to the same mission. Whether it's a blog post, a video, a webinar, or a training tutorial, Zendesk's content is both educational and entertaining. Their writers and videographers balance technical proficiency with disarming personality and humor, which makes them an easy brand to love.
Founded in 2007, the company now serves over 60,000 paid customers and was recently labeled a "strong performer" in The Forrester Wave: Customer Service Solutions For Midsize Teams (Q4 2015). The Zendesk blog provides regular updates on relevant industry topics, research, and product features. They also offer online training courses, webinars, and evergreen content. Zendesk videos set a high benchmark for wit and creativity. Creative director Matthew Latkiewicz delivers a cornucopia of sketch comedy, tutorials, and product pitches that could turn any viewer into a loyal fan.
Suggested Content:
Sh** Support Agents Say
Cookbook for the Customer-Centric Company
Kissmetrics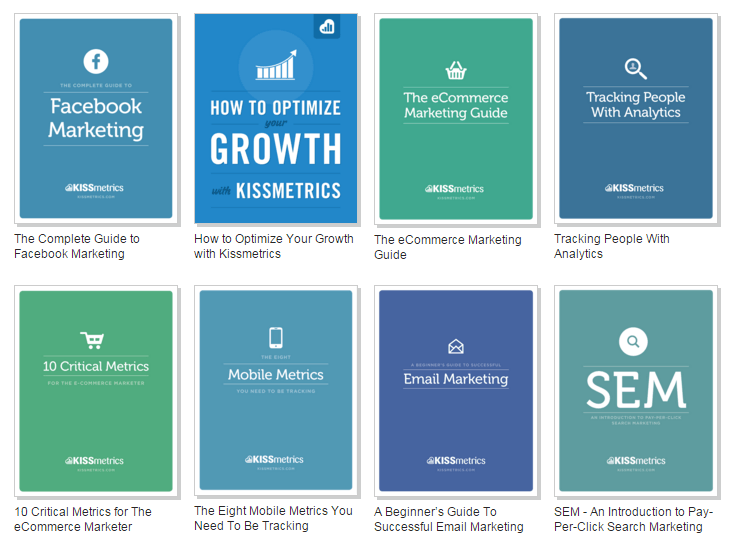 Twitter Followers: 234,000
Domain Authority: 77/100
KISSmetrics is a web analytics platform, but they're also a content titan in the marketing analytics space. It'd be a miracle if you hadn't read or downloaded at least one piece of KISSmetrics content in the last year. Similar to Zendesk, their content mission is well-aligned with their product mission: to help companies understand their digital interactions with prospects and convert more customers.
The KISSmetrics blog is a well-known watering hole for informative pieces on marketing, SEO, analytics, social media, CRO (conversion rate optimization), branding, and much more. They also offer a rich library of e-books, webinars, and infographics for marketers looking to deepen their knowledge or optimize use of KISSmetrics products.  
Suggested Content:
How to Succeed at the Most Critical Point in SaaS Sales
Marketing Attribution 101: Understanding Attribution and Calculating Your Cost of Acquisition (COA)
Intuit

Twitter Followers: 64,200
Domain Authority: 86/100
Intuit is the number one financial software provider for small businesses. Their flagship products are household names: QuickBooks, TurboTax, Quicken, and Mint. One of the reasons their products have enjoyed such widespread success is because Intuit has invested at least as much time and resources into their content strategy. They've also built an impregnable community of accountants and bookkeepers through their Pro Advisor networking and certification program.  
In addition to their renowned certification/training programs, Intuit provides a variety of resources for accountants, financial planners, and small businesses through their online communities and blogs. Intuit even keeps a well-groomed YouTube channel with over 3,000 subscribers. Check out some of their resources.
Suggested Content:
Meet Bryan Price, On-Demand Entrepreneur (Case Study)
How to Prepare a 1099 When You Employ Independent Contractors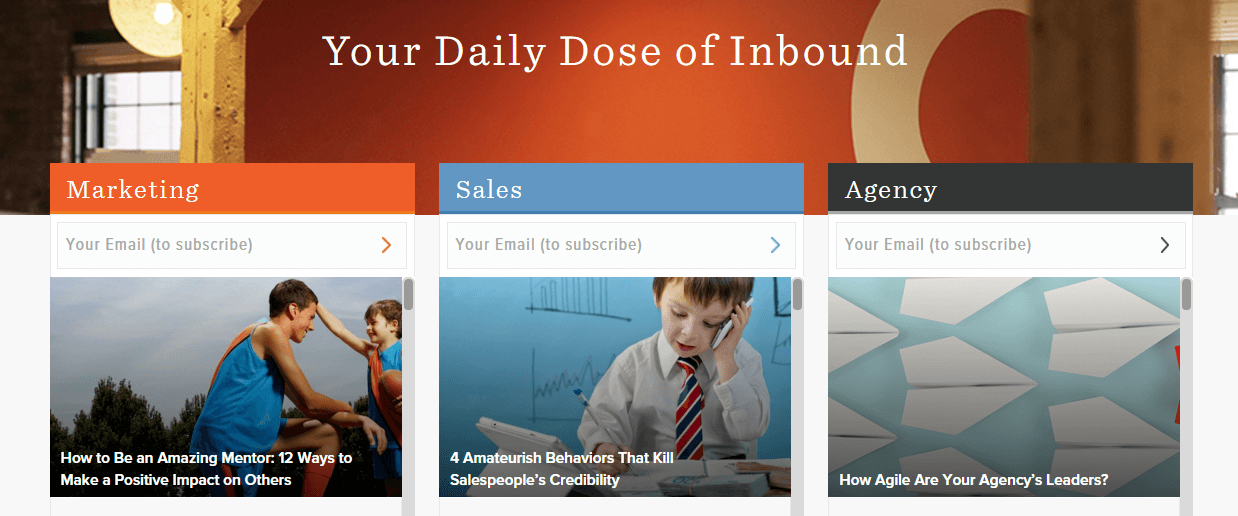 Twitter Followers: 649,1000
Domain Authority: 90/100
Surely, you knew HubSpot would be on the list. HubSpot is so good at content, they've become a source of news and information not just for potential marketing automation customers, but for any business professional in sales, marketing, or advertising. Their blog game is off the charts, with new articles every day from staff writers and guest contributors that garner thousands of shares. Their marketing blog alone has over 300,000 subscribers.
HubSpot was one of the first B2B brands to test out the Buzzfeed approach, mixing in humor, listicles, memes, and GIFs with their line-of-business content. This strategy (along with their mastery of marketing automation and demand gen) earned HubSpot a larger customer base than any other marketing automation provider in the industry. Not to mention, HubSpot Academy has attracted interest from thousands of marketers looking to improve their inbound skill set and get certified.
Suggested Content:
Why You Won't Recognize SEO in Five Years
The Content Marketer's Guide to Influencer Marketing
Percolate

Twitter Followers: 37,100
Domain Authority: 58/100
Percolate is a web and mobile platform that helps marketers manage all of their campaigns and data in one place. They call their product a "System of record for marketing." Although Percolate doesn't quite have the notoriety of a brand like HubSpot or Intuit, we included them on the list because of their ability to maximize content effectiveness for their audience niche (mostly B2C companies looking to improve marketing efficiency).
Percolate helps companies like Freshpet, Boost Mobile, Chobani, and Hibbett Sports grow their revenue and improve customer experience through (1) a solid marketing platform and (2) a wealth of thoughtfully-crafted content resources. Updated several times a week,their blog provides fresh perspectives on branding, communications, technology, and design. Unlike some brands whose whitepapers are thinly-veiled list-building tools, Percolate creates whitepapers and e-books that are actually helpful. Their case studies — tastefully videographed — also focus on the customer and the problem solved, rather than on a product pitch.
Suggested Content:
The State of Ad Blocking in Seven Charts
Uncovering the Hidden Cost of Your Marketing Content
CSC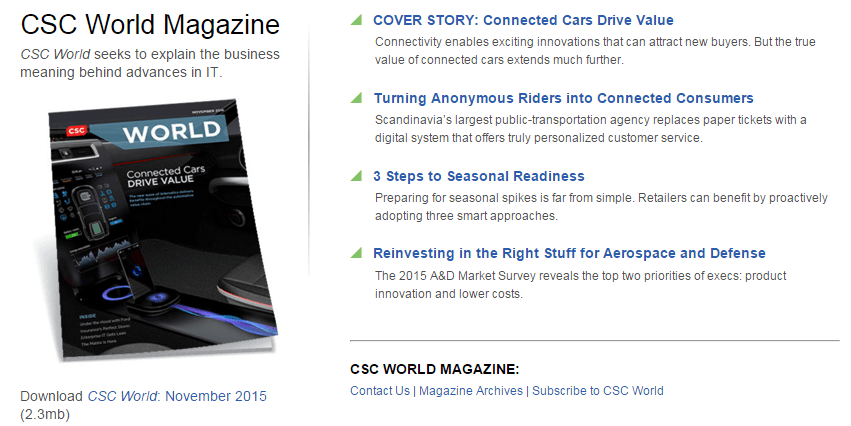 Twitter Followers: 10,700
Domain Authority: 78/100
It's not surprising to see a "mar-tech" vendor deliver best-in-class content marketing. When an information technology company like CSC does it — well, it's a little more impressive. It also underscores the importance of practical utility and thought leadership in content marketing. In the B2B world, people will always gravitate toward helpful content created by brands that lead and innovate. CSC (Computer Sciences Corporation) has mastered both.
As a vendor, CSC covers the whole gambit of IT solutions: infrastructure, cloud computing, cybersecurity, data analytics, and consulting, to name a few. As a brand, CSC has become one of the most trusted resources in the IT industry. They release of number of regular research studies targeting CIOs, CTOs, and data  analysts — all widely shared and distributed. CSC blogs cover a wide range of topics, with most articles written by veteran IT experts and consultants and designed to target key problems in a particular vertical (e.g. application services).
For readers looking to dig deeper and stay engaged with CSC insights, they offer CSC World Magazine (a digital trade magazine) and a number of online communities where professionals can connect with peers and thought leaders on topics of common interest.  
NetApp

Twitter Followers: 118,000
Domain Authority: 85/100
NetApp started as a storage and data management company in 1992. After some dark years in the early 2,000s and a change of leadership, NetApp has grown to $6 billion in revenue and now serves thousands of customers in almost every industry. They meet the educational needs of customers, prospects, and casual readers alike through a multi-channel strategy that includes blogs, videos, forums, customer stories, training/certification programs, and a monthly newsletter called Tech OnTap.
NetApp has a fully-stocked library of in-house content (analyst reports, case studies, datasheets, etc.), but they also "crowdsource" a large percentage of their content through guest contributions and the NetApp Community forums. NetApp's content is admittedly a little more dry and didactic than other brands on our list (you won't find a listicle of best data storage GIFs), but they're also writing to a very different audience — a good lesson in relevance for the rest of us.
Suggested Content:
Hybrid Cloud Means Change — And That's a Good Thing
Designing Secure Multi-Tenancy into Virtualized Data Centers
*  *  *
There are many different ways to excel at B2B content marketing. Some brands crowdsource, some compile original industry research, and others use engaging, shareable content to maximize awareness. But there's a common thread that holds all of these winning brands together. Whether they target digital marketers, accountants, or IT admins, all seven create content with a clear value proposition.
Instead of finding a million different ways to pitch their products, they provide useful insight that helps real professionals solve problems and do better at their jobs. If you want your content strategy to start delivering ROI, take a hint. 
Technology Advice is able to offer
our services
for free because some vendors may pay us for web traffic or other sales opportunities. Our mission is to help technology buyers make better purchasing decisions, so we provide you with information for all vendors — even those that don't pay us.