The 2015 SiriusDecisions Summit is a learning and networking opportunity you don't want to miss, which is why we've been talking about it so much lately. Sure, it helps that it's right in our hometown this year, and that over 2,000 B2B delegates representing over $20 billion in purchasing power will be there. But we're really going for the same reason you should be: it's a chance to grow your company by forming valuable new relationships and learning about cutting edge trends in sales, marketing, and product development.
But maybe you're still on the fence. Or maybe you want to go, but the rest of your leadership team doesn't agree that it's a valuable expense (Sirius provides a justification form for that). Maybe you don't even know who or what SiriusDecision is.
Let's start with that.
SiriusDecisions is like a guidance counselor for growing businesses. They provide advisory, consulting, and learning services to clients in sales, marketing, and product development, with the end goal of empowering sustainable growth. They do this through data-driven research, standardized business frameworks, eLearning curricula, and best practice benchmarking. SD's analysts have over 2,000 years of combined expertise that they bring to the table for each business they advise.
Ever heard of the "Demand Waterfall?" That's a Sirius trademark. What about the terms, "marketing qualified lead" (MQL) and "sales qualified lead" (SQL)? Yep, those too.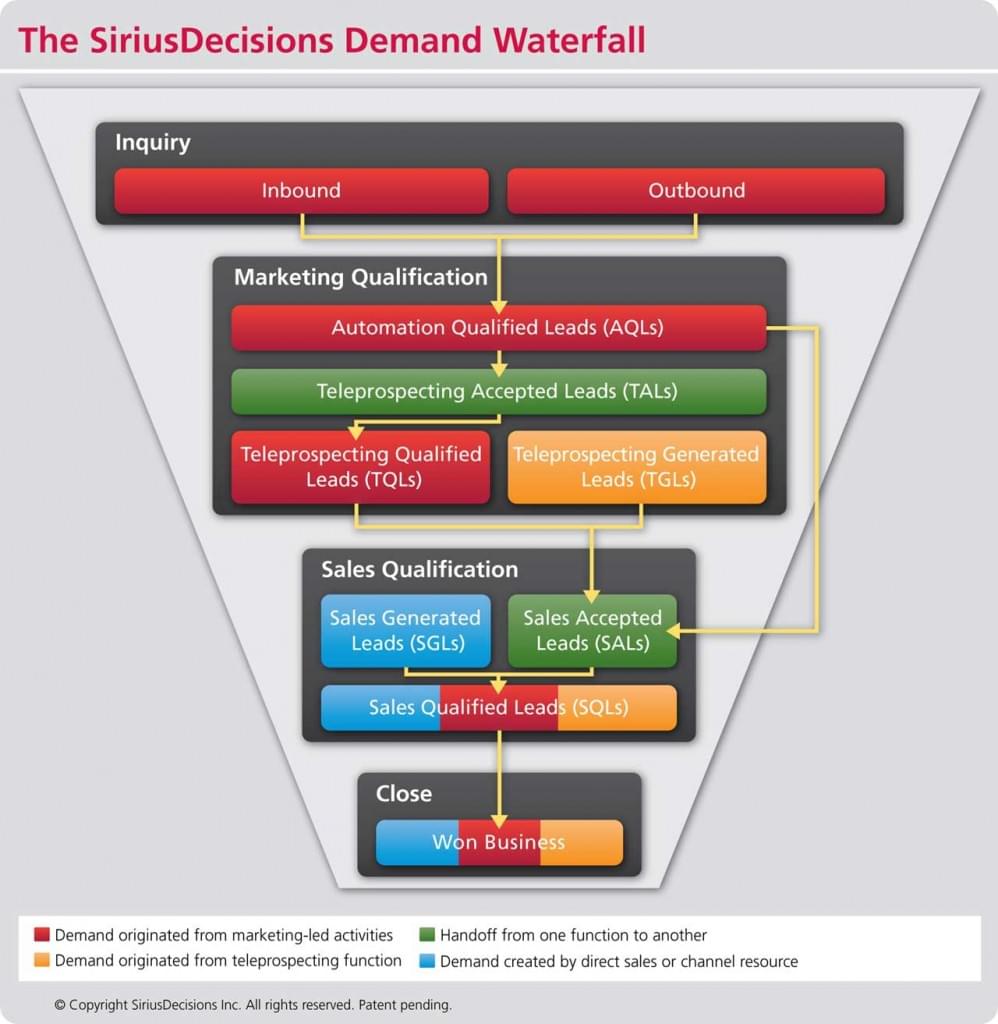 We have a lot of appreciation for what SD does, because, frankly, it's not unlike what we do. Our product is for businesses on both sides of the transaction: we provide qualified leads for technology vendors and customized recommendations for software buyers. In both cases, our goal is to expedite growth. The SiriusDecisions goal is the same, but their product is focused around strategy and implementation.

At last year's Summit in Orlando, Sirius laid out a new Intelligent Growth Model that defines five pillars of business growth:
New Product/Service Offerings
Acquisitions (of other companies, business units)
Increased Productivity (efficiency, effectiveness, and engagement)
All of these pillars have one factor in common: they require that your business use the right workflows supported by the right tools—which, in the 21st century, usually involves software automation.
6 Siriusly Good Reasons You Should Be There
Now that you know a little more about SiriusDecisions as an organization, let's talk about the event itself. In our mind, there are six big reasons you should attend:
Sirius will unveil 18 new growth models: Business models and frameworks are one of the biggest draw to the Summit each year. This time, Sirius will announced 18 new "Outperform" models and explore them in depth throughout the event. Among some of the anticipated headliners: The B-to-B Incentive Framework; The Keys to Succeeding with Integrated Solutions; The Sales Technology Adoption Framework; The Route-to-Market Framework; The Customer Experience Design Framework; and many more that touch on buying cycles, partnerships, marketing personas, and customer communities. 
A learning experience tailored to your role: Remember in grade school, when you had to learn algebra, and you were always wondering, "Why do I have to learn algebra?" On Thursday, May 14, the event will feature 35 analyst sessions covering nine different initiative areas, or "tracks," but not every attendee will benefit from every session. That's why SD analysts have put together unique learning agendas for 21 different industry roles (e.g. channel marketing leader, product management leader, customer experience leader, V.P. of sales). Each custom agenda gives recommendations for which sessions to attend in the nine tracks. That way you focus on the most relevant information for your role.
 You don't have to be a genius: If you're intimidated by some of the technical marketing and sales jargon, don't worry. You'll fit right in at one of four 101 sessions. These sessions are designed to serve as crash courses in some of the more basic industry concepts, such as B2B alignment, B2B sales, campaign frameworks, and marketing and sales impact.
 Learn from those who do it best: What's that one quote about having experience and learning from your mistakes? Never mind. The point is, it's always helpful to take advice from those who have gone before you, especially if they've succeeded. In the business world, this means looking at companies that have implemented winning sales, marketing, and product strategies and grown because of it. At various points throughout the Siriusdecisions Summit, the 2015 ROI Award winners will present on their notable successes and how they accomplished them. Winning companies include VMWare, Hyland (creator of OnBase), Veracode, FireEye, and GE Healthcare.
 Magic Johnson: Earvin "Magic" Johnson—NBA champion, Olympic gold medalist, founder and CEO of Magic Johnson Enterprises—will be this years guest keynote speaker. Even though we really shouldn't have to explain why that's a reason to attend, we did anyway in this post.
Help us help you: We're looking for more businesses to serve. And one of the things we're most excited about is getting to meet and connect with potential new partners at the Summit. As one of this year's proud gold sponsors, we'll be hosting a booth in the sponsor marketplace and will be featured in a partner case study by Julie Ann Castro from Oracle Sales Cloud. Need help with your B2B lead generation? Looking for software to support business growth? Stop by and see us.
 *
We haven't even mentioned the Green Tie Gala, featuring musical guest Neon Trees, or the Titanium Block Party in downtown Nashville, replete with honky tonks, cocktails, live music, and a mechanical bull. But don't wait too long: online registration closes Wednesday, May 6th, just before midnight. After that, you can only register on May 11th at the Gaylord Opryland Resort and Convention Center. Hope to see you there!