If you haven't experienced the terror of a 2 a.m. social mention from a disgruntled customer, consider yourself lucky. Whether it's a social troll or a customer who requires immediate attention, failure to actively monitor and respond to social media requests can result in a customer service disaster.
ALSO READ: 6 Powerful BuzzSumo Alternatives to Consider
On the other hand, an artfully crafted response can build brand awareness and customer loyalty. When a company engages with customers on social media, there's a chance to reveal humanity, leadership, and even humor. Social media management tools can help you do that and more. Buffer is one of the best and most favored solutions, but it's not the only one. 
A good Buffer alternative will give you everything you can find in Buffer, an easy-to-use interface, and plenty of integrations. The leading social media management software includes these features:
Social post scheduling

Social listening

Content curation

Analytics
Social Media Management Platforms
Hootsuite is a leading Buffer alternative that lets you post to several social media outlets at once. Agencies love Hootsuite because it allows you to switch between several social accounts and build campaigns for each. The platform also has built-in analytics for YouTube, which is a missing connection for many other management tools.
Install the Hootlet chrome extension to automatically schedule content you find online through your Hootsuite account. Integrate RSS feeds so you can follow your favorite influencers (and competitors), and build those into your content curation schedule. Hootsuite has lots of different price points and plans, and scales easily across enterprise accounts.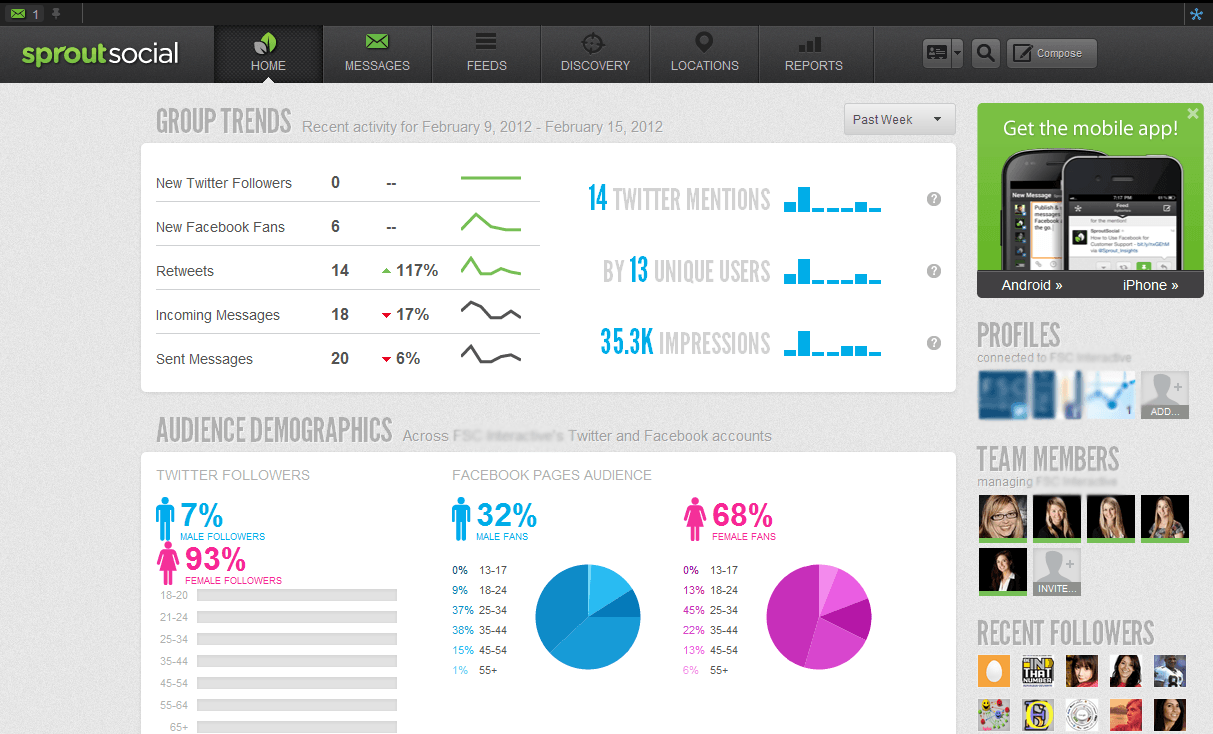 SproutSocial is an agency-ready social media management platform that integrates social advertising and post boosting. The publishing tool includes a tagging feature so you can monitor your content success, while ViralPost picks relevant content from thought leaders in your sphere and adds it to empty spaces in your queue. Monitoring tools let you see social mentions and keep an eye on your competition.
SproutSocial facilitates team collaboration with calendars, approvals, and workflows for moving leads from marketing to sales. Analytics that drill down to the message are available for Twitter, Facebook, and Instagram. You can use the Bambu application to increase employee engagement — which helps you tap social connections from within in your company.
Zoho Social is the specialized social tool in the Zoho universe. It provides social media scheduling with time and engagement analytics to help you choose the right time to reach more of your customers. The repeat post feature lets you set a posting time to reach your influencers when they're most likely to read your updates.
Collaboration tools place team messaging alongside a live stream of social events. Import your social feeds so you can watch mentions and engage with customers in real-time, from directly within the app. Analytics include interactions and sentiments, so you can easily understand how your crowd of followers reacts to each post or to your overall campaigns.
Agora Pulse styles itself as a "simple solution." It provides access to all of the major social platforms, and all customer messages and mentions are placed directly into an inbox — essentially, it's an inbox for your social media. You can assign, view, tag, or complete any outstanding messages for that "inbox zero" feel, and set up automated moderation rules to respond to types of messages or push tags to mentions and messages automatically.
A visual calendar organizes your publication schedule, and "listening" features let you monitor all of your channels for hashtags, locations, and keywords. Analytics download directly to PowerPoint and include competitor benchmarks. Meanwhile, an internal CRM provides engagement data about all of your influencers and followers. One of Agora's unique features is its Facebook contest tool, which lets you run sweepstakes and engagement growth campaigns without leaving the system.
Social Studio is part of the Salesforce Marketing Cloud, which makes it a great option for those who already manage their customer data in the Salesforce platform. This app features built-in advertising, so you can boost your posts directly as ads. This option comes enterprise-ready, so it's valuable for teams with lots of accounts or stakeholders.
Like many Salesforce-connected apps, you can do pretty much all actions associated with the campaign directly from the app, including searching for trending content and stock photos. Share data to your CRM to ensure a complete customer picture, and auto-route mentions to your sales or support teams for fast response.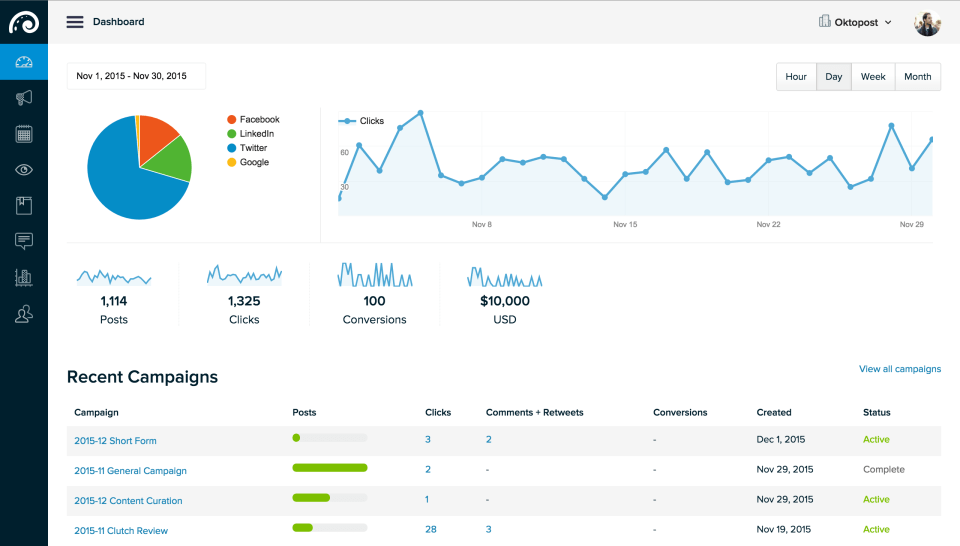 Oktopost provides B2B social media management that demonstrates how your campaigns affect the sales funnel. An acquisition dashboard provides insights about which posts and content generate conversions. Engagement metrics and audience analytics help you learn more about your readers and improve content. Snowball more engagement with influencer and RSS feeds, and check all mentions and comments in Oktopost (you don't have to switch back and forth between several platforms).
Oktopost also cover employee engagement and advocacy, with a leaderboard showing team shares and likes. The system integrates with lots of outside marketing automation platforms, which means you can get everything you need to know in one place.
Channel-Specific Tools
These options only give you management access to one specific platform, but they can be very useful for basic updating and social mention monitoring. While they're not full-featured platforms (or plausible alternatives to Buffer), they can still help you grow a social campaign.
This option is a Facebook-run pages app, which means it's limited to managing your Facebook Pages. If you do most of your traffic through Facebook, having this app on your phone can be really helpful. You can upload content and manage posts on multiple pages, including responding to messages and comments.
TweetDeck is a browser-based feed of your Twitter accounts, including any mentions or keywords you follow, and a general activity section. This app is free, but it's limited to Twitter. It's a great monitoring tool for updates, follows, likes, and comments in your social sphere.
* * *
If you're looking for Buffer alternatives, do your research. With each tool you can expect a new user interface, different integrations, and a few limitations. Be sure to balance the complexity of your social campaigns with a tool that's easy to use, and that your company doesn't have to spend a lot of time implementing. 
Don't see what you're looking for? Head over to our social media management product selection tool, or contact a technology advisor for a free consultation.
Technology Advice is able to offer
our services
for free because some vendors may pay us for web traffic or other sales opportunities. Our mission is to help technology buyers make better purchasing decisions, so we provide you with information for all vendors — even those that don't pay us.