Marketers tend to have a soft spot for technology, and marketing automation software is a prime example. It's not just because we're fond of stats and analytics. It's return on investment that really warms our hearts, and marketing automation delivers.
Companies that use marketing automation achieve 107 percent better lead conversion rates and 40 percent larger average deal sizes, according to Aberdeen Group. They also enjoy a 70 percent faster sales cycle and have a 54 percent increase in quota achievement, according to Bulldog Solutions.
ALSO READ: 4 B2B Marketing Strategies That Deserve Help from an Agency
All of that adds up to significant returns on most companies' investments. But it may not tell the whole story.
We've found the biggest benefits of marketing automation often come from outside the world of customer acquisition and demand generation. Used properly, marketing automation can be a thread that runs through all aspects of the customer experience. It can also bring together departments that were previously at odds.
Of course, marketing automation is great at generating and nurturing leads, but it has a place beyond those applications.
1. Brand/Demand/Expand
The phrase Brand/Demand/Expand is shorthand for how marketing automation can help you address and orchestrate every stage of the customer lifecycle.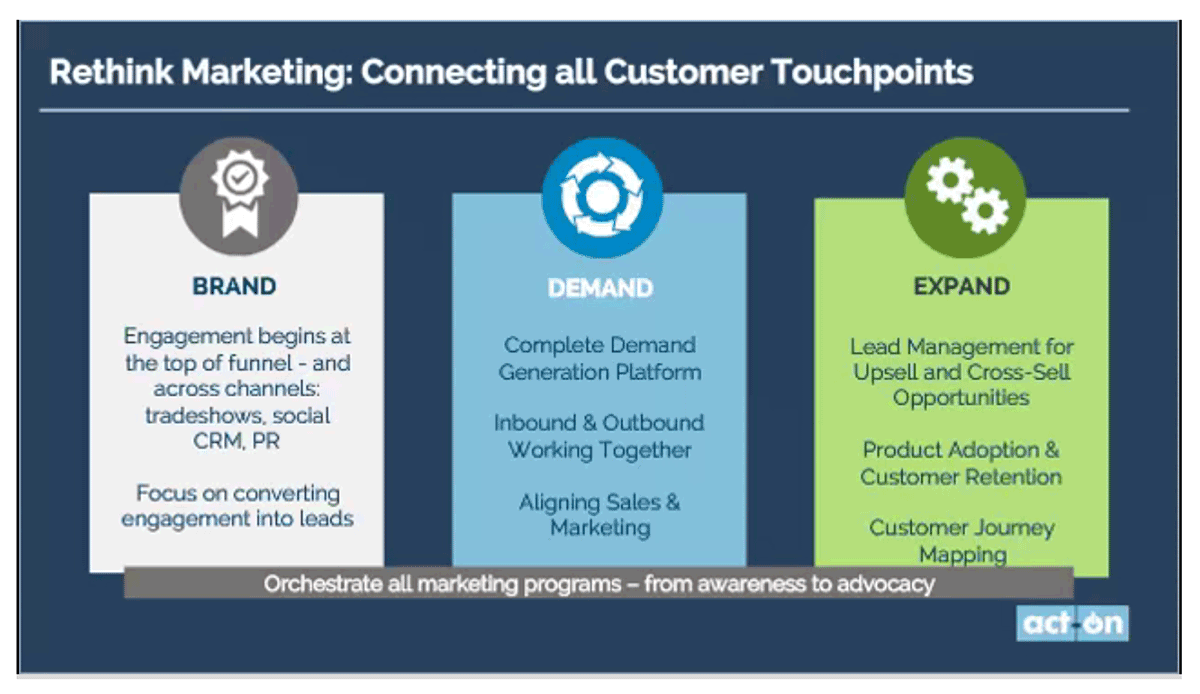 Brand awareness brings new people to your website. That first impression is critical, and how you follow up can make a permanent impact. For example, say you send a triggered email after a new prospect has viewed a page on your site. We use this ourselves at Act-On, and have seen these types of emails achieve open rates of 70 percent or higher.
The demand part is familiar territory for B2B marketers. You probably know all about how autoresponders can nurture a lead after a white paper or other content asset has been downloaded, or how a well-timed social media message or ad can bring a potential buyer back to your site. Sophisticated multi-channel demand strategies are easier to coordinate and manage if you automate them.
But the expand part may be marketing automation's best kept secret.

Start with onboarding. Automation can show your new client every feature of your product or service. If later customers aren't using key features of your service, you can use marketing automation again to feed them short tutorials. When your customers gain confidence, they can accomplish their goals. This pays off in retention, then goes beyond to advocacy, upsell, and referral sales.
2. It strengthens customer service.
Customer support and customer success can also benefit from automation. Most customers probably expect a reply from customer service in an hour or less on social media.. Their expectations are even higher if they're on your site. If you can't have a human there to help them (even at 2 a.m.), having an automated self-help resource can prevent frustration. In fact, some younger users often prefer self-help customer service to having to deal with a live person.
Reviews and feedback can also be automated. It's easy to set up a triggered email requesting a review after purchase . . .  or send an automated feedback email after a customer service ticket has been resolved.
There's revenue to be earned here, too. Ideally, your whole customer experience system will work well enough that customers won't just renew; they'll buy more products and services, use them successfully, and become brand advocates.
3. It forces you to clearly define the buyer's journey.
Of course, not everything can be automated. Marketers aren't in danger of being replaced by robots, but most of your predictable, repeatable interactions can be developed for "set it and forget it" operation.
Even the work required to get you to that point has benefits.
How so? Marketing automation, by its very nature, requires that you spell out who your ideal customers are and how they behave. That's the buyer's journey we all talk about, and it's different for every product and persona.
Incredibly, many companies still haven't documented (or even discovered) how their buyers differ, much less how they make their way through the sales funnel. Being forced to define all of that might take a few weeks work, but it's definitely worth the effort.
4. It leads to better utilization of content.
And then there's the content side of things. Content fuels marketing automation. So if you want your system to work smoothly, you'll need a content hub — or "library," as we call it.
With a central content library, you can keep all of your content cataloged and tagged for each type of buyer and each stage of their journey. That's another bit of work most companies haven't made time for, but finding and cataloging all that content means you can use what you have more effectively (60 to 70 percent of B2B content, once created, is never used). It also helps you see gaps you should fill with targeted content.
5. It encourages marketing and sales alignment.
Marketing automation has one other hidden benefit to improve your company's bottom line: it may finally bring your sales and marketing teams into alignment.
To really hum, marketing automation requires ongoing input from sales. They know which behaviors to score, when to send prospects the right information, and what a cold lead versus a hot lead looks like.
With a marketing automation system, this all gets spelled out, planned, and automated.  The result is that you can send sales leads that came from a program they helped build. You can send them leads they actually want.   
* * *
It's time to think of marketing automation as something more than a demand generation tool. It has a purpose at every stage of the customer journey, and it facilitates partnership between sales and marketing, even customer success. In fact, marketing automation can make a big difference anywhere customer interaction is required.
---
McKenzie Ingram is a marketing journalist for Act-On Software. She received a B.A. in Advertising and a B.S. in German from the University of Oregon in 2011 and has since worked as a copywriter, content creationist, and digital marketer.