Marketers are spoiled for choice when it comes to content curation and sharing software. This software space is filled with platforms that allow you to search through content, filter noise, and analyze the impact of your social shares.
Marketers love BuzzSumo, and for good reason. It provides content research, social listening, influencer sourcing, and link research all in one place, and lots of this data is free  — to a point. When your business needs something more or different than what BuzzSumo offers, it's time consider alternatives.
ALSO READ: Top 4 Hootsuite Alternatives
We've gathered a list of the best BuzzSumo alternatives for a number of different use cases. Each of these tools provides some kind of "trending content," feature, but that's really where the similarities end. When you're done skimming 14 different social channels for viral content, do your team a favor and check out these options.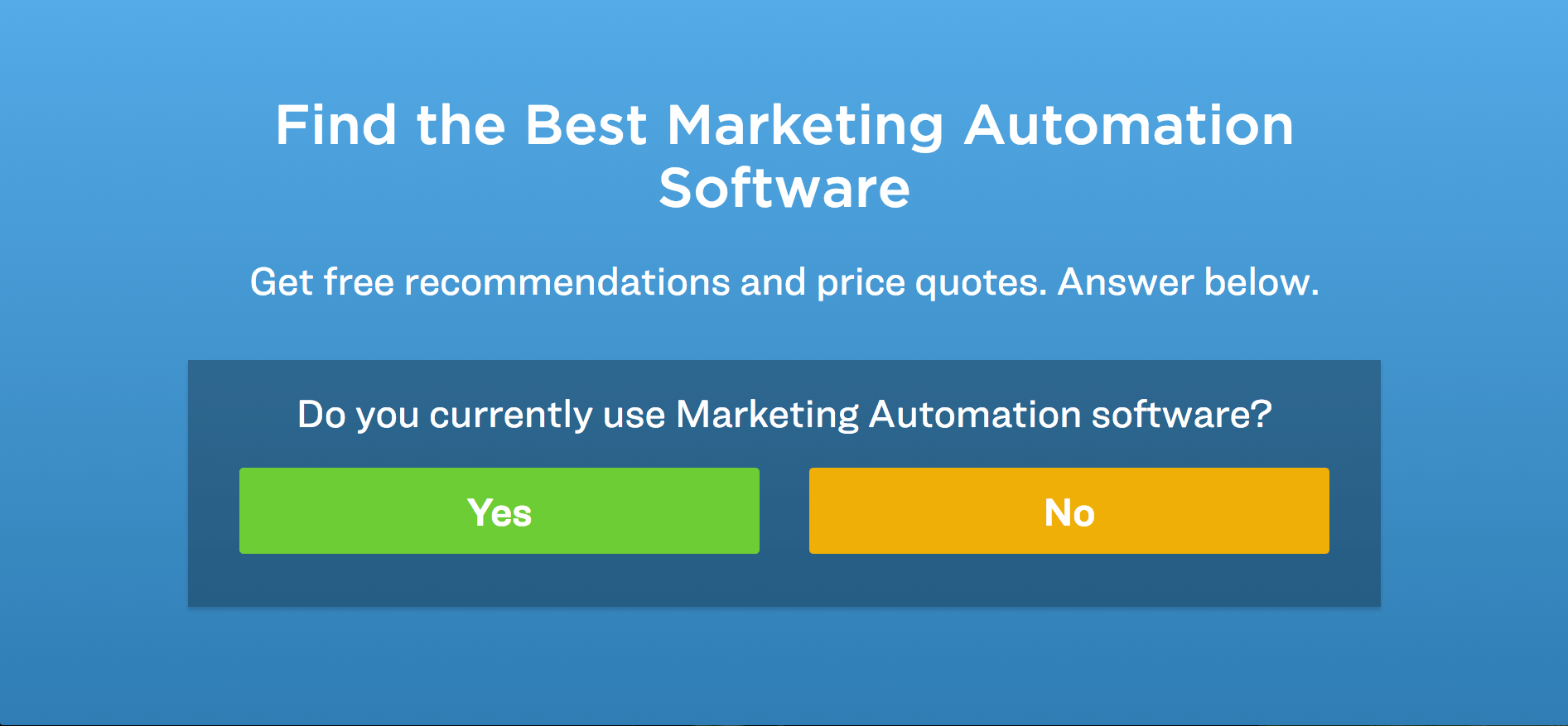 From the same company that owns EpicBeat, EpicTrack is an enterprise-level content sharing platform for the data-driven marketer. This software is a great BuzzSumo alternative, but a lot more powerful with the addition of in-depth analytics on how content affects your bottom line. By combining your content aggregation and sharing with site visit data, EpicTrack shows specific ROI for each piece of shared content. This means you can track the immediate effects of each post in the same platform where you first discovered or scheduled the share.
In addition to giving you an all-in-one tool, EpicTrack dives deeper with Sentiment Analysis and Mention Analytics, both of which are designed to help you gauge reader feedback. Sentiment Analysis tells you the tone of comments and shares, so you can react quickly to customer feedback (both positive and negative) without searching through every mention by hand. Mention Analytics tracks your content authors and filters customer response for you.
Feedly helps users filter text from feeds, blogs, and online magazines based on the topics and publications you specify. That could come in handy if you're looking for relevant third-party content to share — or, heck, just read  — on a daily basis. Although Feedly is built on the Rich Site Summary (RSS) model, it goes above and beyond the standard RSS feed with sharing, suggestions, and over 200 application integrations. Each piece of content is stripped down to its basic text and images, filtering out ad noise and sign-up interruptions, which makes reading on Feedly a soothing experience.
Feedly's keyword and social listening functionality is powered by Google Alerts, but the app integration lets you build your keyword and mention notifications into your existing content feed. The vast number of app integrations means sharing pertinent content with your team or audience is easy. Feedly doesn't provide much in the way of analytics on existing or shared content, but the stripped-down feel, mobile app, and easy content discovery tools make this a great tool for marketers focused on reading and sharing.
Oktopost is designed specifically for marketers and social media managers in the B2B space. In addition to content discovery formats, your team can connect existing RSS feeds to monitor your most valuable sources of new content. Automation helps streamline your content sharing by scheduling posts across social platforms and services. They also offer a browser extension for easy scheduling and sharing.
Because they're B2B focused, Oktopost integrates website analytics directly into their platform to help marketers measure the impact of their content. It also integrates with existing CRM and marketing automation platforms including SalesForce, HubSpot, and Marketo. Oktopost builds custom pricing packages tailored to your organization's needs.
As the name suggests, Sprout Social is a social media-focused content curation and sharing tool for marketers. The combination of discovery and publication capabilities with customer service and lead tracking makes this a powerful tool for small businesses and companies with high social engagement. Analytics and reporting features round out the platform, allowing marketers to prove successful campaigns and show measurable results to stakeholders.
Sprout Social's strength is in its customer-focused integrations. Direct messages from your social channels are routed to the dashboard, where any authorized users can respond without switching between several different accounts. You can also use the Monitoring feature to follow mentions with a sales focus. Sprout Social offers single user, team, and enterprise editions.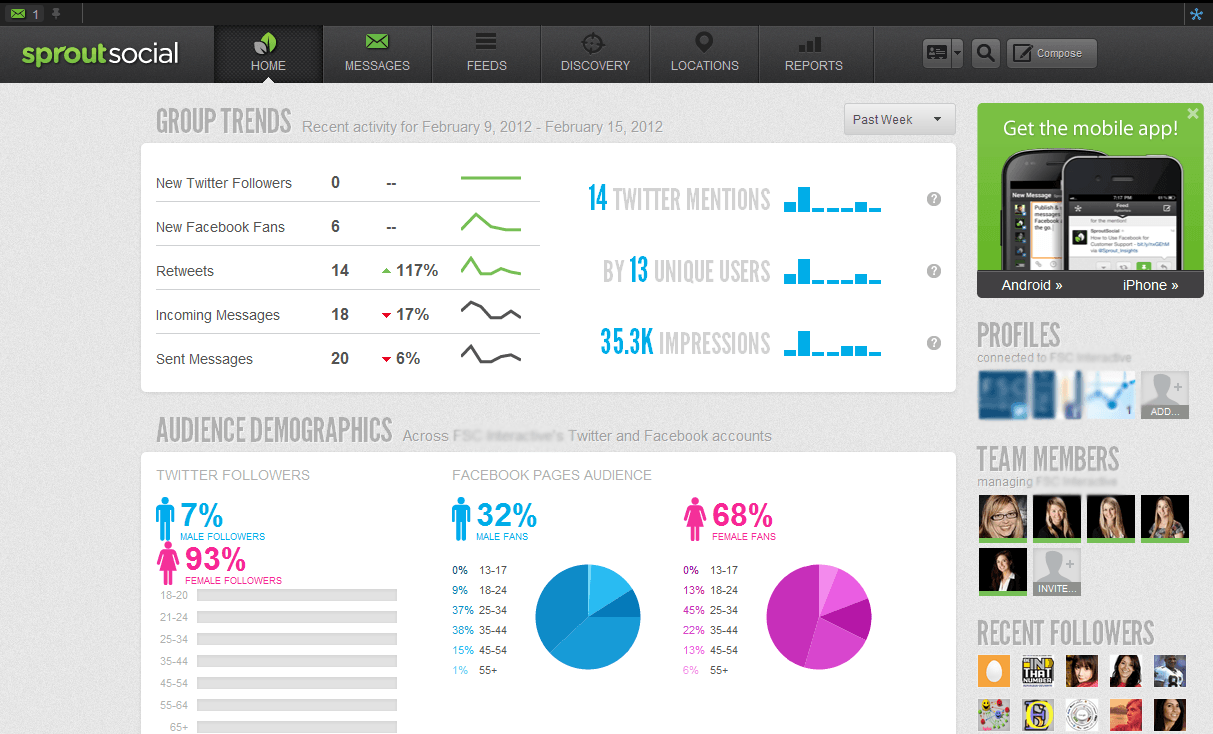 Ahrefs is ideal for marketers and social media managers who want to improve backlinks and keyword positions while also tracking content and mentions. This toolkit has several large indexes of keywords (5.4 billion), backlinks (4.1 million pages crawled a minute), and content (5 million posts discovered a day). With such a huge SEO database, you'll play in the big league of content strategists.
Unlike BuzzSumo, which is focused on social shares and backlinks only, Ahrefs also lets you explore trending content by traffic. And it reveals more details for each post: organic keywords, ranking position for each, amount of traffic it brings, and more. Competitors' content can become your source of inspiration and killer ideas. As for link building, the tool will show you link opportunities on sites that haven't linked to you yet. Whenever there appears a new link opportunity, you'll receive a timely email alert.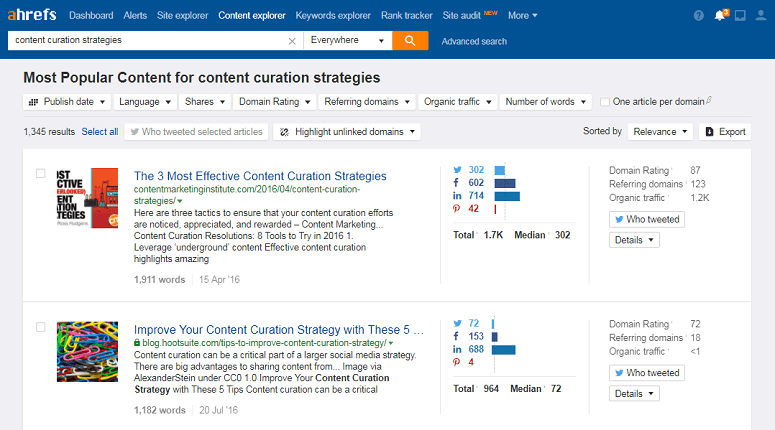 When you're ready for an alternative to BuzzSumo, you can either monitor the success of your social posts by searching through channels and switching from platform to platform, or you can save time and switch to a social media marketing platform that does it all.
Need help choosing? Our social media marketing Social Media Marketing Product Selection Tool can help you narrow your options.
This post was updated on February 19, 2018, to include more recent information about Ahrefs. It originally appeared on the TA blog on October 21, 2016. 
Technology Advice is able to offer
our services
for free because some vendors may pay us for web traffic or other sales opportunities. Our mission is to help technology buyers make better purchasing decisions, so we provide you with information for all vendors — even those that don't pay us.