Trusted by tens of thousands of businesses for managing landing pages, split testing, and other digital marketing efforts, Leadpages is inarguably a leader in the landing page space, but it's not for everyone.
Maybe you need an integration with a system that Leadpages doesn't support, or you're looking for Leadpages alternatives because of features they don't offer.
If you're looking for dynamic keyword insertion capabilities for your PPC campaigns, want multivariate testing capabilities, or want to tailor your landing page design based on browsing device, you'll need an alternative to Leadpages, as it currently offers none of those features. Perhaps you're outgrowing the solution, or you want to consolidate your spend into a single system.
No matter the case, these four Leadpages alternatives are good place to begin your search.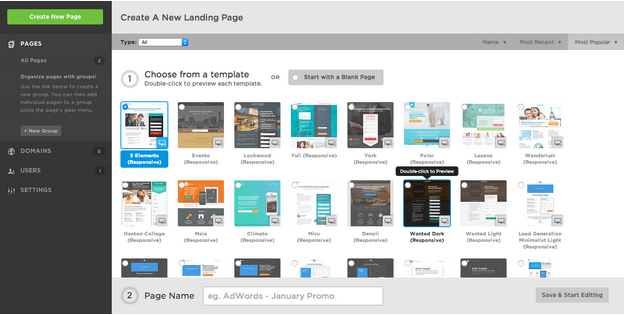 Unbounce was founded to "educate, connect, and empower marketing teams and agencies to grow their businesses with the best conversion tools on Earth." Marketing-speak aside, Unbounce is one of the most popular form capture/landing page creation solutions. With a simple drag-and-drop editor, over 85 tested and mobile-optimized landing page templates, and a wide variety of integrations with content management systems and marketing automation platforms, few solutions are as well-suited to landing page creation and optimization as Unbounce.
Of course, their strength is also their limitation for many marketers; they only do landing pages, eschewing the value-adds Leadpages provides (LeadBox pop-ups, LeadDigits SMS opt-ins, LeadLinks email opt-ins) to provide a singular landing page experience. Unbounce does offer simple A/B testing, though it's only for the landing pages you create with their tool; you can't A/B test your home page design, for example.
One of the better features they offer is dynamic keyword insertion (DKI), meaning they can insert users' search terms into your landing pages automatically — a game-changer for anyone designing landing pages for PPC campaigns. Extremely intuitive and user-friendly, even a relative neophyte to digital marketing will have little trouble creating new pages and/or variants using Unbounce. It's not without expense, however, as the starter package begins at $49/monthly for 5,000 unique visitors to your Unbounce pages, and integrations and DKI are locked until the $99/monthly, 25,000 visitor price tier. They do offer a 30-day trial, and you can get access to their core features for free, longer, if you're willing to deal with an Unbounce-branded footer on all your pages.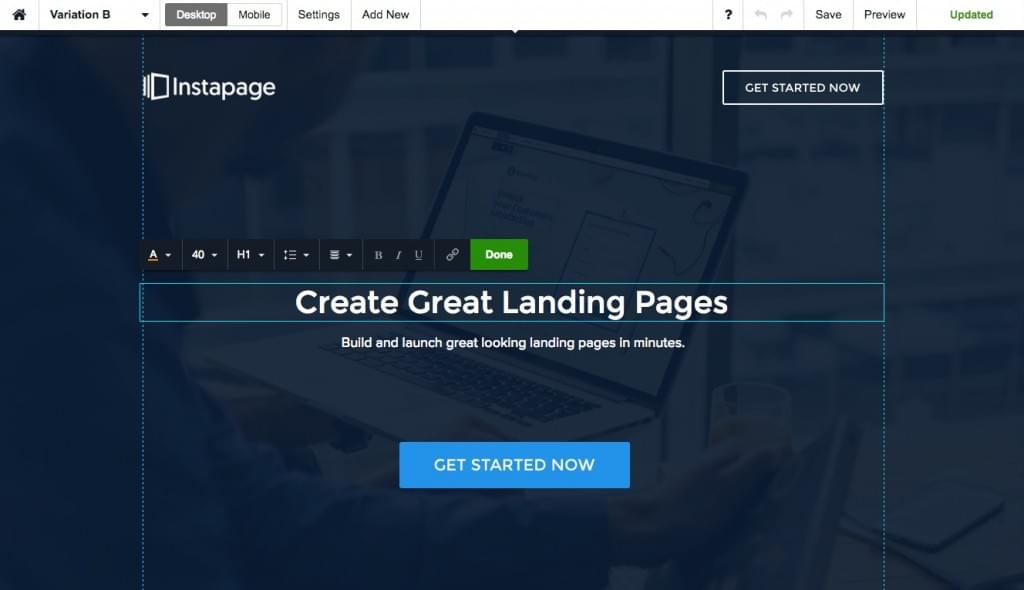 Perhaps the tool that compares most easily with Leadpages, Instapage offers a high-quality selection of landing page templates, an intuitive user interface, and a nearly unbelievable price point — $29/month gets you unlimited landing pages and unlimited visitors to an unlimited number of domains. Of course, that is just for the basic package, but even the professional and premium versions are competitively priced versus Leadpages and other systems on this list. 
Instapages are WordPress-compatible, mobile-optimized, and there are over 100 templates that you can use to get started. As with Unbounce, Instapage offers landing page A/B testing, but only for the 'Professional' or 'Premium' customers — though it does offer an unlimited number of tests and test visitors, unlike most of the other solutions outlined here. They also offer drop-in pixel tracking for non-Instapage conversion pages, which is useful if you're driving traffic to an Instapage that converts on a subsequent, non-Instapage.
Make sure to pay attention to the fine print regarding the "Basic" and "Professional" integrations when you talk to the sales team, however, as there's little information on their site regarding what is considered "Professional" or "Basic", and integrations with CRM/Marketing Automation platforms such as Salesforce and Infusionsoft are only unlocked for 'Professional' plans or above.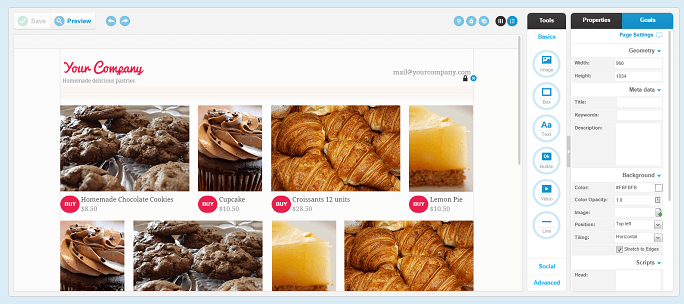 Lander offers an easy, drag-and-drop landing page editor, a large number of responsive templates, and allows you to A/B test pages built with Lander. Starting at just $22/month, Lander is one of the least expensive options on this list, although it's also among the least powerful when just considering the basic package, which doesn't include CRM, marketing automation, or Zapier integration. Those integrations only become available at the "Professional" price point — $74/month. It does allow you to A/B test on the basic package, though you're only allowed 3,000 unique monthly visitors to your landing pages, so a statistically significant result may take some time to achieve. Lander Professional only allows 25,000 unique monthly visitors. To get more than that, you'll have to talk to Lander directly for an "Enterprise" custom package quote.
It's worth noting that Lander was recently (July '16) acquired by Silicon Valley investment firm, Internet Cowboy Ventures, and it remains to be seen whether pricing will change. 
Currently in beta (with appropriate discounting), UnDelay is a relatively new, but interesting entrant to the landing page software marketplace. Acknowledging the fact that an ever-growing number of consumer interactions take place on mobile devices, UnDelay says responsive design just doesn't cut it anymore. Offering what they call an "adaptive builder" that allows for 40.2 percent faster page load speeds on mobile versus responsive design, they let you create separate, multi-page experiences for your consumers based on the devices they're using.
UnDelay offers an easy, drag-and-drop visual editor, lightbox capabilities (provide more information while keeping your customers on-page), and a pre-configured Google Tag manager container that will take care of tags, triggers, and variables automatically. It also offers CSS, HTML, and JavaScript editors, so if you do have some coding acumen, you can further customize the form and function of your landing pages.
UnDelay offers unlimited A/B testing of your landing pages, it supports pop-ups, and is competitively priced versus Leadpages, starting at $34/month (paid annually) for 3,000 visitors and unlimited access to all features. With the current 20 percent beta pricing discount, that would become $27/month, making it one of the lowest cost options available. Furthermore, there are eight pricing tiers, versus the traditional three, which makes it less costly to jump up as you grow. 
* * *
This list of Leadpages alternatives is a good place to start, but far from a comprehensive selection. Our Technology Advisors can help you narrow down your options from the vast array of marketing solutions available.
ALSO READ: 5 HubSpot Alternatives for Inbound Marketing Automation
Every buyer is different, and every buyer has different needs. You may think you need a landing page builder, and you may be correct, but you may have not considered other systems that will solve your landing page problem and other business problems. Give one of our unbiased experts a call and get your custom recommendation today.
Technology Advice is able to offer
our services
for free because some vendors may pay us for web traffic or other sales opportunities. Our mission is to help technology buyers make better purchasing decisions, so we provide you with information for all vendors — even those that don't pay us.