We can all appreciate a good tool.
Tools make tasks simpler, and lives better. Like in math class, when you memorized a long, complicated formula and then later discovered you could do the same thing with your TI-89 calculator. Jackpot.
It's true that producing a podcast takes a village, but there are tools to save time in the process.
At Sweet Fish, we're tool junkies. As a remote team, we need systems that make working and communicating simple and efficient, so our podcast production tool belt is stacked.
There are plenty of B2B marketers out there trying launch or grow a podcast, but struggling to figure out the technical aspects and gather the right resources to make it succeed. To lend a hand, we've put together a list of 21 tools that, in our experience, make podcast production a whole lot easier.
---
Prospecting
Prospecting, in this case, is about finding your guests. The more often your show releases episodes, the more prospecting you'll need to do.
Sweet Fish's B2B Growth Show is a daily podcast, so we are continuously reaching out to potential guests. Here's how we do it:
To simplify the search process, we use Hunter.
Hunter is a Chrome extension that scours a prospective guest's website and pulls up all the email addresses associated with that site in seconds.
This tool can also be used on Linkedin to find the specific email address tied to the person's profile you're looking at.
Once you download the Email Hunter extension, go to a prospective guest's LinkedIn profile and notice the "Hunter" button in the top headline box. Click the button, and it will provide an email address and an accuracy percentage.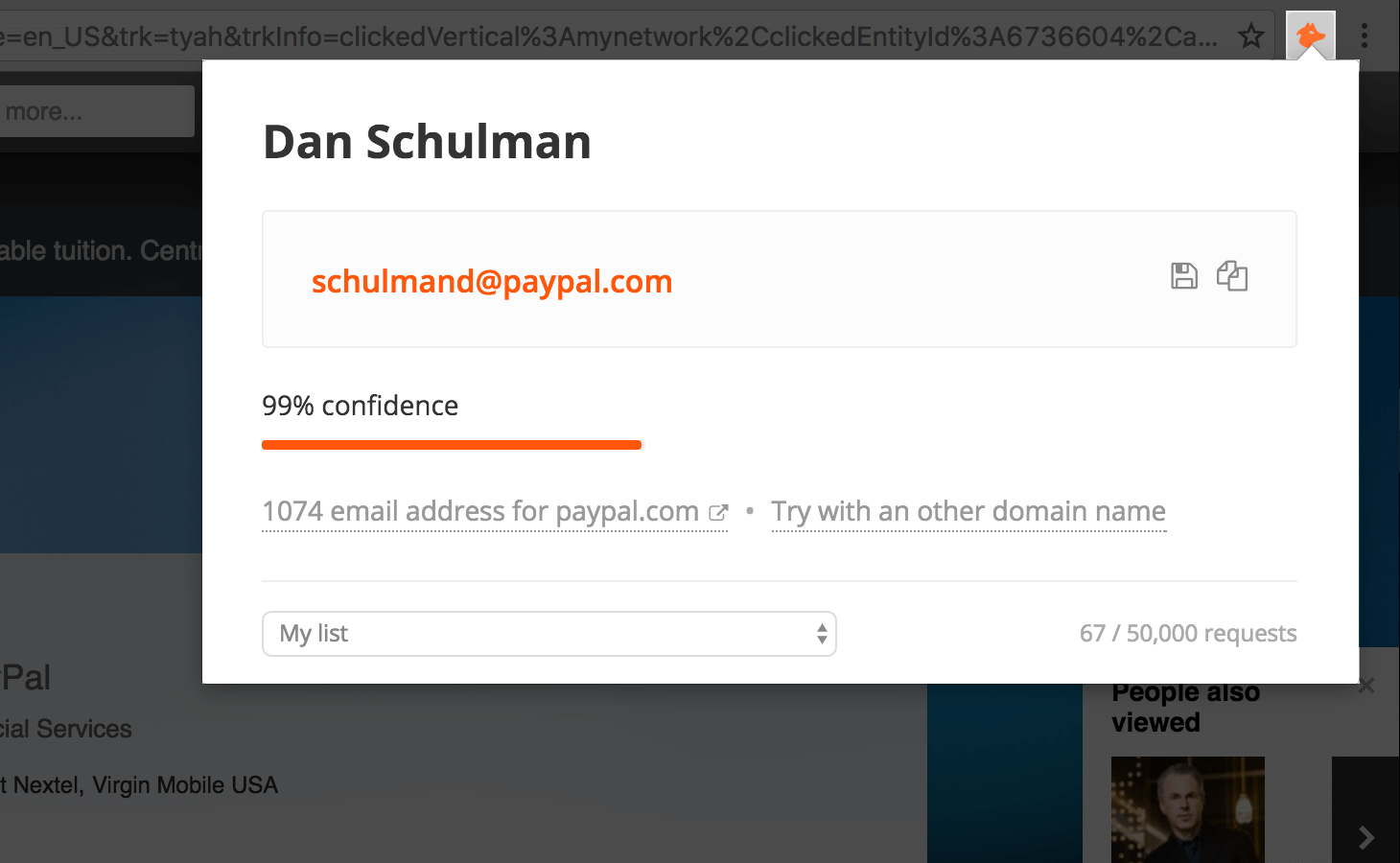 Another solid time-saving prospecting tool is LeadFuze.
LeadFuze helps you find contact information and automate personal outreach. This tool is unique because you can prospect, find emails, and send emails.
If you're a fan of all-in-one tools, LeadFuze is definitely worth trying.  
LinkedIn is the best social network for prospecting, hands-down — especially when you add plugins like Hunter (mentioned above).
There are 450 million users on LinkedIn with 172,800 new users every day (that's two per second). LinkedIn is great for prospecting, but it's also great for nurturing relationships through soft touch points with your guests (such as "liking" updates and commenting on posts).
Don't let the relationship die once your guest's episode has gone live. Connect with each of your guests on LinkedIn, and nurture that relationship for years to come.
---
Email Outreach
Let's set something straight before we dive into this category. None of the tools I'm about to list are "mass blast" email tools.
The last thing you want to do is send a prospective guest an email that has an "unsubscribe" link in the footer. Your potential guest will know that you're mass-emailing a slew of people, and they'll be much less inclined to respond.  
If there's an option to unsubscribe from a "personalized" email, you can kiss a response goodbye. You want to make your guests feel special, not expendable.
Instead of using mass-email tools, use one of these:
---
Content Organization
When you produce a podcast, you have lots of content tied to each episode: audio, visual, and written. You need an easy way to organize and search for this content.
Many marketers will already have something in place for this, but in case you don't, here are a couple options:
Google Drive is our go-to file storage and collaboration tool.
We store everything in the cloud — podcast audio, ad spots, show notes, blog posts, and episode graphics.
We use tools that allow universal access to our files, because on any given episode 7-9 people are interacting with that content. Storing our written content in Google Drive also allows our writers and editors to collaborate in real-time.
Dropbox is another great option for cloud file storage and collaboration, but you'll lose some of the simultaneous editing and communication features that Google Docs provides.
Either way, you'll definitely need some sort of cloud storage tool. It takes a lot of "cooks in the kitchen" to produce a podcast, and local file storage is simply not an option.
---
Project Management
Sweet Fish should throw a party on the anniversary of Trello being founded. We use Trello more than any other tool. Period.
It allows us to easily manage our workflow and communicate with our entire team. Every episode of our podcast and our clients' podcasts get individual cards on Trello.
An episode card includes:
Due date: so everyone on your team knows when it's set to go live.

Checklist(s): to track what still needs to get done

Files: audio, ad spots, written content, guest info, etc

People assigned to work on the episode

Promotion plan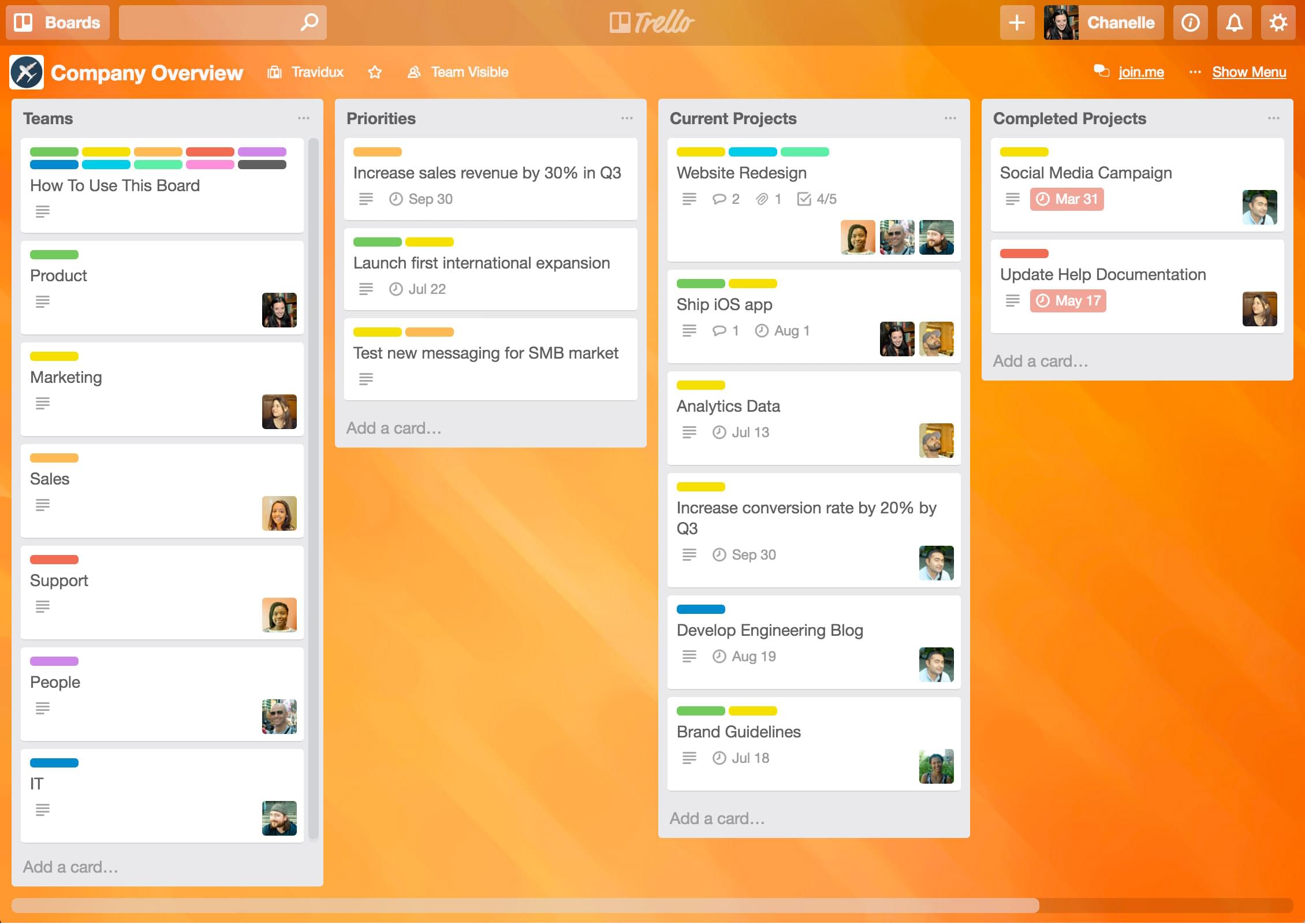 Trello gives you the ability to make lists, assign people to cards, tag people in comments, attach files, and so much more.
The way it works is simple: you can create Boards, Lists, and Cards. If you think of Trello as a file cabinet, Boards are your drawers, Lists are your folders, and Cards are your individual files.
Boards are the overarching umbrellas for your work, Lists allow you to manage workflow and stay organized, and Cards allow you to keep track of each individual piece of content and assign things to specific employees.
Here are the specific Trello lists that we create for each podcast that we produce:
Interview Scheduled

Ready for Audio

Ready for Copywriting

Ready for Images

Ready to Publish

Scheduled to Publish

Published

Promoted
Once an episode card has completed a stage, we drag it to the next. This breakdown gives us a clear view of what's completed and what still needs to be done for each episode in the workflow.  
---
Recording
We record most of our calls through Skype. It's a universal tool that most people already have an account for. It also provides the best audio quality since most of our guests don't have podcast mics.
To get that quality sound, we use eCamm Call Recorder. It uses an easy record/stop button to record the call and then it automatically saves it to your computer.
If we can't meet on Skype, we use TapeACall to record the phone call. The audio it provides isn't quite as clear, in our experience, but it's better than nothing.
---
Audio Editing
Don't get worried during an interview if you start to stutter or if your guest is taking some long pauses to think. That's what audio editing is for.
Use editing software to remove the "ums" and awkward pauses, and to add the intro/outro and ad spots.
If you don't have an audio engineer on staff or contracted, you'll need to use audio editing software like GarageBand. This is the most popular choice, especially for Mac users, but there are certainly other options on the market.
---
Publishing
Podcast hosting lets you take an audio file from your computer, publish it online, and distribute it to podcasting platforms like iTunes, Google Play, Stitcher, and others. Once the audio file has been uploaded to a hosting provider, people can start listening.
Libsyn pretty much dominates the podcast hosting market.
Libsyn launched in 2004 and has since become the largest leading podcast network with over 25,000 podcasts hosted and 44 million monthly audience members.
Just to give you an idea of the magnitude of that audience, their podcast network had 2.6 billion downloads in 2014. They're kind of a big deal.
If you want to publish episodes on your website, you'll want to use a tool like Smart Podcast Player. This tool has a ton of great features to give your audience the best listening experience.
One of our favorite features is the option to include a full library or single episode player on our website.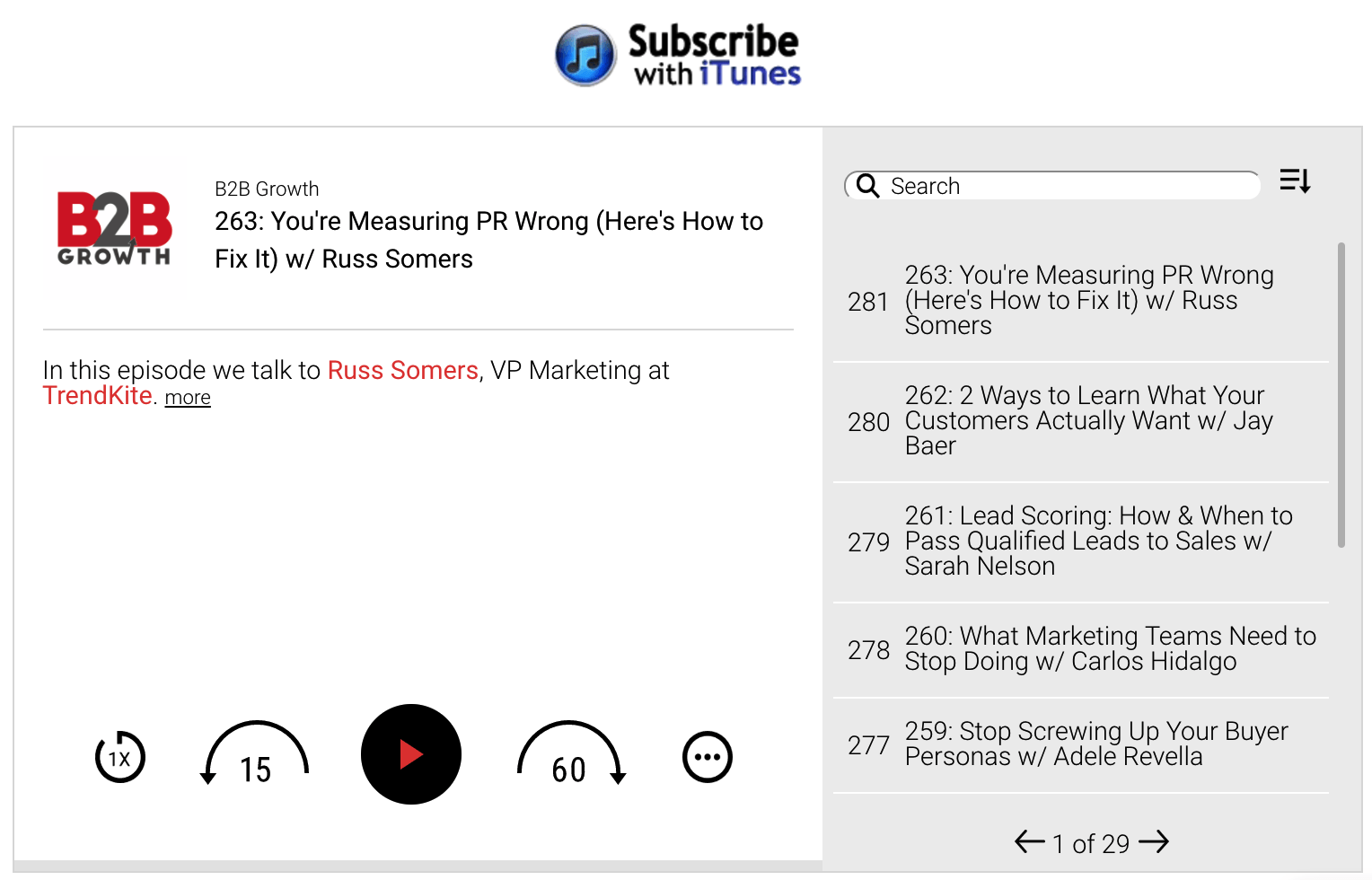 We like Smart Podcast Player because it lets us maintain our shows' branding. We want our listeners to experience the same look and feel across any listening platform, and this tool makes that possible.  
---
Promotion
When it comes to promoting your podcast, you need to get friendly with social scheduling and distribution tools.
Setting up email campaigns and social media posts are two things you need to automate if you're going to get the heavier tasks completed.
A few of the top promotion tools for podcasts are Buffer, Socialoomph, Edgar, and Click to Tweet.
We use Buffer at Sweet Fish. It lets us schedule content, collaborate with teams, and gather insights from every major social network.
It has saved our team ridiculous amounts of time and gives us peace of mind, knowing when and where our content is being published.
SocialOomph offers free and professional versions, but once you take a look at the long list of features available, it'd be hard to settle for the free version.
One of its best features is the ability to recycle posts and publish them again and again.
Let's say you write 3-5 tweets for an episode; you can set the queue to publish one of those tweets every 3 days from now until eternity. You'll never have to worry about refilling the queue again. All the posts get recycled.
Edgar is a tool that lets you categorize your content and set a schedule so it can publish from each category. Once all of your new content is published, Edgar will start recycling old content that people may have missed the first time around.
This tool is similar to Socialoomph. It's a bit more expensive, but much easier to use.
Click To Tweet is a free and simple tool for making your written content more shareable.
It generates a linked text image that people can tweet from their own account with two clicks of the mouse  (hence the name). The embedded links give your readers bite size chunks of content they can easily share on Twitter.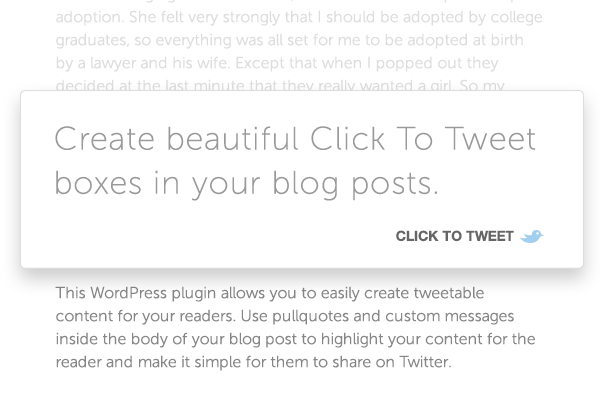 The goal with "tweetable" copy should be to pick something self-contained and enticing enough to get people's attention.
---
CRM
Last, but not least, make sure you're using a CRM to categorize and track your guest prospecting. Create categories and tags for each stage of your process. Catalogue everyone you're contacting, then tag who said yes, no, or didn't respond.
If you reach out to a potential guest and don't get a response, that doesn't necessarily mean they don't want to be on your show; you may have just caught them during a busy season.
Tag them accordingly, so you can refer back and hopefully get them on your show at a later date.
Here are some of the CRM fields we use:
Podcast Guest
Podcast Sponsor
Possible
Waiting for Response
Interested
Yes
No
Mastermind
At Sweet Fish, we host mastermind events. This category is for people we've invited.

RSVP'd
Can't Come
Not Interested in Attending
Nurture Activities
Nurturing the relationships with your guests is important, especially if you think you could do future business with them.
We track the nurture phases to see what efforts have been put into that relationship.
At Sweet Fish, our CRM is HubSpot. It's easy to use, and the version we use is totally free.
The free and easy route usually makes sense for podcasting, since your use intent will be much less complicated than that of a sales, marketing, or service team.
---
Closing Thoughts
We've spent years refining our podcasting process, and the list of tools above are the reason our process is so streamlined and efficient.
If you're exhausted just thinking about all the work that goes into producing a podcast, we understand. In fact, helping B2B brands launch and maintain their podcast is our specialty. If you're ready to launch a show or just have some questions about podcasting, let's chat.
---
James Carbary is the founder of Sweet Fish Media, a podcast production service for B2B companies. He's also a contributor for Huffington Post & Business Insider, and he co-hosts the B2B Growth Show  —  a podcast dedicated to helping B2B executives achieve explosive growth.
Technology Advice is able to offer
our services
for free because some vendors may pay us for web traffic or other sales opportunities. Our mission is to help technology buyers make better purchasing decisions, so we provide you with information for all vendors — even those that don't pay us.