One more time for those in the back: email is not dead. Although it seems to have peaked in 2013-2014, companies can still attribute 11-20 percent of their overall ROI to email marketing, according to the 2017 Adestra Email Marketing Industry Census.
Adestra's comprehensive study brings to light a bunch of insights about the way marketers use and plan to use email in their campaigns, but most of all, this survey proves that email contributes more than ever to revenue.
ALSO READ: Why I Stopped Following Subject Line Best Practices 
Predictably, the companies and agencies that invest in deep understanding and usage of email marketing see higher ROI from their marketing campaigns. The tactics most often credited for that revenue increase include:
Advanced segmentation

Personalized emails

Lead nurturing

Lead scoring

Personalized landing pages

A defined mobile strategy

Artificial Intelligence
Interestingly, many successful marketing departments and agencies have moved email marketing from a single-employee role to a full-team responsibility. Spreading the role of email marketer to all team members shows that teams are increasingly building email into all parts of their campaigns, and they view it as a crucial skill for marketers.  
At the same time that marketers expand the reach of their campaigns and include more stakeholders in building and maintaining those campaigns, they also report a lack of insight into specific ROI metrics. While lots of marketing departments are tracking basic metrics like email open rates and click rates, they're not measuring some of those deeper KPIs that would signal the success of campaigns. Adestra lists these advanced metrics as:
Bounce rate (41 percent reported using this metric)

List growth rate (20 percent reported using this metric)

Delivery rate (37 percent reported using this metric)
Whether this is due to a lack of expertise, time, or resources is unclear, but the low usage of these informative metrics does signal a need for companies to move from day-to-day easy measurements to more strategic KPI goals that affect marked improvements.
The survey brought together over 80 pages of insights from 1,200 in-house and agency marketers. Below are some of the most telling insights from the report.
Automation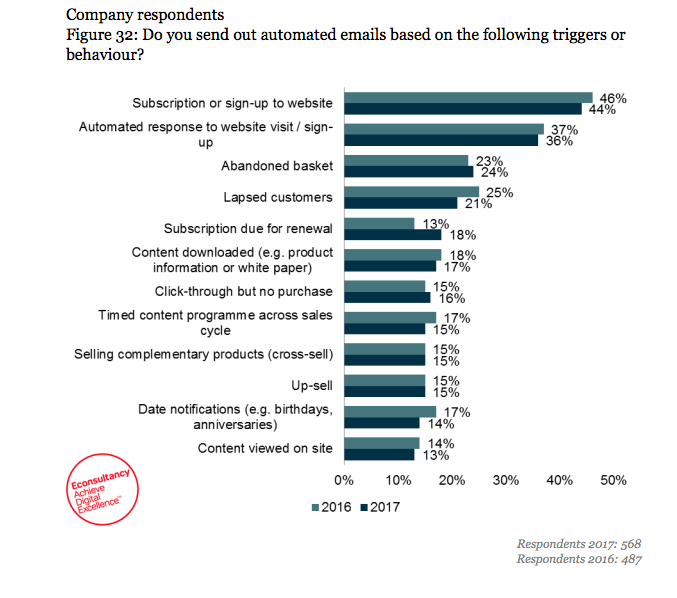 66 percent of respondents said "automation" is the most important feature they look for in an email marketing tool. Automation is the only feature that showed an increase in popularity over 2016, beating out the perennial favorite, "user interface." This switch may indicate higher usage of drip campaigns, autoresponders, and increased foresight into what should happen with each interaction throughout the lead cycle.
While automation is in higher demand, companies and agencies are still only using it at the most basic level: to send emails triggered by website sign-ups. We see these entry-level automations used by 51 percent of agency respondents. Again, it's almost shocking to see these best practices used at such a low level. It's hard to pinpoint the source of this discrepancy between the want of greater automation and the lack of its usage. Perhaps teams understand that email automation is a best practice but have not yet found the time to build it into their process or implement the necessary tools. 
Advanced Segmentation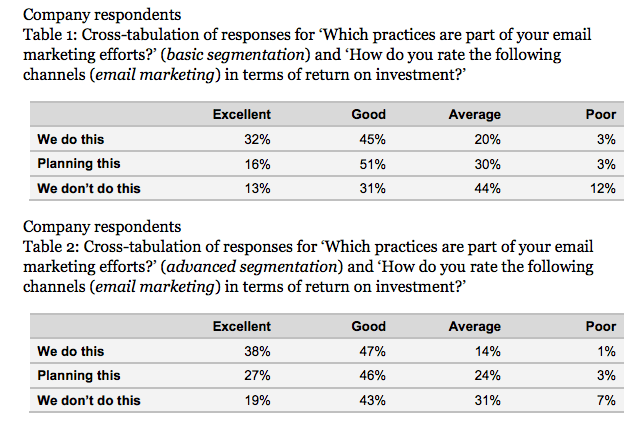 This is another area of increased growth over 2016. 80 percent of respondents claim to use basic segmentation in their campaigns, while only 33 percent report advanced segmentation. This widely-cited indicator of success reveals a huge growth opportunity in the coming years. 
Adestra provides this analysis:
"Those who carry out basic segmentation are more than twice as likely to report 'excellent' ROI from email marketing as those who say they don't do this and, in turn, those who practise [sic] advanced segmentation are twice as likely to report excellent ROI as those who don't do it."
We hope to see increased ROI and segmentation across all marketing departments and believe that the use of technology and increased awareness of best practices will only help. Marketers must devote time to better understanding their audience and their technology, as well as invest in educational practices that help them narrow their targets. 
Mobile Strategy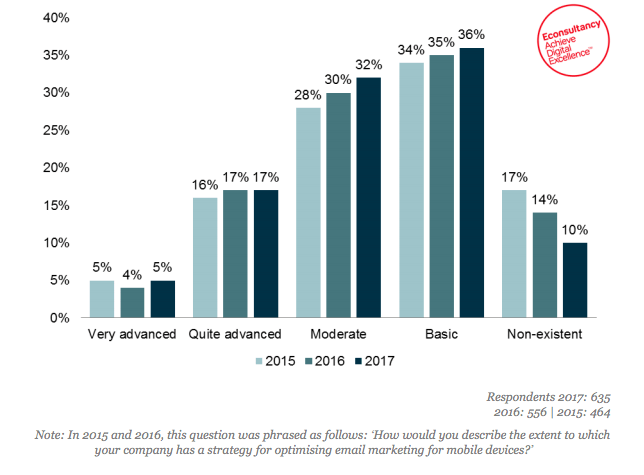 Marketers are keen on this trend, understanding that most consumers read email the same way they do: on their mobile device. 90 percent of marketers have some basic mobile strategy in place, but their confidence is limited, with 36 percent saying they have a basic optimization system in place.
The top three barriers to building a mobile strategy are
Lack of resources (26 percent)

Lack of time (17 percent)

Technology Limitations (17 percent)
With resources and budget spread thin across marketing departments, it's no wonder teams struggle to implement mobile-ready emails. The move toward these practices, however, will only result in lowered bounce rates as they make emails more readable and increased click rates as links become couched in finger-friendly buttons. 
Personalization
As Adestra points out, 100 percent personalization was the early promise of email marketing, because an email address signaled a "direct access to recipient's online identities." Turns out, things have gotten much more complicated over the years, especially since most of us have 2-3 email addresses: one for work, one for personal use, and one for all our junk mail.
Despite these early promises, a majority of respondents are not considering personalization or are in the earliest stages of working toward the process. That's 62 percent of respondents, if you're still keeping track. The need for personalization has overtaken the priority for automation, but only by 2 percentage points at 30 and 28 percent, respectively.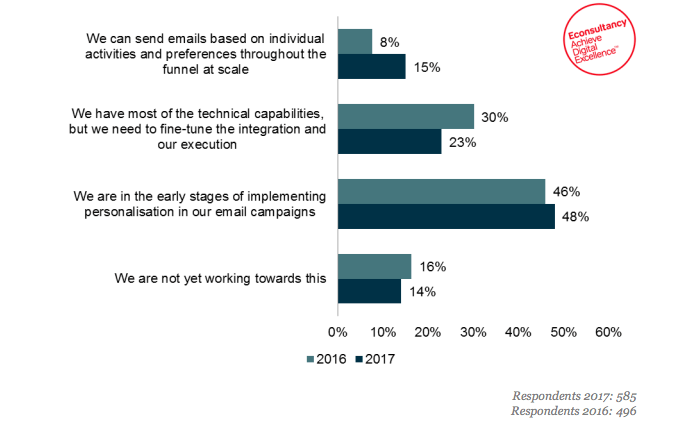 The good news is that the number of respondents who report personalizing their campaigns at scale has nearly doubled from 8 to 15 percent. They also have proven success with these strategies, with a whopping 71 percent of those who personalize at scale reporting that they have excellent or good performance on those campaigns.
Conclusions
These trends show that there is still a strong need for education and planning within marketing departments. Email marketers need to understand how to build a personalized, segmented, and mobile-optimized strategy and keep a close eye on important metrics. Early adopters of best practices are leading the pack, but there's still a lot of room to cash in on email marketing's full potential.