As we're gearing up for the SiriusDecisions Summit 2015 (to be held May 12-15 in Nashville, TN), we realized something. Thousands of B2B leaders of varying rank and from different industries and geographies are coming to this event.
And they're all after the same thing: growth.
From a business standpoint, growth usually translates to more customers, more clients, more revenue, or higher market share. But modern customers are smart, and competition is fierce, which means offering the best looking product or having the most expensive ads isn't enough to set your brand apart. What sets your brand apart are the relationships you build—both in quantity and in quality.
The Answer to a Modern Marketing Dilemma 
In order to build these relationships, you have to first attract interest. Thanks to the internet, your potential clients are self-directed buyers. They do their own research, consult outside sources, and connect with colleagues on social media. The old models of cold sales pitches, mass advertising, and email blasting will largely fall upon deaf ears. According to Forrester, the average buyer is anywhere from two-thirds to 90 percent finished with their journey before they ever reach out to a vendor.
That's why lead generation, in some ways, is the new marketing panacea. Lead generation is a departure from traditional sales strategies, and even traditional marketing strategies. Instead of pushing products and content for large, unprimed audiences, lead generation is about drawing interest organically, capturing it, and then selling to it (often times, through a marketing automation system). When this works well, you can fill your sales pipeline with targeted leads, which results in higher conversion rates.
It's not entirely difficult to drum up a high volume of leads, especially if you have the right infrastructure in place. But qualified leads . . . now those are a different story. Just because your sales team has a list of names, numbers, and firmographic data doesn't mean those contacts are interested in your product, or ready to buy, or have the authority to make decisions for their company.
A recent study by IDG found that 61 percent of B2B marketers find generating high-quality leads problematic for their company. This discrepancy between campaign spend and measurable ROI can make it hard for marketers to justify their budget, not to mention their overall strategy. The same study listed other top challenges, including:
Converting leads into customers
Creating meaningful content
Demonstrating ROI
Sourcing high-quality data lists
Generating leads across multiple channels
How Qualified Are Your Leads?
It's important to have a firm grasp on what exactly makes a lead a good lead. How should your organization define qualified? Most industry professionals refer to a good lead as a "marketing qualified lead," or MQL.
Marketing titan and software company HubSpot defines an MQL as "a lead who is more likely to become a customer compared to other leads." While that's easy to understand from a theoretical standpoint, it raises a lot of additional questions:
Are they a decision-maker for their organization? What is their need? What products are they currently using, and are they willing to switch? How much can they spend? How quickly do they want a new program?
Through the years, the industry has produced many different frameworks for determining lead qualification. One of the most popular is IBM's BANT approach, which stands for budget (can the prospect afford your product?); authority (can the prospect make a purchasing decision for their business?); need (does your product truly match the prospect's need?); and timeline (how soon do they want/need to implement your product?).
Some analysts think the BANT model is too rigid for today's nuanced buying journey. HubSpot, for example, suggests a new qualification framework called GPCTBA/C&I (goals, plans, challenges, timeline, budget and authority/negative consequences and positive implications) . . . which isn't exactly catchy. Most of these questions can feed into some kind of centralized "lead scoring" system, in which leads are assigned a numeric value that reflects their likelihood of conversion. But lead scoring requires a lot of data, resources, and time, and according to MarketingSherpa, less than 20 percent of B2B marketers use a formal lead scoring process.
The morale of the story? Generating qualified leads is difficult. And it's only half the battle, since you still have to sell to those leads and turn them into customers. 
Our Unique Process
At TechnologyAdvice, we specialize in B2B marketing and lead generation for business technology companies. Every day, we match software solutions to the needs of qualified buyers and build new relationships through our multi-channel campaigns. In other words, we do the hard work for you. Our partners know what kind of leads they're going to get before they get them, because we verify that every lead is deliverable and matched to your targeting requirements.
Don't have the infrastructure, resources, or data to manage leads effectively and empirically? No problem. We already have an established audience of decision-makers and decision-influencers that we engage with across a variety of mediums, including email programs, teledemand, organic search, social media, and paid media. The best part is that we won't pigeonhole you into a narrow, one-off program.
It's simple: you tell us your tell us your ideal buyer persona and targeting requirements, and we bring you connections that match. Our options are based on a unique, four-stage funnel: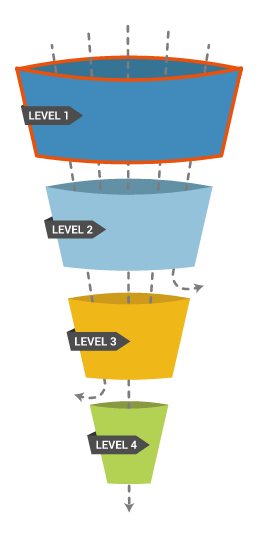 Level 1, Decision Drivers: have expressed interest in a specific category by opting in to targeted content; best for acquiring high-volume of leads.
Level 2, Hand Raisers: aware of a specific technology need, but unsure of how a solution could impact them, or what implementation might entail; more targeted, but still optimized for high volume.
Level 3, Active Pursuers: have researched options, are aware of a specific need, and are actively looking to implement a solution; all have active projects; lower volume, but easier to convert.
Level 4, Committed Decision Drivers: highly-interested in solving an immediate technology need, and prepared to speak with vendors about a solution; agree to be contacted at an exact time and date; lowest volume, but most qualified.
***
In the digital age, successful lead generation is one of the cornerstones of B2B growth. It's not about pushing products or making as many new contacts as you can; it's about building long-term relationships in which you carefully, constantly demonstrate your brand's relevance and value proposition. So why not get help from the experts?
Next month at the 2015 SiriusDecisions Summit, thought-leaders and marketing experts will host sessions on a number of demand generation topics, from lead scoring to nurturing, event marketing, and demand gen ROI. And yes, TechnologyAdvice will be in attendance. You'll find us in the sponsor marketplace, next to the giant Connection Funnel banner (see above). Stop by and see us!
To learn more about this year's keynote speaker, Earvin "Magic" Johnson, check out our SiriusDecisions Summit Preview, Part 1.