The tech industry moves fast. From marketing automation to fitness trackers to predictive analytics, business technology is headed for great things in 2015.
To help you and your business keep up with the latest news and trends, we've put together a Twitter list of 100 Business Tech Leaders who are making waves in the industry. Entrepreneurs, podcasters, software analysts, bestselling authors, tech consultants, researchers, and leaders – these are the experts guiding technology and business dialogue. Below is a sample of the must-follow thought leaders we've included for 2015.

Bernard Marr is the best-selling business author of books such as Big Data, The Intelligent Company, and Doing More with Less. He is  a keynote speaker, as well as a consultant in strategy management, performance management, analytics, KPIs, and big data. Marr frequently shares his business insights on LinkedIn.
Must Read Post: The Curious Truths of Big Data
Angela Ahrendts is the Senior Vice President of Apple Retail as well as a member of the UK's Prime Minister's Business Advisory Council. Not only is Ahrendts' Twitter full of resources and inspiration for business leaders, but she also frequently shares her business expertise on LinkedIn.  
Must Read Post: Does Your Brand Tell a Powerful Story
Josh Bersin is the founder and Principal at Bersin by Deloitte, the leading provider of research-based information, benchmarking, professional development, and advisory consulting services for strategic HR and talent management. Bersin regularly shares his HR Technology expertise on Forbes, as well as his influential LinkedIn account.
Must Read Post: Why the 'Employee Engagement' Industry Has to Change
Pedmasree Warrior is the Chief Technology and Strategy Officer of Cisco Systems and the former CTO of Motorola. Warrior serves on the boards of Chicago Mayor's Technology Council, Cornell University Engineering Council, and the advisory council of the Indian Institute of Technology. In 2001, Warrior was one of six women nationwide selected to receive the "Women Elevating Science and Technology" award from Working Woman Magazine. She shares her business technology expertise on LinkedIn.
Must Read Post: How Women Can Win in Tech
James Altucher is an entrepreneur and the author of 13 books including Choose Yourself, which USA Today ranked second among the 12 Best Business Books of All Time. Altucher is a TechCrunch contributor and shares his business expertise on his own blog, as well LinkedIn. He hosts two podcasts: The James Altucher Show and Ask Altucher.
Must Read Post: Five Things Entrepreneurs Should Never Do
Roxanne Varza currently leads Microsoft's startup activities in France, running both Bizspark and Microsoft Ventures programs. Prior to Microsoft, she worked for several European startups and was also the Editor of TechCrunch France. She co-founded the French and British chapters of Girls in Tech and was named one of the top 30 women under 30 in tech by Business Insider.
Must Read Post: Interview with Roxanne Varza, Microsoft Ventures Europe & co-founder of Girls in Tech
Ben Horowitz is one half of the founding duo at Andreessen Horowitz, where he sits on the boards of Skype, Jawbone, and Foursquare. Horowitz is a Netscape alumnus, where he ran multiple product divisions. He also worked for Lotus, AOL, and as co-founder and CEO of Opsware, which sold to HP in 2007 for $1.6 billion. His management-advice book, The Hard Thing About Hard Things, was named one of the Best Business Books of 2014 by Business Insider.
Must Read Post: The Hard Thing About Hard Things: Ben Horowitz's Honest And Real Take On Entrepreneurship
Naomi Bloom is the managing partner of Bloom & Wallace, a leading consulting practice. Bloom is a business and platform strategic advisor, and an expert on enterprise HR technology. Bloom is the author of Human Resource Management and Information Technology: Achieving a Strategic Partnership and a Fellow of the Human Resource Policy Institute at Boston University. She is well-published and shares her business and HR experience on her blog, In Full Bloom.
Must Read Post: Naomi Bloom Interviews Workday CTO Stan Swete on Modern System Architecture
Ryan Holmes is the CEO and founder of Hootsuite, a global leader in social media with over 9 million users, including 79 of the Fortune 100 companies. Holmes has redefined the face of social media and is an authority in technology and business. He writes for publications such as Fast Company, Inc., Fortune, and has a column in the Wall Street Journal. Holmes shares his business expertise regularly on LinkedIn, and is one of the platform's top 25 most followed Influencers.
Must Read Post: The One, Life-Saving Change Workplaces Can Make For Their Employees
Susan Wojcicki is an American businesswoman and the CEO of YouTube. Previously, Wojcicki was Google's first marketing manager and developed AdSense, which became Google's second largest source of revenue. She has been called "the most important person in advertising" and "the most important Googler you've never heard of." Wojcicki has been named on both Forbes Magazine's List of The World's 100 Most Powerful Women and Fortune's 50 Most Powerful Women in Business. 
Must Read Post: Rebooting YouTube
Walter Isaacson is the president and CEO of the Aspen Institute. Isaacson is the the former managing editor of Time Magazine and the bestselling author of several books including Steve Jobs, a biography. His latest book, The Innovators: How a Group of Hackers, Geniuses, and Geeks Created the Digital Revolution, shares the stories of the great minds and teams who created the computer and the Internet.
Must Read Post: How The Cold War And George Orwell Helped Make The Internet What It Is
Liz Ryan is the founder and CEO of human workplace, a publishing, coaching and consulting firm whose mission is to reinvent work for people. Ryan was a Fortune 500 Human Resources Senior Vice President and launched HR departments for several successful startups. She has written about practices for HR, recruiting, and leadership in organizations on Forbes, TIME, Business Week, Inc., Huffington Post, and many more. Ryan frequently shares her artwork and expertise on LinkedIn.
Must Read Post: How much Does Corporate Culture Matter?
David Kirkpatrick is the founder, host, and CEO of Techonomy, as well as the Contributing Editor of Bloomberg Television. Kirkpatrick wrote a weekly column for Fortune Magazine called Fast Forward and has been a technology journalist for more than two decades. He also created and hosted Fortune's Brainstorm conference, and believes in the power of technology as a critical tool to change the world for the better. Kirkpatrick is the bestselling author of The Facebook Effect: The Inside Story of the Company that is Connecting the World.
Must Read Post: Can Government Get a Better Grip on Tech?
Gina Trapani is the cofounder of ThinkUp, an open-source social media aggregation and analysis tool. Previously, Trapani founded the Lifehacker blog in 2005. She hosts two technology podcasts, This Week in Google, and All About Android. Her writing has been published in publications such as The Harvard Business Review, The New York Times, and Fast Company. Additionally, Wired named Trapani one of "the best reporters, writers, and thinkers on the Internet" in August of 2013, and Fast Company named her one of the Most Influential Women in Technology.
Must Watch Post: Gina Trapani's XOXO 2014 Talk
John Batelle is an entrepreneur, author, and journalist. Battelle helped launch Wired and founded the online advertising network Federated Media Publishing. He is the author of The Search: How Google and Its Rivals Rewrote the Rules of Business and Transformed Our Culture, which covers the history and impact of search engines and the late emergence of Google. Ad Age named Batelle one of 10 best marketers in the business and PC World listed him as one of "The Most Important People on The Web".
Must Watch Post: Predictions for 2015: Uber, Apple, Google, China, Health, Adtech
Jennifer Shaw is the founder of NYTechWomen, as well as Bella Minds, an organization focused on bridging the gap between urban tech centers and educated women of rural America. Shaw is also a speaker, keynoting at conferences such as Women Techmakers Summit in New York City.
Must Watch Post: Passing the Torch: Women Helping Women
Steven Sinofsky – @stevesi
Steven Sinofsky is a Board Partner at the venture capital firm Andreessen Horowitz and an Executive in Residence at Harvard Business School. Sinofky's has a background in software design and works with entrepreneurs to build the next generation of software-driven products and services. He also studies the use and role of technology in developing markets and shares his business expertise regularly on LinkedIn.
Must Read Post: 2015 Workplace Trends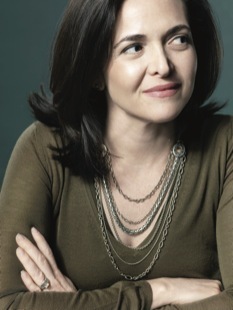 Sheryl Sandberg is the Chief Operating Officer of Facebook and author of the best selling business leadership and development book Lean In: Women, Work, and the Will to Lead. Sandberg was ranked as one of the Most Powerful Women in Tech by Forbes and is a keynote speaker on the importance of women in technology.
Must Read Post: Sheryl Sandberg Speaks at Stanford
***
You can find the full thought leader list on Twitter. What other business technology leaders or experts do you follow online to stay inspired and informed of industry trends? Let us know in the comments below!
Technology Advice is able to offer
our services
for free because some vendors may pay us for web traffic or other sales opportunities. Our mission is to help technology buyers make better purchasing decisions, so we provide you with information for all vendors — even those that don't pay us.