Updated: December 9, 2021
It's imperative nowadays to assess and improve upon your company's internet presence, so that you appear as close to the top of the search results as possible. Two tools out there to help optimize your content marketing for search engines are Ahrefs and Semrush.
Let's see how they stack up against one another in terms of the following features:
Overview: What is Ahrefs?
Ahrefs is a search engine optimization tool that is great for checking on the health of your backlink profile and analyzing page speed. It can perform keyword research and point out opportunities to gain domain authority. The Ahrefs SEO tool also audits your page for broken links and for page upload times, so that you can quickly and effectively address potential user experience issues.
Overview: What is SEMrush?
SEMrush is a search engine optimization tool that offers solutions and measurable results not just for SEO but for other digital marketing activities. The SEMrush SEO tool helps increase your company's online visibility by assisting in finding and capitalizing on growth opportunities. SEMrush performs keyword research to ensure optimal site content, generates useful reports on web traffic and visitor behavior, and so much more. In addition to SEO, SEMrush tracks the data and thus also the performance of the campaigns and testing that your company is already doing.
Ahrefs vs. SEMrush for Backlink Analysis/Management
To monitor your site's reputation on the web, it's important to see who is linking back to your site. Both tools offer a backlink analytics.
Ahrefs's Content Explorer tool contains a database of content from over 1 billion webpages. In this tool you can find link building opportunities by filtering out the pages that have the most backlinks. From there you can see which pages are in the top results and dig deeper to see, from a content perspective, what they're doing right. This backlink analysis tool can also identify high-ranking blogs with medium to high domain authority in which you may want to feature your work and/or build a relationship with the writers, so that they can link back to your site.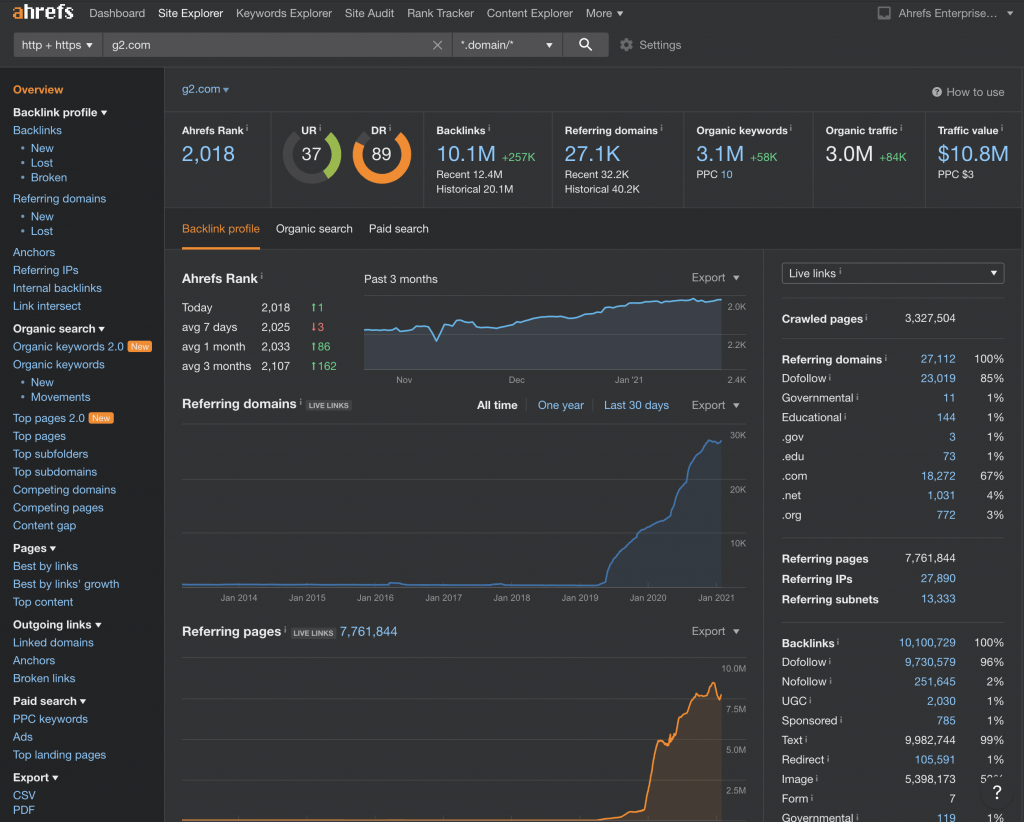 With SEMrush you can conduct backlink analysis of any domain and compare with up to 5 competitors. You can also identify gaps between your keywords and backlinks through its backlink auditing tool. Like Ahrefs, SEMrush also helps you identify link building opportunities. SEMrush features a built-in interface to reach out to potential backlinking opportunities and keep track of your backlink requests.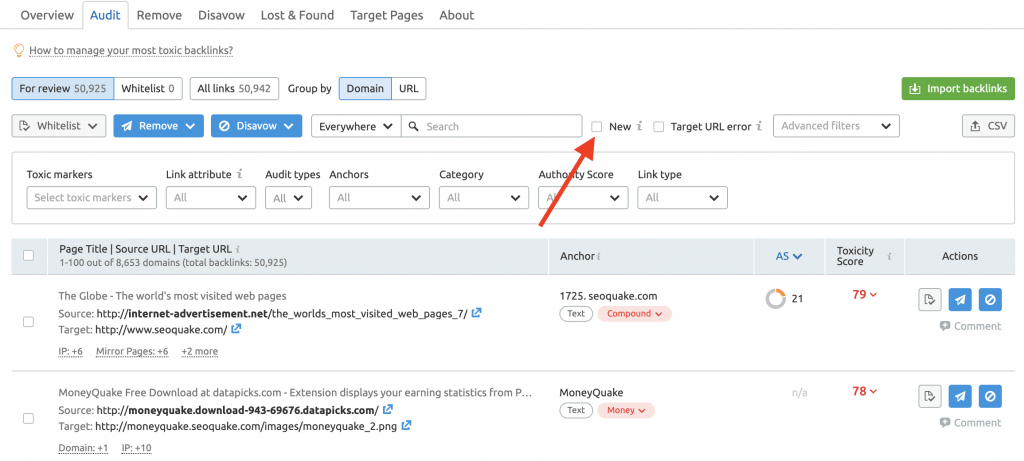 Ahrefs vs. SEMrush for Competitor Analysis
Google Analytics will only track your site's internal performance, but in the game of SEO, you have to keep your friends close and your enemies closer with competitor analysis tools. Ahrefs and SEMrush differ from Google Analytics to the extent that they offer insight into your competitor sites' performance.
Ahrefs's Site Explorer tool has a backlink checker that allows you to track how many sites are backlinking to your competitors and gauge the quality of the sites' backlink profiles. With this tool you can also perform organic search research to see which keywords your competitors are ranking for. Lastly, you can research your competitors' paid traffic to see whether your competitors are doing paid search advertising and to whom they're pitching their paid search ads.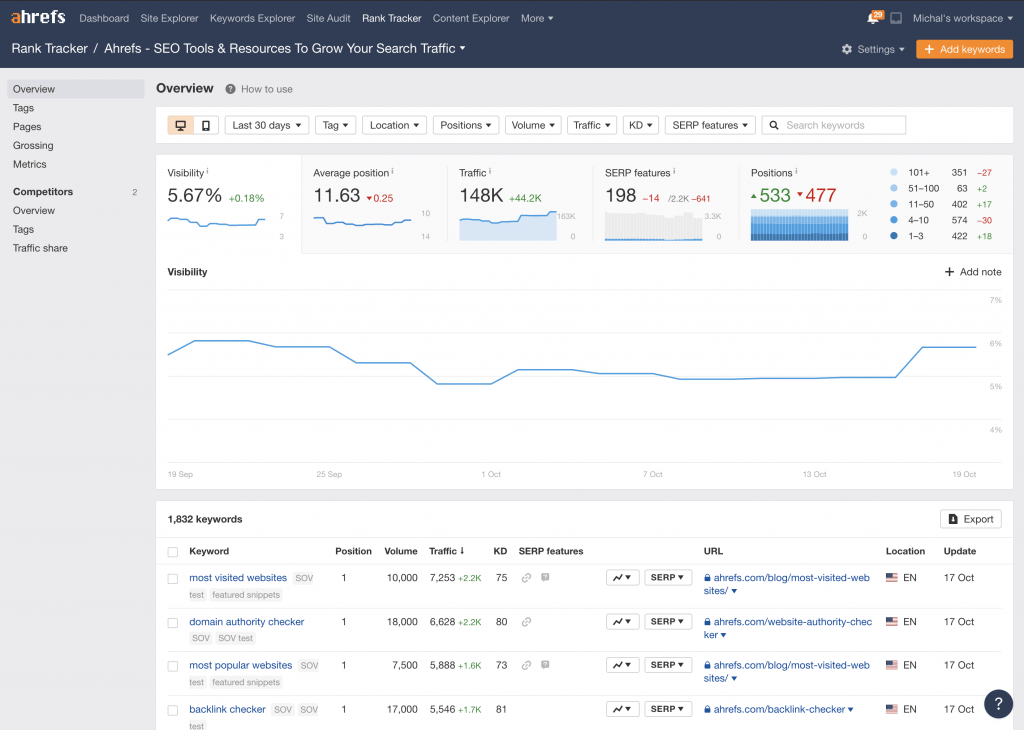 SEMrush's SEO toolkit helps your company identify its competitors by finding out which companies have similar backlink profiles to yours. With this toolkit you can also analyze your competitors' backlink profile size and see where they gained and lost links within a specific timeframe.
Both Ahref and SEMrush offer rank tracking tools to follow your site's performance on KPIs and in comparison with competitors.
Ahrefs vs. SEMrush for Content Optimization
What are the topics that matter most to your target audience? Keyword research tools and topic research tools for content optimization can help digital marketers figure that out, so that your site lands on the first page of search results.
Ahrefs Content Explorer tool not only helps your company strengthen its backlinking profile but also identify top content areas for your business niche. When searching for the most popular articles on any given topic, the Content Explorer can filter the results by organic search traffic, referring domains, domain rating, number of social shares, and more. Its keyword research tool, Keywords Explorer, assists in discovering keyword ideas and breaking down keywords according to keyword ranking difficulty, search volume, and traffic potential.
SEMrush also helps you find topics that generate high search volume from your audience. It offers six different keyword tools, including the Keyword Magic tool that generates various combinations from one keyword. However, SEMrush goes over and beyond generating content ideas. It also gives you concrete tips on how to create SEO-friendly content and can track your current content's quality, relevance, and reach based on real-time data.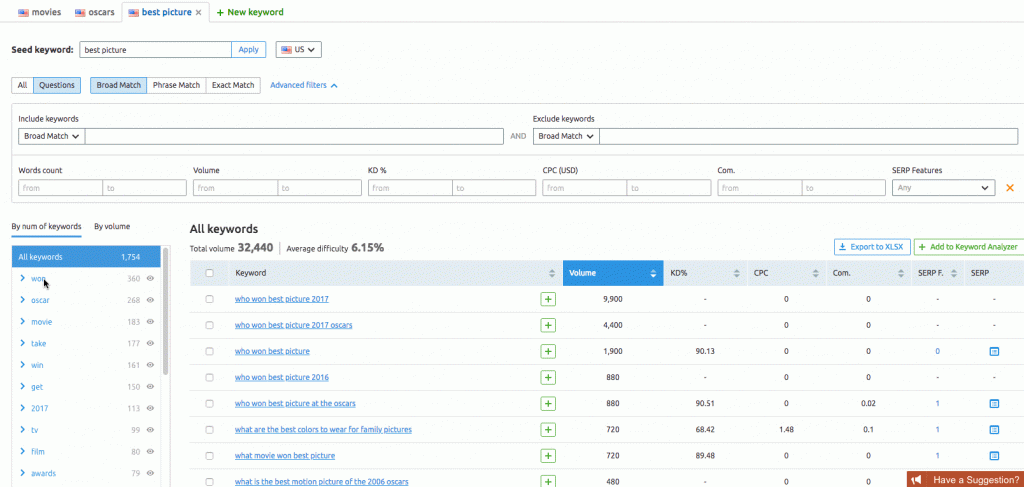 Ahrefs vs. SEMrush for SEO Auditing
As your company grows and you build your site with more pages and content, it will become increasingly difficult to oversee SEO issues, such as broken pages and links and missing meta data. This underscores the importance of technical SEO auditing. Finding and addressing the broken parts of your site will ensure a pleasant user experience.
Ahrefs's cloud-based Site Auditing tool crawls your entire site to check for technical SEO issues on your site. After the scan is complete, it generates a list of all URLs on your site that have issues. You can prioritize the most pressing errors and start repairing them. The site auditing tool also gives you pointers on how your web developer can fix the issue. Besides individual issues, Ahrefs's auditing tool can pick up on issues by category, for example, page loading time. The tool will show you which sites are loading too slowly. You can manually start up the Ahref site scanning tool or schedule regular crawls.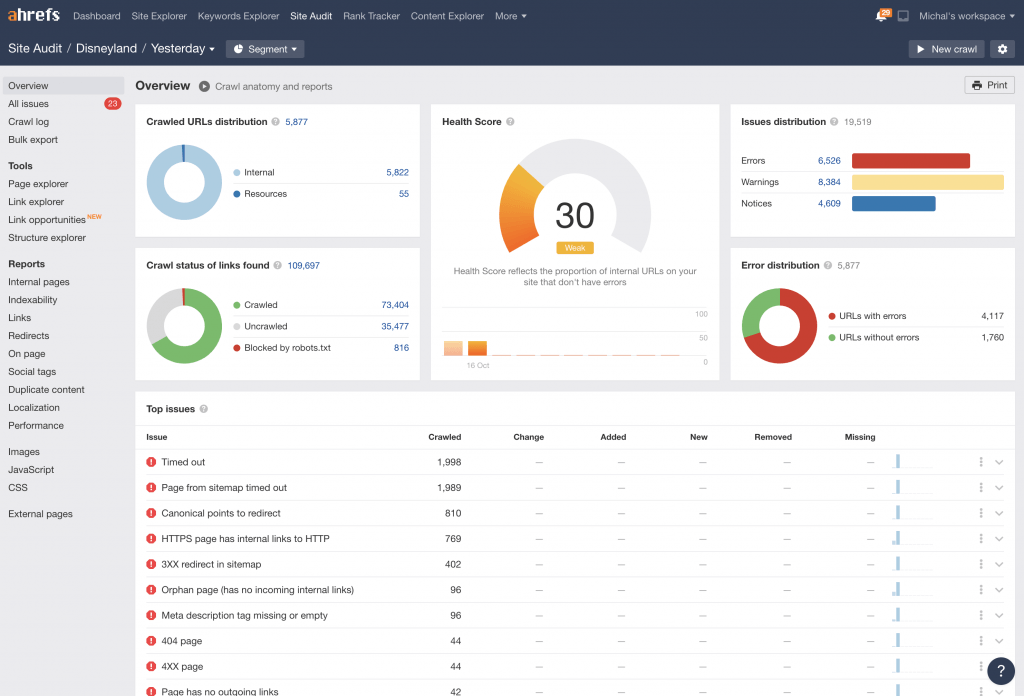 SEMrush allows you to run a full site scan or specify a part of your site to be scanned within minutes. With this technical SEO tool you can find out how to improve your site's visibility to search engines and users. SEMrush also gives you a comprehensive report on speed issues. You can also combine your site audit with SEMrush's On Page SEO checker to boost your site's on-page SEO, according to its actionable tips.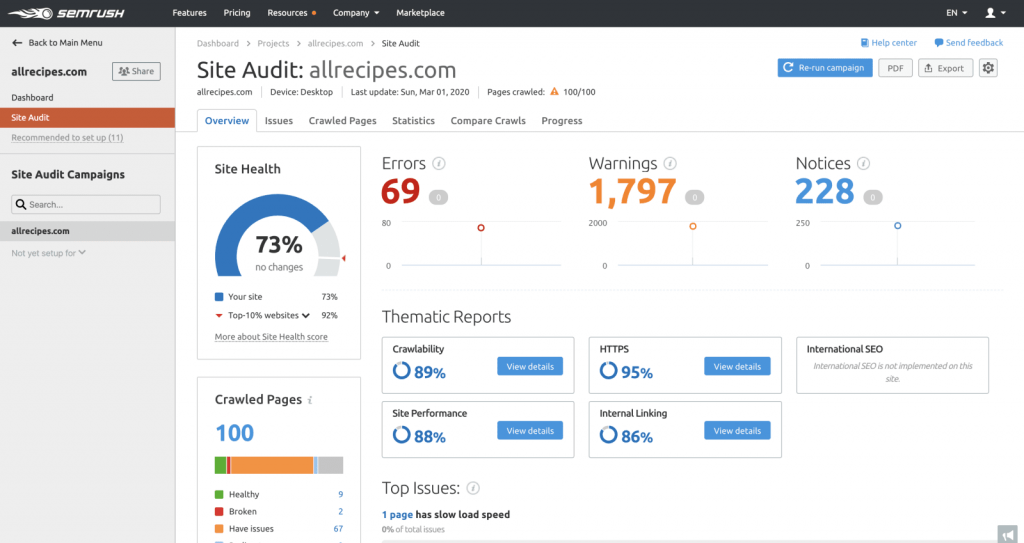 Ahrefs vs. SEMrush: Choosing the Right SEO Tool For Your Company
Backlink management, competitor research, content optimization, and site auditing are all extremely helpful features to improve and maintain your company's web presence and optimize its content marketing strategy.
Your SEO tool of choice should give you control over the size and quality of your backlink profile by facilitating analysis and giving tips for improvement. It should also allow you to easily monitor what other key players in your industry are doing and to identify opportunities that they've missed. An SEO tool should also take the guesswork out of your keyword research and help you optimize your site's content in a way that will drive more organic traffic to your site. Finally, it's worth having a site audit tool to assist you in overseeing your site's performance on a regular basis.
Ahrefs and SEMrush both have tools that allow you to perform these key SEO functions.
Ahrefs specializes specifically in SEO; its site is clearly organized to show the 5 main tools that it offers. Plus, there are helpful demo videos to see Ahrefs's tools in action. If Ahrefs's clear and helpful site layout and content is any indicator, it's sure to be an insightful, user-friendly partner in your SEO efforts.
SEO is one of SEMrush's many tricks, as it also offers PPC and social media marketing tools. So there seems to be a lot of powerful potential here, but its SEO solutions are scattered throughout its site, and you have to start a free trial before you see how any of its tools really work.
Technology Advice is able to offer
our services
for free because some vendors may pay us for web traffic or other sales opportunities. Our mission is to help technology buyers make better purchasing decisions, so we provide you with information for all vendors — even those that don't pay us.