If you're looking for a task management solution that's comprehensive in scope but simple enough to learn in a day, you'll want to take a look at Wrike project management software.
Brian Thome, senior director of product marketing, calls Wrike "a collaborative PM platform used by teams and businesses to increase productivity by better planning, organizing, collaborating, and reporting on their work."
We had the privilege of chatting with Thome about the way their software successfully straddles the fence, providing a top-to-bottom approach to project management without the high learning curve of more complicated systems. "We try to organize all the systems people use to get their job done around the job itself," Thome says.
Wrike organizes the systems that people use to get their job done
The company was founded in 2006 and now has over 6,000 clients, including some big names such as Google, HTC, and Hawaiian Airlines. But an ideal customer for them isn't necessarily a Fortune 500 company. Thome says ideal customers are "businesses looking for a system to organize their work, get out of email and spreadsheets, replace another system that isn't working, or gain visibility to manage their teams." As a vendor, Wrike services numerous industries including technology, hospitality, medical, education, government, and consulting.
We asked Thome what makes Wrike stand out from other PM solutions, and he gave us four aspects to consider:
1. Collaboration capabilities
The software's social media-style feeds and integrated, real-time document editor keep all of your teams on the same page (literally) about project tasks — whether they work in the same office building or in seven different countries. Team members can customize their own "My Work" homepage, where they'll see relevant updates, tasks, and reports. Users can also "@mention" each other to send targeted messages to stakeholders.
2. Planning and reporting
Thome says Wrike's reporting tools are packaged in an interactive timeline that serves as a visual representation of the project. From there, users and administrators (depending on access controls), can view drag-and-drop workload charts, Gantt charts, and other reports that help them track performance.
3. Platform flexibility
Wrike is designed to adapt to the workflows teams are already using. "A lot of tools force you to change the way you work to meet the needs of the software," Thome says. "From the very beginning, we built Wrike to be [a] flexible platform." That means pre-built integration with almost all common third-party tools such as GoogleDocs, Dropbox, Apple Mail, GitHub, and Evernote, among others. It also means flexible workflows and Wrike's most recent update, "Wrike Dynamic Platform," which provides a "customized experience for every user at every level of the product" through custom data fields connected to planning and reporting functionality.
4. Simple user interface
Unlike some of its competitors, Wrike is designed for quick adoption. The user experience is clean, simple, and intuitive, from drag and drop task management to lean visual aids for managing workloads and teams. Take a look at the Product Spotlight video above to see some live screencasts from inside the software.
In addition to these strengths, Wrike offers powerful automation features like a one-click email-to-task conversion, a time-saving project duplication feature that lets you recreate a previous project template, and seamless calendar syncing with Google Calendar, Outlook, iCalendar, and others.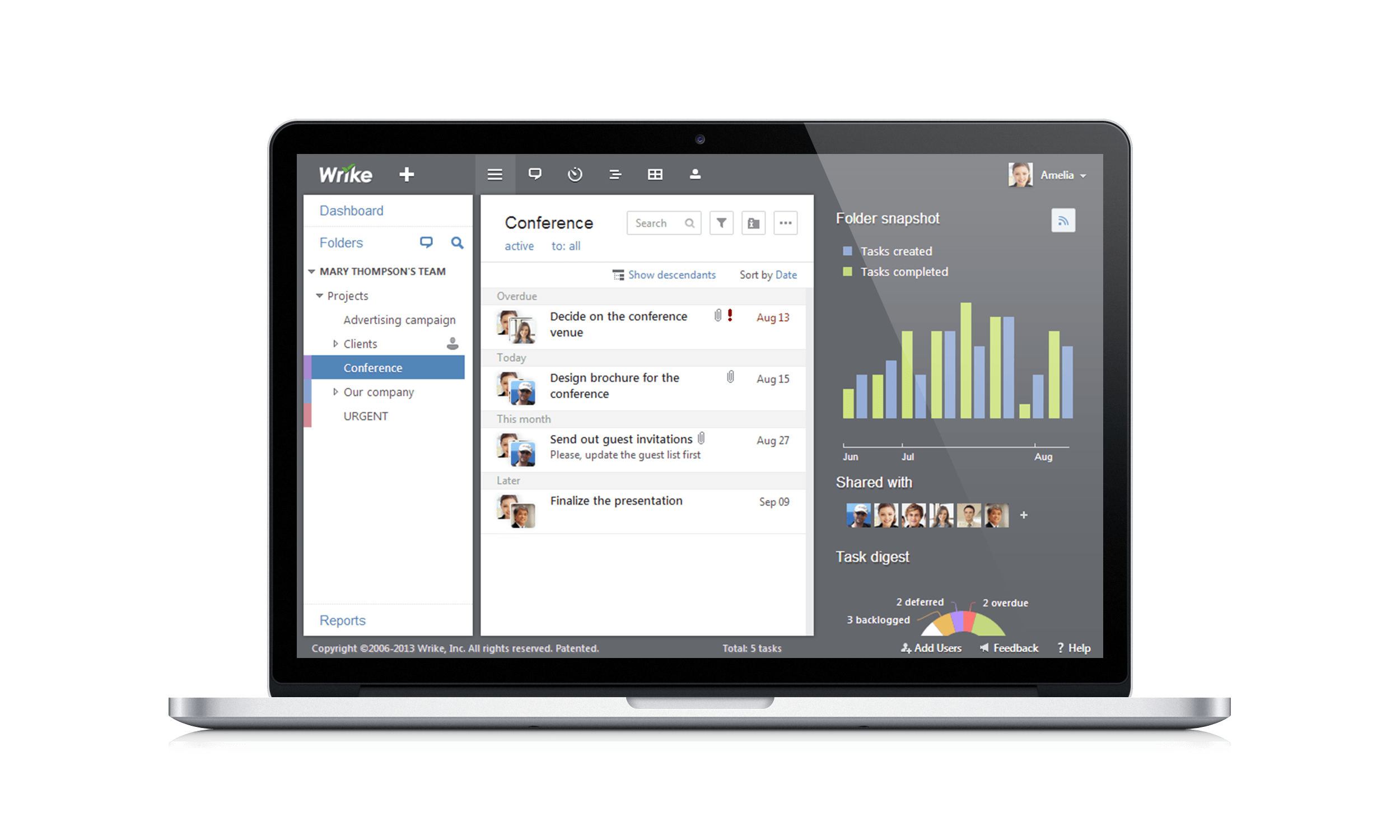 Wrike is available in three versions (free, professional, and enterprise), with price points that vary by number of users and features included. Considering the quality of features and customization you're getting, Wrike is a viable option for any size business from start-up to enterprise.
If you're interested in Wrike project management or other PM solutions, give us a call for a free consultation, or use the Product Selection Tool on our site to get a personalized recommendation. To get a more detailed breakdown of Wrike's features, check out our Wrike vs Asana comparison.