There are few demographics out there who love statistics more than baseball fans, and given the nature of the sport, it's easy to see why. Every play creates a plethora of numbers — far more than any single human mind can digest on its own.
With roughly 300 pitches thrown per game and nearly 5,000 games played every season, the MLB knows it requires big data applications to compile the immense amount of information that's created on the field each year. With this in mind, Major League Baseball's Advanced Media department, in conjunction with big data company Automated Insights, has gone ahead of the curve in producing the kind of cutting edge program its audience desires.
To provide fans with more info than meets the eye, the MLB  recently released a modified version of its At Bat App, giving users a one-of-a-kind interactive experience in real-time. In the video below, At the Intersection brings us an inside look into the development of this app and the thought process of its inventors:
Matthew Panzarino of TheNextWeb.com explains what this product offers:
The slick bit here is that it presents the events of the game as they happen, but also generates automatic natural language 'insights' along with it that mirrors the kinds of facts you might hear an announcer give you during a game. For each play, real-time notes are created and assigned scores that rate their 'importance'. They're then presented in order of 'depth' below each play.

So, you might see "Jose Altuve struck out swinging. None on with one out and Brian Bixler due up." as the play, and then below it you're presented with the following insights, in order of importance:

In his career, Madison Bumgarner has struck out 350 opposing hitters.
Jose Altuve has struck out at least once in 26 of his 60 games this season.
That's the first strikeout of the game for Madison Bumgarner.
To give you a better visual, here's a screenshot of this app (click to enlarge):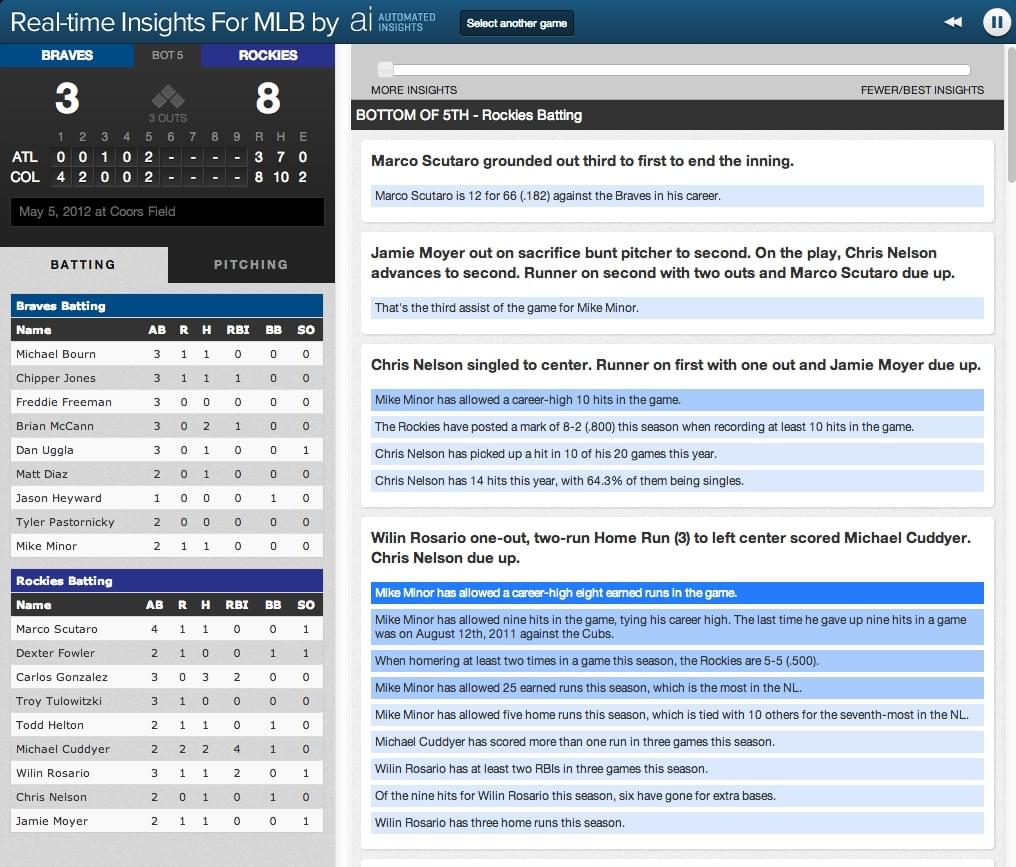 The Statistical Revolution Continues
We're only human, and our ability to absorb information is far more limited than computers. There is only so much one can see on their own, and there is only so much an announcer can discuss at a given moment. But what happens on each and every play goes far beyond what we can comprehend as play progresses over the course of a 3-plus hour contest.
For more than a century, fans had to rely on the basic numbers — balls, strikes, hits, RBIs, etc. — to understand the game. With the rise of advanced stats, however, we've been given a deeper look than ever into the performances of those on the field.
And with MLB's latest app, we now have the ability to consume all this big data in mere seconds — giving us a chance to analyze what we're watching in real-time, rather than spending hours crunching numbers long after the games conclude.
Source:
1. Soper, Tyler. 2 September, 2013. "How Major League Baseball dominates the big data and mobile game." <http://www.geekwire.com/2013/major-league-baseball-dominates-big-data-mobile-game>